Luxury in Union County: 8 Most Expensive Union County NJ Cities
Posted by Rob Dekanski on Tuesday, January 11, 2022 at 9:05 AM
By Rob Dekanski / January 11, 2022
Comment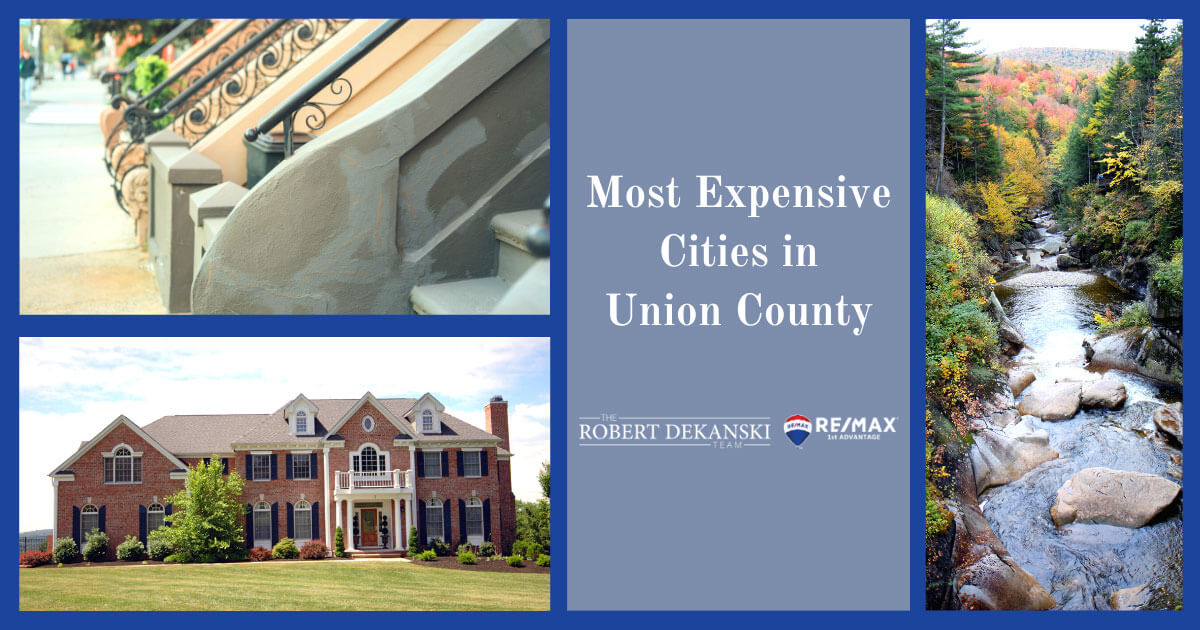 The seventh-largest county in New Jersey, Union County is known for its role as an urban center close to New York City. A hub of transportation, Union County is home to Newark Liberty International Airport, which gives residents easy access to the U.S. and the rest of the world.
Real estate in Union County tends to range from $100,000 for a smaller home to $3 million for larger luxury homes. Luxury homes, in particular, come in a variety of custom styles and include gated community and waterfront homes. Keep reading to discover some of the more expensive cities in Union County, New Jersey.
Westfield
Westfield Amenities
16 Prospect Wine Bar & Bistro
Mulberry House
Yale Terrace Brewery
Mindowaskin Park
The town of Westfield is known for its beautiful downtown area. Westfield lies about 16 miles southwest of Manhattan, making commuting to the larger city much more manageable. Its suburban nature attracts residents and gives them a retreat from the busy life of the surrounding areas.
Westfield's home prices tend to start at around $425,000 for a three-bedroom, one-bathroom home to $3 million for a six-bed, six-bath luxury home. Listed square footage for homes ranges from approximately 1,200 to 7,000 square feet.
Hot spots in the city include restaurants, such as Westfield Diner, which has indoor and outdoor dining in a casual environment; Addams Tavern, located in the downtown area and serving a variety of smoked and wood-burned grill items; and The Butter Chicken Factory, an Indian restaurant serving authentic cuisine.
Shopping in Westfield includes retailers such as Beyond Trends, a woman's clothing and gift store; Urban Outfitters, a lifestyle retailer focused on inspiring products; and Westfield Plaza, a local shopping center with various retailers, ranging from clothing to clothing groceries and everything in between.
Summit
Summit Amenities
The Office Tavern & Grill
Apricot Lane Boutique
The HAT Tavern
Badawang Art
With a vibrant art and food scene, the Summit community is at the top of the second Watchung Mountain in New Jersey. Members of Summit are very supportive of the arts, organizing various public artworks through the Summit Public Art organization and the Summit Street Sounds program.
Homes in the Summit area start at around $245,000, and luxury properties can go up to $3 million. Homes range from small 900-square-foot condos to large 4,400-square-foot Colonials. Other house types include one-story ranchers, multi-story townhomes, and custom-built homes.
Local amenities include Winberie's Restaurant & Bar, housed in the historic Summit Opera House; La Pastaria, serving home-style Italian cuisine; and Huntley Taverne, a restaurant offering a wood-burning fireplace, a spectacular bar, and some of the best food, all in cozy surroundings.
Other area hotspots include Summit Playhouse, a non-profit community theater entertaining Summit area residents since 1918, and the Stony Hill Players, another theater group in operation since 1946. For residents looking to enjoy a peaceful ride on horseback, Watchung Stables has horseback rides along 26 miles of bridle paths that make their way through the Watchung Reservation.
Scotch Plains
Scotch Plains Amenities
Sheelen's Crossing Pub & Bistro
Little Shop of Comics
Milton Campbell Field
Grillestone Restaurant
If there is one thing the township of Scotch Plains is known for, it's the many historical landmarks from the American Revolutionary War that are still standing in the city. Additionally, Scotch Plains offers extensive recreational activities and a vibrant business community for its residents.
Home prices run the gamut from $350,000 to $2.5 million for luxury homes in the area. Homes average between a little over 900 square feet to 8,900 square feet. Home styles vary, with traditional Colonial, ranchers, and split-level homes typical in the area.
Scotch Plains also contains a variety of premier shopping locations, such as Enchantments, a little shop selling unique personal gifts; the Blue Star Shopping Center, offering a variety of well-known shops and restaurants; and Tom the Green Grocer, a family-run country store selling fresh ingredients.
Area restaurants include Shallman's Kitchen, bringing Caribbean-American cuisine to area residents; Scotchwood Diner, featuring classic American food, along with traditional Italian and Greek food; and Stage House Tavern, initially built in 1737, serving quality tavern fare.
For residents who like the outdoors, nearby Echo Lake Park has a selection of outdoor recreational activities to participate in, including boating, fishing, and hiking. With many things to do available in the community, it's no surprise that Scotch Plains is known as one of Union County's top towns.
Mountainside
Mountainside Amenities
Addams Tavern
Mazzella's Gourmet Market
Echo Tap & Grille
Prince's Farm Stand
The borough of Mountainside is known as the site of Nike missile batteries in the late 50s and early 60s. Today, Mountainside is a quiet, little community with a quaint downtown area located on a ridge in north-central New Jersey. Like the rest of Union County, the borough is a part of the New York metropolitan area.
Homes in Mountainside typically cost between $550,000 and $1.5 million for luxury homes. Home types range from stylish custom models to more traditional Colonials. House sizes start at around 700 square feet to upwards of 7,000 square feet.
Area hotspots include restaurants, shopping, and bars. One prominent bar in Mountainside is the Publick House, a modern gastropub with an extensive wine list, hand-crafted seasonal cocktails, and 14 craft beers on tap.
Other area restaurants include Northside Kitchen, serving a variety of Tex-Mex food and sandwiches; Spanish Tavern of Mountainside, known as one of the best Spanish restaurants in the area; and Yummies, offering a selection of gourmet fast food, such as hot dogs and hamburgers.
For outdoor activities, residents can check out the Trailside Nature and Science Center, part of the Watchung Reservation.
New Providence
New Providence Amenities
Bacci Brick Oven & Italian Grill
Jersey Fine Wines
Providence Bar & Kitchen
United Brewing Company
New Providence is a borough in Union County known for its ample green spaces and beautiful residential neighborhoods. Present-day New Providence lies between Summit and the Berkeley Heights community and is only 28 miles west of New York City.
Prices for homes in New Providence usually range between $850,000 and $2 million for a New Providence luxury home. Houses in the suburbs of New Providence come in various styles, including private waterfront homes along the Merced River and townhomes within the more urban parts of the borough.
Restaurants within New Providence include Prestige Diner, an area landmark that has been in operation since 1967; Paolo's Kitchen, known for its wings and a wide variety of cuisines to choose from; and Old Glory Restaurant, offering a selection of classic breakfast, lunch, and dinner menu items.
New Providence's other popular locations include Barth's Market, a local deli/butcher shop; Linda's Creative Gifts, which sells handmade gifts and jewelry; and The William Paca Club, a social and civic club serving the New Providence area.
New Providence also has community parks, such as Lincoln Field, Grove Terrace Field, and Jaycees Park.
Garwood
Garwood Amenities
Crossroads
Magic Grill
Enchanted Treasures
Kessler's Corner
Garwood is a borough in New Jersey that was a part of the Cranford community and Westfield community before proclaiming its independence in 1903. Today, Garwood is a dense suburban community.
Real estate in Garwood runs between $350,000 for a small 1,000-square-foot home and $1.1 million for a larger 4,000-square-foot luxury home. The Garwood area contains a wide selection of condos, townhouses, and standalone homes.
Area parks are within easy walking distance of residential homes in Garwood neighborhoods. Some parks in the area include Unami Park, which consists of a playground, soccer field, and picnic area; Georgiana Memorial Park, a tribute to former mayor Georgiana Gurrieri; and the Garwood Sport and Recreation Complex, where members of the community can host events and compete in local sports.
Other Garwood area amenities include local bar The Garwood Rest; Yale Terrace Brewery, with indoor and outdoor seating; and the Tomasello Winery Tasting Room, a local winery that hosts a wine bar. Local restaurants include Grill Creations, which serves Mexican food; Jersey Joe's Barbecue & Grill, offering a menu filled with different barbecue dishes; and Benvenuti, a local Italian restaurant.
Fanwood
Fanwood Amenities
Rocko's Ice Cream
Darby Road Public House & Restaurant
Fabio's Bistro
Sleepy Hollow Restaurant
Fanwood is well known for its deep connection to the American Colonial period. It's also the home of the Historic Fanwood Train Station Museum and present-day Fanwood station, the oldest original train station in Union County and a part of the New Jersey Transit light rail system.
Homes in Fanwood typically start at about $400,000 and can cost over $1 million. Home types in the borough include Colonials, ranch-style, and custom-built houses, ranging from around 900 square feet to over 5,000 square feet for Fanwood luxury homes.
Some of the more popular Fanwood area hotspots include the Fanwood Larder, a local grocery store that also delivers; the Railside Café, a local bakery and restaurants selling a variety of delicious baked goods; and the Houdini Pizza Laboratory, a local pizza place named after the world-famous escape artist, Harry Houdini.
Other amenities available in the Fanwood area include Sheelen's Crossing Pub & Bistro, named after a famous local bridge; the Fanwood Nature Center, with miles of walking trails for area residents; and Lion's Roar Brewing Company, offering craft beer and live music.
Clark
Clark Amenities
Oh Brian's on the Green
Hyatt Hills Golf Complex
OB's Pizza Bar
Clarkton Shopping Center
Straddling each side of the Garden State Parkway, Clark stands in the south-central part of Union County. Clark is a tight-knit community named after Abraham Clark, a signer of the Declaration of Independence. It is also the home of the Robinson Plantation House, a historical landmark in the area.
Homes in Clark usually range in price between $400,000 and $1.5 million. Clark Township communities provide a small-town spirit with neighborhoods away from industrial areas. Many communities feature a wide variety of home types, including new construction, luxury, ranch-style, and custom-built homes.
Area outdoor activities include at the Rahway River Park, one of 36 parks making up 6,200 acres with some along the Rahway River; Esposito Park, with a multi-use walkway, sports facilities, and skate park; and Oak Ridge Park, featuring over three miles of walking, running, and biking paths.
Some great options when it comes to restaurants in Clark include Manny's Diner, serving fresh, homemade American cuisine in a cozy environment; Paragon Tap & Table, offering a menu full of delicious pub fare and other items; and Ninja Sushi, with many Asian favorites made with the freshest ingredients.
Union County Has a Wide Variety of Homes to Choose From
Filled with quiet neighborhoods, Union County provides a haven for anyone working in nearby New York City or larger industrial centers. Union County is filled with a wide selection of cities, from more affordable options to these expensive choices.
Those interested in moving to Union County can find a vast range of housing types within these neighborhoods, including moderately priced standard homes and more expensive luxury homes. Regardless of what kind of house a potential homeowner decides to buy, Union County has an excellent selection to choose from.
Read Our Expensive City Guides For Each County Below