Most Expensive Neighborhoods in Monroe, NJ
Posted by Rob Dekanski on Wednesday, July 28, 2021 at 10:21 AM
By Rob Dekanski / July 28, 2021
Comment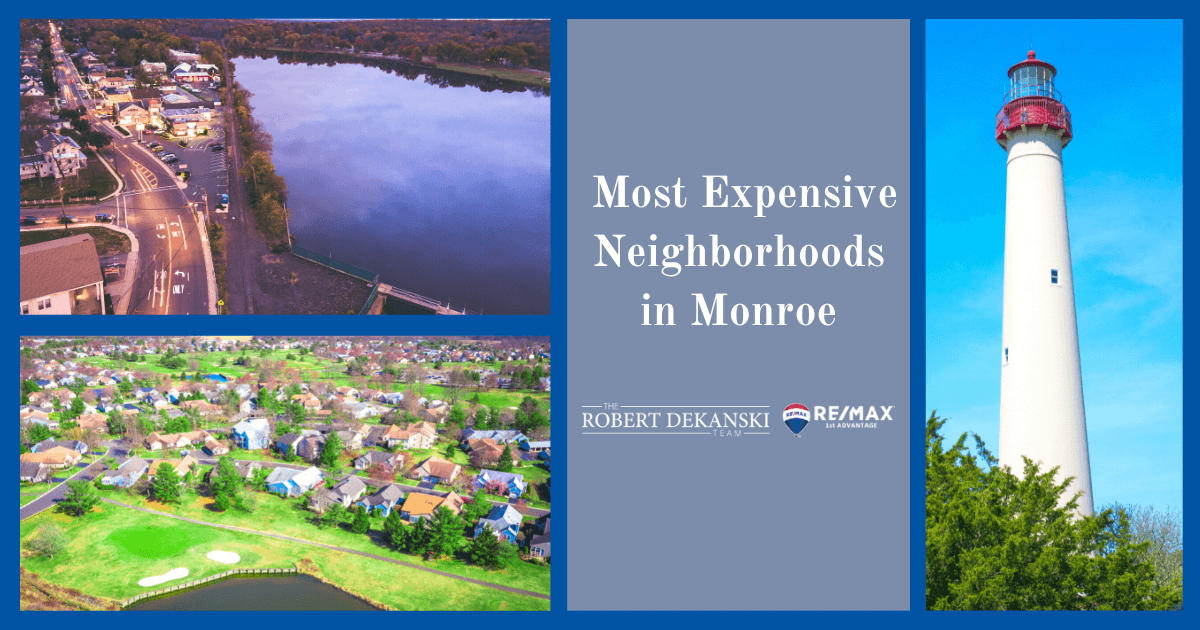 Monroe, New Jersey, has several home styles with a wide range of price points and sizes. However, some are known to be situated in communities that are in the higher price range. After all, who doesn't want to live in their dream home, have custom amenities, and live the good life? Keep reading to discover some of the most expensive neighborhoods in the Monroe community suited for those with a generous budget.
Dynasty Estates
Dynasty Estates Amenities
Recreation center for residential use
Fitness center with state-of-the-art amenities
Shaded trails for jogging, cycling, and walking
The Dynasty Estates neighborhood is a community of luxury homes and is one of the newest neighborhoods in Monroe. As an active community, there are vast amenities that anyone can appreciate. Most homes were built between 2004 and 2007, but new construction homes are cropping up each year as new eager buyers move into the city.
The median home price at Dynasty Estates ranges between $500,000 and $800,000 and predominantly consists of three-, four-, and five-bedroom floor plans with three or more baths. The home interiors are truly upscale, and some are astonishingly lavish with jacuzzi tubs, marble fireplaces, spacious kitchens, chandeliers, and heated floors.
These single-family dwellings are just minutes away from lovely Jamesburg Park, Helmetta Park, Veteran's Park, shopping centers, and eateries. Nearby the neighborhood is restaurants like Villa Laura Italian Restaurant, which has tasty pizzas and calzones.
Christos Kitchen is located in the Concordia Shopping Center, one of Monroe's best shopping destinations. The Stop & Shop is great for groceries and pharmacy needs, while the expansive Gables Shopping Plaza is more of a mall-type collection of dozens of shops and restaurants.
Monroe Chase
Monroe Chase Amenities
Resort-style clubhouse with pools
Fitness trails for nature walks
Fully equipped fitness center
Tennis, basketball, and volleyball courts
The Monroe Chase neighborhood is filled primarily with new construction homes. The average home is four or five bedrooms with an average price range between $700,000 and $1 million. These luxurious estates are graced with interior amenities such as wooden heated floors, elegant bathrooms, and designer-style kitchens with islands for convenient cooking and formal dining rooms for entertainment.
Monroe Chase allows residents the chance to live a country-club lifestyle. In addition to generous community features and spaces for exercise and relaxation, public transit is nearby, allowing for easy commutes to the Big Apple and nearby communities.
Numerous business centers, entertainment, dining, and shopping options are located near the major commuting routes. Istanbul FoodLovers Restaurant is a fine dining establishment for special nights in the town. Docks Corner Tavern is a local pub with live music, sports, and light fare to complement cocktails and craft beers.
The Freehold Raceway Mall is a short drive away and boasts several chain retailers, unique boutiques, a movie theater, and food courts. As an all-in-one shopping center, the Freehold Raceway Mall is a valued asset to community members.
Stratford at Monroe
Stratford at Monroe Amenities
Lowest property taxes in Middlesex County
Union County School District schools
Front yard landscaping
10-year structural warranty
Builder-paid closing costs
Stratford at Monroe is a posh community of spacious Colonial-style homes situated amid a quiet rural area. Each of these four- and five-bedroom homes features distinct characteristics throughout 3,000—5,000 square feet. Average home prices are in the $800,000 range and offer the utmost luxury for homeowners seeking elegant quarters.
Most homes have nine-foot first-floor ceilings, wood-burning or gas fireplaces, designer-level kitchens, and marble baths. Skylights allow for natural lighting, while a two-zone HVAC system keeps indoor temperatures comfortable. Most homes in Stratford at Monroe are equipped with smart features for the ultimate convenience of operating lights, locks, security systems, and appliances remotely.
Exteriors of brick and stone add curb appeal, as do the fully landscaped lawns perfect for relaxing and entertaining. Commuting is relatively easy, as the neighborhood is near NJ Route 130 and the New Jersey Turnpike. There are also public transportation options nearby in addition to rideshare companies and car and driver rentals.
There are several nearby places to eat, shop, and play. Goods for maintenance and keeping the house in order are easy to find at the Home Depot, while landscapers and fresh produce seekers can get goods from the locally owned and operated Pop's Farm Market and Garden Center.
Grace Hill Estates
Grace Hill Estates Amenities
Community clubhouse
Fully equipped fitness center
Parks in the neighborhood
Hiking trails and bike-friendly streets
The community of Grace Hill Estates was constructed between 2003 and 2005. Homes are situated on up to one full acre of land, and they are more reasonably priced for their size. Prices are around $800,000, with association fees only being $200 quarterly. Most homes are between 4,000 and 5,500 square feet, with an average of four bedrooms and five bathrooms.
Many of Grace Hill Estates' abodes have in-ground swimming pools, pristine landscaping, huge kitchens with islands, and natural lighting. The baths are laden with tile and granite and jacuzzi-style tubs along with heated floors. Residents here are proximal to numerous Monroe parks and Lake Manapalan for outdoor pursuits, including boating, fishing, swimming, and hiking.
For motorsport racing action, homeowners can head to nearby Old Bridge Township Raceway Park. Classic fare is all around to satisfy hunger, with locals raving about Fiddleheads New American Bistro's homemade dishes. The Concordia Shopping Center is a mall-style destination for clothing and food, and it's also home to Monroe Jewelry.
The Reserve
The Reserve Amenities
Community pools
Clubhouse access
Trails and playgrounds
Fitness centers
The Reserve community is a collection of segmented communities of single-family homes, luxurious townhomes, lofts, and spacious condos. These residences range between $600,000 and $825,000, depending on size, layout, and custom amenities. Constructed between 2000 and 2006, most structures have four to five bedrooms and baths with classic features. Square footage ranges between 3,200 and 4,775 square feet, meaning there's enough space for large households.
Nearby, residents can wake up and head to Amici Bakery & Pastry Shop for coffee drinks and delightfully sweet pastries. Stop & Shop is where one can pick up organic groceries, health supplements, and everyday household goods. The Englishtown Antiques & Used Furniture is a retailer but also holds auctions weekly. Just about anything locals want or need is not too far away from their homes.
The Woods at Monroe
The Woods at Monroe Amenities
Nature trails around the community
Open spaces for residents' use
Attentive HOA
Large empty lots between homes for maximum privacy
The Woods At Monroe community is a neighborhood that mostly features expansive single-family homes competitively priced between $720,000 and up to $1 million. This 30-acre community has homes dating back to 2005, and only 13 dwellings are currently in the neighborhood. Hillside homes are designed with grand entrances, lavish landscaping, and backyard pools and spas.
Most properties here have six bedrooms across 4,500 square feet of interior spaces adorned with impressive features and amenities. The homes are multiple levels and feature winding staircases, open living areas with massive stone fireplaces, and bay windows. Gourmet kitchens delight all household members, and the formal dining room is perfect for hosting gatherings. Bathrooms are opulently equipped with jetted soaking tubs, heated floors, and granite countertops.
The Woods at Monroe is near many well-maintained parks with play equipment, athletic fields, and picnic zones. For a caffeine fix, Starbucks is a short drive away. Italian food lovers can find Gables Pizza nearby, along with a Target for home goods shopping. The Englishtown Flea Market is the place to purchase unique crafts, antiques, and other unusual pieces. There are plenty of ways to play and be entertained just minutes away.
Spruce Hollow
Spruce Hollow Amenities
Paved and unpaved neighborhood trails
Community clubhouse and pool
Playgrounds
High-tech fitness center
The Spruce Hollow community in Monroe has been around since 1990 and is still a work in progress as more people choose to call the city home. Prices range from $630,000 to up to $1 million, and properties are on lots from a half-acre to one acre. Homes contain four to five bedrooms in multiple-storied abodes up to 5,300 square feet, surrounded by beautiful landscaping features. New buyers are given seeds and initial landscaping services upon moving in to establish their own personal taste for their neighbors to take in.
Those who live in Spruce Hollow have plenty of nearby parks and green spaces to enjoy and commune with nature. There are sports fields, a spray park, and playgrounds. Shopping, dining, and nightlife are abundant around Manalapan Road and include impressive shopping centers like the glorious Freehold Raceway Mall and the Manalapan Commons. After shopping, locals often frequent the American-style Manalapan Diner.
Find a Dream Home Here in Monroe
Anyone seeking a luxury community to reside in will find several custom builders and established communities with finely appointed homes. There's a home that will be just right for anyone within these communities, from neighborhoods close to the city center and rurally located ones. Come and find a place to settle in for a lifetime here in lovely Monroe, New Jersey.
If you're ready to call Monroe Township home, contact The Dekanski Home Selling Team of RE/MAX 1st Advantage with New Jersey Real Estate Network at (800) 691-0485 to get in touch with experienced Monroe real estate agents and find your ideal Monroe home today.