Mansions in Newark, NJ: A Guide to the 6 Most Expensive Neighborhoods
Posted by Rob Dekanski on Monday, October 4, 2021 at 11:10 AM
By Rob Dekanski / October 4, 2021
Comment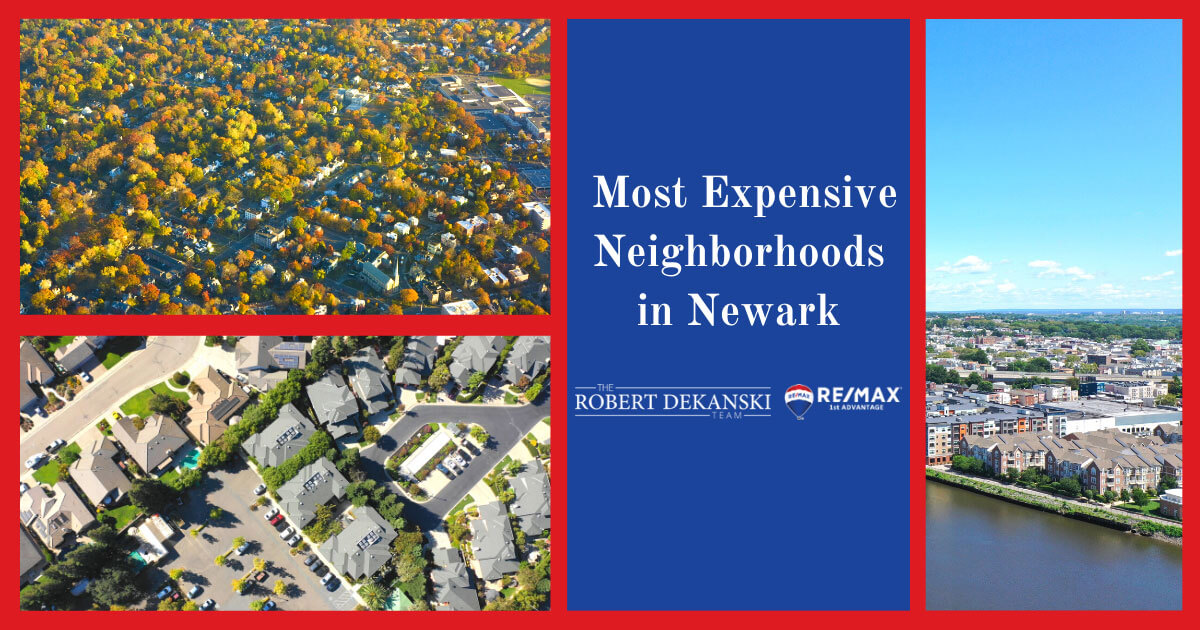 The Newark community, located in Essex County, NJ, was first settled in 1666, making it one of the oldest cities in the United States. Currently, it has a population of about 284,000 and is now the largest city in the state. Several large corporations are headquartered here, including Prudential and Panasonic, and several universities have campuses in or near Newark. The city is a vibrant transportation hub and is less than an hour's drive from New York City. Its port, Port Newark-Elizabeth, is one of the East Coast's busiest. Newark Liberty International Airport is one of the nation's busiest.
Those moving to Newark have many excellent neighborhoods and Newark suburbs to choose from. Those on the hunt for a high-end Newark luxury home may want to start their search in the following expensive neighborhoods in Newark.
Lower Vailsburg
Lower Vailsburg Amenities
Vailsburg Park, which offers baseball, basketball, and a bocce court
West Side Park, which offers outdoor activities and a community center
Restaurants and cafes featuring a wide range of cuisine, including Caribbean, African, Latin American, Cajun, Italian, and Chinese
Local stores and boutiques for unique shopping experiences
Accessible to public bus transportation
Lower Vailsburg is a neighborhood within the Vailsburg community and is part of the West Ward of Newark. Vailsburg was named for Dr. Merit H. Cash Vail, a physician, politician, and major landowner. It previously existed as an independent municipality but was annexed by Newark in 1905.
The neighborhood is shaped like a jagged Y, with Sanford Avenue, its western boundary, stretching as far as Tremont Avenue on the two sides of the Y and to Route 510 in the middle. The eastern boundary is the Garden State toll road. The southern boundary is jagged, ranging from 16th avenue in the east to the south of Sanford Place in the west.
The neighborhood is walkable and dog-friendly, but a car will be needed for most errands. The area feels like a mix of suburban and urban features. Restaurants feature a variety of flavors, from Caribbean dishes at Bones Kitchen to Middle Eastern cuisine at Madina Halal Platters. The neighborhood features a health market, Great Natural Life. The population is 26,628. The neighborhood is known for having lots of parks and 1920s-era church landmarks. Commuting time to downtown Newark is about 19 minutes. Houses range in price from $75,000 Newark condos to about $900,000.
Forest Hill
Forest Hill Amenities
Branch Brook Park, which hosts an annual Cherry Blossom Festival
Grand Ballantine Gateway
Access to Newark public transportation
Interesting architecture
Forest Hill, with its tree-lined streets and historic homes, is reminiscent of historic suburban streetcar neighborhoods. The John Sydenham House, built in 1712, is the city's oldest.
This North Ward neighborhood is bounded on the west by Branch Brook Park, on the south by Bloomfield Avenue or Second Avenue depending upon the map, and on the east by Summer and Mt. Prospect Avenues. Its two major roads, Ballantine Parkway and Heller Parkway, are named after former Newark residents. The neighborhood also features several sets of matching houses.
The commute to downtown Newark takes about 10 minutes. Grocery stores, such as Alexandra Food Center and Mount Prospect Grocery, are within walking distance, and the neighborhood is pedestrian-friendly, although a car is needed for most errands. There are several restaurants along the Broadway, Bloomfield, and Clifton Road corridors, such as Sabor Costeno Grill and Justin's BBQ. Homes range in price from about $145,000 to $1 million.
Downtown
Downtown Amenities
Performing arts venues including the New Jersey Performing Arts Center, Prudential Center, and Newark Symphony Hall
Newark Museum of Art
Educational institutions such as Seton Hall University School of Law and New Jersey Institute of Technology
The city's principal transportation hub
Restaurants on Market near Mulberry
Downtown Newark is the site of the original Puritan settlement at the bend of the Passaic River. It is now the city's commercial and business district and cultural center. Retail is centered around Market and Broad streets. Nightlife is varied and vibrant, including QXT's dance club and the City Lounge & Restaurant.
Homes range in price from around $216,000 to $470,000, and the neighborhood is highly walkable. The downtown neighborhood features various home types, including row houses, condos, and newly built luxury lofts. Other housing developments are in the planning stages and will give buyers an opportunity to live in Newark's new construction homes. Residents who work in offices or retail located downtown can walk to work or drive in a few minutes.
Even though downtown is the commercial district, it still offers opportunities for outdoor recreation and green space. The unmarked Lenape Trail links many of its historical and cultural sites. The trail also leads to other parks in and near Newark.
South Ironbound
South Ironbound Amenities
Festivals including Brazilian, Ecuadorean, and Portuguese cultural celebrations
Social clubs including Avenue A and Mi Ranchito
A variety of restaurants
A variety of locally owned and specialty grocers
The Ironbound neighborhood covers about four square miles and is part of the East-West Ward. South Ironbound is a smaller neighborhood within the Ironbound. It's roughly triangle-shaped and bounded by New Jersey Railroad Avenue on the west, roughly Malvern and Chestnut streets on the north, and Avenue I on the east and south. The name is either derived from the large metalworking industry that arose there or from the large network of train tracks surrounding it. The neighborhood is known for its annual Portuguese Parade and Festival, attracting more than half a million people.
The Ironbound neighborhood is a part of pop culture. The New Jersey metal band Overkill made an album based around the area, and some scenes from the movie "Shadow of Doubt" were filmed in the Ironbound.
Houses range in price from $220,000 to $885,000, and the neighborhood is about a five-minute commute from downtown. Residents can walk to grocery stores such as The Crab Palace and La Paloma and dining options such as Yocateo Restaurant and Astor Cafe, although they'll need a car for most errands. Residents are also close to many iconic Newark restaurants located in North Ironbound.
Fairmount
Fairmount Amenities
Variety of restaurants
Liberty Park on the Hudson, which has Manhattan and the Statue of Liberty in the background
Ferry service to Ellis Island
Access to public bus transportation
Fairmount is part of Newark's West Ward. Central Avenue is its major street. The neighborhood is bounded by South Orange Avenue on the south, the Garden State Parkway on the west, Interstate 280 on the north, and the University of Medicine and Dentistry of New Jersey on the east.
Houses range from $209,000 to $2,300,000. Property types vary and can include single-family homes or condos. The drive time to downtown is about 11 minutes. While the neighborhood is likely walkable and some errands can be done on foot, a car is needed.
The neighborhood offers a mix of urban/suburban feel. The neighborhood includes numerous restaurants—Jollof & Grill, Blueberry Cafe Juice Bar & Vegan Grille, and West Market Churrasquiera BBQ, for example—nightclubs, shopping, and several parks.
Upper Roseville
Upper Roseville Amenities
Very accessible to public transportation with two subway stations in the neighborhood
Newark Schools Stadium, a modern-day replacement for the historical one
A plethora of restaurants, especially along Bloomfield Avenue
Branch Brook Park
The Roseville neighborhood borders Bloomfield Ave township and the city of East Orange. To the east is the City subway and Branch Brook Park. Upper Roseville is the section of the Roseville neighborhood north of 3rd Avenue.
Roseville was originally called Rowesville and was farmland until the Civil War. Residential development began when the city built its first streetcar line in 1862. The neighborhood has a history of local community organizations, and its community council was the first grass-roots neighborhood organization in Newark.
The neighborhood was the home of the iconic Newark Schools Stadium. In addition to being used for high school football games, it was the home of the Newark Tornadoes NFL team in the 1930s and the Newark Stars baseball team in the 1920s. The Olympian Jesse Owens once ran track there. The original stadium was demolished in 2009, and a new stadium opened in 2011.
Home prices range from $149,000 to $650,000. The neighborhood features a variety of housing types, both detached and attached. The drive to downtown Newark is about 13 minutes. Residents can walk to restaurants, such as Luigi's and Belmont Tavern, and grocery stores, but a car is needed for many daily activities. Residents say the neighborhood has an urban feel.
Live Life Luxuriously in Newark, New Jersey
Newark's most expensive neighborhoods offer great variety. Some are peacefully quiet and feel more like suburbs, while others have a more urban feel, rich in nightlife and culture. Residents can also find a variety of property types and amenities in Newark's high-end neighborhoods.
Regardless of which neighborhood buyers choose, they'll find that all of them have green spaces and parks. They also have access to public transportation that, in turn, provides access to the entire world through Newark and New York Airports.
If you're looking for the right place to live in Newark, contact The Dekanski Home Selling Team of RE/MAX 1st Advantage with New Jersey Real Estate Network at (800) 691-0485 to get in touch with a Newark real estate agent who can help you find your ideal Newark home today.