Most Expensive Neighborhoods in Perth Amboy: Perth Amboy, NJ Expensive Living Guide
Posted by Rob Dekanski on Thursday, June 3, 2021 at 11:59 AM
By Rob Dekanski / June 3, 2021
Comment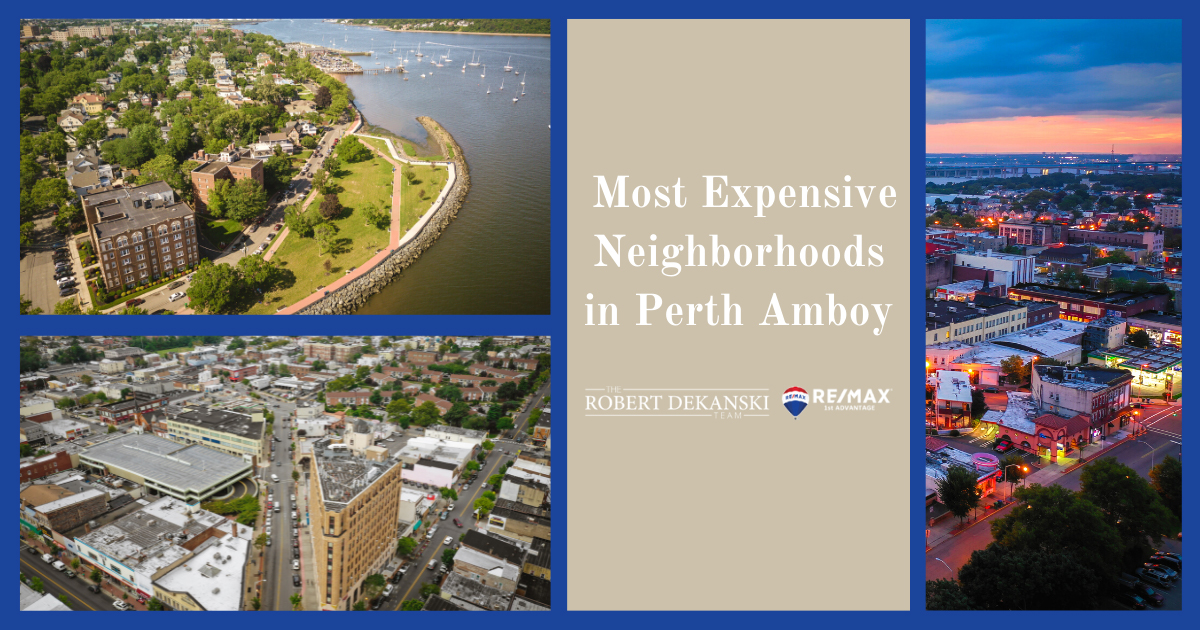 Known to many as the City by the Bay, Perth Amboy has more than 50,000 people in the footprint of the New York metro area. Many who work in New York make their homes in the comparative tranquility of Perth Amboy, with the bonus that home prices are more affordable outside of the Big Apple. However, that's not to say that Perth Amboy doesn't have its own high-end neighborhoods. If a house-hunter is looking for a more upscale Perth Amboy luxury home and has a greater budget to work with, here are some of the more expensive Perth Amboy neighborhoods that should be on their list.
Spa Springs
Spa Springs is an established neighborhood in the northwest part of Perth Amboy, with roughly 3,100 residents. While it's a small community, it has a lot to offer residents. For people looking for tree-lined streets and neighborhood parks, the Spa Springs neighborhood is a good choice. This is a quiet area where residents enjoy the opportunity to get out of the city and enjoy a less urban lifestyle. Commuting to work is still easy from Spa Springs, and there are some amenities within walking distance. However, there isn't an extensive bicycle infrastructure, and most residents prefer to drive.
Spa Springs is about 20 miles from Newark Liberty National Airport (EWR) and is only about four miles from the Harborside Marina. Nearby Warren Park provides lighted sports courts, playgrounds, walking paths, and more.
The majority of homes in the neighborhood are mid-sized, single-family homes, typically built in the 60s and 70s. The median home price here is around $320,000 and goes up to the mid $400,000, but it's possible to find homes here for less than $200,000.
Spa Springs Hotspots
Spa Springs Shopping
Spa Springs Restaurants
The Waterfront
The Waterfront Amenities
Perth Amboy Fishing Pier
Bayview Park
The historic community of The Waterfront is attractive to many homebuyers and is one of the most popular neighborhoods in Perth Amboy. There is a marina, yacht club, and art gallery in the waterfront area, with the Perth Amboy Ferry Slip easily accessible. The summer months bring live music to the marina on Sunday afternoons and a concert series on Thursday evenings in Bayview Park. For those who love art and entertainment, The Waterfront is an excellent neighborhood. The waterfront also includes a beautiful promenade made out of red brick.
The homes in this neighborhood are typically large single-family dwellings and are often described as stately. Victorian homes built in the 1800s are common, though newer construction in Perth Amboy is available. Waterfront views are, naturally, quite common in this neighborhood, and it's one reason many people seek out homes here. While the median home price in Spa Springs sits around $310,000, prices can range from the high $200,000s to the low $600,000s, so buyers should shop around.
Kearny College is in the neighborhood, and it has a museum for residents to enjoy. For those that love history, the waterfront is an excellent place to call home. From sailing to waterfront dining and outdoor music, there is always something to enjoy at the Waterfront.
The Waterfront Hotspots
The Waterfront Shopping
The Waterfront Cafés
The Waterfront Restaurants
Downtown Perth Amboy
Downtown Perth Amboy Amenities
Perth Amboy NJ Transit Stop
Urban walkability
Banks, public library, small shops, and restaurants nearby
Downtown Perth Amboy is the commercial district of Perth Amboy. The area has been revitalized with new streetlights, benches, and sidewalks and continues to benefit from efforts to improve the area and make it more attractive to visitors. The area is designated an Urban Enterprise Zone, where the sales tax rate is only half of the rate statewide. The downtown Perth Amboy dining scene is described as diverse, offering a wide range of food options. It's easy to walk around the downtown area, and it's accessible via public transportation. Biking is possible downtown, although a bicycle path infrastructure is not established.
In addition to convenient access to a plethora of shopping and dining options, residents of Downtown Perth Amboy are also within 20 minutes or so of the attractions and landmarks of Staten Island. The island and the waterway provide pleasant scenery in this neighborhood.
Home prices here tend to range from the low $200,000s to the mid $300,000s. Most homes are small apartments, but there are single-family and multi-family dwellings as well.
Downtown Perth Amboy Hotspots
Come Home to Perth Amboy
Perth Amboy is a city that has a wide range of homes available to people of any interest. From the quieter northwestern corner of Spa Springs to the vibrant downtown area, it's possible to find a perfect home in Perth Amboy. Whether one is interested in the waterfront and loves sailing or wants to try out a new restaurant every weekend, Perth Amboy doesn't disappoint. With plenty of restaurant choices, gyms, museums, and outdoor entertainment, there are always things to do in the Perth Amboy area. The location is great, with waterfront properties, city properties, and more rural homes for residents to enjoy.
If you're scouting out the right neighborhood for you in Perth Amboy, contact The Dekanski Home Selling Team of RE/MAX 1st Advantage with New Jersey Real Estate Network at (800) 691-0485 to talk to a local real estate agent who can give you more details and help you find the perfect Perth Amboy home.