7 Most Expensive Neighborhoods in Toms River: Where Luxury Lives
Posted by Rob Dekanski on Thursday, May 18, 2023 at 12:56:25 PM
By Rob Dekanski / May 18, 2023
Comment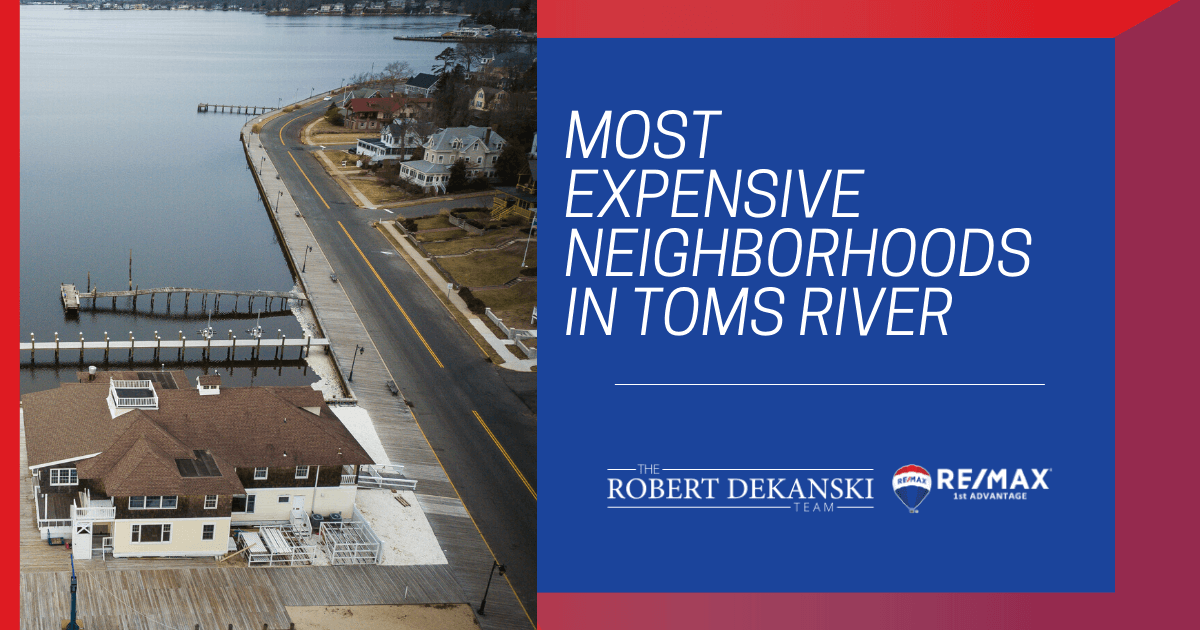 Toms River Township is a charming New Jersey community known for its beautiful beaches, historic landmarks, and vibrant culture. One of the best towns in Ocean County, Toms River boasts several neighborhoods, each with its own unique character and charm. However, some of these neighborhoods come with a hefty price tag. Homebuyers moving to New Jersey can use this guide to explore the most expensive areas in Toms River and learn a bit about what makes them so desirable.
Cranmoor
Set on the banks of Toms River, Cranmoor is a luxurious waterfront neighborhood with sizable homes just minutes from great shops, restaurants, and recreational opportunities.
Cranmoor is a well-established neighborhood with homes dating from the early 1930s to the late 80s. Colonial- and traditional-style homes dominate the community, although plenty of shingle-style homes and split levels exist. Homes in Cranmoor are generally midsize to large, ranging from 1,500 to over 2,300 square feet.
The southern edge of Cranmoor features waterfront homes overlooking Toms River. Many of these luxury estates have private docks, allowing residents access to boating, fishing, and other water sports from their backyards. These exclusive waterfront properties have sold for as much as $4 million, while smaller inland homes can sell for as little as $529,000.
Cranmoor is just down the road from excellent shopping and dining opportunities. Driving in New Jersey is unpredictable, to say the least, but residents can typically reach the Toms River Mall in just 2 minutes. The shopping center has a bank, a gym, and several specialty shops and services. Meanwhile, one of the town's best burger joints is only 5 minutes from the neighborhood. Stop by Burger 25 for burgers made fresh daily from Black Canyon Beef and a rotating menu of specialty shakes.
Cranmoor Amenities
Toms River Country Club
Toms River Elks Lodge 1875
Toms River Yacht Club
Washington Street Elementary
Riverfront Dental Care
Stop & Shop
Shelter Cove
Nestled in Barnegat Bay, Shelter Cove features midsize Toms River waterfront homes near excellent options for recreation and shopping.
Shelter Cove began its development in 1958, but most homes in the neighborhood today came up between 1964 and 2014. Shelter Cove homes are mostly split-levels or ranches, but the community also has eye-catching custom-built homes sporting unique design elements.
A series of canals wind through Shelter Cove, providing most homes in the community with backyard access to Barnegat Bay. Landlocked homes in Shelter Cove can cost as little as $200,000, but the waterfront gems can command anywhere from $525,000 to $3.8 million.
Just north of the neighborhood lies Shelter Cove Park. This bayfront park offers a playground and lighted facilities for soccer, softball, basketball, and tennis. It also features a sandy beach with gentle waves and a lifeguard on duty until 5 pm during the summer. Build sandcastles, dip a toe in the water, or play a round of beach volleyball at one of the park's two nets.
Shelter Cove is primarily residential, but shopping, dining, and essential services are just a few minutes away on Fischer Boulevard. The road is home to numerous businesses, including grocery stores, banks, and restaurants like the Four Seasons Diner, which serves classic American comfort food.
Shelter Cove Amenities
East Dover Marina
Hobby Lobby Marine
VCA Fischer Animal Hospital
Rite Aid
ShopRite of Fischer Bay
Windsor Park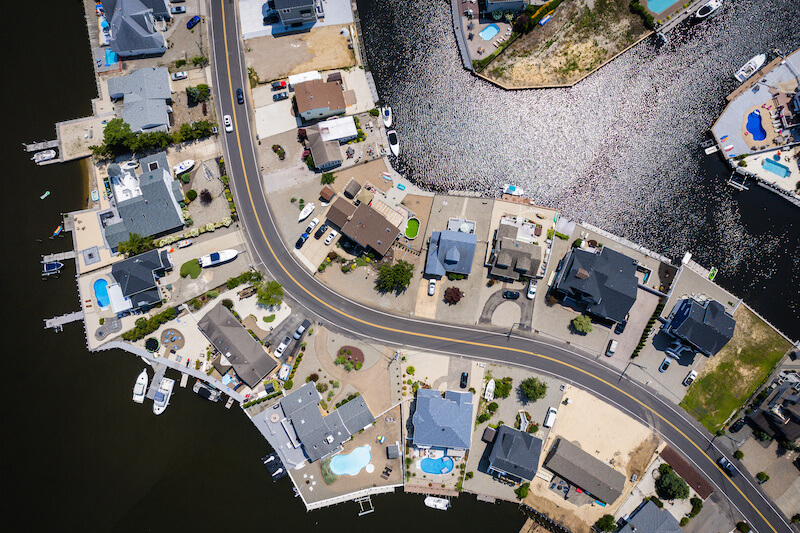 Windsor Park offers ranches and coastal homes just north of NJ-37, giving residents quick access to shops, restaurants, and Jersey Shore's barrier islands.
The cozy suburb dates to the 1940s, but most homes are from 1970 to 1999. Sprawling ranches make up most of the market in Windsor Park, but the eastern part of the neighborhood features towering coastal homes overlooking Barnegat Bay. A canal system provides most homes east of Fischer Boulevard with water access, allowing residents to enjoy boating and fishing on the bay.
Modest inland homes with two bedrooms and one bathroom can sell for as little as $285,000. Meanwhile, the largest and most luxurious Ocean County waterfront homes here can cost as much as $2.9 million. These posh estates often have impressive amenities like heated floors, built-in pizza ovens, swimming pools, and even private putting greens.
With NJ-37 to the south and Fischer Boulevard running through the community, Windsor Park is just minutes from beautiful barrier islands and great local businesses. Try the fresh-made sweets at Ob-Co's Donuts, order a gourmet pizza from Naples Pizza & Restaurant, or venture over the bridge to explore the famous Casino Pier in Seaside Heights.
Windsor Park Amenities
Pied Piper Swim School
East Dover Marine
Coastal Veterinary
East Dover Elementary School
Toms River East High School
Snug Harbor
Overlooking Silver Bay, Snug Harbor is a quiet waterfront neighborhood with spacious homes boasting quick access to local restaurants and recreational opportunities.
Like other waterfront communities in Toms River, Snug Harbor features a canal system that gives nearly every home water access. Most homes in the neighborhood have private docks, offering residents quick access to Silver Bay, a favored spot for boating and fishing near Toms River.
Snug Harbor features a variety of architectural styles, including ranches, colonials, and modern-style homes. Properties range from midsize three-bedroom homes to enormous five-bedroom estates. While landlocked, single-family homes in Toms River start at $325,000, waterfront homes range from $615,000 to over $2.7 million.
In the southeastern corner of Snug Harbor lies the Toms River Township Pool. Once owned by the Snug Harbor Civic Association, the township bought the pool in 1975 and now serves the public alongside Snug Harbor residents. In addition to the pool, the area also has a kiddie pool, tennis courts, a playground, and a snack bar.
Snug Harbor's western boundary is Fischer Boulevard, which features numerous shops and restaurants. The nearby Breakin Bread Eatery offers an ideal lunch with Italian-inspired sandwiches, while Chang Thai Kitchen boasts authentic Thai cuisine perfect for a night out.
Snug Harbor Amenities
Ocean Gymnastics Academy
Coty Marine
Go Fish Bait & Tackle
Pure Toms River Yoga & Wellness
Anchorage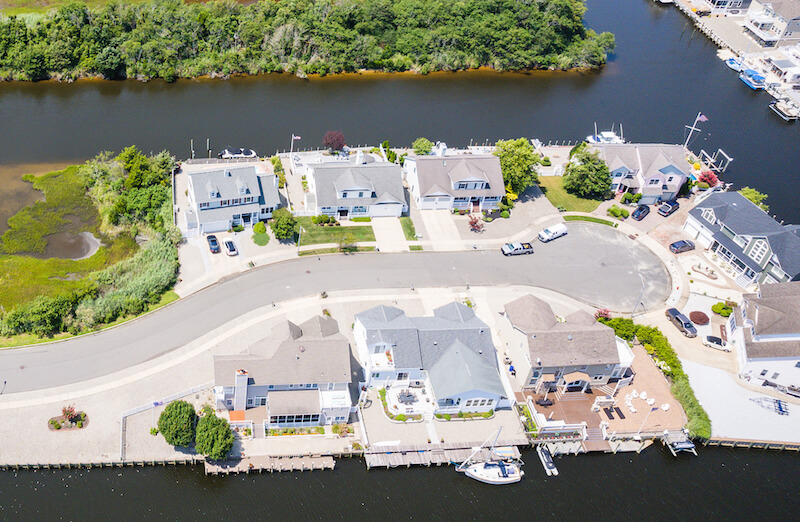 Tucked between pristine wetlands and Silver Bay, Anchorage is a secluded waterfront community offering expansive Toms River luxury homes.
Anchorage is smaller than many waterfront neighborhoods in Toms River. A small series of shorter canals allows Anchorage residents even faster water access than most Toms River communities. Even better, the community sits between Silver Bay and the 45-acre E.B. Leone County Conservation Area, meaning the area's stunning nature views won't disappear with new developments.
Many homes in Anchorage are enormous, spanning several thousand square feet, but many inland homes are more mid-sized. Anchorage features an eclectic range of architectural styles, including coastal colonials, ranches, split-levels, and shingle-style homes. Homes in Anchorage start at $315,000, but the exclusive waterfront properties can sell for $676,000 to $2.5 million.
Although Anchorage is a quiet residential area, it remains just a quick drive away from numerous shops and restaurants. Just outside the community's entrance, Anchorage Square Plaza features escape rooms, convenience stores, various service providers, and McIntyre's Pub, which has 23 beers on tap and a wide selection of pub grub available. Even more shops and restaurants can be found along Hooper Avenue, including the non-profit JBJ Soul Kitchen, which asks diners to donate or volunteer instead of setting fixed prices.
Anchorage Amenities
Toms River Golf Center
Ocean County College
Unity Dental PC
Family First Urgent Care
Silverton Community Club
Bayshore
Located just south of NJ-37 on the banks of Toms River, Bayshore offers spacious homes with quick access to water recreation, Jersey Shore's barrier islands, and great local businesses.
Bayshore is a well-established neighborhood, with its oldest homes dating to 1932. Midsize homes hailing from coastal colonial, ranch, and shingle architectural traditions dominate the community. The eastern side of Bayshore features several canals, providing water access to some of the area's largest and most luxurious homes.
Many Bayshore homes also offer excellent views of Toms River and the riverside promenade along Bay Shore Drive, with several benches overlooking the water. While these homes may not have direct water access, they are close to several marinas.
Bayshore's most exclusive waterfront homes can sell for $650,000 to $1.3 million. Meanwhile, the western side of Bayshore offers more modest cottages starting in the low $200s.
With NJ-37 just north of the neighborhood, Bayshore is minutes from great shops, restaurants, recreational opportunities, and some of Ocean County's best beaches. Residents can style their home at Seaside Furniture, enjoy fresh sushi and inspired Chinese food at Xina, or pop across the bridge to enjoy the sandy Seaside Heights Beach.
Bayshore Amenities
BayShore Marina
Toms River Marine and Motorsports Marina
Pier One Motel & Marina
Bay Shore Beach Club
Gilford Park Yacht Club
Coastal Veterinary
Silverton
Set on the northern banks of Silver Bay, Silverton is a large Toms River suburb boasting sizable waterfront estates.
Edwin Irons and Mary Clayton settled the area around 1840. They worked on a dairy farm, feeding the cows with salt hay from the Green Island marshes. Silverton's oldest homes date to 1900, but the neighborhood continues to develop with new construction.
Most homes in Silverton are beautiful colonials, but the neighborhood also offers many split-level homes. Silverton's most expensive homes are waterfront properties predominantly clustered in the eastern part of the community. This area features a series of short canals that offer Silverton residents access to Silver Bay right in their backyards.
These upscale subdivisions host several clubs and associations available exclusively to area residents. Members can enjoy private beaches, boat ramps, fishing docks, and playgrounds in Silverton.
Silverton's sizable estates typically have three to six bedrooms spread across more than 2,000 square feet of space, with many homes boasting over 3,000 square feet. These Ocean County luxury homes can sell for $900,000 to $1.9 million.
While Silverton is almost exclusively residential, it does have a few shops and restaurants. Princeton Deli offers breakfast sandwiches, subs, and burgers and serves as a convenience store for the Green Island area. Voted the best ice cream at Jersey Shore, Yellow Brick Road Ice Cream Carousel operates in a whimsical circular building on Hooper Avenue.
Silverton Amenities
Green Island Community Association
Riviera Bay Beach Club
Silver Bay Harbor Association
Kettle Creek Marina
Ocean County Volleyball Club
Silverton Park
Explore Toms River's Priciest Neighborhoods
Toms River is home to some of the state's most sought-after and expensive neighborhoods, and homebuyers with sizeable budgets who are moving to Ocean County should give them a good look. These neighborhoods offer residents a luxurious lifestyle, with stunning homes, beautiful landscapes, and top-notch amenities. Whether you're looking for a waterfront property or a secluded retreat, Toms River has something to offer. While these neighborhoods may have a high price tag, they offer residents an unparalleled quality of life, making them worth every penny.
Read Our expensive Neighborhood Guides For Each City Below