8 Newark Home Builders to Design Your Dream House
Posted by Rob Dekanski on Wednesday, November 3, 2021 at 8:09 AM
By Rob Dekanski / November 3, 2021
Comment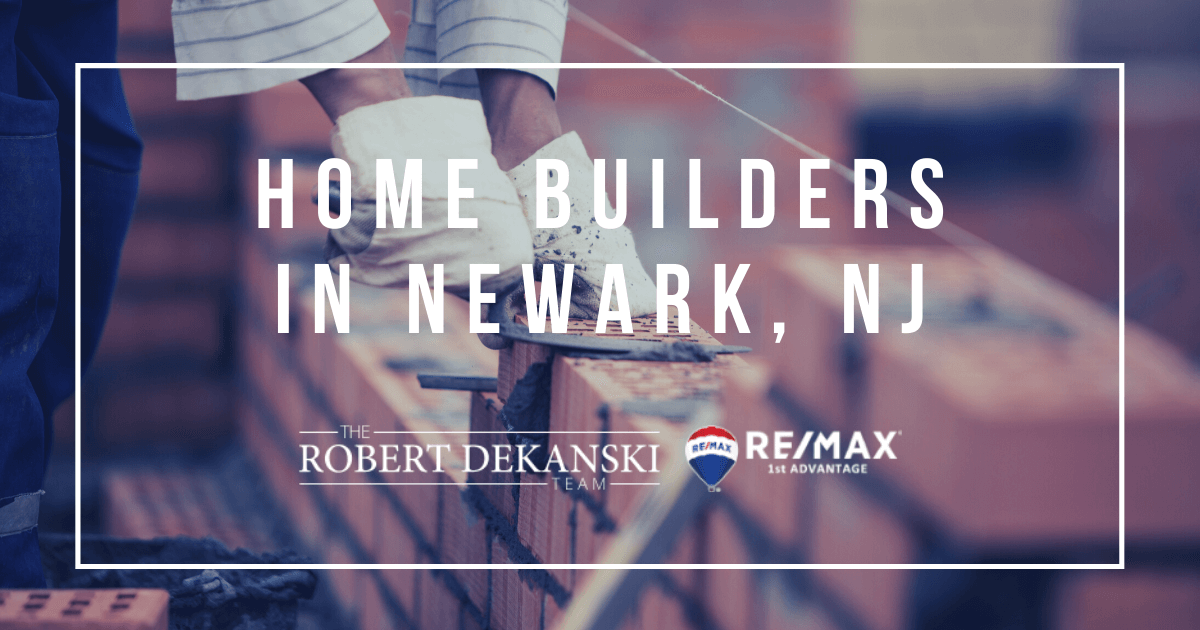 Most Popular Home Builders in Newark, NJ
For those hoping to buy a home in Newark, New Jersey, one of the options that may be available is building. The new construction homes for sale in Newark and new developments in the area provide many opportunities for today's home buyers, from sleek condos to luxury homes. The key to buying a new construction property (or building from the ground up) is to find available builders. Here is a look at some of the builders available in Newark real estate.
Anthony James Master Builders
Anthony James Master Builders has over 30 years of experience serving the Newark area. The company serves all of Union, Essex, and Warren Counties. It offers a full design-to-build service, handles home remodels of all scales, and offers new construction projects, including brand new homes for sale. This company specializes in traditional methods of construction, including using highly skilled talent to produce outstanding quality. They also have moved to using building materials and construction practices that are environmentally friendly.
In addition, Anthony James Master Builders receives 90% of their supplies from suppliers within 10 miles of their services and office. It's a family business that bills itself on quality at an affordable price. The company strives to use best practices and does so using smart technology and resources. This may be the ideal choice for a builder for those considering architectural work, sustainable design solutions, and green building.
Anthony James Master Builders Additional Information
Year Established: 1952
Find Homes for Sale in Areas Served by Anthony James Master Builders: Berkeley Heights real estate, Clark real estate, Cranford, Fanwood real estate, Livingston, Millburn, Mountainside real estate, New Providence real estate, Scotch Plains real estate, Springfield real estate, Summit, Warren Township real estate, Westfield real estate, and Garwood real estate
JNR Enterprises
JNR Enterprises is a contracting group that provides several services, including new construction, out of Wayne, NJ. This company offers full custom design and build services. Many of its projects are high-end and specialized properties. The company has a motivated team of professionals striving to provide outstanding workmanship, good communication, and overall good service.
As a full-service new construction company, JNR Enterprises focuses on helping people improve their quality of life. It does this with a focus on custom work but works closely with clients to create one-of-a-kind homes. They have a full staff of professionals available. In addition to new construction, they also offer renovation work and home remodeling.
JNR Enterprises Additional Information
Find Homes for Sale in Areas Served by JNR Enterprises: Basking Ridge, Caldwell real estate, Cedar Grove real estate, Chatham, East Hanover, East Rutherford, Essex Fells real estate, Far Hills real estate, Franklin Lakes, Glen Rock, Hanover, Hawthorne, Lincoln Park, Little Falls, Lodi, Lyndhurst, Mahwah, Maywood, Millburn real estate, Montclair, Montville, Mountain Lakes, North Caldwell, Oakland, Paramus, Parsippany, Pequannock, Pompton Lakes, Ramsey, Ridgewood, Saddle Brook, Short Hills real estate, Totowa, Upper Montclair, Verona real estate, Waldwick, Wanaque, Wayne, Woodland Park real estate, and Wyckoff
RS Mannino
RS Mannino is a full-service construction company that also offers architectural services. In addition, the company is recognized for its specialized cabinetry services. RS Mannino is a premium home designer and builder serving both New Jersey and New York. The company specializes in luxury home building, including single-family detached homes, townhomes, and apartments.
The company is led by Rosario S. Mannino, a registered architect and a member of numerous organizations, including the Rutherford Historical Preservation Society, the U.S. Green Building Council, the American Institute of Architects, and other services. They have numerous awards, including LEED AP and AIA.
One of the key features that help make this company unique is its architect-led design-build, which is not always what is present in home construction companies. They also provide site selection and permitting services and estate management services for large organizations.
RS Mannino Additional Information
Find Homes for Sale in Areas Served by RS Mannino: Bayonne, Cliffside Park, Cresskill, Demarest, Edgewater, Fort Lee, Hoboken, Jersey City, Manhattan, Maplewood real estate, Millburn, Montclair, New York, North Caldwell real estate, Paramus, Queens, Ridgewood, Rutherford, Summit real estate, Union City, Upper Montclair, Verona, Wayne, Weehawken, and West Orange real estate
Millennium Custom Homes
Millennium Custom Homes aims to build luxury, one-of-a-kind dream homes. Every home is unique and includes ample attention to craft and detail. These properties are designed to be impressive but, more importantly, fitting to the owners for years to come. They balance function with design in a seamless manner. The company works to guide its clients through the process of designing and building a home to fit their specific needs.
The company has won numerous awards, including the 2021 Award of Excellence from the Metropolitan Builders & Contractors Association, and is a SAM Award winner. The owner, Phil Calinda, was recognized as a Graduate Master Remodeler by the National Association of Home Builders in 2015. He has also chaired the Education Committee of the Community Builders & Remodels Association of NJ.
Millennium Custom Homes Additional Information
Year Established: 2007
Price Range: $750,000 – $5 million
Find Homes for Sale in Areas Served by Millennium Custom: Cranford real estate, East Hanover, East Orange real estate, Florham Park, Livingston real estate, Madison, Maplewood, Millburn, Montclair, Morristown, North Caldwell, Parsippany, Springfield, Summit, Upper Montclair, West Orange, Westfield, and West Caldwell real estate
ECS Homes
ECS Custom Homes is a large home builder and construction management company. It specializes in residential renovations and custom new homes. The company is run by Mike and Nora, a husband and wife team with years of experience. They have a network of trades professionals who handle most genres of home design. The company offers most home styles from traditional through contemporary looks. The company has a strong focus on design and uses superior finishes to ensure the best possible outcome.
With numerous styles of projects under their belt, this team provides a range of services to their customers throughout the Newark area. They are down-to-earth and easy to work with while still providing superior workmanship. The company is based out of Washington Township.
ECS Homes Additional Information
RTH Building Company
Instead of building a house, RTH Building Company aims to build homes, which they specify as places to live and relax and places to love being in with beauty that suits the owners perfectly. The company builds luxury that is livable while also redefining what modern style is. They work closely with property owners to create their vision and offer superior craftsmanship on every project they complete.
One of the ways RTH Building Company works to stand out is with masterful craftsmanship. They do not take shortcuts and, instead of contracting work out, they have a team of professionals on staff that handles their projects. Their goal is to create breathtaking and iconic homes throughout Montclair, where they are centered. Their style is clean lines and functional modern, but they work closely with clients to capture their specific needs.
RTH Building Company Additional Information
Price Range: $300,000 – $15,000,000
Find Homes for Sale Areas Served by RTH Building Company: Montclair real estate
Heritage Manor Homes
Another company providing home building services in Newark, New Jersey, is Heritage Manor Homes LLC. The company is a custom builder and remodeler, often with precision detailing and exceptional quality. They handle many projects, including building green homes.
The company is led by Bob Rau and Rich Bower, both of whom have extensive experience in the area. Bob Rau comes from a multi-generation family of home builders and has 40 years of homebuilding experience himself. Rich has been in the industry since 1983, providing custom-designed homes in numerous areas. Recognized for their custom-designed homes, the pair have built a home for themselves that offers the highest quality of structures. They are a construction company with a solid reputation for non-rushed, high-quality projects and superior professionalism.
Heritage Manor Homes Additional Information
Jack Finn & Company
Another home builder to consider is Jack Finn & Company, located in Montclair. The company prides itself on working to meet the buyer's specific needs. They work with numerous architects and engineers on projects to ensure the vision and scope of every project are carefully planned. This company is also focused on delivering on-budget projects that are exceptional from start to finish.
This locally based company is recognized for both its custom home construction and its residential renovations. In addition to this, the company makes completing projects on time a priority, ensuring the best possible outcome for each party. It has a long list of commercial construction project awards and plenty of satisfied customers in residential construction.
Jack Finn & Company Additional Information
Year Established: 1980
Areas Served: Caldwell, Cedar Grove, Essex Fells, Glen Ridge, Montclair, South Orange, Verona, West Orange
Explore the Opportunities for Building a Dream Home
When it comes to finding a plot of land available in Newark or securing the next new construction home that is hitting the market, Newark offers many options. Working closely with area home builders may make the process a bit easier to manage. It most certainly provides those in the area with options for building or renovating homes with superior attention to detail and a drive to create just what they desire. Take a look around the best neighborhoods in Newark and the most popular suburbs nearby and envision what your new home in Newark might look like with one of these Newark home builders.
If you're looking for the right place to live in Newark, contact The Dekanski Home Selling Team of RE/MAX 1st Advantage with New Jersey Real Estate Network at (800) 691-0485 to get in touch with a Newark real estate agent who can help you find your ideal Newark home today.