Is Newark Walkable? 8 Best Neighborhoods for Walkabilty in Newark
Posted by Rob Dekanski on Monday, January 3, 2022 at 6:39 AM
By Rob Dekanski / January 3, 2022
Comment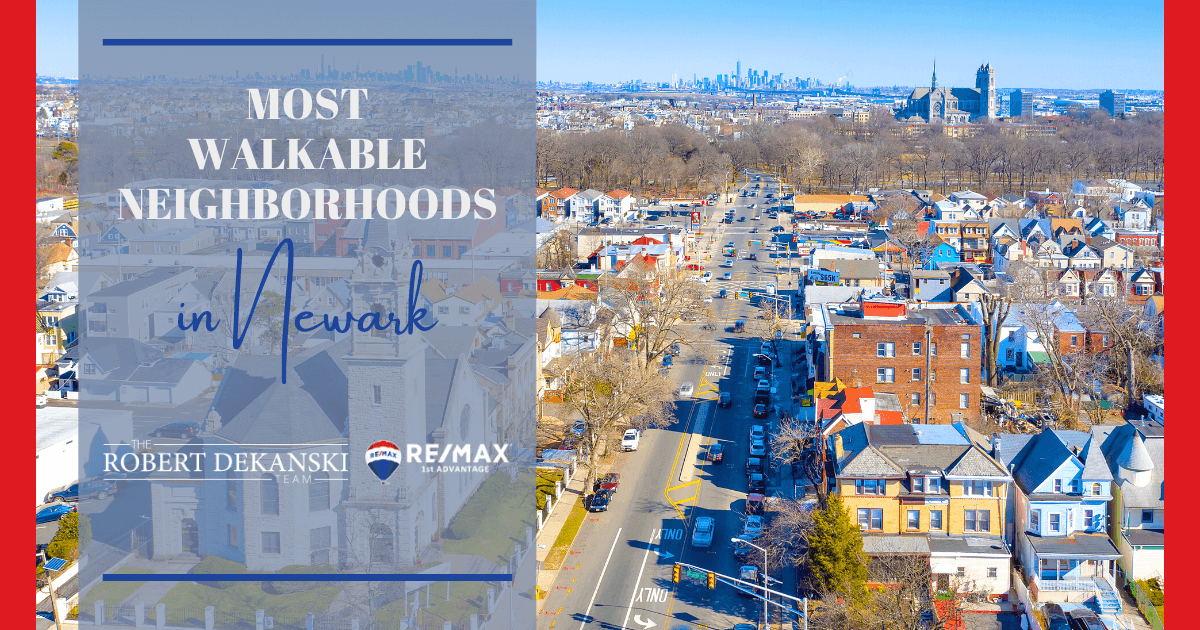 With about 312,000 people, the Newark community is the largest city in New Jersey and the 62nd most populous city in the United States. It is also one of the most walkable cities in the United States. In fact, it has received an overall average walking score of 79, which means that Newark residents can accomplish most of their regular errands on foot. Newark's public transportation, sidewalks, and building accessibility contribute to this high level of walkability. Read on to learn about the most walkable neighborhoods in Newark.
Stroll Through the Central Business District
Central Business District Amenities
Many parks and trails, including Military Park
Easy commute to downtown businesses and Manhattan
Great restaurants and nightlife
Newark Museum of Art, the state's largest museum
A variety of shopping options within the neighborhood
Excellent public transportation options
The Puritans, the first European settlers of Newark, originally landed and settled near the present-day New Jersey Performing Arts Center in the Central Business District. The district is bordered on the west by Arlington Street, north by Interstate 280, east by the Passaic River, Newark Penn Station, and Route 21. Most of the city's office buildings and cultural venues also are included in this district, and much of its retail is centered on Broad Street and Market Street. Light rail and bus lines also serve the area. The area is highly walkable, giving residents an alternative to driving in Newark.
Newark condos and townhomes are the most common property type in the Central Business District and are typically affordable, with prices ranging from $200,000 to $450,000.
The central business district is the city's hub and features many cultural venues, shops, restaurants, and nightlife venues. The New Jersey Performing Arts Center presents a variety of concerts, dance, and other programs. Prudential Center hosts sporting events and concerts, and many bars and other nightspots have grown near it. A Whole Foods Market is in the neighborhood.
Walk to Top Restaurants in The Ironbound
The Ironbound Amenities
Accessibility to public transit
Wide variety of restaurants
Several parks, including Riverfront Park, which offers kayaking and other recreational opportunities
Two recreation centers
Easy commute to downtown
The four-square-mile area known as The Ironbound neighborhood derives its name from the iron industry located in Newark and from the neighborhood's bordering railroad tracks. It is east of the Newark Penn Railroad station and south and west of the Passaic River, passing the Jackson Street Bridge. The neighborhood is part of the East Ward and divides into North Ironbound and South Ironbound. Newark International Airport is located in South Ironbound. South Ironbound is currently primarily industrial, but new residential construction is underway. Penn Station borders the neighborhood and is within walking distance; buses also provide transportation.
The neighborhood features both attached and semi-detached housing.
The vibrant neighborhood is known for having some of the most famous restaurants in Newark. One example is Adega Grill, which features Portuguese and Spanish food and an extensive wine list. Hamburgao has Brazilian burgers for takeout billed as the best in New Jersey. Seabra's Market is a well-known market founded by a Portuguese immigrant named Americo Nunes Seabra in the 1960s. Local shops and bars also are plentiful. Several annual festivals, including Brazilian, Portuguese, and Ecuadorean, are held in the neighborhood.
Walk With Ease in the University Heights Neighborhood
University Heights Amenities
Four universities with community events and programs
Many parks, including Veteran's Memorial Park
Variety of housing styles and architecture
Convenient access to the train
University Heights is becoming one of Newark's best neighborhoods. It is home to Newark's four universities: Rutgers, The New Jersey Institute of Technology, the New Jersey Medical School, and Essex County College. Boundaries are roughly University Avenue to the east, Orange Street to the north, Bergen Street to the west, and South Orange Avenue to the south. Newark Light Rail frequently stops in the neighborhood, allowing residents to connect to the rest of the city and New York City without driving.
Housing options include single-family homes, townhomes, and condos.
The Springfield Avenue Marketplace, anchored by a ShopRite market, is a new shopping hub in the neighborhood. The neighborhood also includes several restaurants, cafes, and nightlife venues. The Priory Restaurant offers American food, and The People's Choice Bar is a popular club.
Walkers Love the Mount Pleasant Neighborhood
Mount Pleasant Amenities
Easy access to public transportation
Branch Brook Park, the nation's first county park, is nearby
Hilltop site overlooks the river
Mount Pleasant gets its name from its location on a hill overlooking the Passaic River. The neighborhood is east of Branch Brook Park and north of the Lower Broadway neighborhood. Boundaries include Garside Street to the west, Second Avenue to the north, the river to the east, and Interstate 280 to the south. It is also directly north of the Broad Street Transit Station. It is in Newark's North Ward. Several bus lines stop on Broadway and Bloomfield Avenue and contribute to the neighborhood's walkability.
Most of the housing in the neighborhood is single-family homes and duplexes, but some affordable condos are along Broadway.
Most of the retail shops and restaurants are along Broadway. One example is El Eden, a Peruvian restaurant. Some restaurants also are just off McCarter Highway. One example is La Farandula, a popular Dominican restaurant. Shops are within the neighborhood, but residents can access larger national stores by crossing the Clay Street Bridge.
Seventh Avenue: One of Newark's Most Walkable Areas
Seventh Avenue Amenities
Branch Brook Park is a 360-acre green space with jogging, biking, and walking paths, a roller skate area, tennis courts, athletic fields, and the Prudential Concert Grove.
Excellent accessibility to both light rail and bus
Within walking distance of downtown
Seventh Avenue in the North Ward is bordered by Bloomfield Avenue on the north, Broadway and Broad Street to the east, Interstate 280 on the south, and the westernmost edge of Branch Brook Park to the west. The Broad Street and Orange Street light rail stations serve the neighborhood and help to make the city and other parts of the country accessible without cars. From the neighborhood, residents also can walk to the Central Business District. The neighborhood was originally settled largely by Italian immigrants, and community life revolved around St. Lucy's Church, which still stands. One of the largest Italian newspapers in the United States, The Italian Tribune, was founded in this neighborhood.
Homes are primarily single-family homes and duplexes, many of which are located across the street from Branch Brook Park.
The neighborhood is geographically small; however, some restaurants and bars are located along Broadway and Bloomfield. For example, the Lugo Bar and Lounge on Bloomfield and the Di Lubio Aser Tavern on Broadway. Italian restaurants in the neighborhood were a favorite of Yankee great Joe Dimaggio. Luigi's Pizza features New York pizza by the slice, whole pies, soups, and salads. A small shopping center is located at the intersection of Seventh Avenue and Mount Pleasant Avenue.
Springfield-Belmont Makes it Easy to Walk Newark's Central Ward
Springfield-Belmont Amenities
Several parks, including Jesse Allen Park and Nat Turner Park
Landmarks and other buildings of significant architectural interest
Proximity to downtown
Access to public transportation
Springfield-Belmont is part of Newark's Central Ward. Its borders are South Orange Avenue in the north, Avon Avenue in the south, Martin Luther King Boulevard and University Avenue on the east, and Bergen Street in the west. It contains many excellent examples of Art-Deco, Beaux-Arts, and Victorian architecture. Frequent bus service is available in the neighborhood, and residents are only a short distance away from light rail stops.
The neighborhood provides a combination of single-family homes and townhomes. The northeast section of the neighborhood is fascinating to developers because it is near the Teacher's Village, a mixed-use development downtown.
The neighborhood has several commercial corridors that feature local shops and restaurants. These are along Bergen Street, Irving Turner Boulevard, and Springfield Avenue, connecting Springfield-Belmont to downtown. Some restaurants include Vonda's Kitchen, Roberto's Pizza, and Ambassador Fish and Chicken. Numerous bars and nightclubs also are nearby. A Cityplex 12 Movie Theater provides stadium seating for new releases.
Get Around the Fairmount Neighborhood on Foot
Fairmount Amenities
Proximity to universities in University Heights
Green Community Garden
Accessible to public transportation
Vailsburg Park is within walking distance of the southwest part of the neighborhood
In the city's West Ward, Fairmount is bordered on the south by South Orange Avenue, on the west by the Garden State Parkway, on the north by Interstate 280, and on the east by the University of Medicine and Dentistry of New Jersey. Central Avenue is the major street within the neighborhood, and New Jersey Transit offers bus service along that street, South Orange Avenue, and Bergen Street. Light rail connections are within walking distance. The neighborhood's boundaries are within blocks of hospitals and universities within the University Heights neighborhood.
A mix of housing types is found in the neighborhood, including single-family, townhomes, and condos in high-rises.
The neighborhood is one of the city's busiest, and several restaurants and bars are located along Bergen Street and Central Avenue. Popular with vegans is the Blueberry Café Juice Bar and Vegan Grille. Little Joe's Lounge is a local nightspot. Rodriguez Grocery is a local market.
Stroll Amid Historic Scenery in the Forest Hill Neighborhood
Forest Hill Amenities
Architecture
Branch Brook Park, which offers 360 acres of recreational opportunities, historic bridges, and water features
Althea Gibson Tennis Court
Access to public transportation
Accessible to downtown Newark
Forest Hill has a suburban feel and sits alongside Branch Brook Park. It is a pre-World War II neighborhood and features Georgian, Beaux-Arts, Tudor, and neo-Classical architecture. It is also listed in the National Register of Historic Places. Its borders are Branch Brook Park on the west, Bloomfield Avenue or Second Street on the south, Summer and Mount Prospect avenues on the east, and Mill Street on the north. It is 30 miles from New York City. Bus and light rail stops are within the neighborhood.
Housing prices vary widely from the upper $100,000s to more than $800,000. Many housing types are available, including single-family homes, townhomes, and condos.
The area offers many restaurants, including Taino's Kitchen, which delivers Puerto Rican and Caribbean food, Omar's Cuban Café, and Frank's Pizzeria. Branch Brook Park often shows movies at night in summer, and residents can go to the nearby town of Roseville for other night activities. An annual Cherry Blossom Festival takes place in Branch Brook Park.
A Walkable Newark
Newark is an exciting city for those who enjoy access to stores, restaurants, businesses, and nightlife without owning a car. Residents can choose to live in the bustle of downtown, historic urban neighborhoods, or more suburban areas. These Newark neighborhoods could be a perfect match for anyone who loves walking to local shops, restaurants, and parks.
If you're looking for the right place to live in Newark, contact The Dekanski Home Selling Team of RE/MAX 1st Advantage with New Jersey Real Estate Network at (800) 691-0485 to get in touch with a Newark real estate agent who can help you find your ideal Newark home today.