Most Walkable Suburbs Near Edison, NJ
Posted by Rob Dekanski on Friday, February 19, 2021 at 12:14 PM
By Rob Dekanski / February 19, 2021
Comment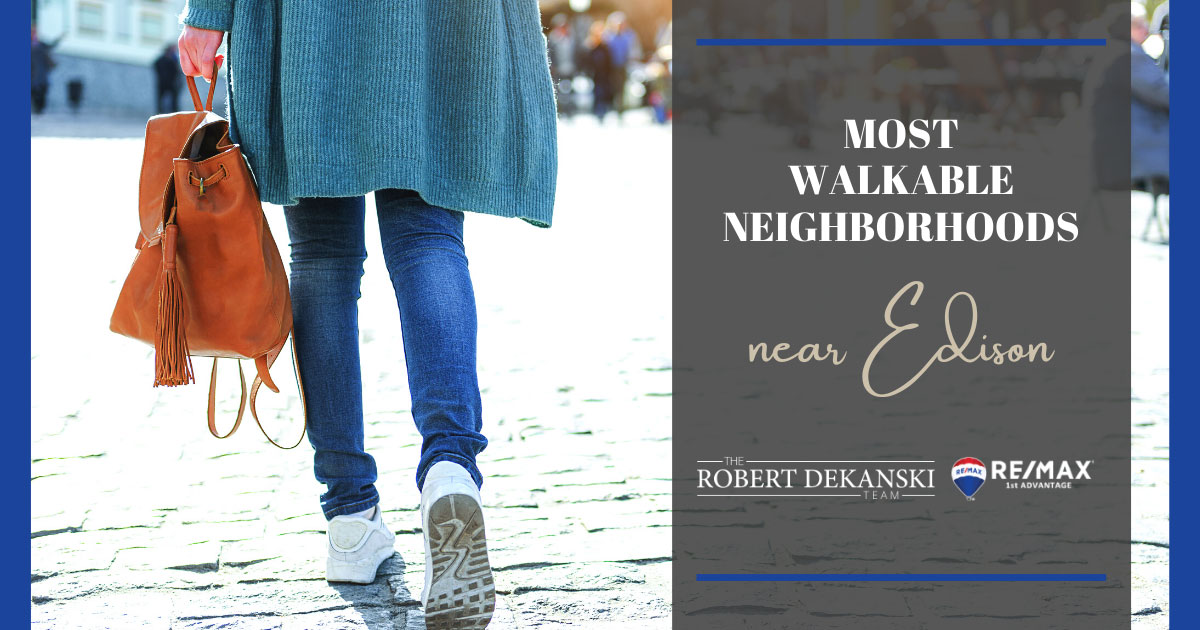 For many years, cars were considered a must-have. Teenagers couldn't wait to get their driver's licenses, and most new homes were built with garages that could fit at least two cars, if not three. However, times have changed, and now many people have chosen to go car-less.
Instead of cars, many people are relying on other forms of transportation, such as rideshare or mass transit. Many people have also elected to live in areas that are highly walkable, such as the following five communities located near Edison, New Jersey.
Fifth Ward
Fifth Ward Amenities
New Brunswick Train Station
Fifth Ward is the smallest of New Brunswick's six wards. It is a narrow strip that is roughly bordered by Franklin Township in Somerset County to the south, the Raritan River to the north, French Street to the east, and Somerset Street to the west. While it may not be large, Fifth Ward contains the largest portion of downtown New Brunswick. Therefore, it is home to numerous eateries that residents can walk to on days they'd rather not drive.
Fifth Ward is also home to two large employers, including the Robert Wood Johnson University Hospital, which takes up a significant portion of the northern section of the community. Founded in 1884, this facility is considered one of the leading academic medical centers in the United States. Fifth Ward is also home to the 12-acre Johnson & Johnson World Headquarters complex, which has a small park situated across the street.
Robinvale
Robinvale Amenities
Metuchen High School
Centennial Park
Oakland Park
Metuchen Train Station
In 1879, Wright Robins, a well-known politician, built a train station in this area. It was called the Robinvale Depot and was located just north of Henry Street. Eventually, the surrounding community also adopted the Robinvale moniker.
Robinvale is bordered on the west by Grove Avenue and Main Street. To its north, it is roughly bordered by the John F. Kennedy Medical Center and Metuchen High School. On its east side, this community shares a border with the Metuchen borough. To its south, Robinvale is bordered by the Middlesex Greenway Trail and Beechwood Avenue.
Robinvale's Main Street is home to several eateries and shops. There are numerous businesses just across the Robinvale border that residents can easily walk to, as well. Transportation-wise, Robinvale is also attractive to non-car owners for another reason: the Metuchen train station is located in this community at Woodbridge Avenue and Main Street.
Iselin
This census-designated community has gone by several names over the years, including Perrytown and Unionville. It was renamed Iselin in 1870 to honor a New York businessman and philanthropist named Adrian Iselin, who opened an exclusive finishing school for girls in the area. Today, Iselin is an unincorporated community in Woodbridge, located northeast of Edison.
Iselin is small, with a total area of 3.19 square miles. Its eastern boundary is Route 1, and its western boundary is Edison. Iselin's downtown area, which is centered around Oak Tree Road, is dotted with many restaurants and cafés.
Iselin is also home to the busy Metropark Station, which is an intermodal public transportation hub. Commuters can access Amtrak and NJ Transit's Northeast Corridor line here, as well as the buses that serve this station. The Metropark Station is located at the interchange of Route 27 and the Garden State Parkway. A number of corporations have offices in this area, including Siemens AG and JP Morgan Chase & Co.
Cedar Grove
Cedar Park Amenities
Woodfield Reservation
Billy Johnson Mountain Lakes Nature Preserve
Community Park North
Lisa McGraw Skating Rink
This unincorporated community is located in the town of Princeton in Mercer County. During the 19th and early 20th centuries, Cedar Grove was its own small village. At some point during the second half of the 20th century, it was absorbed into the Princeton Township.
Princeton's Cedar Grove community is bounded to its north by Cherry Valley Road, to its east by Route 206 (State Road), and by Province Line Road to the west. The southern boundary is roughly Rosedale Road. The community is bisected by Great Road.
Elizabeth
Elizabeth Amenities
Cartaret Park
Green Acres Field & Pool
Warinanco Park
Warinanco Ice Skating Center
Elizabeth was New Jersey's first capital and is still the county seat of Union County. It is situated approximately 17 miles to the northeast of Edison. Founded in 1664, this city was originally called Elizabethtown, named after the wife of one of the two original proprietors of the New Jersey colony.
Prospective homeowners searching for single family homes in a walkable community should search in the Elizabeth neighborhood. Located in the western section of Elizabeth, this neighborhood is home to numerous eateries and shops, especially along Elizabeth Avenue.
Discover Edison's Most Walkable Communities
Walkability has become increasingly important to many potential home buyers, for a number of reasons. Some just want to be less reliant on owning a vehicle, while others enjoy being able to walk to stores, restaurants, and other conveniences. While those who are moving to the Edison area have many communities to consider, they should keep these places in mind if walkability is an important factor in their home buying decision.