Moving to Freehold Township NJ: 10 Things to Love About Living in Freehold Township
Posted by Rob Dekanski on Thursday, June 15, 2023 at 8:15 AM
By Rob Dekanski / June 15, 2023
Comment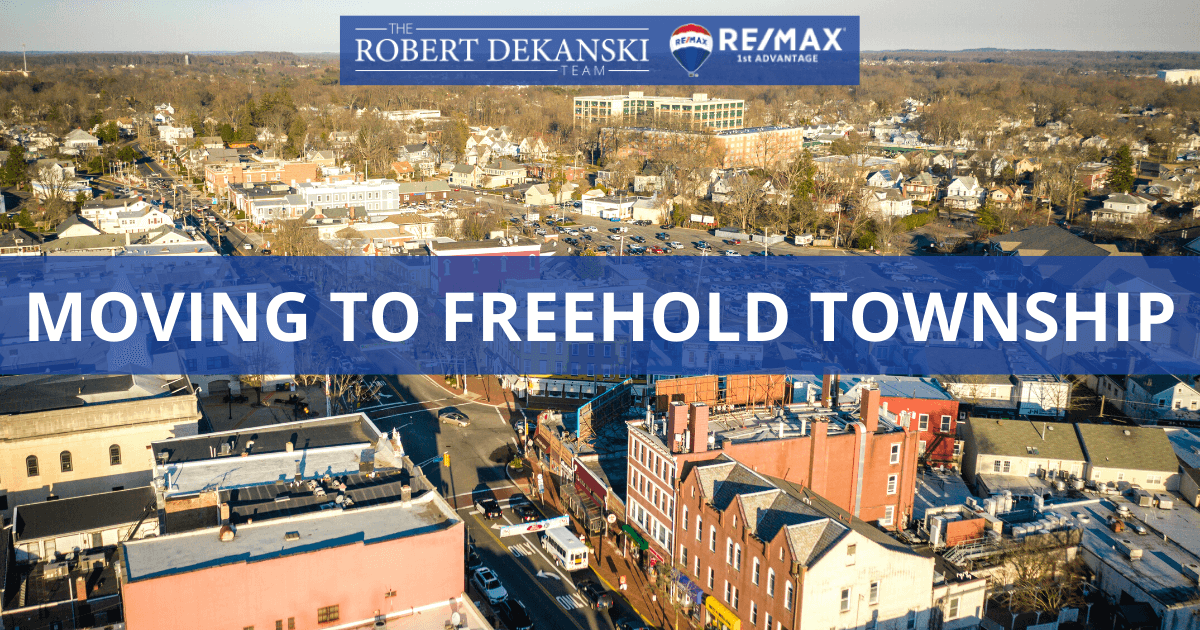 Living in Freehold Township, NJ
Nestled in the Raritan Valley region of New Jersey in Monmouth County, idyllic Freehold Township is just a short distance from some of the east coast's most prolific cities. This tight-knit community is home to over 35,000 residents and is one of New Jersey's most historically significant townships.
Located between New York City and Philadelphia, Freehold Township is home to some of the area's best-preserved period homes and is the site of significant historical battles. The township has many ideal attractions, including locally owned restaurants, boutique shops, art galleries, historical museums, beautiful parks, an indoor amusement park, and more.
With its charming, pedestrian-friendly downtown, Freehold Township has a larger-than-life personality. But is Freehold Township a good place to live? Keep reading to learn more about what to expect when moving to Freehold Township, New Jersey.
Reasons to Live in Freehold Township
Suburban Charm with Nearby Amenities: Residents of Freehold Township can enjoy the tranquility and charm of a suburban setting while still having easy access to a wide range of amenities, including restaurants, parks, and recreational facilities.
Abundance of Activities and Recreational Opportunities: Whether you're seeking outdoor adventures, cultural experiences, or full for all ages, Freehold Township offers a diverse range of activities to cater to various interests and preferences.
Close Proximity to Jersey Shore Beaches: Living in Freehold Township means you're just a short car ride away from the sandy beaches of the Jersey Shore, allowing for convenient day trips or weekend getaways.
Convenient Access to Major Cities: Positioned in Monmouth County, Freehold Township offers the advantage of being within a reasonable distance to major cities such as New York City, Atlantic City, and Philadelphia, granting residents access to urban amenities, employment opportunities, and cultural attractions.
Access to Numerous Public Schools: Freehold Township boasts solidly rated public schools according to GreatSchools.org, ensuring that students receive a quality education within the township's boundaries.
Freehold Regional Learning Center Magnet Programs: Students in Freehold have the opportunity to participate in the Freehold Regional Learning Center Magnet programs, which offer specialized educational programs across six schools within the Freehold Regional High School District, further enhancing academic opportunities for motivated learners.
Freehold Township Cost of Living
Freehold Township is set in the heart of the Garden State with a picturesque downtown square and proximity to some of the east coast's most prominent cities. Its residents enjoy an exceptional standard of living, with easy commutes to New York and Philadelphia. With this in mind, the overall cost of living in Freehold Township is 23.3% higher than the national average.
One of the most significant contributing factors behind the higher-than-average cost of living is its housing costs, which are 35% higher than the national average. Still, Freehold Township real estate agents know the market and can help homebuyers find a house that fits their budget. In Freehold Township, residents can expect to find homes in various architectural styles, from charming row homes to impressive Colonial homes. Home prices in the area range anywhere from $165,000 to $2.2 million, with the median home price at over $460,000. For residents interested in renting rather than purchasing property, the median rent price in Freehold Township is $1,460 per month.
In addition to housing prices, residents must consider other costs, including utilities, healthcare, groceries, transportation, and more. Fortunately, residents see savings in some categories in Freehold Township, such as the cost of healthcare, which is 11.1% more affordable than the national average.
Freehold Township Job Market
In addition to its stunning downtown, numerous amenities, and centralized location, another remarkable aspect of living in Freehold Township is the area's economic opportunities. Monmouth County is home to around two dozen corporate headquarters in various fields with numerous companies and businesses nearby. Freehold Township has a healthy local economy with gainful employment opportunities for a town with just over 35,000 residents.
Monmouth County has a projected job growth rate of 26.8% over the next 10 years. Prospective employees can find gainful employment within the private and public sectors or as professional service providers, such as accountants, real estate professionals, attorneys, and more. One of the area's most prominent industries is the healthcare field, with many healthcare jobs available at numerous companies. Prospective employees in this field can find employment opportunities within several specialized areas, including medicine, administration, and more. Other popular fields include education, government, real estate, and insurance.
For those who work in larger cities, such as New York or Philadelphia, Freehold has easy access to some of the state's major highways, particularly I-95, I-295, and Highway 33, making it an ideal location for commuters.
Popular Industries in the Area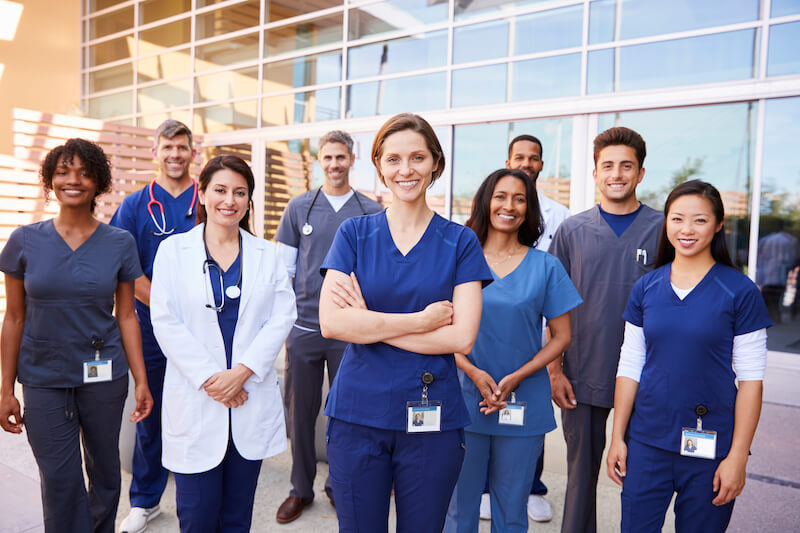 While many Freehold Township residents commute to larger cities like New York and Philadelphia, Freehold Township has a thriving economy of its own. Leading industries in the local market include healthcare, education, retail, government services, and insurance.
Headquartered in the nearby city of Edison, Hackensack Meridian Health is a network of New Jersey healthcare providers and one of the largest employers in Monmouth County, employing over 11,300 staff. While Monmouth County dominates in the healthcare and insurance markets, the area supports many companies in various industries.
Other companies with headquarters in Monmouth County include:
CentraState Healthcare Inc.
UMH Properties
National Atlantic Holdings
Monmouth University
Monmouth County
RWJ Barnabas - Monmouth Medical Center
Saker Shoprites Inc.
Things to Do in Freehold Township
Most famously known as the hometown of music legend Bruce Springsteen, Freehold Township combines the best of both worlds: small-town living with big-city amenities. As the site of many historic battles, Freehold Township is one of the nation's oldest townships. Its heritage is apparent at every glance, from its revamped downtown area to its stunning Victorian homes. Yet, while Freehold Township embodies historic Americana, it offers so much more than a picturesque downtown. From its abundance of parks to its art galleries and shops, residents and visitors will find plenty of things to do in Freehold Township.
Outdoor Activities
Best known by its moniker as the Garden State, New Jersey is well-known for its charming towns and beautiful outdoor spaces. Freehold Township certainly delivers on outdoor spaces as one of the state's most beautiful towns. While the area is best known for its historic homes and walkable downtown, Freehold Township is home to some of the state's most beautiful parks, gardens, and orchards. One of the area's most popular parks is Turkey Swamp Park, a 1,180-acre park on the edge of the Pine Barrens. Turkey Swamp Park has a diverse range of wildlife, equestrian trails, picnic areas, campsites, and walking paths. Additionally, Freehold Township is home to the Calgo Gardens and Battleview Orchards.
Local Attractions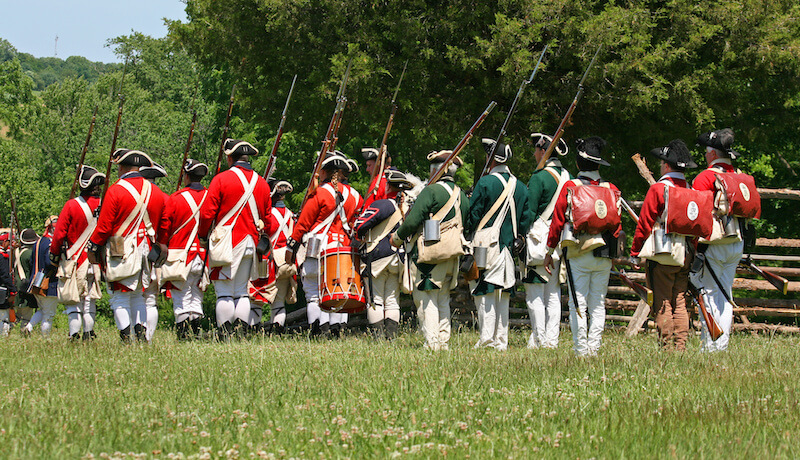 As the 1776 Battle of Monmouth site, Freehold Township is perhaps best known for its historical significance. Freehold is home to many museums and battlefields, paying homage to its rich heritage. One of the area's most famous local attractions is Monmouth County Museum, dedicated to preserving local and American history.
Nearby this charming museum is the Monmouth Battlefield, where the Battle of Monmouth was once fought. This area hosts reenactments of the battle, representing an accurate depiction of 18th-century warfare.
Along with its historic sites, other popular area attractions include the Old Beth Ame Cemetery, Iplay America, Freehold Raceway Mall, and the Jewish Heritage Museum of Monmouth County.
Restaurants & Nightlife
While just a short drive from world-class food destinations, such as New York City, Freehold Township contains many restaurants and bars locals love. Residents and visitors can find plenty of dining options, from mom-and-pop establishments to upscale fine dining in various cuisines. Some of the most popular restaurants include American casual, Mediterranean, Italian, French, Indian, and Mexican.
Along with its fabulous dining options, Freehold Township residents and visitors will find many nightlife options, including casual bars and themed nights out, which draw in huge crowds. Park Avenue Bistro offers many themed nights, especially Thursday through Sunday, including karaoke night, ladies' night, and live DJs.
Freehold Township Climate
Part of the Mid-Atlantic, Freehold Township has a warm, temperate climate with four mild yet distinct seasons. Averaging around 209 days of sunshine per year, Freehold Township experiences a fair number of rainy days, accumulating around 47 inches of rain and 24 inches of snow per year, above the national average for precipitation. Freehold Township's rainiest month is July, averaging five inches of rainfall. The driest month is February, experiencing around 2.8 inches of rain or snow during the month, on average. While July is the rainiest month, the wettest seasons, on average, are fall and spring.
Freehold Township's hottest months are July and August, while the coldest months are January and February. The average temperatures throughout the year range anywhere from 22° F to 88° F, with the winter months averaging below and around freezing, while the summer months are the hottest. The most pleasant months are September, May, and June.
For outdoor activities, mainly when visiting parks or nearby coastal towns, Freehold Township's best months are from late spring to early fall, where the temperatures are warmest, and there's less rain. Summer is generally the busiest time for tourism because school is out.
Freehold Township Traffic
Because of its centralized location, one of the main advantages of living in Freehold Township is its easy commuting access to the rest of New Jersey and larger metropolitan areas, such as New York City and Philadelphia. While Freehold Township has public transportation options, driving is one of the most popular ways residents commute to and from work. As such, residents need to pay attention to the local roads and traffic conditions.
Freehold Township is just off Highway 33, with direct access to New Jersey's major freeways, including I-95 and I-295. It also borders I-195, one of the state's most popular east to west freeways. It takes Freehold residents over one hour to commute to New York City and Philadelphia.
The busiest traffic times are during rush hour, typically during the workweek, Mondays through Fridays from 7 a.m. to 9 a.m. and from 4 p.m. to 6 p.m. when commuters are going to and from work.
For those who wish to park their cars and use public transit to get to the bigger cities, Freehold Township has three commuter parking facilities at the Freehold Mall and Schibanoff Road.
Alternative Routes
Traffic can be congested on the major freeways, particularly I-95, I-195, and I-295. These are the major freeways that lead to western New Jersey, New York, and nearby Pennsylvania. Running east to west, I-195 is the busiest road.
Commuters headed east or west should take Highway 33, which is north of the busy I-195 and eventually feeds into I-95. For those looking for north-to-south alternatives to New York City, Highway 9 (Garden State Parkway) eventually exits onto I-287, which leads to New York City.
Public Transportation in Freehold Township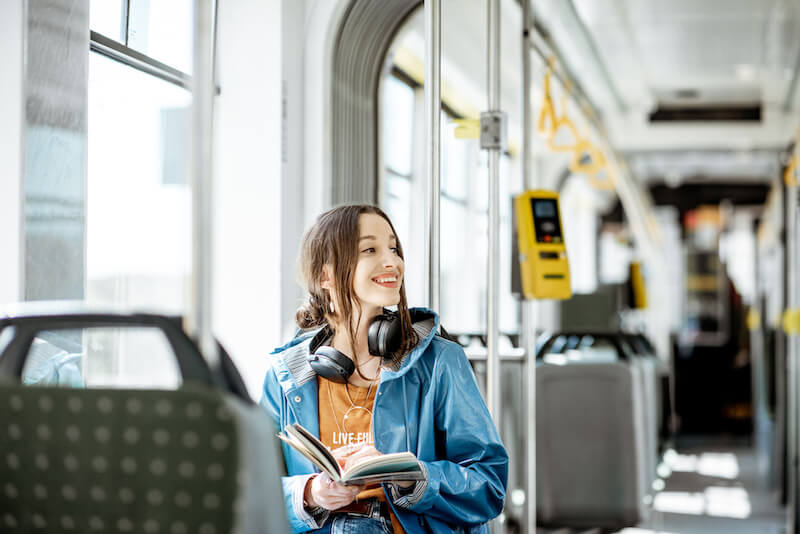 While driving is the most common way for residents to get around, public transportation has become increasingly common, especially for those commuting to and from larger cities, such as New York City or Philadelphia, where parking is scarce. The two most popular forms in Freehold Township are buses and rideshares for those who choose public transit. Numerous bus lines service Freehold, Monmouth County, and beyond. Some lines make it as far as the city of Newark or even Brooklyn.
Uber and Lyft are the two most popular ridesharing companies used in Freehold Township. Area commuters can generally find drivers from either of those companies to take them where they need to go.
Freehold Township Schools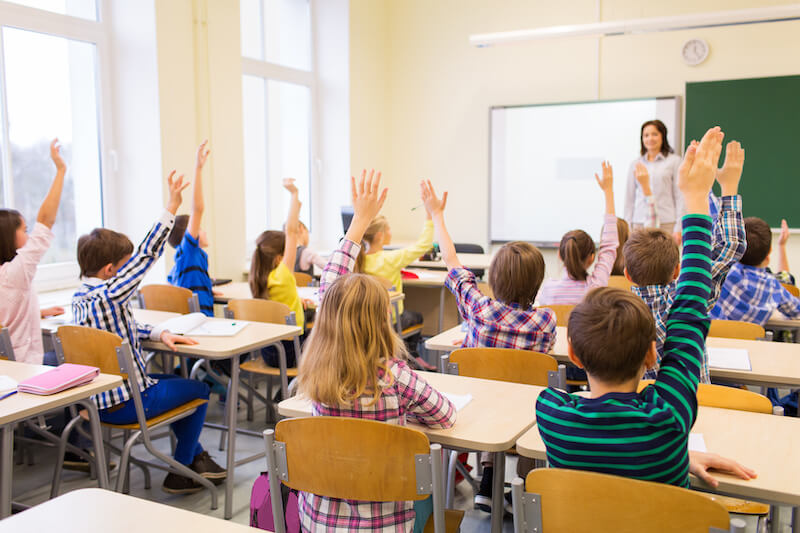 Like many communities in the Garden State, Freehold Township residents prioritize education. For students living in the area, Monmouth County has many excellent options to suit the educational needs of students via public and private schools. Students residing in Freehold Township are technically part of two separate school districts based on age group: Freehold Township Schools and Freehold Regional High School District.
Freehold Township schools service Monmouth County students from pre-kindergarten through eighth grade and comprise eight schools, including seven primary schools and one early childhood program. With over 3,700 students enrolled in this school district, the average student-to-teacher ratio for each classroom is 11:1, making the class sizes smaller than average. Older students are part of the Freehold Regional High School District, which comprises eight high schools in Western Monmouth County.
Why You Should Move to Freehold Township
From its revamped, historical downtown area to its lush green spaces and everything in between, there are so many reasons why many people are drawn to this beautiful small town in the heart of New Jersey. Freehold Township is one of those rare towns that genuinely embodies a feeling that many residents crave, all while being a short distance to the east coast's largest cities.
Buying or Selling
a
Freehold Township Home?
Work With the
#1 Real Estate Team in New Jersey Now!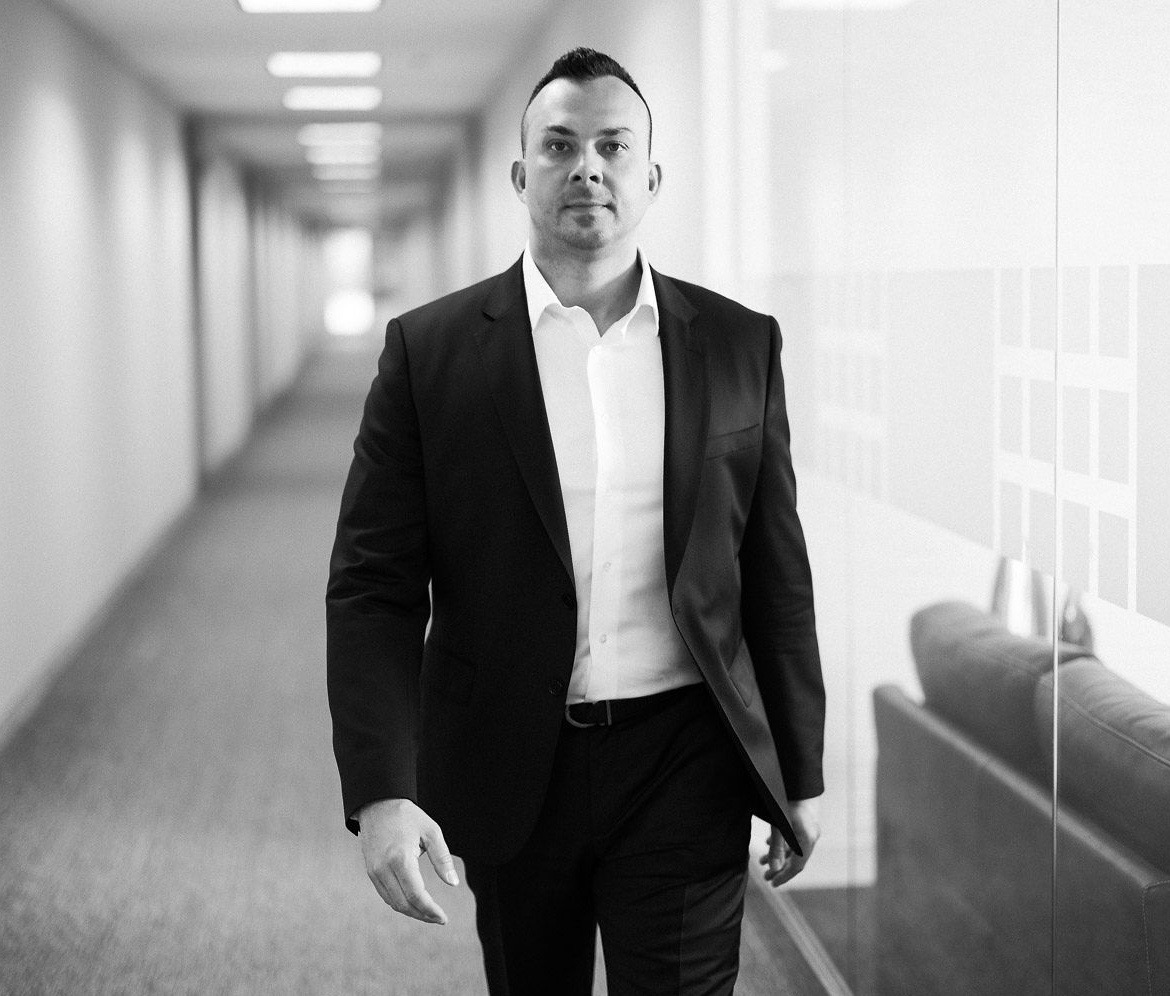 Read Our Moving Guides For Each Area Below