Living in New Brunswick: 11 Things to Know Before Moving to New Brunswick [2023]
Posted by Rob Dekanski on Monday, May 22, 2023 at 2:21 PM
By Rob Dekanski / May 22, 2023
Comment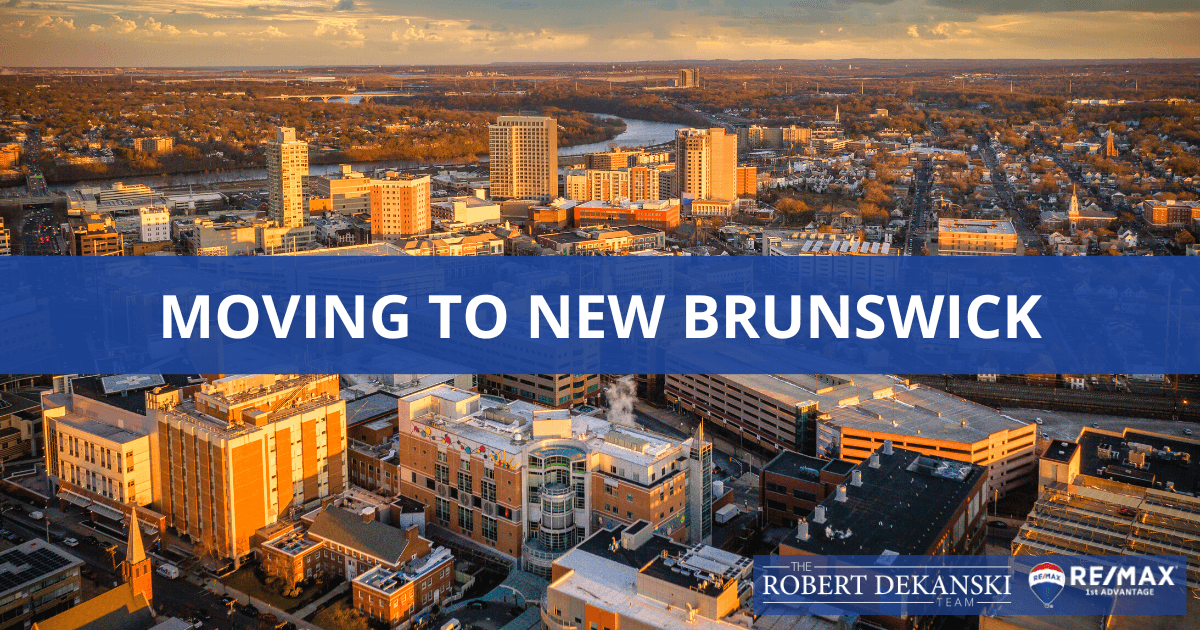 New Brunswick, New Jersey, is a beautiful town with lots of history, charm, and convenient access to metropolitan areas like New York City and Philadelphia. Called the "Hub City" or "Healthcare City," New Brunswick is a great place to live that continues to grow each year.
There are several factors to consider before moving to a new area, including the cost of living, local schools, and nearby activities. There are many great places to live in New Brunswick, so anyone considering moving there will do well to learn all about what makes it a great place to live.
8 Reasons to Live in New Brunswick
Thriving arts and culture scene, with art galleries, theaters, music venues, and various festivals
Home to Rutgers University, one of NJ's most renowned research universities
Central NJ location makes for excellent state-wide connectivity and access to NYC and Philadelphia
World-renowned healthcare institutions, including Robert Wood Johnson University Hospital and Rutgers Cancer Institute of New Jersey
Diverse culinary landscape
Efficient public transportation system for local, state-wide, and regional transit
Rich history dating back to colonial times, with well-preserved historical sites
Beautiful outdoor spaces like Boyd Park and Buccleuch Park
Cost of Living in New Brunswick
The cost of living in New Brunswick is 17% higher than the national average, though it's on par with the overall cost of living in New Jersey.
Homes for sale in New Brunswick typically list from the mid-$200s to $1.4 million, though the listings over $1 million are almost exclusively New Brunswick multi-family homes. Most of the detached homes in the city were built in the early 1900s, so those at the higher end of the price spectrum are typically remodeled and upgraded.
For residents and homebuyers who want to avoid the maintenance that comes with single-family homes, New Brunswick condos and townhomes list from around $300,000. Monthly rentals in New Brunswick average close to $3,000, although this varies by property type, size, and location.
Healthcare in New Brunswick is around 4% lower than the national average, with a doctor, dental, or optometrist visit averaging about $100. For residents of New Brunswick with pets, a veterinary appointment tends to cost around $60. Transportation costs for residents of New Brunswick are about $130 per month, including public transportation expenses like buses, trains, and gas.
New Brunswick Job Market
As the Healthcare City, the many hospitals in the area are a huge part of the economy in New Brunswick. Additionally, New Brunswick is the global headquarters of Johnson & Johnson, a healthcare and pharmaceutical manufacturing company specializing in researching, developing, producing, and selling consumer goods in the healthcare field.
Another major employer in the area is Rutgers University, which requires a staff of professors, teachers, service professionals, and other administrative roles. Other major companies with large workforces in New Brunswick are Kellton Tech Solutions and Universal Nutrition.
Popular Industries in the Area
Healthcare, manufacturing, and educational services are significant industries in New Brunswick, closely aligned with the major industries in New Jersey. There are also a considerable number of jobs in hospitality and food services, along with administrative roles for major companies.
Things to Do in New Brunswick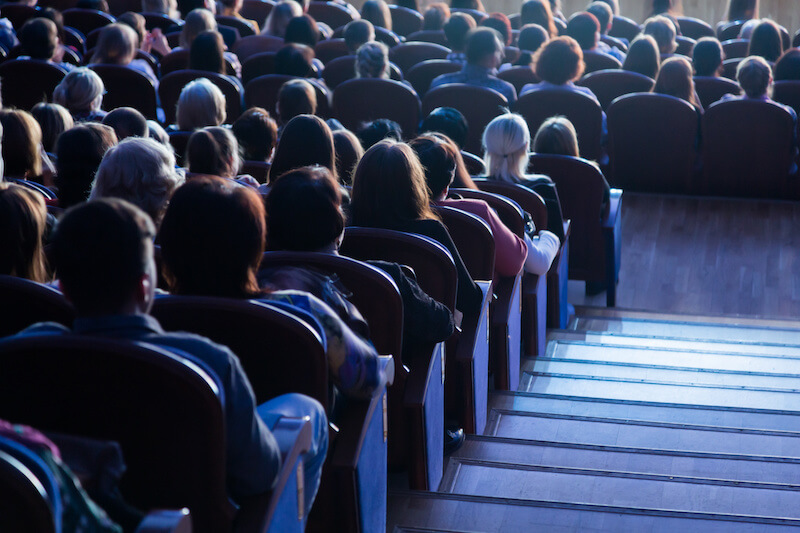 It's not difficult to spend an activity-filled day in New Brunswick. The town has an energetic vibe and an atmosphere that respects the area's history and culture. New Brunswick's history traces back to before the Revolutionary War, and there is a deep connection to the town's heritage, architecture, museums, and other artifacts of the time.
Many theaters and playhouses in New Brunswick allow residents and visitors to enjoy live music and shows. Rutgers University also has many public attractions, like gardens and museums, and a beautiful campus to explore.
Outdoor Activities
Those looking to enjoy green spaces and the outdoors will find plenty to do in New Brunswick's best parks. Boyd Park and the Boyd Park Amphitheater offer live music and carefully cultivated paths and gardens. Other parks include Buccleuch Park, Kilmer Square Park, and Monument Square Park. These areas are great for enjoying picnics and other events.
For a more organized outdoor activity, all of Middlesex County's golf courses are either in New Brunswick or a short drive from the city.
Local Attractions
Visit the Rutgers University Gardens, one of the oldest botanical gardens in New Jersey. You can also catch a show at the State Theater or the George Street Playhouse to enjoy plays, musical performances, and more. For those who want to learn and explore the history and culture of the area, there's the Zimmerli Art Museum, Rutgers Geology Museum, and the historical Kirkpatrick Chapel.
Restaurants & Nightlife
New Brunswick has many restaurants and bars offering delicious food and drinks to visitors and residents alike. Try visiting Destination Dogs, a gourmet hot dog establishment full of fun favorites. You can also head over to Steakhouse 85, Catherine Lombardi, or The Frog and the Peach for an upscale dining experience you won't find anywhere else.
If you are looking for something to do after dinner, there are many nightlife establishments to check out. The Stress Factory Comedy Club features stand-up comedians and rising stars alongside great drinks and food. You can also visit World of Beer, a brewery with live musical performances and great food. The Glo Ultra Lounge and Golden Rail Pub also offer great after-hours activities like drinks, dancing, and music.
New Brunswick Climate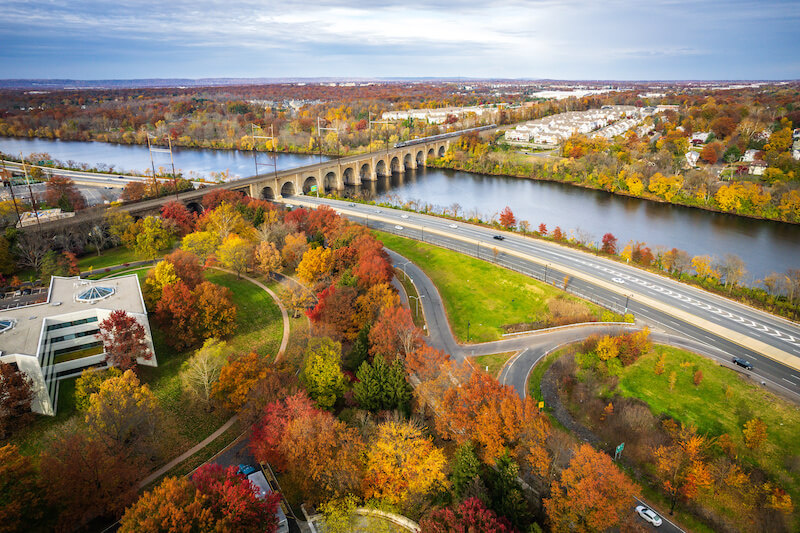 New Brunswick has a diverse climate with warm, rainy summers and cold, snowy winters. Residents experience all four seasons in New Brunswick, from the first buds of spring to the changing leaves in fall. The temperature can vary from around 25° F during winter to about 86° F during summer. The temperature rarely dips below 11° F or rises above 94° F, so you can enjoy New Brunswick's walking trails and running paths throughout most of the year. The best time to visit New Brunswick is between mid-summer and late fall, typically from July to September.
On average, New Brunswick gets about 117 days of precipitation throughout the year, ranging from rain to sleet to snow. This adds up to around 48 inches of rain annually and 23 inches of snow each winter. There tends to be about 205 sunny days throughout the year, giving residents plenty of time to soak in the rays.
Traffic in New Brunswick
Driving in New Jersey can be unpredictable and stressful, but most New Brunswick commuters have less than a 35-minute drive to and from work each day, with the busiest times on the road being from 7:00–9:30 a.m. and 4:00–6:00 p.m. Nearly half of all New Brunswick residents take their car to work, with around 17% carpooling and 9% taking mass transit. Being so close to New York City, many residents commute daily from New Brunswick to the city.
Alternative Routes
New Brunswick's primary roads include U.S. Route 1 and U.S. Route 18. These two roads intersect within New Brunswick, and Route 27 also passes through the city. There isn't much of the New Jersey Turnpike in New Brunswick, with just a single exit on the outskirts of East Brunswick.
When the highways are busy, commuters can take the Garden State Parkway in Woodbridge Township and Interstate 287. Other side streets and backroads can help drivers avoid accidents, slowdowns, and traffic in the area.
New Brunswick Public Transportation
New Brunswick is part of New Jersey Transit's Northeast Corridor Line, which also runs Amtrak trains through the city. Users can make Amtrak connections by taking NJ Transit to Penn Station, Trenton, or Metropark. The NJ Transit line also serves New York City.
NJ Transit also offers New Brunswick buses, with routes 810, 811, 814, 815, 818, and 980 available and accessible to residents. There is also a major network of Rutgers Campus buses helping students travel from their residences to different parts of campus. Taxi services and rideshare options like Uber or Lyft are also available in New Brunswick.
Schools in New Brunswick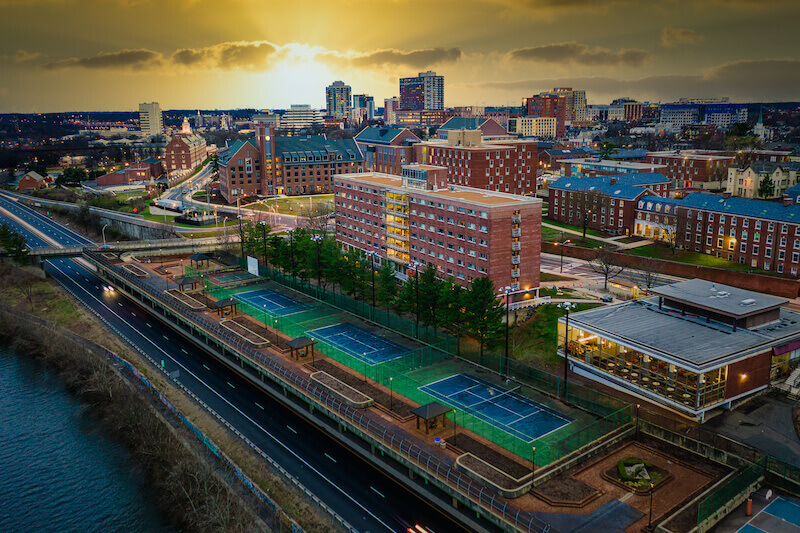 New Brunswick Public Schools has many elementary, middle, and high schools in the Middlesex district for students to attend. As mentioned above, the town is also home to Rutgers University, serving over 67,600 students and offering over 150 undergraduate majors. Rutgers is known for its health and research programs and is the oldest and largest public university in the New York / New Jersey metropolitan area.
Discover What Makes New Brunswick Great
New Brunswick is a wonderful city with many opportunities for those seeking a quality lifestyle. It's no wonder it's widely considered one of the best cities in Middlesex County. Many industries are hiring, and fun indoor and outdoor activities will fill your days. If you are considering moving to New Brunswick, New Jersey, know you will experience great attractions and become part of a historic and growing community.
Thinking about moving to New Brunswick? Call The Dekanski Home Selling Team of RE/MAX 1st Advantage with New Jersey Real Estate Network at (800) 691-0485 to reach experienced real estate agents who can help you find the New Brunswick home of your drams.
Buying or Selling
a
New Brunswick Home?
Work With the
#1 Real Estate Team in New Jersey Now!