New Jersey Cost of Living
Posted by Rob Dekanski on Tuesday, May 4, 2021 at 9:40 AM
By Rob Dekanski / May 4, 2021
Comment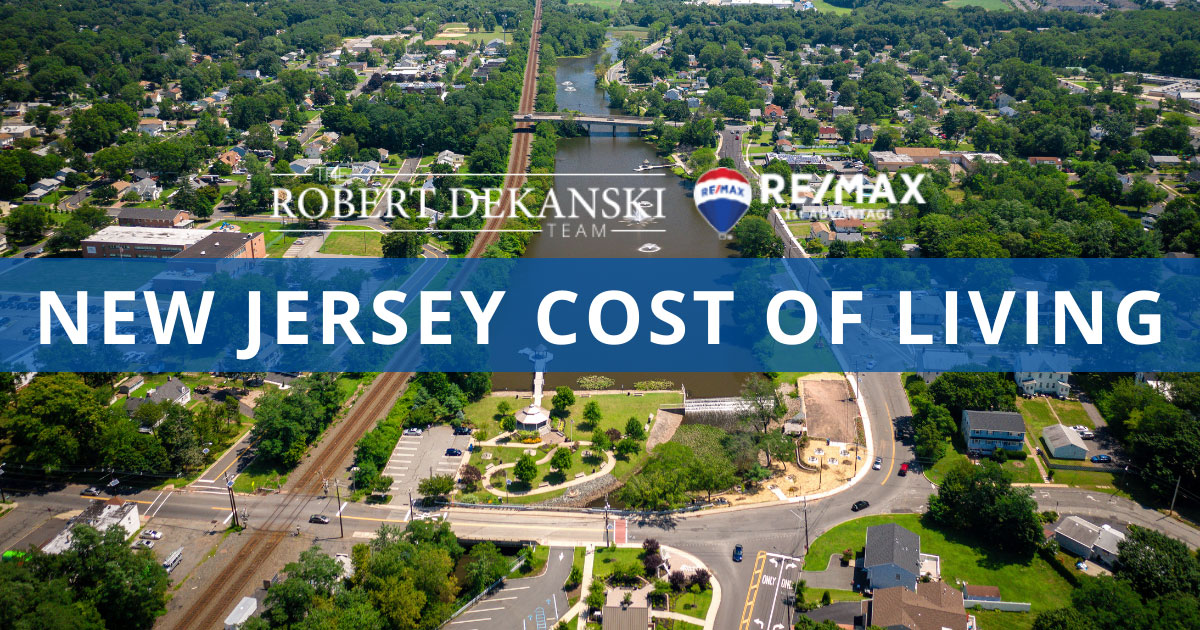 One of the oldest states in the U.S., New Jersey was admitted as a state in 1787. Although the capital is Trenton, the largest city is Newark. As of the 2019 count, the state's population is 8.9 million, making it the 11th largest in the country.
Much of the state is considered part of the New York City metropolitan area. As such, it shares the economy of one of the largest metro areas in the country.
New Jersey is famously within a day's drive from 40 percent of the people in the United States. It is a hub for manufacturing and transportation due to its proximity to one of the busiest shipping ports in the world.
The cost of living in New Jersey is about 20.4% higher than the average for the U.S., meaning people in the state will need to spend about $120 to buy goods that would cost $100 elsewhere. The state ranks as the ninth most expensive state in the U.S., wedged in between Connecticut and Rhode Island.
Costs within the community are expected to rise modestly in the future. In the last year, the cost of living in New Jersey rose by 1.6%. The largest increases in costs can be expected to occur in housing, transportation, and food. Read on for more details about what makes up the cost of living in New Jersey.
Cost of Housing in New Jersey
Costs related to housing and real estate are often the most expensive in thriving communities. Using an average of housing in the U.S. index, New Jersey costs are about 42.4% more expensive. That means it would take $142 in the Garden State to purchase $100 worth of housing in other states.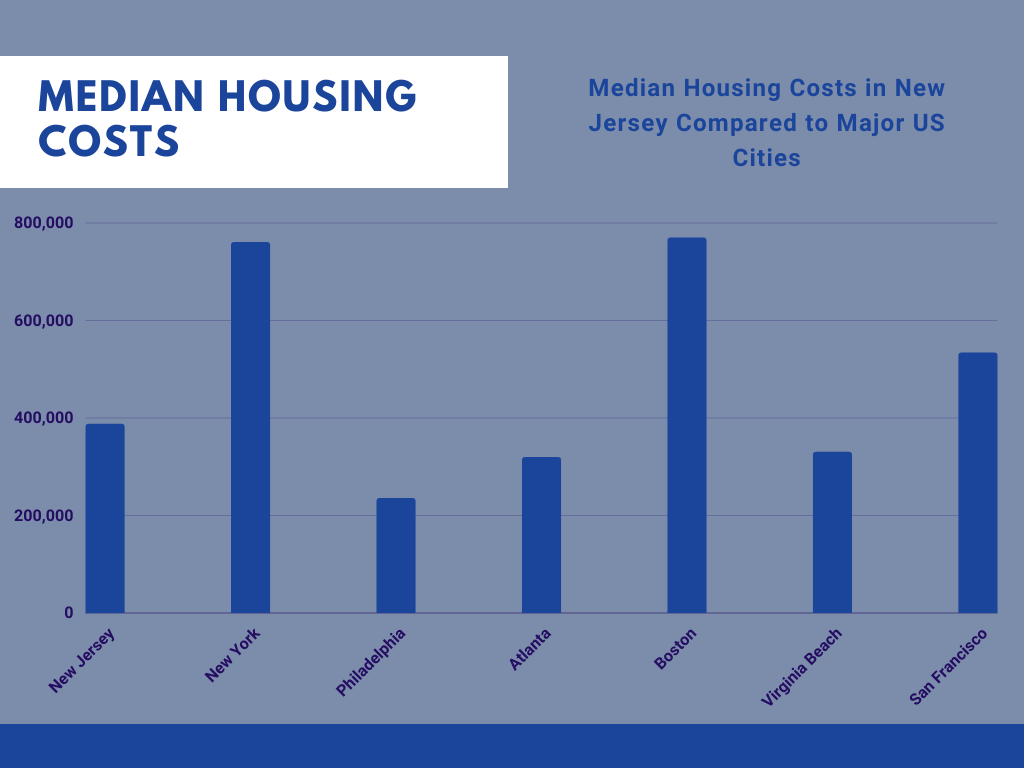 However, these costs are not borne out equally. There are areas of the state with more expensive housing and areas where prices are more affordable.
Median Home Price
Typically, homes in New Jersey cost about $382,000. However, it's possible to find homes much higher and much lower than this mid-range value. In general, costs have risen about 11.5% over the last year.
Trenton's home prices are lower than the statewide average at $210,000, which may be good news for state government employees working near the capital. Prices in Edison hover at about $418,000 and rose only 6.6% in the past year. A home in Atlantic City costs around $130,000, although these home prices rose 18.2% in recent months.
Median Rent
Many residents prefer to live in a community for a while before deciding to buy a home. For others, the apartment lifestyle is more appealing. Fortunately, New Jersey has a wide mix of rental options and different cost levels. The most affordable rents in the state can be found in Lindenwold, with rents averaging $988 a month.
Rents in the state capital are a little more expensive at $1,108 each month. For about $100 more, renters can find a nice place in Newark for $1,217. On the other end, the most expensive rents can be found in Hoboken at about $3,529 a month.
As for New Jersey rent by apartment size, the average studio apartment in the state costs about $989. Renting a single-bedroom apartment would require $1,159. Adding a bedroom raises the price to $1,432, and a three-bedroom costs $1,837. For maximum space, rent a four-bedroom apartment or house for $2,125 on average.
Cost of Utilities in New Jersey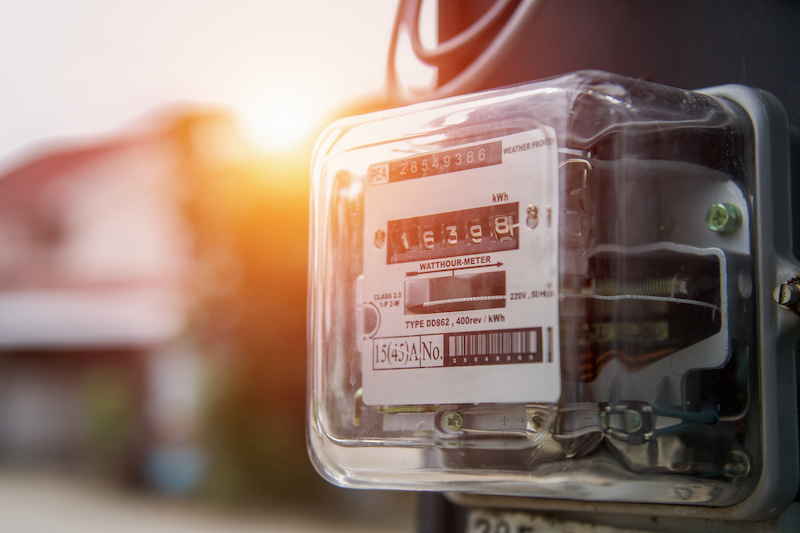 Aside from the direct costs of rent or mortgages, residents must also pay for several utilities necessary for life. These costs must therefore be considered as part of any potential budget. In general, the cost of utilities in New Jersey is fairly close to costs in the average U.S. state. New residents can expect to pay about 9.2% more for these costs.
As for specific utility costs, the average monthly energy bill in New Jersey is $102.38. That is almost $10 less expensive than the U.S. average. Water bills in the state are separated into wastewater and regular water. Residents can expect average water bills of about $53.45 per month and wastewater bills of about $58.70. This creates a combined monthly water bill of about $112 per household.
Homeowners in New Jersey can expect to add another $1,744 for home insurance. With an average national cost of $2,305, that makes this state significantly more affordable. These amounts assume $300,000 for dwelling coverage and an equal amount for liability. Additionally, this might include a $1,000 deductible. Residents with more expensive homes may pay significantly more for home insurance.
Utility costs in other areas depend greatly on choice and options. Cell phone plans with unlimited data and messages can cost around $65 a month. High-speed internet with unlimited data can cost $70–$90 a month, assuming the home or apartment is ready for connection.
Cost of Food in New Jersey
Food is another important consideration regarding the cost of living. Whether dining out with a group at a restaurant or finding quick or healthy meals to eat at home, food costs are important to estimate.
Groceries
On average, grocery costs are about 5.8% more expensive in New Jersey than the national average. That means shoppers will pay about $106 for a cart of food that may cost $100 in other communities. However, it is possible to lower these costs by visiting Farmer's Markets or discount food stores.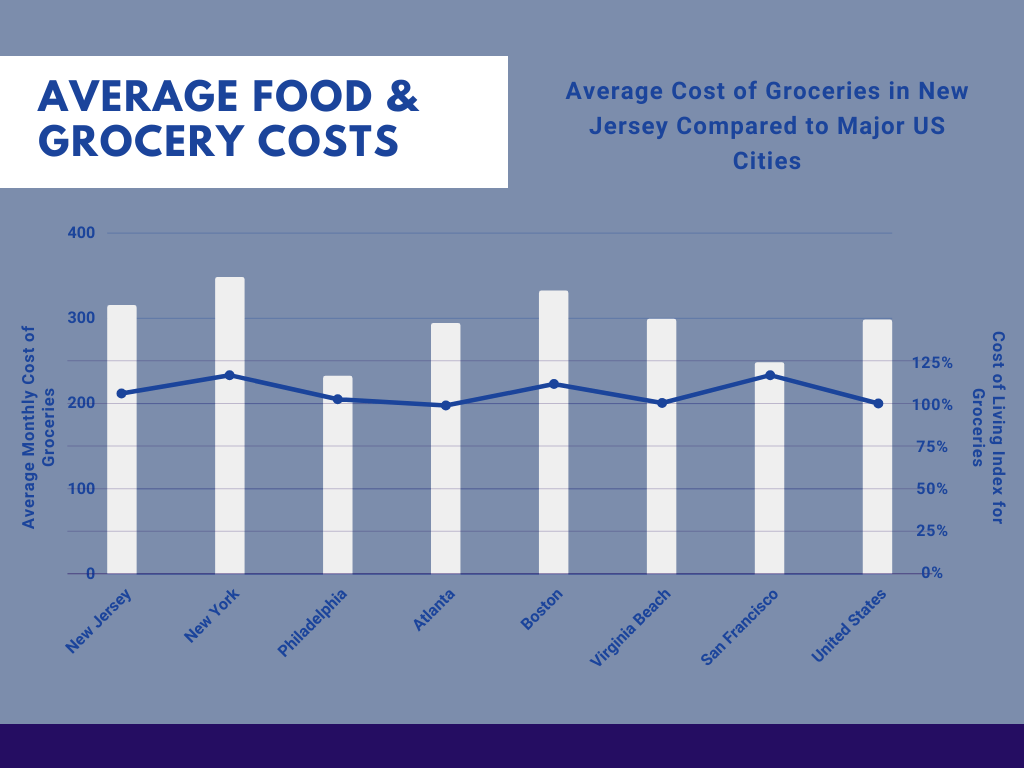 On average, single-person households can expect to pay about $114 a week on groceries. Fresh lamb chops will cost about $7.99 a pound, while boneless chicken breasts cost $2.29. Add to the flavor with a whole pineapple for $2.99. Purchase a 10-lb sack of Idaho potatoes for $2.99.
Restaurants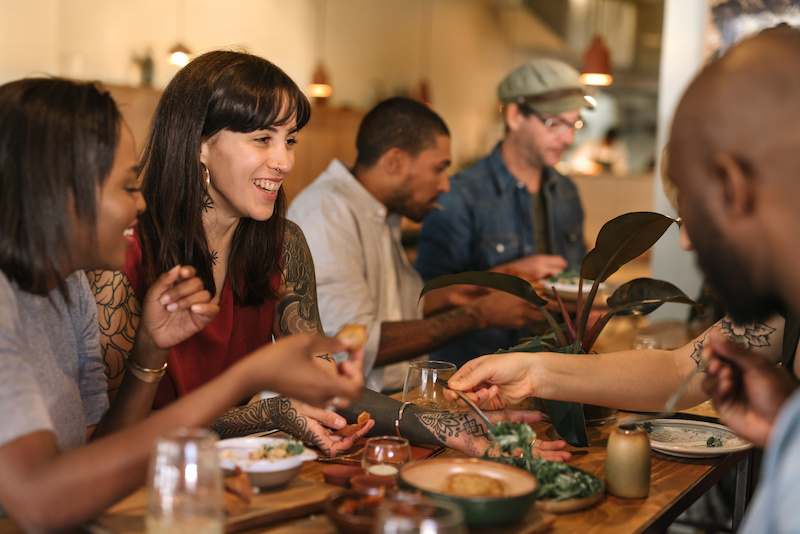 Knowing the cost of meals can help people plan the frequency of evenings out. Grab a combo meal in a fast-food establishment for lunch for about $10. With more time, you can enjoy a sit-down experience at mid-day for about $22 a person.
Cost of Transportation in New Jersey
For some residents, there is no substitute for owning a vehicle. They have the freedom to go wherever they want, whenever they need. While there are advantages to ownership, there are also some additional costs.
Drivers in New Jersey will find the average cost of a gallon of gas is about $2.92, which is just $.02 higher than the average across the nation. Insuring your car will cost about $1,520 in New Jersey, ranking 20th in the nation. Dollars are not the only cost, though, as the average commute time in New Jersey is 31.5 minutes. That is a bit longer than the average time in the U.S. of 26.4 minutes.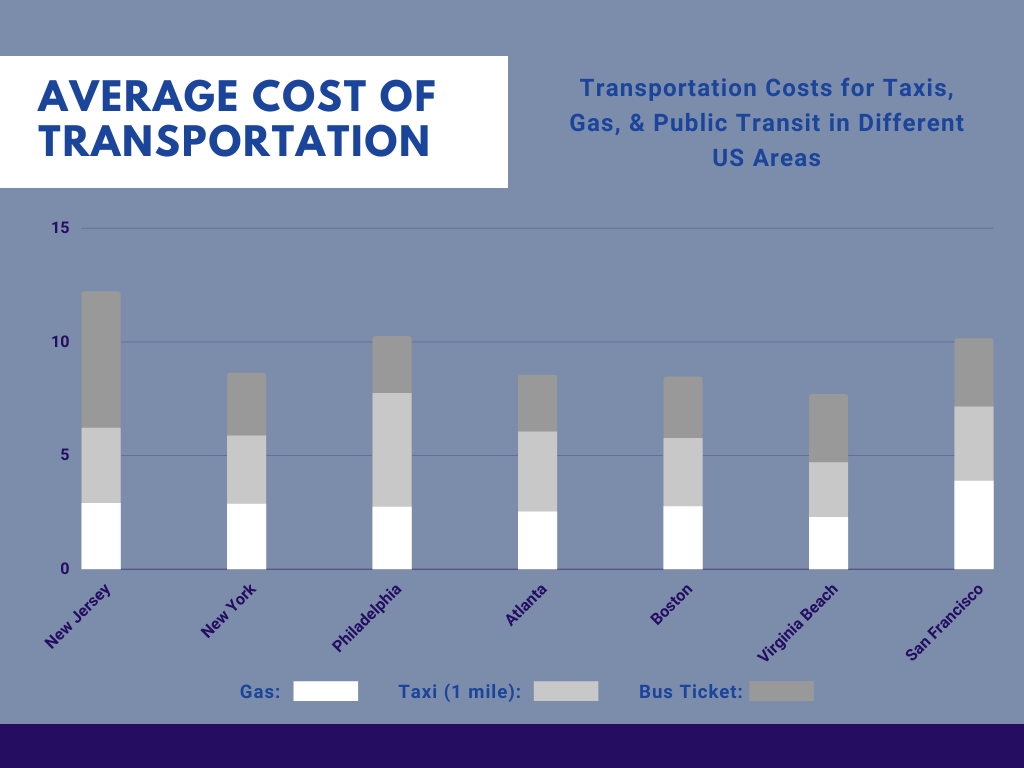 However, the entire New York metropolitan area is world-renowned for its public transportation system. Most of New Jersey is no different. Those who don't want to drive may find a five-mile taxi trip costs about $14.
The bus system is fairly comprehensive, with several stops in multiple communities. For example, traveling from Woodbridge Center Mall in Middlesex County to the Atlantic City Bus Terminal costs about $51.35 for the four-hour trip. Commuters may choose to use the bus between the Vince Lombardi Park and Ride and the Dumont Park and Ride. That trip takes just over an hour for $15.75.
For shorter trips or traveling between frequent destinations, light rail is a great option. Purchase a single ticket for $2.75 a trip. Commuters may save money with bulk purchases, such as the 40-trip pass for $104. That works out to a savings of $0.15 per trip.
Cost of Healthcare in New Jersey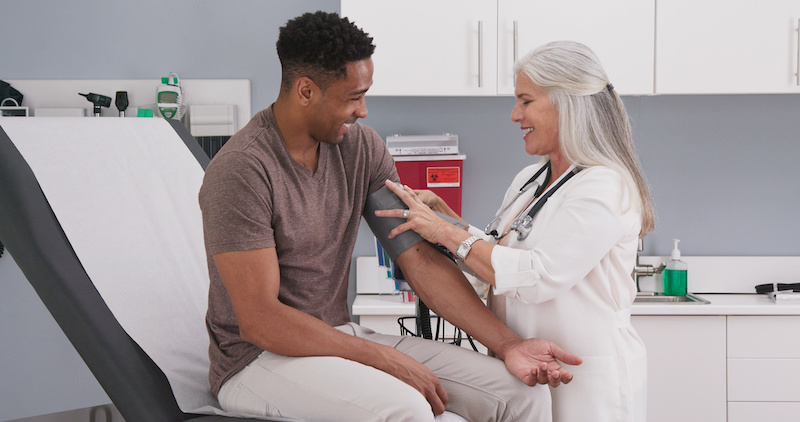 Healthcare is a cost that is often overlooked in a budget. Because costs related to care can vary wildly, it is important to prepare before the need.
The national average for healthcare insurance is about $1,415 for single coverage. Employees of private companies in New Jersey can expect to pay about $1,595 for health care in addition to any employer contribution.
As for individual medical costs in New Jersey, expect to pay about $114 for each doctor's visit. On the other hand, dental check-ups will cost about $98 each, with eye doctor appointments about the same at $107. Be ready to pay about $454 for medications each year.
Those with furry friends will likely pay about $58 for basic regular checkups. However, average pet costs in New Jersey usually go beyond this lowest level of care. If pets need shots or other care, vet visits can extend to over $200. Decent quality pet food can cost at least $20 a bag, while a bag of treats like rawhide bones might add another $18. Buying a new toy and bed for four-legged buddies might run as little as $17 but could easily reach $190 for top-quality combinations.
Cost of Child Care in New Jersey
For those caring for youth under school age, child care costs can be a major expense. The average cost to leave an infant at a child care center is about $1,082 a month. That adds up to about $12,984 per year. Costs for toddlers are a bit cheaper at $900, or $10,800 annually. The state does have some subsidies available to help parents with these costs.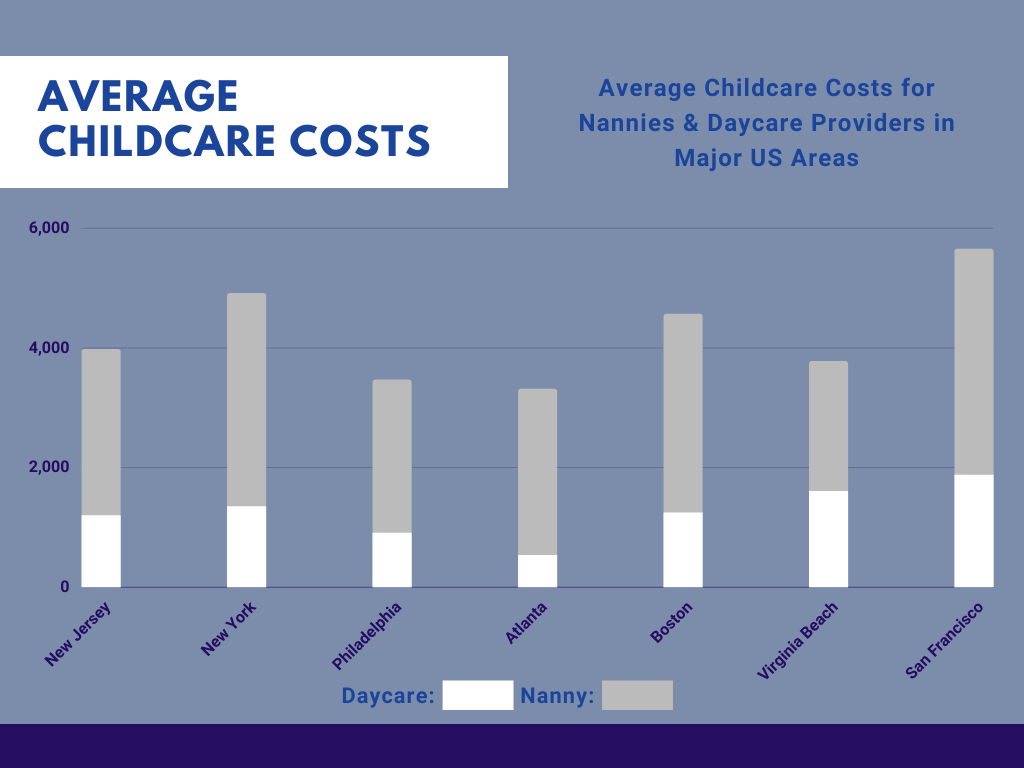 Parents of multiple children might find these costs doubled or even tripled, but other options are available. For example, in a community like Edison, hiring a nanny might cost about $16 an hour. Based on the number of hours per workday, that could add up to around $32,000 a year. Families with multiple children may save money by hiring an in-house nanny.
Cost of Entertainment in New Jersey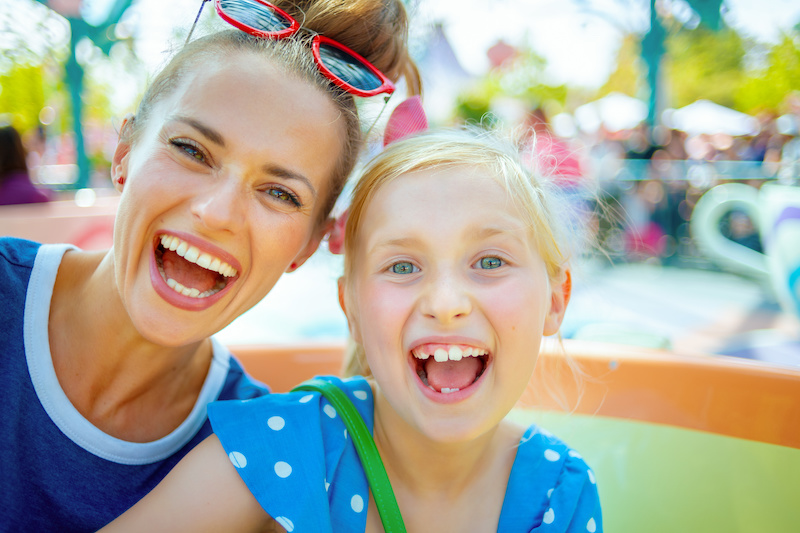 Living in a new community cannot be a simple evaluation of costs. While rent, utilities, and other costs determine the quality of life, enjoying a state requires that favorite pastimes are affordable. The great news is that New Jersey has a wide variety of free and paid activities and entertainment.
Art lovers can visit Grounds for Sculpture art park in Hamilton for about $20. Spend the day at Six Flags Great Adventure in Trenton for a huge water park, wild animal safari, and theme park excitement. Tickets start as low as $40 each.
Gamble and take in a show in world-famous Atlantic City at the Hard Rock Hotel and Casino. Rooms start at $89 a night and include entertainment in one of the many hotel bars and access to the spa and salon. Tickets for nationally known comedians or singers may cost around $49.
Average Salary Expectations in New Jersey
Average salaries in New Jersey are about $58,000 annually, placing the state at #32 in the U.S. The median household income for 2015-2019 was about $82,000. The highest-paid jobs were in law enforcement ($90,000), legal ($90,000), and management positions ($88,000). The minimum wage for the state is $12 an hour.
The unemployment rate in New Jersey is 3.5%, a bit lower than the national average of 3.7%.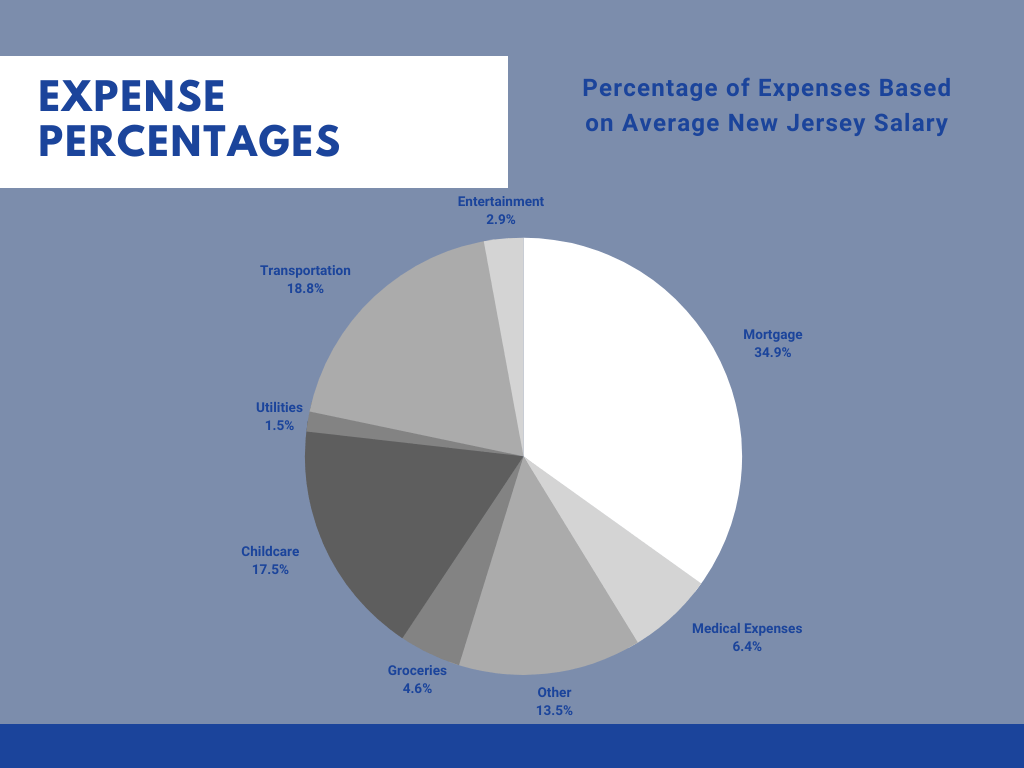 Another consideration regarding salary is taxes. New Jersey has a progressive tax rate, and the top incomes are taxed at about 8.97%. Progressive tax rates mean higher incomes are taxed at a higher rate, so workers with lower wages can expect to pay a lower percent.
New Jersey's property tax rate is 2.4%, which is higher than the national rate of 1.19%. This rate is not progressive, meaning everyone pays the same rate regardless of their salary.
New Jersey's economy has several key industries acting as pillars. Around 11.8% of the private sector workers in the state are employed in the transportation and logistics industry. Another 11.2% provide leisure and hospitality services while being paid more than $10 billion in wages. Around 7% of staff in the state work in manufacturing-related positions, contributing more than $50 billion to the local economy. The financial services industry contributes another 6.3% of private workers statewide. Other popular industries in the area include construction and energy, technology, and health care.
Come Home to New Jersey
As part of the New York City metro area, New Jersey is unparalleled in opportunities and entertainment. Some people may find it better to live next door to the excitement of New York. New Jersey can also offer a lower cost of living, even though some locations are just across the bridge from the Big Apple. The Garden State might just be the best place to build a life in the area.
If you're interested in making New Jersey your home, contact a real estate agent with The Robert Dekanski Team at (800) 691-0485 to explore your options today.