Public Transportation in Newark: Newark, NJ Public Transit Guide
Posted by Rob Dekanski on Wednesday, June 16, 2021 at 9:00 AM
By Rob Dekanski / June 16, 2021
Comment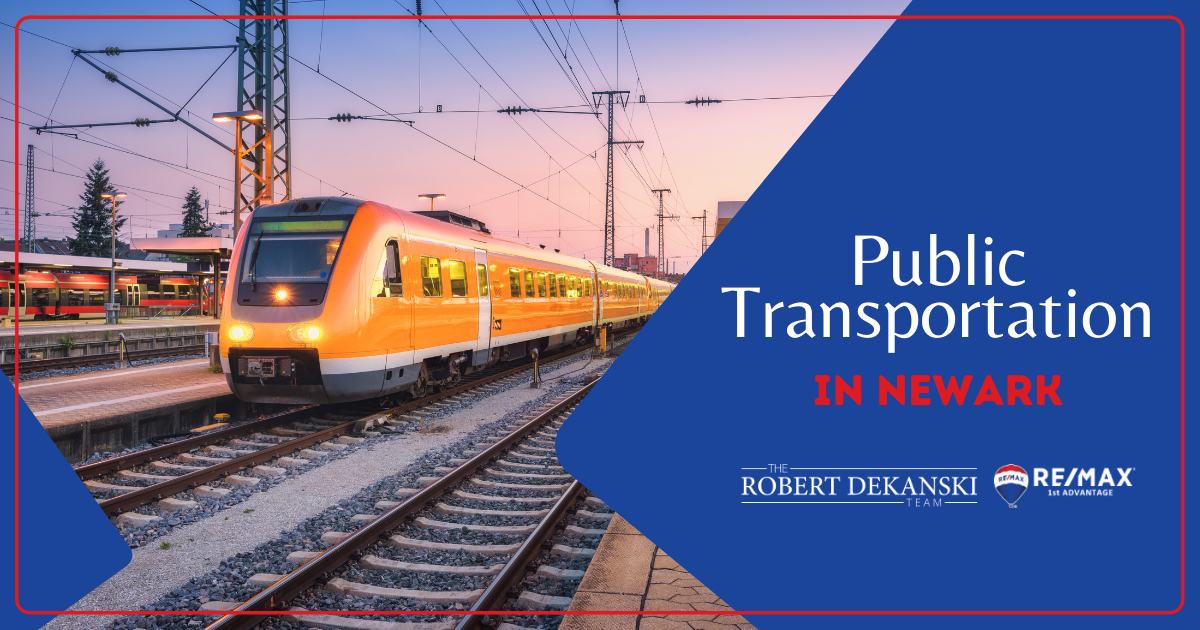 Newark is a major hub in New Jersey for numerous public transportation services, including international airfare and local travel. Those who are new to the Newark community or visiting for the weekend will quickly learn that public transportation in the area (and throughout the state) is managed by NJ Transit and the Port Authority. Whether one wants to go a few blocks or several miles, one can easily find the best method of transportation by using the NJ Transit app or website.
With so many individuals calling the Garden State home, the public transportation system in the area is superb. A 94% or greater on-time performance means it's rare for trains or buses to fall behind schedule in Newark, making public transportation a reliable way to get to and from work each day. Read on for some of Newark's public transit options for residents and visitors on the go.
PATH
PATH trains move almost 300,000 riders from station to station each day, more than the entire population of Newark. Residents and visitors of Newark can ride between New Jersey and New York to their final destination. The PATH train provides reliable daily transportation to and from work for those who work in the Big Apple or just outside of it. It's also a great option for those who want to enjoy a night out in the city. The train will take riders underneath the Hudson River, which can be an interesting experience for those who have never ridden a train underwater before.
The Port Authority has worked tirelessly over the years to upgrade the train cars. However, some of the older trains are still in use. Some trains are double-deckers, while others are still single-level train cars. PATH has plans to upgrade and enhance the existing systems to reduce delays and increase passenger capacity, with new trains allowing increased service frequency.
Tickets for PATH trains can be bought at the origin station or on the NJ Transit app. Prices vary significantly based on the origin and destination locations, and ticket options include child and adult one-way and roundtrip and weekly and monthly passes.
PATH Ticket Costs
Adult one-way: $2.75 (children five and under free)
Senior (65 and up) one-way trip: $1.25
Day pass: $10.50
Week pass: $36.00
Month pass: $110.25
Light Rail
The Light Rail is operated by NJ Transit. The Newark Line of the Light Rail moves residents and visitors swiftly from Broad Street to Grove Street. While the Light Rail runs all day, it's usually packed with commuters in the mornings and evenings, running every 10 minutes during peak hours.
While the Light Rail is most commonly used for morning and evening commuters, it can also be used by business travelers, tourists, and residents. Riders are quickly moved throughout downtown Newark to their destination. The Light Rail can eliminate the need to pay for on-street or garage parking downtown, which can quickly add up each month.
NJ Transit is strict when it comes to having tickets available and presented when asked. Whether paper or on mobile, tickets must be presented to the train conductor at the time of boarding for the rider to avoid being removed from the train at the next station.
Light Rail tickets, as with PATH tickets, vary significantly in price based on the origin and destination locations and have the same ticket options.
Light Rail Ticket Costs
Adult one-way: $1.60
Reduced and children's one-way: $0.75
Monthly pass: $59.00
NewarkGo
NewarkGo brings bike-share programs to the Newark area. Like other large cities around the country, Newark offers bike rentals to residents who want to quickly get from point A to B without using mass transit or ride-sharing services. Riders are charged $0.15–$0.20 per minute, plus a $1 fee to unlock the bike from the corral. To rent a bike, riders will need to use their smartphones (though options for users without may be available) and follow the instructions at the bike park station to get started.
Unlike in other big cities, NewarkGo only offers e-bikes and e-scooters. These allow residents to move much more quickly from point A to B than traditional bikes. NewarkGo's objective is to provide the most coverage to the most people possible, particularly communities in which public transit is less available. Its policies are designed to keep barriers to participation low and encourage rider freedom.
NewarkGo Ticket Costs
$0.15–$.20 per minute + $1 to unlock a bike
May vary slightly by company
Buses
When it comes to getting from one place to another in Newark, Newark's buses are one of the most efficient options. Operated by NJ Transit, residents from downtown to the neighborhoods at the edge of Newark's city limits can easily get where they need to go. While many revere the trains and Light Rail for their speed and efficiency, the buses supply more pick-up and drop-off locations than any other public transportation system in New Jersey.
The buses usually arrive within five minutes of their scheduled time, traffic and winter travel conditions permitting. Delays are announced through the NJ Transit app as information becomes available. Real-time bus status and a trip planner are also available in the app. Some buses are equipped with bike racks on the front underneath for passengers to use.
Tickets must be presented to the driver at the time of boarding. Drivers are trained to stop at every station to ensure those who need to get off can. Riders should always stay behind the white line while the bus is in motion. Additionally, they should hold on to the railing when entering and departing the bus.
As with other NJ Transit services, ticket prices vary, and one-way, roundtrip, weekly pass, and monthly pass options are available.
Newark Buses Ticket Costs
Depends on the zones passed through
Discover Newark Today
Those who live in the city truly have easy access to Newark's popular attractions and more. From a Light Rail for fast morning commutes to a PATH train that takes them into New York City, daily commuting and traveling to recreation and entertainment opportunities is a breeze. Combined with the many bus routes and proximity to the Newark Liberty International Airport, residents can go about their day locally or jet off anywhere in the world. Newark allows its residents and visitors to safely travel without having to worry about driving in traffic or paying fees to park their vehicle. Few cities in the country can provide their residents with the number of transit options Newark allows. Whether a house-hunter is looking at new construction homes in Newark or if they're after a Newark townhome with historic character, they can be sure that moving to Newark won't disappoint.
If you're looking for the right place to live in Newark, contact The Dekanski Home Selling Team of RE/MAX 1st Advantage with New Jersey Real Estate Network at (800) 691-0485 to get in touch with a Newark real estate agent who can help you find your ideal Newark home today.