North Brunswick Schools Guide: Public & Private Schools in North Brunswick
Posted by Rob Dekanski on Wednesday, March 22, 2023 at 2:01:30 PM
By Rob Dekanski / March 22, 2023
Comment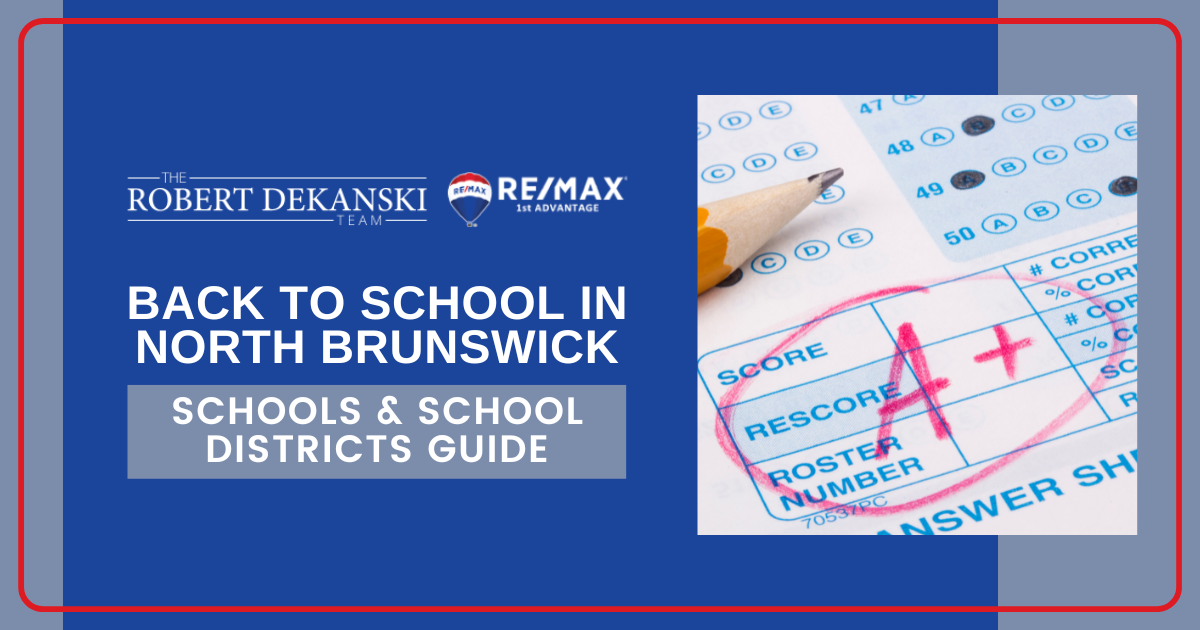 The township of North Brunswick is a lovely suburb just over 40 miles southwest of New York City. This Middlesex County community is bordered on its eastern edge by Farrington Lake and Westons Mills Pond and has a wide range of schooling options. Households in North Brunswick can choose between public, private, and charter schools for Kindergarten through high school. This part of New Jersey also has several colleges and universities nearby. Here's a closer look at area schools and school districts for anyone considering moving to North Brunswick.
Public School Districts Serving North Brunswick
The North Brunswick Township Schools (NBTS) administer the public schools here at a student-to-teacher ratio of 11:1. Five elementary schools (K–6) in North Brunswick Township feed into one middle school and one high school. The elementary schools are as follows:
John Adams Elementary School (K–4)
Arthur M. Judd Elementary School (Pre-K–4)
Livingston Park Elementary School (K–4)
Parsons Elementary School (K–4)
Linwood School (5–6)
Students who graduate from Linwood School attend North Brunswick Middle School (7–8), followed by North Brunswick High School (9–12).
North Brunswick Township Schools offers Pre-K preschool for ages 3, 4, and 5. The preschool program has limited slots available each year, so admission is decided by lottery.
All North Brunswick students from Grades 7–12 are given a Chromebook to enhance their technology education. The computer must be returned upon moving away from North Brunswick or graduating. All the public schools in North Brunswick, from Kindergarten through high school, offer science, technology, engineering, and math (STEM) coursework as part of the regular curriculum.
North Brunswick Charter Schools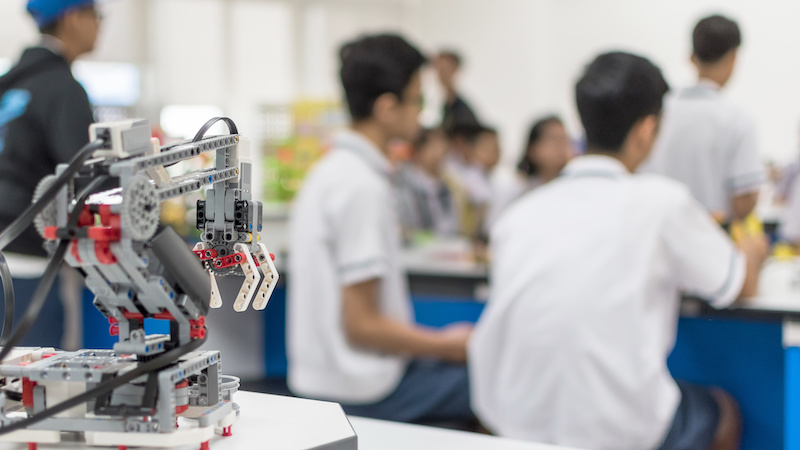 The New Jersey Department of Education administers all New Jersey charter schools. These are free public schools that the New Jersey Commissioner of Education has granted independent charters. Any North Brunswick student can enroll in a charter school with an available admission slot. Here are the three leading charter schools in North Brunswick.
Greater Brunswick Charter School is a charter school for Grades K–8 in New Brunswick (just northeast of North Brunswick). When more students are looking to attend than there are slots available, the school holds a lottery to determine placement. Parents should enroll their child in their local school district and obtain a Transfer Card to Greater Brunswick upon acceptance. The school's academic program is a dual language English and Spanish curriculum in all subjects.
Hatikvah International Academy Charter School is another dual language charter school for K–8 students. The languages here are English and Modern Hebrew, though students have the option to take Spanish once they reach 8th grade. Academics include math, science, social studies, art, music, drama, and robotics. This school is located in East Brunswick, and admission is based on a yearly lottery.
Central Jersey College Prep Charter School is one of the most well-known charter schools in New Jersey and serves students in Kindergarten through 12th grade. Turkish, Chinese, and Spanish are available as World Languages for study.
North Brunswick Private Schools
Of the six private schools in North Brunswick, five offer daycare, preschool, and Kindergarten. A private Jewish school serves Grades Pre-K–7. The Pre-K and Kindergarten private schools include:
Keyboard Kids: Montessori-style school for kids ages 2–6
Kiddie Kingdom Childcare & Learning Center: Childcare and education from 6 months of age through Kindergarten
Kidstart Learning Center: Nursery school through Kindergarten, plus summer classes
Goddard School of North Brunswick: Nursery school through Kindergarten
Creative Nursery School Childcare & Learning Center: Now accepting students from 6 weeks of age through 13
Cheder Menachem is a private Jewish school in the south part of North Brunswick, near some developments of new construction homes. It has a small student body and a student-to-teacher ratio of about 5:1. It serves students in Grades Pre-K–7.
Melamed Academy is a private Jewish school in nearby East Brunswick. It's a K–12 school with rigorous academic programs.
The nearest private high school to North Brunswick is Rutgers Preparatory School in Franklin Township. It's a Kindergarten through 12th-grade school that heavily emphasizes getting students admitted into college, especially nearby Rutgers University.
Colleges & Universities Near North Brunswick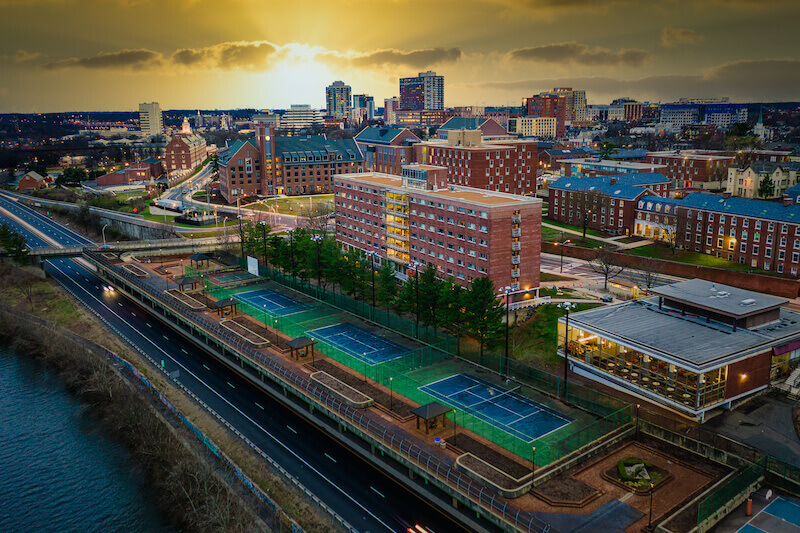 Princeton University is a Division 1 private Ivy League school. The campus is located 14 miles southwest of North Brunswick, about a 20-minute commute. The school was founded in 1726 and offers undergraduate and graduate degrees in Engineering, Humanities, Natural Sciences, and Social Sciences. It has an annual enrollment of around 8,500 people. Princeton boasts 75 Nobel Laureates who have graduated from its world-famous campus.
Middlesex College is a community college with its main campus in Edison, NJ. It has a smaller satellite campus in the city of New Brunswick. It has around 100 degree and certificate programs. All of its associate degrees can be completed in two years, and nearly every degree is transferrable to a larger college or university for a four-year degree.
Rutgers - New Brunswick is one of three regional campuses of Rutgers University, just minutes from North Brunswick condos or apartments. It serves a student body of around 36,000 undergrads and 14,000 post-graduate students. The Busch Campus is home to the university's natural sciences degrees, and the Livingston Campus is home to the college's social sciences and Rutgers School of Business. Meanwhile, the Cook Campus contains the School of Environmental and Biological Sciences, Marine and Coastal Sciences, Rutgers Gardens, and the Center for Advanced Food Technology.
North Brunswick Educational Opportunities
Anyone moving to North Brunswick can access various educational opportunities for their children. The fact that this tight-knit community sends all public school students to one middle school and one high school makes the system here easy to navigate. Parents who want a private school experience for their children also have options, and they can do so while living in one of New Jersey's best counties. With several colleges nearby, it ensures that lifelong learning is available for people living here in the Raritan Valley.