Perth Amboy Vacation Guide: What to Do When Vacationing in Perth Amboy, NJ
Posted by Rob Dekanski on Monday, April 5, 2021 at 10:44 AM
By Rob Dekanski / April 5, 2021
Comment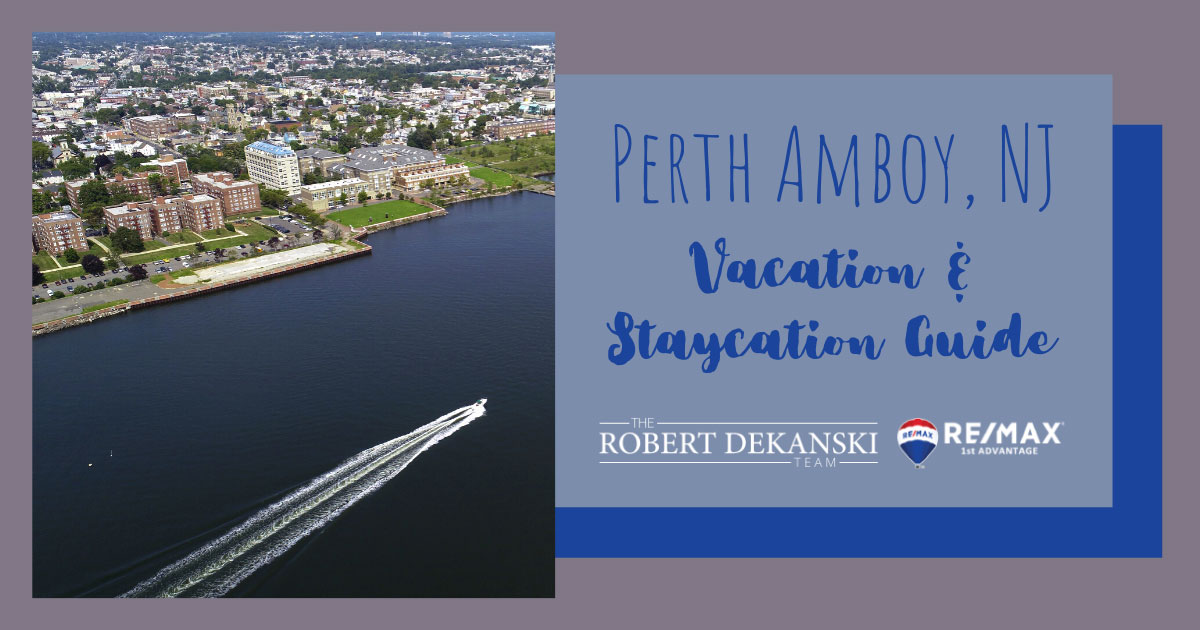 Perth Amboy is one of the best waterside cities one can visit in New Jersey. Those who live in the area can plan a staycation and take in sights and sounds they never knew existed. Anyone trying to plan a vacation that is equal parts relaxing and entertaining will love visiting Perth Amboy. Regardless if one needs to drive 15 minutes down the road or plan a cross-country flight, a visit to Perth Amboy is always memorable and enjoyable. The following guide explores ways to plan the best vacation or staycation in Perth Amboy.
Table of Contents
Lodging in Perth Amboy
Perth Amboy Lodging Possibilities
Courtyard by Marriott Edison Woodbridge
Walter Gilbert House
Gallery Holiday Motel
Perth Amboy, like most major cities, has a plethora of lodging options. However, the following three hotels offer something special and are worth booking a stay in, even for staycationers looking to leave their Perth Amboy single-family home for a while.
Courtyard by Marriott Edison Woodbridge
Address: Courtyard by Marriott Edison Woodbridge, 3105 Woodbridge Ave, Edison, NJ 08837
Courtyard by Marriott Edison Woodbridge embraces a contemporary style throughout its lobby and rooms. With free Wi-Fi for hotel guests, an indoor pool, and a la carte dining, a stay at the Courtyard Edison Woodbridge in Edison is a delight. Conveniently, Menlo Park Mall, Woodbridge Center Mall, and the Titan Business Park are all within a few minutes' drive. Guests are encouraged to spend time in the lobby and interact with the hotel staff, who know about local happenings and the best-kept secrets of Perth Amboy.
Walter Gilbert House
Address: Walter Gilbert House, 225 North Ave, Fanwood, NJ 07023
Walter Gilbert House is one of the most recent bed and breakfast inns to open near Perth Amboy in Fanwood, NJ. Friendly associates and comfortable sleeping arrangements welcome long-time residents and guests visiting the area. The house was built in 1982 and has been lovingly restored over the years by its various owners. Since being built, five families have purchased and worked on the Walter Gilbert House.
Guests will receive breakfast each morning of their stay. The owners accommodate most requests on-site, but guests should disclose any food allergies or diets before arriving. This lodging option is near major roadways that allow quick access to the best attractions and business centers in the area.
Gallery Holiday Motel
Address: Gallery Holiday Motel, 2020 NJ-35, South Amboy, NJ 08879
Gallery Holiday Motel is world-renowned for its themed suites. No detail is overlooked in any of the rooms available at this motel in nearby South Amboy. Guests may request to stay in a certain themed room if it is available at the time of booking. Themes include Cave Suite, Village Suite, Palace Suite, Royal Suite, Valentine Suite, Jungle Suite, Honeymoon Suite, Roman Suite, Pyramid (Triangle) Suite, Neon Suite, and more!
Guests will find they are close to major roadways during their stay at Gallery, which makes getting around Perth Amboy easy. However, one would never know the hustle and bustle of a city was just outside the room. Between the TV and hundreds of tiny details to be admired in each room, guests have been known to spend an entire afternoon just taking in their space.
Food and Dining in Perth Amboy
Perth Amboy Dining Possibilities
The Armory
Troy Restaurant
Sipos' Bakery
Regardless if someone is on a vacation or staycation, dining in Perth Amboy is a pleasant treat. Some of the city's most iconic restaurants even offer water views of the Raritan Bay.
The Armory
Address: The Armory, 200 Front St, Perth Amboy, NJ 08861
The Armory offers lunch and dinner service with or without reservations. This restaurant has the area's best views of Raritan Bay and Staten Island. The building itself is a restored naval ammunition building heavily used during World War I and World War II. Diners can take in breathtaking views and appreciate dining in a piece of world history.
Popular dishes include:
Surf & Turf: Grilled 7 oz. Wild Brazil Tail and 12 oz. Angus Filet Mignon served with drawn butter
Grilled Pork Chops: Center Cut Chops prepared in-house with garlic sauce
New York Strip Steak: 24 oz. Certified Black Angus
Angus Porterhouse Steak: 32 oz. Certified Black Angus
Steak Portuguese Style: Shell Steak topped with a Fried Egg, Sliced Ham, House Sauce, and Spanish Potatoes
The restaurant specializes in steak and seafood dishes. Anyone who wants a steak cooked right should visit The Armory.
Troy Restaurant
Address: Troy Restaurant, 547 Kennedy St, Perth Amboy, NJ 08861
Troy Restaurant is an authentic Turkish and Mediterranean eatery that has been open in Perth Amboy since 2006. The restaurant handles lunch and dinner service, to-go orders, delivery orders, and large-scale catering for parties or corporate events. Diners will find a range of meat and vegetarian dishes that can satisfy anyone's taste buds.
The restaurant's most popular dishes include:
Mix Grill Kebab: Chicken and lamb gyro served with rice and salad
Lamb Chops: Grilled lamb chops served with rice and salad
Gyro Kebab: Greek-style beef gyro served with rice and salad
Salmon or Tilapia in Cream: Mushroom, tomato, spinach, and cream sauce served with rice
Manti: Turkish-style meat ravioli with garlic yogurt and butter sauce
While Troy Restaurant is vegetarian-friendly, not all dishes are vegan-friendly. It is important for those interested in these options to speak with their server before ordering, as they will happily help diners identify dishes that guests can have modified.
Sipos' Bakery
Address: Sipos' Bakery, 365 Smith St, Perth Amboy, NJ 08861
Sipos' Bakery has been serving the Perth Amboy community for over half a century. Anyone looking for Hungarian, Polish, or other European delights will find the best-baked goods right here. The bakery prides itself on its traditional baked goods; however, they have expanded their offerings recently. Now, beautiful, multi-tiered cakes are available for weddings, parties, or events.
Hungarian Beigli Poppy Seed Roll: This poppy seed beigli is a traditional Hungarian sweet bread prepared with a delicious poppy seed filling.
Hungarian Beigli Walnut Roll: This walnut beigli is a traditional Hungarian sweet bread prepared with a delicious walnut filling.
Hungarian Kifli Cookies: Hungarian Kifli Cookies are another delicious part of any traditional Hungarian celebration. These buttery and flakey cookies are filled with either walnut, lekvar (prune), or apricot filling.
Polish Babka: Babka is a delicious, spongy, brioche-like yeast cake made mainly in Central and Eastern Europe. This option is available with and without raisins.
Polish Chrusciki (Angel Wings): Polish Chrusciki, also known as angel wings or bow ties, are made of dough fried in hot oil. This treat includes the option of powdered sugar if desired.
Sipos' Bakery continues to create and serve the hardest-to-find, classic European baked goods. If a dish isn't currently available, patrons can ask for it to be made.
Attractions in Perth Amboy
Perth Amboy Attractions
The Proprietary House
Perth Amboy Waterfront ARTS Festival
Perth Amboy Ferry Slip
Whether one is visiting Perth Amboy for a day on vacation or planning a weekend-long staycation, the city's top attractions are listed below. These attractions should be on everyone's must-do list.
The Proprietary House
Address: The Proprietary House, 149 Kearny Ave, Perth Amboy, NJ 08861
The Proprietary House is an incredible piece of American history that has been expertly preserved over the years. In fact, The Proprietary House is the only remaining governor's mansion from the original 13 colonies. The home was constructed between 1762 and 1764, and its Georgian architecture had not been used in other governor mansions before. The architecture may be the reason the mansion survived while the others crumbled or were demolished over time.
In 1808, the mansion was turned into the Brighton Hotel, and two arches were added to the newly established lobby. Other than these arches, no other architectural changes were ever made to the property. The Proprietary House was eventually turned into a museum in 1914. Restoration efforts are regularly employed to continue preserving the home for all to visit and enjoy.
Perth Amboy Waterfront ARTS Festival
The Perth Amboy Waterfront ARTS Festival is held annually to celebrate local artists in the area. Regional artists have also been known to make their appearance and set up at the festival. Visitors will see everything from paintings, watercolor art, prints, photography, sculptures, jewelry, ceramics, pottery, and handmade items.
As with any festival, food and music are also part of the event. Over one dozen eateries and food trucks line up and offer their tasty creations to patrons. Five stages for musical performances were present at the festival in 2019. With the momentum the Perth Amboy Waterfront ARTS Festival currently has, the festival is set to grow each year.
Perth Amboy Ferry Slip
Address: Perth Amboy Ferry Slip, 300 Front St, Perth Amboy, NJ 08861
The Perth Amboy Ferry Slip is a classic piece of history that everyone should visit at least once during their stay in the city. Due to Perth Amboy's location to the Raritan Bay's mouth, the city was actually the capital of New Jersey from 1686 to 1776. The city was a hub for trading, and the ferry slip was frequently used to unload and load traded goods. The slip is incredibly historical, and visiting pays homage to America's beginnings.
Adventures in Perth Amboy
Perth Amboy Adventures
Perth Amboy Waterfront
Cheesequake State Park
William Warren Park
Those who prefer to have unstructured fun and adventures during vacations and staycations will be pleased to learn there are plenty of memorable areas to visit in the city. Perth Amboy has plenty of outdoor fun for everyone.
Perth Amboy Waterfront
Visiting the Perth Amboy Waterfront is a must. With New York City and Staten Island views on Raritan Bay, visitors can take in the best views any New Jersey City has to offer. Over the years, bike paths and walkways have been added to the waterfront to create one cohesive attraction.
An entire day can be spent at the Perth Amboy Waterfront alone. Restaurants, bars, and large spaces are available for enjoyment. On a warm, sunny day, the waterfront will fill quickly. There are benches staggered throughout the area to allow visitors to rest and relax. The Perth Amboy Waterfront offers ample parking for guests.
Cheesequake State Park
Address: Cheesequake State Park, 300 Gordon Rd, Matawan, NJ 07747
Cheesequake State Park in Matawan is incredibly unique due to its geographical location. Perfectly positioned between the urban north and suburban south of Perth Amboy, Cheesequake State Park features two different ecosystems. Saltwater and freshwater marshes create the first ecosystem, while the second ecosystem comprises northeastern hardwood forests.
Visitors may hike and bike on the defined trails in the park. To preserve the delicate ecosystems, visitors should not leave the marked trails. Those who want to have a picnic may lay out a blanket on the open fields or opt to rent one of the park's covered pavilions.
William Warren Park
Address: William Warren Park, Florida Grove Rd, Woodbridge, NJ 07095
William Warren Park in nearby Woodbridge is the place to visit for a complete day of fun. Staycationers and vacationers alike can take advantage of the facilities offered here. Visitors may request access in advance to the tennis courts, basketball courts, baseball fields, softball fields, soccer fields, or picnic groves. A mini-theater is located in the heart of the park, and each summer, the Children's Concert Series entertains visitors. There are also numerous biking paths, walkways, and playgrounds available.
When to Visit Perth Amboy
Perth Amboy Climate
50s/60s during fall
Snow and 20s/30s during winter
202 days of sunshine
Can reach 80s in summer
Perth Amboy has the typical New Jersey weather locals have come to love and expect. The most pleasant time of year to visit Perth Amboy is the end of summer and the beginning of fall. The Garden State quickly turns from a blooming oasis to a fall foliage lover's dream, and temperatures stay in the low 50s/high 60s.
Those who prefer to visit during the holidays may find anywhere from zero inches to 24 inches of snow on the ground. Lows typically reach the low 20s during the evenings and high 30s during the day.
A visit during the summer is always worth a trip to Perth Amboy. Manicured parks and blooming flowers create great photo opportunities. With 202 days of sunshine, storm clouds are unlikely during a summer visit. However, temperatures can reach the high 80s. Due to the proximity of Raritan Bay, Perth Amboy can be quite humid.
Plan Your Vacation or Staycation in Perth Amboy
Perth Amboy is one of the best destinations in New Jersey. Regardless of when one visits, Perth Amboy always has sights, attractions, and relaxing views to offer. Those planning a staycation will be glad to know they have a world-class vacation destination right in their backyard. Anyone ready to get away will find unique lodging, rental properties, incredible food, and enough sites and sounds to create a memorable vacation.