Piscataway Vacation Guide: What to Do When Vacationing in Piscataway, NJ
Posted by Rob Dekanski on Friday, May 7, 2021 at 9:15 AM
By Rob Dekanski / May 7, 2021
Comment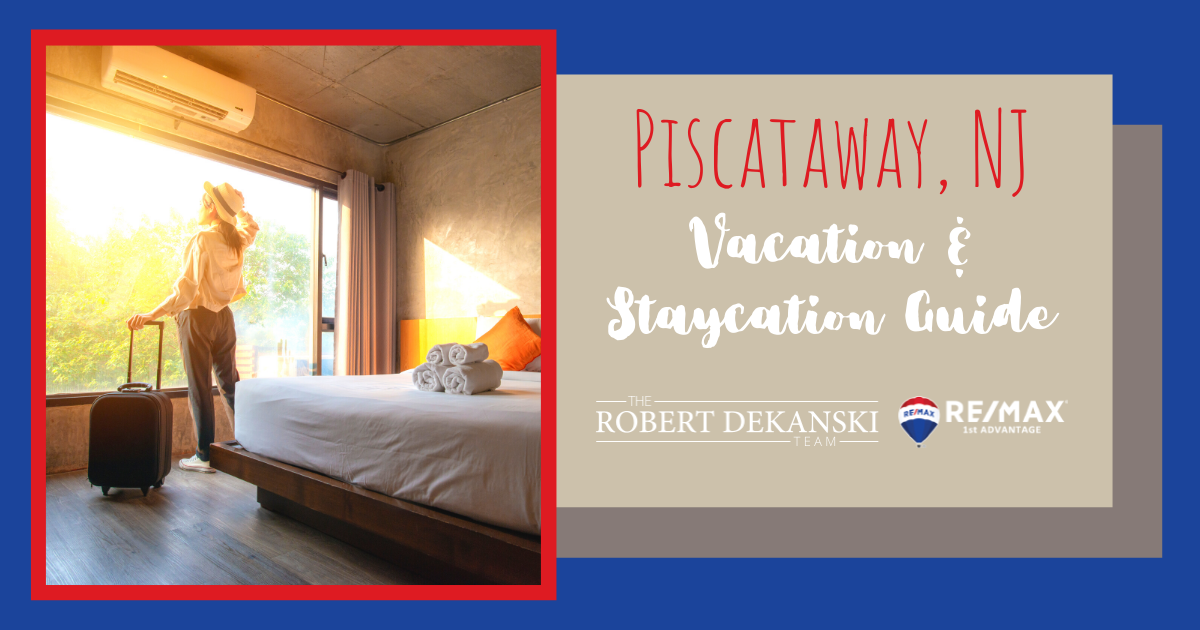 Piscataway is not just a New York City bedroom suburb. There is plenty to do and see in this beloved New Jersey town for vacationers or residents seeking a staycation.
From lodging through dining options, everyone can tend to their needs in style. Come find out where you should go and what you should do with the following options for a vacation in Piscataway.
Lodging in Piscataway
There is no shortage of good hospitality in Piscataway, starting with accommodations for anyone seeking a home away from home.
Embassy Suites by Hilton Piscataway Somerset
Embassy Suites by Hilton Piscataway Somerset Amenities
Complimentary breakfast
Pet-friendly rooms
On-site restaurant
Fitness center
Indoor pool
This Embassy Suites location is a mere eight-minute car ride from the center of Piscataway and ten minutes from Rutgers University. For guests visiting nearby corporate offices for things like presentations or interviews, a free shuttle runs to office parks up to five miles away from the hotel. Everything about staying here centers around serving guests everything they need, exactly when they need it.
This Embassy Suites is located on Route 287, with easy access to Route 78 and the New Jersey Turnpike, making it even more centrally located than it may seem at first. The rooms here are pet-friendly, so no one needs to travel without their furry best friend. The food and drink flow freely here, with a complimentary made-to-order breakfast and a free evening reception as well. There's an indoor pool and a full-service fitness center here, too, so guests can keep their fitness regimen going strong.
Rutgers University Inn and Conference Center
Rutgers University Inn and Conference Center Amenities
Free bus service
Complimentary parking
Hypo-allergenic linens
It's no secret or surprise that nearby Rutgers University is a major local pull. Fortunately, there is a gorgeous inn on campus, part of a 21-acre campus enclave: the Rutgers University Inn and Conference Center, located in the historic Lindenwood Carpender House. Guests agree that it sounds just as fabulous as it feels to stay near the school, tucked away behind the trees, awaiting their next seminar or conference meeting.
After parking their car for free in the on-premise lot, guests can walk inside to the 24-hour front desk for assistance at any time of day. Dry cleaning is available on-site as well for any quick finishing touches that are needed. There is a coffee machine in every room and a snack bar on-site.
The conference center is also a huge draw, having been in operation for over 50 years. This center can accommodate meetings that range in size from five through 100 attendees, with professional staff on hand to work through every possible detail.
The Bernards Inn
The Bernards Inn Amenities
Same-day laundry and dry cleaning
Complimentary business center
Nine unique rooms
Getaway packages
For a boutique hotel experience, there is The Bernards Inn, which has been open to guests since 1907. This hotel stay prides itself on style, sophistication, and elegance, seeking to serve each guest with a luxurious stay that satisfies their every desire. Nine rooms in the inn are tied to unique pieces of history by being named after famous local mansions. There are 20 guest rooms, allowing for an intimate hospitality experience.
The hotel itself is fashionably styled. Each room has luxurious elements, from the bedsheets through the bathrooms down to the AVEDA bath care products. Complimentary Wi-Fi, a flat-screen TV, and multiple power outlets are also conveniently placed in every room. Every guest can sleep well, find opportunities for peace and self-care, and manage to get work done if they need to.
Food and Dining in Piscataway
Being close to the culinary behemoth of New York City's food landscape might seem intimidating, but Piscataway takes it in stride. The area is full of beloved restaurants, often family-owned, celebrating the cultures that make the township what it is today.
Fontainbleau Diner
Popular Dishes at Fontainbleau Diner
Our Famous Greek Salad
Gyro Sandwich
Reuben Sandwich
Broiled Prime NY Strip Steak
Cheesecake
Belgian Waffles
With a menu designed to fuse and celebrate the Greek and American heritage behind this diner, the Fontainbleau Diner is a local favorite. It's also a reliable go-to since it's open daily from 7 a.m. to 9 p.m. The Fontainbleau Diner has been open for over 30 years, so entire generations likely remember coming here as children—and now, they may bring their own kids in for a delicious bite.
Every day, there are different diner-style specials displayed on the whiteboard at the restaurant's entrance. There are plenty of regulars that stop through, familiar with all the staff and even calling them by their nicknames. Many of these regulars are happy to share stories of local history and legends.
The people-watching at this diner is truly top-notch. A meal can be enjoyed solo, on a casual date, or even with an entire group.
Some favorite dishes include fried calamari, fried fish specials, and Philly cheesesteak wraps. For that nostalgic Jersey diner feel, Fontainbleau is a strong choice.
Fratelli's Pizzeria & Cafe
Popular Dishes at Fratelli's Pizzeria & Cafe
Sicilian Pizza
Fratelli's Special Pizza
White Pizza
Buffalo Wings
Minestrone Soup
Antipasto Salad
Tiramisu
Since 1986, family-owned and operated Fratelli's Pizzeria and Cafe has been serving up pizza practically every day to Piscataway's residents and visitors. This is another eatery full of regulars coming here for decades and who swear by Fratelli's pizzas. The grandma pizza is a particular hit, as is the buffalo chicken pizza, although it seems as though a diner can't go wrong with any choice on the menu—and many choices there are, because Fratelli's doesn't just serve pizza. There are salads and wraps, sandwiches, and even entrées, all Italian-inspired and delicious.
Anyone trying to take some time off needs to dig into some comfort food. Fratelli's pizza might be just the ticket.
BAM Desserts
Popular Orders at BAM Desserts
Drip Cakes
Cake Pops
Custom Iced Sugar Cookies
Cupcakes
Themed Cakes
Dessert is often spoken of as a "guilty pleasure," making it a critical element to any vacation or staycation plans. Piscataway has one of the most accommodating dessert shops in BAM Desserts, which can truly meet any dessert needs. The kitchen is peanut-free, but the accommodations don't stop there: BAM offers vegan, eggless, and even sugar-free dessert options. Everyone can find something to satisfy their sweet tooth.
BAM Desserts can also meet the needs of any occasion. Patrons can order their desserts online ahead of time for curbside pick-up, and businesses can order desserts for their meetings or events. Dessert favors are even an option here; who doesn't want to leave a party with cake pops, mini bundt cakes, or any other customizable miniature desserts that BAM offers? The custom order options for dessert here are almost endless. Regardless of whether the order is for a party of one or a party of 50, BAM Desserts can deliver the desired cakes and confections.
Attractions in Piscataway
There is a beauty and charm to the pace of Piscataway, bringing Jersey atmosphere alongside the warmth of a grandma's house and the energy of the Northeast within spacious, tree-lined suburban streets. While there aren't massive crowds of people up at all hours of the day and night, there are things to do that appeal to every possible interest out there.
East Jersey Old Town Village
There are many historic sites within Middlesex County (where Piscataway is found), including the East Jersey Old Town Village. With 16 structures that are either restored from the 18th and 19th centuries or else fabricated as replicas of structures in the surrounding Raritan Valley, this village focuses mostly on agriculture and merchants.
From April through October, real-life "interpreters" practice the everyday activities that would have occurred in this village using the appropriate tools of the historical times, offering a powerful live look into American history. The buildings represent establishments that would have been open here in previous centuries, including a tavern, blacksmith studio, wheelwright shop, school, and church. People of all ages have a chance to explore what life was like back then.
New Brunswick Performing Arts Center
The NBPAC, or New Brunswick Performing Arts Center, serves the entire surrounding area as a major performance venue. It was founded in 2017 as a local public-private partnership between local government and major businesses, with an investment of over $170 million. Construction did not finish until 2019. The NBPAC includes two theaters, many rehearsal studios and workspaces, and even hundreds of residential apartments and parking spaces to provide housing.
Anyone planning to spend some leisure time in Piscataway should check the events calendar at NBPAC to see what acts pass through town, from major musicians through comedy acts, traveling theatre groups, and dance and alternative performances. The NBPAC also has a partnership with Rutgers University so that some of the school's groups can perform there.
The Battle of Bound Brook
History buffs, rejoice! Every year, American Revolution enthusiasts put on a live reenactment of the Battle of Bound Brook. For anyone in town at this time and willing to pay the $5 entry fee, this battle is quite a feat to witness—and there is plenty more nearby to explore. There are tours of the historic Abraham Staats House, where General Baron von Steuben was headquartered during the American Revolution. There are outdoor cooking displays and camping activities, as well as guest speakers. Perhaps most dazzling are the ongoing displays of military marches, drills, and tactical maneuvers.
Outdoor Adventures in Piscataway
Given its proximity to corporate offices and New York City, it can be easy to forget that outdoor activities and leisure are readily available in Piscataway. No one needs to go far to access the great outdoors and be wholly immersed in nature, with exceptional preserves and Piscataway parks contained within.
Rutgers University Ecological Preserve
Three hundred and sixty acres of wooded preserve are included in the Rutgers University Ecological Preserve in Piscataway. In colonial times, the land that now forms the preserve was used for farms or pastures. During WWII, this land was used as a military staging area. In 1976, the Rutgers Board of Governors designated these lands to be a nature preserve, seeking to restore and preserve the native ecosystems contained within while also using the grounds as a living, breathing classroom for the school.
Throughout the preserve, there are several walking trails, each under two miles in length, although totaling just over 7.5 miles. Visitors can walk along these trails and freely observe the plants and animals that call this preserve home. Some highlights often include various turtles, woodpeckers, hawks, herons, salamanders, snakes, and fish.
Fishing Near Piscataway
Piscataway is rich with opportunities for fishing adventures. The most important rule to keep in mind is that everyone age 16 or older needs to have a fishing license to fish legally. There are two simple ways to obtain this license: prospective anglers may buy it online from the NJ Division of Fish and Wildlife, or else they may purchase it from an authorized agent. Failure to obtain a license before fishing may mean significant fines.
The Jersey Shore is nearby for saltwater fishing, but most anglers in Piscataway look for freshwater fishing. Fortunately, there are many local spots, including the Roundvalley Reservoir and several lakes: Lake Lenape, Makepeace Lake, Lake Hopatcong, and Union Lake. Some people choose to take their boat out for fishing, but there are plenty of spots along the shores of these lakes.
One surprising fact is that ice fishing is a possibility in New Jersey during the winter. Most people only think of colder states like Wisconsin or Vermont, but there is an active ice fishing scene in and around Piscataway during the winter.
Cheesequake State Park
Cheesequake State Park is dearly beloved for the unparalleled diversity that it brings to the region. This park actually straddles two distinct ecosystems, which makes for several microenvironments to be housed within it. There are both saltwater and freshwater marshes, fields, a cedar swamp, and pine barrens enclosed within one park.
Not only is there plenty of nature to bask in at Cheesequake, but there is also a full range of activities permitted. Trails for hiking and biking, campsites, and even boat rentals are available. There are five different trails, ranging from 1.5 to 3.5 miles in length, each of varying difficulty. One trail is only meant for hiking and mountain biking.
Some campsites are specially designated as pet-friendly for visitors bringing in furry companions. During winter, sledding, snowshoeing, and cross-country skiing are allowed.
When to Visit Piscataway
Because Piscataway is located in New Jersey, it effectively lies in the heart of the mid-Atlantic portion of the United States. All four seasons can be enjoyed here, from cold winters through hot, humid summers. Snowfall is possible during the winter, which may deter some visitors; however, the area is well-equipped for snow removal, meaning that even the heaviest blizzards tend to only slow things down for a few hours at a time.
At every time of the year, there is something to see and do in Piscataway. Some outdoor activities may be less pleasant or even restricted during the cold winter months, particularly if there is any risk of black ice on the ground. Similarly, the heat index and humidity may reduce air quality in the middle of the summer to such a great extent that it is advisable to remain indoors. Generally, May and June are the most pleasant months to visit Piscataway.
Relax and Unwind in Charming Piscataway
For a bit of respite from the daily grind and urban bustle, Piscataway can be a low-key, relaxing destination. Everyone in town can enjoy hearty meals, fine lodging, and fun activities that spark curiosity and nourish the spirit. For anyone passing through, the odds are high that, at the very least, they will leave with a good story, for there's never a truly dull moment here.
If your vacation tempts you to move to Piscataway and enjoy this city daily, contact The Dekanski Home Selling Team of RE/MAX 1st Advantage with New Jersey Real Estate Network at (800) 691-0485 to talk to experienced local real estate agents who can help you find the Piscataway rental or luxury home of your dreams.