Most Popular Attractions in Perth Amboy
Posted by Rob Dekanski on Wednesday, March 31, 2021 at 8:42 AM
By Rob Dekanski / March 31, 2021
Comment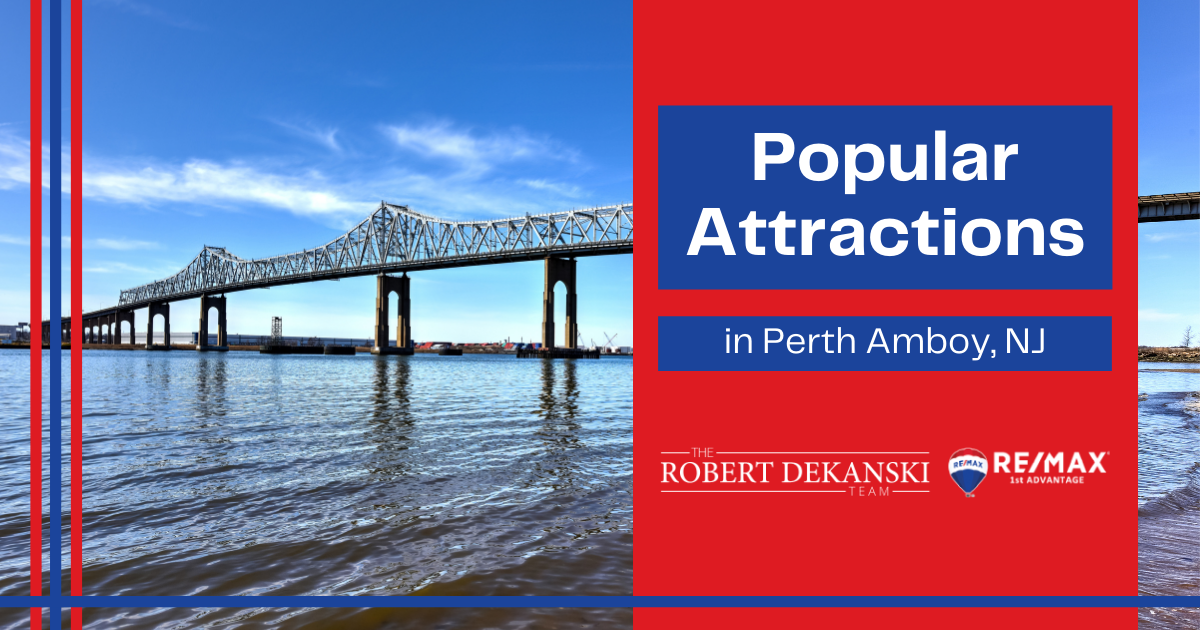 Perth Amboy is located on Raritan Bay and is located in proximity to New York City. It was a resort town for New Yorkers during the 19th century and early 20th century. Today, Perth Amboy may no longer be considered a true "resort" town, but it does have a lot to offer its residents. In 2005, for example, Golf Magazine called Perth Amboy the unofficial Golf Capital of the U.S. because it is situated close to 25 of the publication's top 100 courses in the United States. Perth Amboy is also home to the Raritan Yacht Club, one of the oldest yacht clubs in the U.S., and the following five points of interest.
The Proprietary House
The Proprietary House is a fascinating property with a colorful and rich past. The original four-story structure, which was completed in 1764, was built as a residence for the Royal Governor of New Jersey. Today, it is the only proprietary governor mansion of the original 13 Colonies still standing.
The first royal governor to take residence in the Proprietary House was William Franklin, who lived there between 1774 and 1776. He was New Jersey's final royal governor and also the very last one to try to remain in power in the colonies.
Since that time, the Proprietary House has been used in several ways. It has, for example, been a retirement home, a hotel, a private mansion, and a boarding house. Today, it is a museum that has been restored to be historically accurate. Free tours are currently available on Wednesdays and Sundays. There is also an option for afternoon teas on those days for a fee. The museum also hosts other special events, including ghost tours, and is available to rent for special occasions, such as weddings.
Outerbridge Crossing
This steel cantilever bridge, opened on June 29, 1928, spans the Arthur Kill — a tidal strait between Staten Island, New York, and Middlesex and Union counties, New Jersey. The Outerbridge Crossing connects Perth Amboy and Staten Island and is approximately three miles long with a 143-foot channel clearance, allowing deep-sea vessels to pass underneath it.
Outerbridge Crossing was designed by John Alexander Low Waddell, who was a prolific bridge designer. He built more than 1,000 structures all over the world, including in the United States, Canada, Russia, China, Japan, and New Zealand. He also designed the nearby Goethals Bridge, which opened on the same day as Outerbridge Crossing. Originally dubbed the Arthur Kill Bridge, Outerbridge Crossing was later renamed for Eugenius H. Outerbridge, the first chairman of the Port Authority of New York and New Jersey.
This bridge connects NJ 440 and NY 440 and carries a total of approximately 90,000 vehicles a day. There is a toll collected, but only for traffic on the east-bound side. For a standard two-axle vehicle with single rear wheels, the toll ranges from $11.75 for a motorist with an E-ZPass during off-peak hours to $13.75 for peak hours with E-ZPass. The system is cashless only. For motorists who end up having to pay by mail, the toll is $16.00.
Perth Amboy Ferry Slip Museum
Perth Amboy's nickname is "City by the Bay," so it's not surprising that it was once home to an important ferry slip for boats in New York Harbor. Located on Arthur Kill, the Perth Amboy Ferry Slip Museum is listed with the New Jersey Register of Historic Places and the National Register of Historic Places.
Ferry service first began at this historic slip in 1684. Over the years, it had been used for many purposes, including to transport travelers who wanted to access the Jersey Shore. However, the invention of the automobile eventually took a toll on the popularity of ferries between Staten Island and New Jersey. This was especially true after the Outerbridge Crossing was opened in 1928. On October 17, 1963, the Perth Amboy Ferry Slip ceased operations.
It would not be the end of the slip, though. In 1998, the ferry slip was reopened as a museum dedicated "to preserving the History of the Ferry Service." It is open on Saturdays from 3 p.m. to 6 p.m. by appointment only. The museum's building is also used for special events and exhibits, including the popular Perth Amboy Artworks concert series.
Kearny Cottage Museum
Visiting Kearny Cottage is like stepping back in time. Originally built in 1781, this historic four-room structure is one of the few remaining examples of an 18th-century vernacular residence in Perth Amboy. As such, it is listed on the New Jersey Register of Historic Places and also as the Lawrence Kearny House on the National Register of Historic Places.
The cottage was once home to Michael and Elizabeth Lawrence Kearny and their son. The Kearnys were an influential family: Elizabeth Kearny was a poet, also known as the Revolutionary poet and editor Madame Scribblerus. Lawrence was a commodore in the United States Navy during the 19th century. He is also credited with helping to negotiate an open-door trade policy with China. In 1848, he served as the mayor of Perth Amboy.
Today, the Kearny Cottage is a museum filled with local memorabilia. Those interested in visiting the cottage should call ahead to arrange a tour. Donations are accepted.
Perth Amboy Harborside Marina
The Perth Amboy Harborside Marina isn't just a place where boat owners can dock their vessels — it's also one of the loveliest places in town to spend the day. Visitors can walk around the harbor or sit on a beach and watch the boats glide past on Raritan Bay. Or, they can stop by the local ice cream shop to grab a sweet treat to enjoy on their walk. There are also two piers where anglers can try their luck. These things to do make for a relatively inexpensive and peaceful way for people to spend their day. Even better? Parking is free.
A lot of work has been done recently on Perth Amboy Harborside Marina, which suffered extensive damage during Superstorm Sandy. Approximately $5.5 million was spent on the marina's restoration, and it now has new 85-foot-long steel pilings and 10 floating docks with slips for 137 boats, plus a 300-foot berth for dockage. Each dock comes equipped with electricity. The marina also has a bait shop, vending and ice machines, and restrooms with showers. Additionally, it is home to one of the area's best-known restaurants, The Armory, housed in a restored naval ammunition building.
Discover Perth Amboy's Most Popular Attractions
Perth Amboy is a historic city that has a lot to offer prospective home buyers, including waterfront properties and luxury homes overlooking Raritan Bay, in addition to proximity to New York City. Those planning a move to Perth Amboy will discover the city's best attractions and much more.