Most Popular Attractions in Piscataway: Piscataway, NJ Attractions & Recreation Guide
Posted by Rob Dekanski on Monday, June 7, 2021 at 12:05 PM
By Rob Dekanski / June 7, 2021
Comment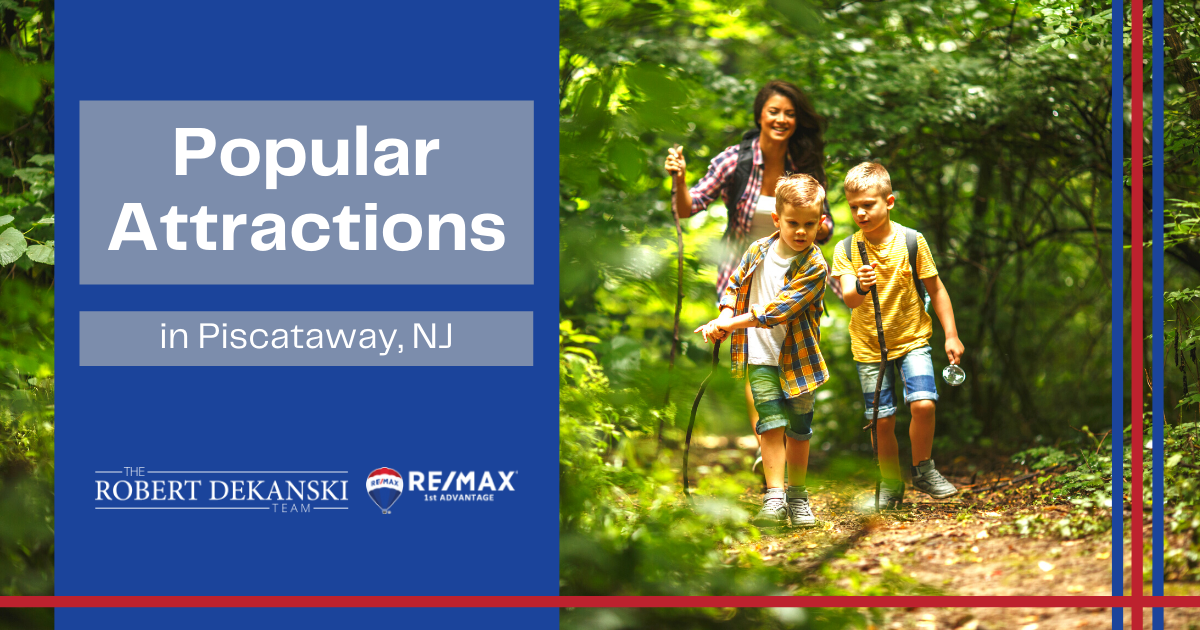 While new construction homes, downtown condos, and commercial properties abound in modern times, Piscataway was historically home to Native Americans and early Colonial settlers who helped it become what it is today. Founded in the mid-1660s, Piscataway is one of the oldest communities in the nation.
As a metropolitan neighbor of New York City, Piscataway appeals to various residents and visitors seeking entertainment—and this community certainly doesn't lack in that department. Keep reading for a list of the most popular attractions in Piscataway, New Jersey.
East Jersey Old Town Village
There are several fantastic attractions along River Road in Piscataway. One of them is the spectacular experience locals love and know as East Jersey Old Town Village. People come here to explore 16 replica and reconstructed structures from the village in the 1700s–1800s, including a blacksmith shop, schoolhouse, barracks, and more. Between interpreters and guided tours and the memorabilia here, it's an immersive experience to remember.
The best part of East Jersey Old Town Village is that it remains true to the standards of life and architecture that dominated the Raritan Valley in its earliest days. Here, experience life back then through explorative exhibits, living history shows, guided tours, and seasonal programs. The tourists and historians frequent here for a unique and in-depth experience of Piscataway's storied past.
Rutgers University Ecological Preserve
Lawmakers working alongside experienced scientists and concerned citizens determined the importance of establishing the Rutgers University Ecological Preserve in 1976. This 360-acre span of meadows, mature forests, and streams is one of the largest preserves of its type in the northeastern region, and locals consider it an invaluable community asset. This non-profit park is worth a visit.
Amid six sections of mature forests, stunning meadows, and gently rolling streams in the preserve, visitors will have opportunities to view varied flora and fauna such as rare birds, turtles, turkeys, fish, and the occasional fox. There are numerous educational tours for both youngsters, adults, and professionals seeking degrees in ecological studies.
Cornelius Low House
The rich history of the Cornelius Low House is as fascinating as the collection of exhibits held within these walls. Construction on the home began around 1730 upon the request of a Dutch merchant who had moved to the area named Cornelius Low. The property was constructed along the Raritan River to make it easier to obtain goods for his mercantile shop, but it did sustain severe flood damage in 1738.
After the floods became a problem, Low had a new Georgian mansion constructed at the top of the bluff at Landing Lane on the Raritan River. By the mid-19th century, the once-bustling port community here had all but vanished. However, the Cornelius Low House still stands, and it's listed on the National Register of Historic Places and as a historical monument in New Jersey. Well worth a visit, admission here is always free.
Johnson Park
Those making a stop at East Jersey Old Town Village can't help but notice the expansive 478-acre Johnson Park right next door. Situated on the Raritan River's banks, this park is a year-round favorite with locals. Named for its original donors—the Johnsons of the Johnson & Johnson entrepreneurial family—there is something here for everyone in the community.
Visitors can meander via foot or bike around 2.5 miles of trails with interpretive signs indicating historical points and discussing the various flora and fauna native to the valley. There are several athletic fields for ball games and tennis courts, plus an animal area with a petting zoo with pigs, goats, miniature horses, and other delights.
Johnson Park features lovely picnic groves with tables and reservable gazebos for groups and larger gatherings. Three large playgrounds boast soft surfaces. Two ponds are on-site, and the park is pet-friendly.
Metlar-Bodine House Museum
Since 1980, the historic Metlar-Bodine House Museum has been open to the public for self and guided tours. The collection housed here hails predominantly from donations from central New Jersey families, including a descendant of one of the founders of Piscataway, Edith Mae Gullick Callard. Her family still has deep roots in the region to this very day.
In fact, the collection truly began with her donation of an heirloom clock from the 1860s that had graced her family's farmhouse for generations. This led to the approval of a collection policy and the efforts to preserve the Metlar-Bodine House itself. However, in 2003, the museum suffered a major fire that took out a third of the building and a large portion of its artifacts.
After restoration was completed, the collection grew once again. Today, more than 1,000 antiques and exhibits are present, and educational lectures, seminars, and reenactments occur throughout the year. Everything on display is from the era of the original land grant of 1666, making it the best place to explore the founding of Piscataway Township. Don't forget to get a souvenir at the gift shop before departing the museum.
Raritan Landing Golf Course
With a slope of 88 and a rating of 57.8, Raritan Landing Golf Course is fairly challenging and gets almost 91% positive reviews from users. Constructed and designed in 1999 by Stephen Kay and Doug Smith, the course was originally constructed on county land by the MCIA.
There are 3,300 yards of playing stretches and 18 holes, with a par from standard tees of 58. Narrow fairways and small greens are along this course, providing a true challenge for even experienced golfing enthusiasts. Accuracy is the key to making par, as there are a few water hazards that rely on premium shot-making.
Early bird and dusk tee hours are steeply discounted, and there are rental carts, pull-behinds, and clubs available here. Many come to Raritan Landing Golf Course for professional instruction or practice on the facility's greens and pitching areas. Among the best golf courses in Piscataway, golfers often frequent here for a change of scenery and pace of play.
Attractions Abound in Piscataway, New Jersey
Those looking for great jobs, affordable homes, solid education, and plenty of things to do without having to head to the bustle of New York City love calling Piscataway home. With less than 60,000 full-time residents, it's a great place to stay active and connected with nature, with opportunities for everyone. Whether you love Piscataway's shopping, great parks, sports, history, water activities, or taking long walks in the woods, it all awaits right here in the community. Plenty of public transportation makes it simple to get around town or even commute to the big city to enjoy the excitement and entertainment there.
If you're looking to make your home in Piscataway, contact The Dekanski Home Selling Team of RE/MAX 1st Advantage with New Jersey Real Estate Network at (800) 691-0485 to get in touch with a local real estate agent who can help you discover your Piscataway dream home today.