Things to Do in Edison
Posted by Rob Dekanski on Wednesday, April 28, 2021 at 8:35 AM
By Rob Dekanski / April 28, 2021
Comment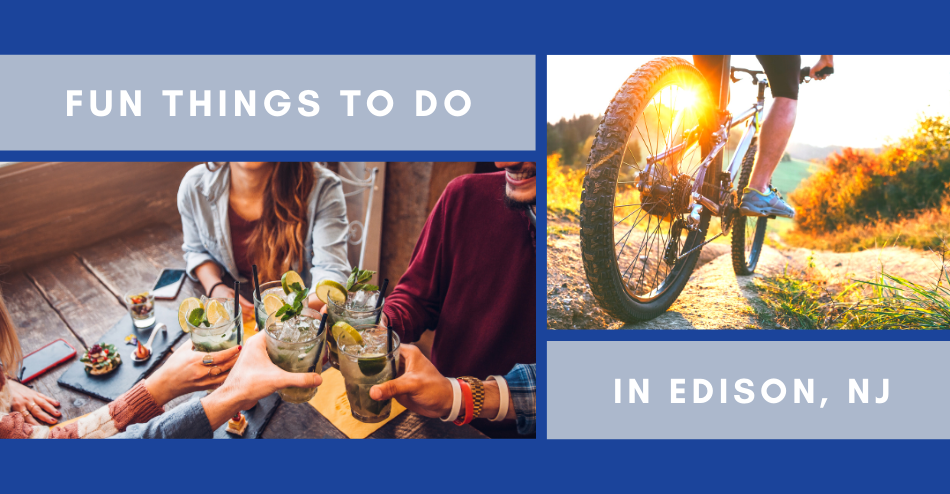 The Township of Edison, New Jersey is home to nearly 100,000 residents, more than 30 beautiful parks, and some of the best shopping, dining, and entertainment venues in the area. Edison is less than 30 miles from Staten Island, but residents and visitors can find a variety of things to do for all ages without leaving New Jersey. From attractions like the Thomas Edison Museum and the Revolution Action Park to city parks like Papaianni and shopping at the Menlo Park Mall, there is something for everyone. Here's a list of some of the most popular things to do in Edison.
Outdoor Adventures in Edison
Outdoor Activities in Edison
Roosevelt Park
Elder Park
Thomas A. Edison Park
Middlesex Greenway
Farmers Market
Monster Mini Golf
Papaianni Park
Plays-in-the-Park
The township of Edison has 30+ city parks, miles of scenic walkways, and beautiful lakes ideal for a day of fishing. The Roosevelt Park spans 196-acres and includes a nearly 10-acre fishing lake. The park is located adjacent to the Menlo Park Mall at Parsonage Road and Oakwood Drive. Elder Park at Grove Avenue and Firethorn Drive has facilities for basketball and more, while the Thomas A. Edison Park is considered the county's premiere sports complex.
Hikers and bikers can opt for a trek on one of Edison's many miles of trails. The Middlesex Greenway runs through Edison, Metuchen, and Woodbridge. It's nearly four miles long and has access points at Pierson and Jackson Avenues.
The city's Farmers Market takes place outdoors each Sunday during June through October. Visitors can find the selection of vendors at 925 Amboy Avenue.
Shopping in Edison
Edison Shopping Centers
Menlo Park Mall
Edison Woods Shopping Center
Mill Plaza
168 Plaza
Edison Shopping Center
Wick Shopping Plaza
Tano Mall
The Mall at Oak Tree
Edison residents have convenient access to a wide selection of places to shop, for everything from home essentials to specialty items and fashion boutiques. The Menlo Park Mall at 55 Parsonage Road is a multi-level mall with national retailers, boutique shops, entertainment, and places to eat. The Tano Mall on Amboy Avenue is a shopping plaza with restaurants, a grocer, and businesses.
The Edison Shopping Center is on Woodbridge Avenue between U.S. 1 and the Turnpike. This plaza is within walking distance from apartments and the residential neighborhood of Old Post.
Dining in Edison
Edison Restaurants
Season 52
LouCas
Villa Gennaro
Delhi Garden Indian Restaurant
Pho Anh Dao
The Greek on Main
Tastee Sub Shop
Elixir Bar & Grill
Edison's dining options include cuisine from around the world, from Vietnamese at Pho Anh Dao to Italian at Villa Gennaro and Indian food at Swagath Gourmet. When shopping at the Menlo Park Mall there is more than just Food Court fare. Stop in for a sit-down meal at Seasons 52 or opt for a favorite menu from the Cheesecake Factory.
The Edison Family Restaurant at 1900 Oak Tree Road opened in 1978 and serves up some of the best homemade soups in the area. For a unique and fun dining experience try the Skylark Diner & Lounge located at 17 Wooding Avenue. The setting is a futuristic diner and the menu includes all-day breakfast plus comfort food like a B.L.T. or tuna melt plus local favorites like the Mediterranean Falafel sandwich and the Argentine Baguette.
Edison Music and Nightlife
Edison Bars, Clubs, and Venues
FIRE N ICE
Scarlet Mambo
Glo
Fox & Hound
Richie's Sports Bar & Liquors
Echo Music Studio
Saregama PLC
The Court Tavern
Skip the trip into the city and enjoy the local music and nightlife in Edison, New Jersey. The Echo Music Station at 2090 NJ-27 is a locally-owned karaoke place that's BYOB and adjacent to the Sultana Hookah Lounge. The Maya Hookah Lounge is at 1897 Woodbridge Ave off U.S. 1. It's an alcohol-free lounge.
There are movie theaters at the Menlo Park Mall and the Oak Tree Center, and the Historic Edison Valley Playhouse performs plays and musicals year-round on the weekends. The Playhouse is on Oak Tree Road. Elite Billiards on Old Post Road is open until 2 a.m. and is a hotspot for grabbing a drink and game of pool with friends.
Discover Everything There is to Do in Edison Today
When looking to buy a family home in Edison, New Jersey, rent an apartment, or just planning a visit, there is something to do for everyone and all ages. Plan a day trip to the Edison State Park, go fishing at the lake in Roosevelt Park, explore the shops at Menlo Park Mark, and have a meal at one of the many unique restaurants found throughout the city. Plan your visit to Edison, New Jersey today. If you're looking to buy an Edison home, contact The Dekanski Home Selling Team of RE/MAX 1st Advantage with New Jersey Real Estate Network at (800) 691-0485 to get in touch with an Edison real estate agent who can help you find your ideal home in this wonderful city.