Kid-Friendly Fun in Elizabeth: A Full Guide to Kids' Favorite Elizabeth Activities
Posted by Rob Dekanski on Friday, September 24, 2021 at 1:32 PM
By Rob Dekanski / September 24, 2021
Comment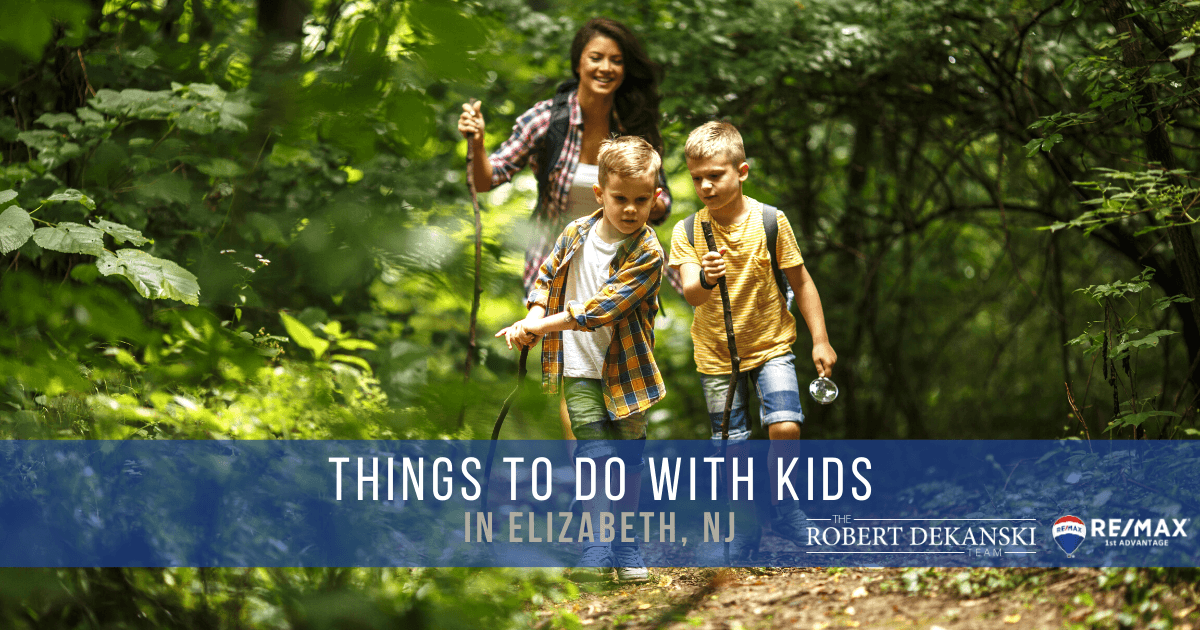 Elizabeth, NJ was originally called "Elizabethtown," and it was the state capital at one time. Today, the city of Elizabeth is no longer the capital of New Jersey, but it's still known widely as a place with historical sites, charming single-family homes, and many fun things to do. While many activities for kids are just that—activities for kids—locals and visitors are bound to discover that the community has quite a few kid-friendly attractions that are appealing to adults, as well. Keep reading to learn about a few of the most fun things to do with kids in Elizabeth.
Spend the Day at Warinanco Park
Warinanco Park Amenities
200+ acres
On banks of Elizabeth River
Paddle boating
Trails
Fishing
Earinanco Sports Center
Spray park
Warinanco Park is one of the most popular parks in the entire state due to its vast amenities and the presence of a professional-level sporting center facility. The outdoor green spaces at this park in the city of Roselle spans more than 200 acres, and it is ideally situated along the banks of the Elizabeth River. This allows patrons to take advantage of activities here, both on land and on water. Visitors can ride paddle boats, bike the trails or drop a line to reel in a few fish.
The Earinanco Sports Center is here, which has an amazing turf field that is widely popular with soccer leagues across the state. In winter, an impressive ice rink opens up for additional sporting fun. Outdoor activities include playgrounds, tennis, basketball, cricket, and much more. The youngsters are thrilled about the summertime spray park, while adults revel in the abundant cherry blossoms in spring.
Warinanco Park Additional Information
Address: Warinanco Park, St. Georges Avenue, Roselle, NJ 07036
Phone: 908-527-4000
Hours: 6 a.m. – 8 p.m.
Liberty Hall Museum: A Step Back in Time
Liberty Hall Museum Amenities
Maze in English gardens
Original furnishings
Concerts
Educational programs
Civic ceremonies
The Liberty Hall Museum in the adjacent city of Union is a place of preservation and education concerning the rich history of the city's role in the American Revolution and the leaders of the time. Liberty Hall was originally a 14-room Georgian-style home. Many government trailblazers resided there, including the Constitution signer and first elected governor William Livingston.
The home evolved into a 50-room Victorian-style mansion as numerous senators, congress members, and other public servants lived there. According to history, many intense meetings about government and public operations were held in the lush gardens, with the scenery aiming to inspire creativity and innovation for leaders.
Since 2000, Liberty Hall has been a public museum that welcomes visitors to tour the maze in the English gardens and the historic home with original furnishings that date back multiple generations. The museum also hosts concerts, educational programs, civic ceremonies, and community events. Kids who love history will be engaged for the day with a visit to this impressive museum complex.
Liberty Hall Museum Additional Information
Address: Liberty Hall Museum, 1003 Morris Avenue, Union, NJ 07083
Phone: 908-527-0400
Tour Prices: $14 Adults | $12 Kean Alumni | $10 Seniors, Children & College Students
Kids Get Pumped at Pump it Up
Pump it Up Amenities
Large inflatables
Trampoline zones
Ultimate Ninja Warrior course
Whether parents are looking for a fun way to celebrate a birthday or are just seeking a way to keep the kiddos busy on a hot or rainy day, Pump it Up in the Roselle Park community is the perfect solution. This indoor playground is packed with large inflatables, trampoline zones, and an Ultimate Ninja Warrior obstacle course. The course is a test of skills—just like on the TV show!
This area features 10 fun obstacles, including a Faceoff Wall, where kids compete on even more obstacles to see who will be the victor at the day's end. Slacklines, hanging bridges, jungle swings, and much more await. The Ninja Experience can be added to any private birthday party, where the group has a private room and gets first access to the facilities' amenities.
Pump it Up Additional Information
Address: Pump it Up, 158 E Westfield Avenue, Roselle Park, NJ 07204
Phone: 908-245-5867
Hours & Rates: Call to Inquire
Make a Day of it at Mattano Park
Mattano Park Amenities
By Elizabeth River
Groomed garden
Ball fields
Basketball courts
Spray pad
Skate zone
Trails
Playgrounds
As a year-round destination for play and relaxation, Mattano Park is a haven for recreation-seekers, athletes, and youngsters who love the great outdoors. Families can pack up a picnic and take in lunch by the pristine Elizabeth River or within one of the groomed garden areas where there are picnic tables and gazebos.
The ball fields and basketball courts are hopping with amateur and league action during warmer months, while the spray pads and the innovative skate zone at Mattano Park have a unique appeal. There are playgrounds near the hiking trails, which are popular with cyclists and hikers.
Wintertime sees new sports and activities, and the park keeps the trails groomed so kiddos and adults can safely crunch around in the snow. Birding opportunities here are excellent seasonally, presenting opportunities for young people to learn about and see local and migratory birds.
Mattano Park Additional Information
Address: Mattano Park, 360-484 5th Avenue, Elizabeth, NJ 07201
Phone: 908-527-4000
Hours: 7 a.m. – 9 p.m.
DreamWorks Water Park
DreamWorks Water Park Amenities
Wave pool
Lazy river
40+ slides
15 rides
DreamWorks Water Park in the town of East Rutherford is another family playground that is open from late spring until the end of summer, and it takes accolades for being the biggest indoor water park on the continent. There are dozens of attractions and distinct spaces to mention here, which is why parents should take the family out for the day to explore everything DreamWorks has to offer.
However, a few of the top attractions beneath the clear dome ceiling include the world's largest wave pool, the lazy floating river, and some of the nation's biggest and most thrilling slides. This 8.5-acre facility is housed within the American Dream Entertainment and Shipping Complex, making room for 40+ slides, 15 rides, and numerous other fun zones.
Guests can rent poolside cabanas, host their kid's birthday parties, and celebrate special events here and have wave after wave of surprises and excitements. Those who don't want to wait in long lines during peak times can purchase a special pass that lets them move to the front of the line on 15 rides! So much awaits; kids won't want to leave at the end of the day, so consider getting a season pass for maximum savings.
DreamWorks Water Park Additional Information
Address: DreamWorks Water Park, 1 American Dream Way, East Rutherford, NJ 07073
Phone: 833-263-7326
Hours: 10 a.m.–7 p.m. daily
Rates: $89 and up for adults, $59 for children under 13, 2, and under FREE
Elizabeth Features Kid-Friendly Attractions Across Town
While every youngster has different interests and hobbies, they won't be bored any season of the year between the parks, museums, and thrilling water activities nearby. This lovely community has a bit of something sure to appeal to any kid. People moving to Elizabeth will be excited to see what awaits in this highly historic city with no shortage of things to do.