Best Things to Do With Kids in Monroe: Monroe, NJ Family-Friendly Activity Guide
Posted by Rob Dekanski on Wednesday, June 9, 2021 at 12:00 PM
By Rob Dekanski / June 9, 2021
Comment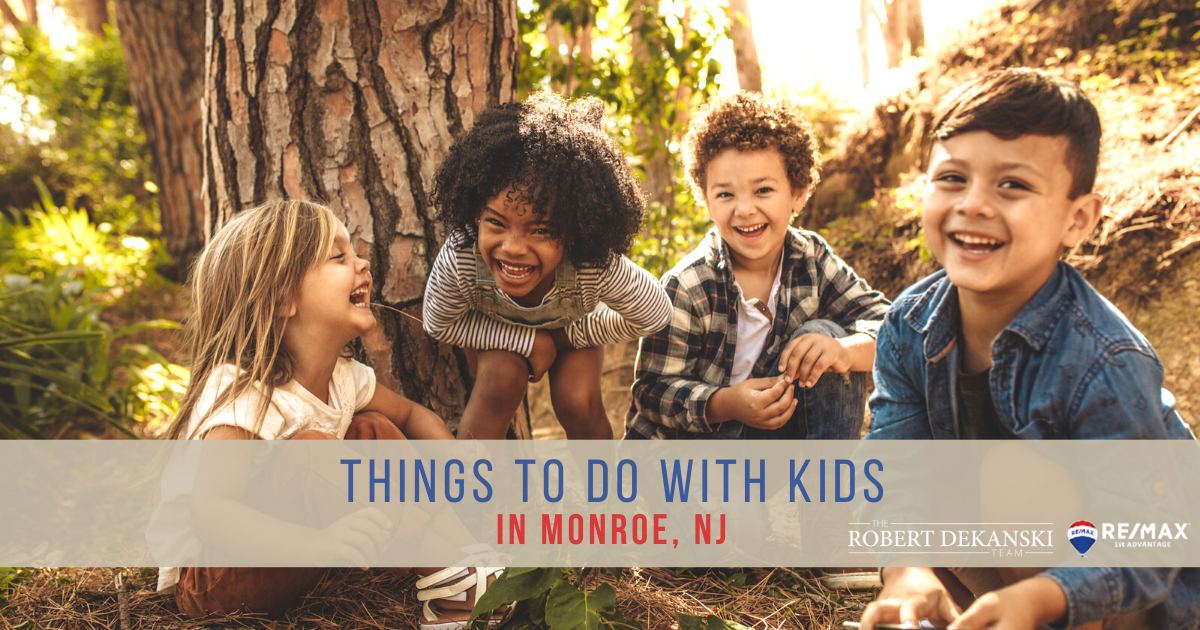 Children need to stay active and engaged, and heading to the big New York metro area isn't necessary to find fun things to do with kids in Monroe Township, New Jersey. Whether finding places to splash in, explore nature, or check out museums and other activities geared to delight youngsters is on the calendar, Monroe's kid-friendly activities are sure to keep them busy and entertained year-round. Read on to discover the top things to do with kids in Monroe.
The Animal Haven at Thompson Park
The Animal Haven at Thompson Park Amenities
Goats
Emus
Pigs
Deer
Peacocks
Thompson Park in Middlesex County is widely popular with locals, and the onsite Animal Haven is a unique treat for kids and adults of all ages. The enclosures feature animals such as goats, emus, pigs, deer, and peacocks. There are interpretive signs in front of each animal's space filled with information about these wonderful park residents.
Visitors can bring along a picnic to enjoy at covered gazebos and tables. Sporting fields and playgrounds are at Thompson Park, in addition to several amenities that visitors of all ages can take advantage of. Pet parents can explore the off-leash Thompson Dog Park for a fun romp. Everything in the park is free to use, and the spaces are open from dawn until dusk every day.
The Animal Haven at Thompson Park Additional Information
Hours: 6 a.m.–Dusk Daily
Phone: 732-745-3900
Admission: Free
Happy Day Farm
Happy Day Farm Amenities
Pick fruits, vegetables, and flowers
Fall festival
Maple syrup creation demonstrations
Every day is cheerful when making a visit to Happy Day Farm in nearby Manalapan, New Jersey. For almost two decades, a family has been living their dream of owning and operating this farm. They share their goods with the public in a variety of ways throughout the year.
At the farm, guests can walk through the various fields of fruits, vegetables, and flowers to indulge in a pick-your-own experience. The gardens flourish year-round and are especially stunning in summer.
The farm is open seasonally for blueberries, raspberries, sunflowers, zinnias, lavender viewing, and pumpkins, and there's no better place to get a pumpkin than the fall festival here. The festival also includes a petting zoo, pedal carts, pig races, tractor rides, pumpkin contests, and a wild corn maze.
Seasonal picking and viewing periods include:
Lavender Viewing: Mid-June to End of June
Raspberry Picking: Begins Mid-June
Blueberry Picking: Opening Late-June
Sunflowers & Zinnias: July to Mid-August
Guests can meander through the fields in summer and then feast on their picked goods. The farm also keeps its own honeybees to pollinate the fields and sells the honey, delicately flavored by the raspberry blooms. In winter, the farm hosts demonstrations of the maple syrup creation process, and guests can purchase syrup from the farm's 600+ maple trees. Bathrooms are on site, but please leave pets at home during a visit to Happy Day Farm.
Happy Day Farm Additional Information
Phone: 732-977-3607
Dates & Hours: Vary by Season
Price: Varies by Activity
Veterans Park Sprayground
Veterans Park Sprayground Amenities
Sprayers
Pour buckets
Water slides
Rock wall
For a free and cooling day, head over to the Veterans Park Sprayground in Monroe Township. This sprayground offers various water features, including dozens of aerial and ground-up sprayers, pour buckets, and water slides. There is also an amazing rock wall and a small playground next to canopied picnic tables.
While Veterans Park Sprayground has only been open to residents and their guests in the past, visitors are now welcome at a small charge. However, entry to non-residents may be limited during peak times and seasons.
Veterans Park Sprayground Additional Information
Phone: 732-723-5000
Hours: 10 a.m.–8 p.m. Daily
Crystal Springs Family Waterpark
Crystal Springs Family Waterpark Amenities
Lap pools
Kiddie pools
Lazy river
Family pool
Water slides
Splash pool
Spray park
Crystal Springs Family Waterpark was the very first municipal water park in the state and offers guests a clean, crystal-clear experience at their state-of-the-art aquatic facility. In addition to an array of pools for various recreational activities, there are separate lap pools, kiddie pools, and a relaxing lazy river ride. There's also a family pool perfect for those with toddlers or kids learning to swim.
As with any exceptional waterpark, Crystal Springs has multiple water slides, a giant pirate ship, a splash pool with water features, and a large spray park. The park is accessible for all and is compliant with ADA guidelines so all visitors can splash into the fun.
Those looking for food, drinks, and supplies like sunscreen, goggles, earplugs, and other water gear to make the experience more pleasant can find them at the concession stand. There are also rental lockers near the stand, and life jackets are available while supplies last at the gift shop.
Crystal Springs Family Waterpark Additional Information
Phone: 732-390-6833
Hours: May–Sept 11 a.m.–6 p.m.
Admission: $25
Monmouth Museum
Monmouth Museum Amenities
Area for early childhood education
Wildlife and bird watching
Picnic tables
Butterfly garden
Art creation
Dig for fossils
The prestigious Monmouth Museum is located on the Brookdale Community College Campus in nearby Lincroft, NJ, and is filled with things to see and do with kids. Designed to inspire learning and pique youth's curiosity, the museum routinely hosts family and school groups. Visitors have access to several hands-on activities in each wing to help them focus and engage on new concepts and ideas.
The Wonder Wing focuses on early childhood education and lets children experiment, explore, and imagine a whole new world. The Meyer Art & Nature Area is a multi-sensory outdoor art exhibit that melds nature with artistic endeavors. There is a zone for art projects, a wildlife and bird watching zone, picnic tables, and a colorful butterfly garden. The large purple dinosaur sculpture, Stella, is a treat for photo ops and inspiration.
Kids adore playing in the Becker Wing's Green Arts Studio to create their own masterpieces and dig for fossils after exploring the Dinosaur Touch Wall. Patrons are welcome to borrow books from the Media Center or take some time to peruse the massive collection of picture books and informational texts.
Monmouth Museum Additional Information
Phone: 732-747-2266
Hours: Wed–Sun 10 a.m.–4 p.m.
Admission: $10, or free for children 2 and under, Brookdale CC staff & students, and military families
Monroe Township is Thrilling for Kids
In addition to being known for excellent schools and educational opportunities, Monroe Township makes life a bit sweeter for kids seeking recreation. Many of these activities are conveniently located near popular areas for Monroe's new construction homes and condos and townhomes in the community. Public transit options make it easy to get there as well. Whether living here already or considering moving to Monroe, kids will discover a new world of fun things to do in Monroe, New Jersey.
If you're looking for the perfect home in Monroe, contact The Dekanski Home Selling Team of RE/MAX 1st Advantage with New Jersey Real Estate Network at (800) 691-0485 to get in touch with local Monroe real estate agents who can help you discover your new dream home today.