Top 8 Towns in Union County NJ: Find The Best Place to Live in Union County
Posted by Rob Dekanski on Monday, December 20, 2021 at 6:51 AM
By Rob Dekanski / December 20, 2021
Comment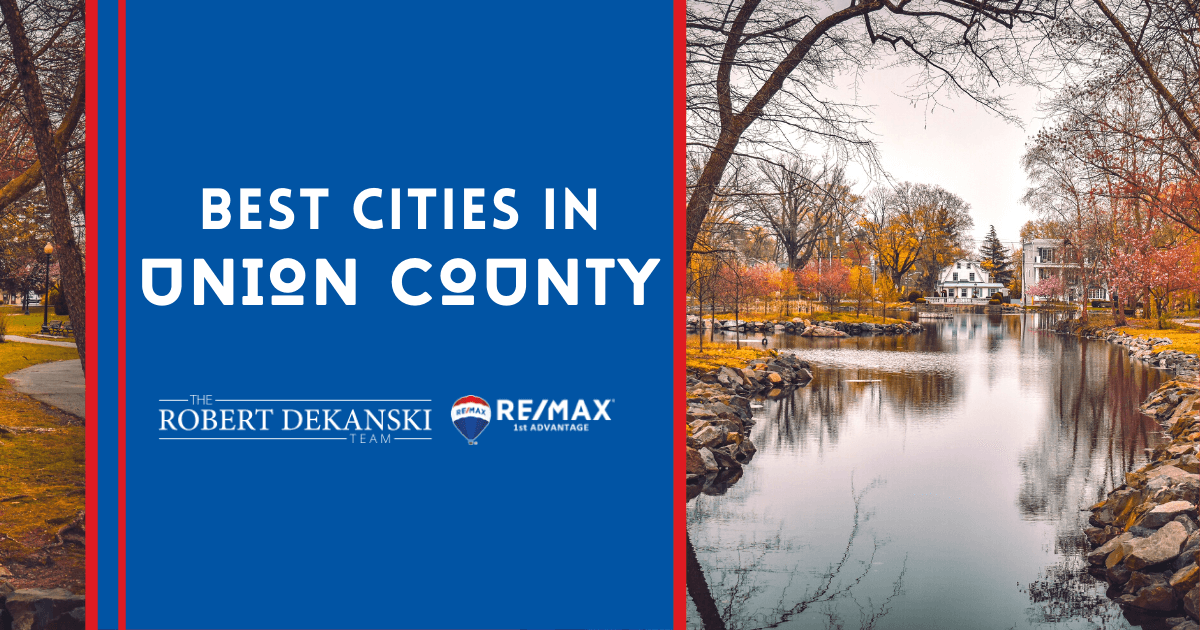 Found in the northern part of the state of New Jersey, Union County is the seventh most populated county in the state. Located about 20 miles from Manhattan, Union County homes are ideal for daily commuters looking for a quiet location near the big city.
Indeed, Union County provides a relaxed environment with ample natural beauty. The many parks in Union County help contribute to New Jersey's distinction as the Garden State. The cities that make up Union County provide a unique charm and a diverse range of housing styles to suit any preference. Looking for the top-tier Northern Jersey towns? Keep reading to learn about the eight best cities in Union County.
Summit
Summit Amenities
The Mall at Short Hills
Peppercorn Diner
The Collective
Bull N Bear Brewery
The city of Summit, NJ, gets its name because it is located near the peak of the Watchung Mountains. The city of Summit is best known for its food and arts scene. The town also plays host to various events throughout the year, and its downtown district is home to many unique dining and shopping experiences.
Homes for sale in Summit run the gamut in price from $175,000 to $6.8 million. This includes many smaller condos and larger luxury homes. Home sizes in the Summit area range from smaller one-bed, one-bath units to larger seven-bed, seven-bath houses.
Summit is filled with great places to eat and shop. Some of the restaurants residents can find include Huntley Taverne, featuring tavern décor inside, as well as a menu full of delicious food options; Roots Steakhouse, an old-fashioned New York-style steakhouse; and The Office Tavern & Grill, a local chain with craft beer and American favorites.
Other popular spots in the city include Scotty's Pub and Comedy Cove, a venue offering steaks and laughs; the Watchung Reservation, with a six-mile trail starting and ending at the Trailside Nature & Science Center; and the Summit Family Aquatic Center, which hosts classes, events, and more fun things to do.
Scotch Plains
Scotch Plains Amenities
Darby Road Public House and Restaurant
Jessica's Café
Watchung Reservation
NJ Nostalgia Hobby
The Scotch Plains township started as a farming community but has since grown to become one of the most affordable towns in Union County. Like many New Jersey communities, the town of Scotch Plains is known for its accessibility to other major cities in the region.
Prices of homes for sale in Scotch Plains start at around $190,000 and go up to about $2.2 million. Homes in the area range from larger luxury and new construction homes to smaller condos and townhomes. Sizes for homes start at one-bed and one-bath and go up to six beds and four baths.
Some of the locations within Scotch Plains played a significant part in the region's history, including the Stage House Tavern, which was in operation during the American Revolutionary War and continues to serve patrons today.
The area has many more hotspots, including Charlie Brown's Fresh Grill, a local steakhouse that is known for its steaks and burgers; Enchantments, which sells a variety of unique gifts; and Sheelen's Crossing Pub & Bistro, an Irish pub that serves drinks and a selection of pub fare.
Springfield Township
Springfield Township Amenities
Nomahegan Park
Union Plaza Shopping Center
Two Que's Café
Sofia's Italian Restaurant
Springfield Township is located in the north-central part of Union County. Known as the location of the last battle of the American Revolutionary War to be fought in the state of New Jersey, Springfield Township is also the location of the Baltusrol Golf Club. This prominent golf course has hosted numerous championships.
Homes for sale in Springfield are typically priced between $165,000 and $2.3 million. Home sizes in the area range from small single-story two-bed, two-bath units to more significant three-story, five-bed, two-bath homes. Homebuyers can genuinely find everything from condos to luxury homes for sale in Springfield.
Historical locations in Springfield Township include the Miller-Cory House Museum, the Shady Rest Golf, Country Clubhouse, and the Crane-Phillips House Museum.
Restaurants in the area include Mosaico, an Italian establishment that serves authentic cuisine; Touka Japanese Hibachi, offering a variety of sushi rolls and hibachi favorites; and Super Stuffed Burgers, a superhero-themed restaurant with signature burgers, hot dogs, and milkshakes.
Springfield Township has a variety of other locations, such as Two Ton Brewing Co., a local brewery offering a variety of on-tap brews, space for private parties, and more; Crossroads, a restaurant, bar, and live music venue; and Publick House, a modern gastropub with an ever-changing menu.
Fanwood
Fanwood Amenities
Sheelen's Crossing Pub & Bistro
China Moon
Sheelen's Fish Market
Max's Pizza & Bistro
An independent borough, Fanwood is located about 25 miles to the southwest of the city of Newark, NJ, and is directly to the southeast of the city of Scotch Plains, NJ. The town of Fanwood is known for its charming downtown area, with a variety of dining and shopping options and events year-round.
Homes for sale in Fanwood usually sell for as little as $430,000 and as much as $1.1 million. Homes in Fanwood generally have between two beds and two baths to five beds and six baths. House types include one-, two-, and three-story homes.
For shopping, residents can travel to one of many area locations, including Tom the Green Grocer, a unique shopping experience that started as a roadside produce stand back in 1977; A&B Party Supplies, where residents can find all of their party needs; and Norman's Hallmark Shop, selling cards and gift items.
Area restaurants include Big C's Italian Grill, serving burgers, cheesesteak sandwiches, and more; Houdini Pizza Laboratory, selling pizza, pasta, and other Italian favorites; and Ginger Sushi, a family-owned sushi place that also serves other Asian favorites.
Fanwood has several area parks, including the Fanwood Nature Center, Forest Road Park, and Brightwood Park when it comes to outdoor activities.
Cranford Township
Cranford Township Amenities
The Gourmet Deli
The Rustic Mill Diner & Pancake House
Hickory & Hill General Store
Tomasello Winery
Cranford Township is located in the center of Union County and is considered the Venice of New Jersey due to its proximity to the Rahway River, which runs down the middle of the township. In connection with this, Cranford Township is also the site of part of the Rahway River Parkway, a greenway that hugs the banks of the Rahway River and its tributaries.
Homes for sale in Cranford tend to cost around $210,000 to $1.1 million. Housing sizes are anywhere between three beds/two baths and 13 beds/three baths. In addition, many homes in the area are multi-story, though there are some single-story dwellings.
In addition to the Rahway River Parkway, other exciting locations in Cranford Township include the Hanson Park Conservancy, started in 2004 by some of the citizens of Cranford to protect the natural beauty of the area; and the Crane-Phillips House Museum, a Victorian cottage in the style of America's first architect, Andrew Jackson Downing.
Restaurants in Cranford Township include the River and Rail Cantina, nestled between the railway tracks and Rahway River; Red Crab, a local seafood eatery that serves a variety of dishes, sandwiches, and other food items; and Wasai Bistro, offering a mixture of Japanese and French cuisine.
Westfield
Westfield Amenities
Trader Joe's
Banana Republic
South Moon Under
16 Prospect Wine Bar & Bistro
With a bustling downtown area, the town of Westfield, NJ, has over 40 restaurants and 200 retail locations located in the area. The city of Westfield is also home to the Rialto Theater, now closed, which has appeared on television. The town also hosts many festivals and events throughout the year.
The prices of homes for sale in Westfield range from $180,000 to $2.9 million. Home types include multi-level luxury homes to small 1-bed, 1-bath units. Many of the homes in Westfield have five or more bedrooms, giving residents plenty of freedom and room to spread out.
A popular location in Westfield is Lenape Park, a 450-acre wildlife reserve in the Rahway River Parkway. Other green spaces include Mindowaskin Park, featuring a pavilion, playground, memorial garden, Echo Lake Park, fishing, pedal boats, and a dog park.
Some local eateries include Limani Seafood Grill, a casual restaurant with Greek seafood and other specialties; Old Havana Cuban Cuisine, serving delicious authentic Cuban food; and Addams Tavern, showcasing Progressive New American-inspired food sourced from local providers.
Berkeley Heights Township
Berkeley Heights Township Amenities
Pastrami House
Grain and Cane Restaurant
Bar Cilento
Patria Station Café
With many available economic opportunities, Berkley Heights Township ranks as one of the best places to live in the U.S. by numerous publications. Furthermore, Berkeley Heights Township is only 28 miles from New York City, giving residents easy access to all that the Big Apple offers.
In the Berkeley Heights real estate market, home prices run from $369,000 to $1.2 million. Most homes in the township are two-to three-stories, though some one-story homes do exist. As for size, homes in Berkeley Heights Township have from one-bed, one-bath to seven-bed and seven-bath.
Berkeley Heights Township also has many dining and shopping opportunities. Some popular local eateries include Strega Bistro, featuring Italian-inspired food in a relaxed atmosphere; Charkoal Portuguese Grill, offering fresh Portuguese/Barbecue cuisine; and Goodman's Restaurant & Deli, a family-run establishment opened in 1943.
Area shopping includes such locations as The Paisley Box, selling gifts and other merchandise; K&S Music, offering access to various musical instruments; and Accents Dancewear, which carries a full line of dance, gymnastic, and swimwear.
When it comes to enjoying some craft beer, residents can take a trip to Trap Rock Restaurant & Brewery to try out one of its handcrafted ales or lagers.
New Providence
New Providence Amenities
Barth's Market
Jose's Mexican Cantina
Untied Brewing Company
Harlee's Tap & Grill
New Providence, NJ, has the distinction of being an affordable place to live within the New Jersey area compared to other locations in the state. Like many areas in New Jersey, the city of New Providence is close to nearby New York City, plus the borough's many New Jersey Transit options make commuting from the area to New York very manageable.
Homes for sale in New Providence usually run from about $400,000 to around $1.3 million when it comes to price. Housing sizes range from one bed and two baths to seven beds and five baths. Most of the homes in the area have multiple levels, though some are only one floor.
Restaurants within the borough include Bacci Brick Oven & Italian Grill, a local Italian restaurant serving brick oven pizza, pasta, and a variety of other Italian dishes; Prestige Diner & Restaurant, offering a selection of classic American food in a modern diner setting; and Moe's Bistro & Bar, a Mediterranean establishment with food, drink, and live music.
Local shopping options include Colonial Appliance, where New Providence residents can outfit their home; fine clothing provider Tom James; and Braunschweiger Jewelers, offering fine jewelry and vintage items to the populace of New Providence.
Make Yourself at Home in the Best Union County Towns
With its proximity to major cities and many area parks, Union County, NJ, is a perfect mixture of suburban and city living. Best of all, the cities, townships, and boroughs within the county have many affordable housing options.
Plus, the area's proximity to a plethora of employment opportunities makes it a perfect place to live. Local eateries, shopping, and entertainment venues add to the appeal of moving to Union County to those looking for a fun place to live.