Things To Do In Union County NJ: Find Something Fun This Weekend
Posted by Rob Dekanski on Friday, March 18, 2022 at 9:39 AM
By Rob Dekanski / March 18, 2022
Comment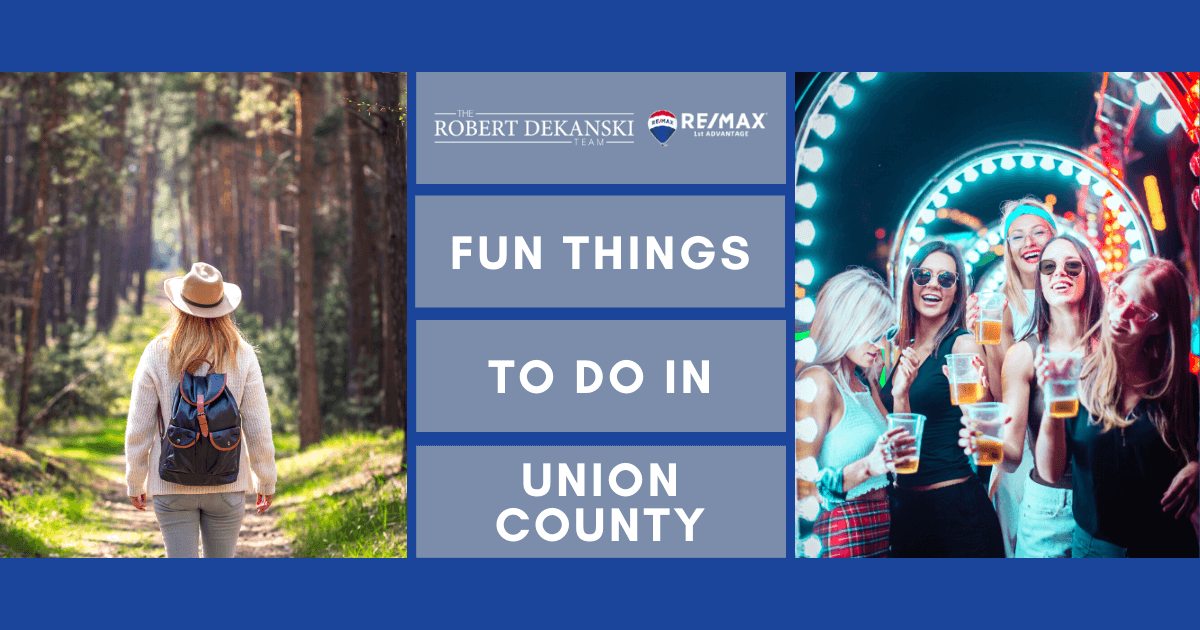 There are 21 distinct municipalities in Union County, and each of these vibrant communities offers convenient access to Newark Liberty International Airport and the excitement of NYC. However, you don't need to hop on a plane or head to Manhattan to find something fun to do on the weekend.
People moving to Union County are delighted to find many exciting activities and attractions ranging from outdoor fun to a lively nightlife scene. Keep reading to learn about fun things to do today in Union County.
Union County Outdoor Adventures
Outdoor enthusiasts never lack opportunities for fun and adventures in Union County, New Jersey. From an array of parks and hiking and biking trails (many of which allow dogs) to water activities, there's something for everyone to enjoy here in Union County.
Parks in Union County
Union County Parks
Rabkin Park
Echo Lake Park
Nomahegan Park
Warinanco Park
Lenape Park
Mattano Park
Echo Lake Park is an ideal Union County park that welcomes dogs and people. There is a dedicated fenced-in area for pups, with separate areas for large and small dogs. Their human companions can enjoy an array of all-season outdoor pursuits such as ice skating and sledding, boating and fishing, and land activities abound on the multiple athletic fields and the playground.
Ponderosa Farm Park in the town of Scotch Plains offers visitors soccer fields, a playground, picnic areas, a water spray ground, and free WiFi. Rahway River Park in the Rahway community is where to go for athletic endeavors on the lighted fields or in the outdoor swimming pool. Recreational areas are also popular at this Union County park.
Union County Water Recreation
Water Sources Near Union County
Weequahic Lake
Lake Sunrise
Elizabeth River
Newark Bay
Those looking to get on the water for fun or fishing might want to look into pedal boat rentals, which are widely available at the larger park lakes. One of the most popular places for pedal boating in Union County can be found at Warinanco Park. Another top option is Echo Lake Park, which has pickup and drop-off locations in the Mountainside area and the Westfield community. Most rent by the hour for a $12 flat fee.
Fishing is a part of many Union County citizens' lives, and almost all of the rivers, lakes, and large ponds make for exceptional catches of a variety of fish. Permits are required in all areas, save for any state parks. Another way to move about on the water is to visit or purchase a membership to the Cranford Canoe Club—one of the oldest in the nation.
Hiking & Biking Trails
Union County Trails
Watchung Reservation Trail
Ash Brook Reservation Hiking Trail
Brookside Nature Trail
Elizabeth River Trail
Cedar Brook Park is a short 0.3-mile route on the outskirts of the Plainfield community. This easy hiking and biking trail in Union County is entirely flat and accessible. Nomahegan Park offers 2.5 miles of railway around the lake that hikers, bikers, joggers, and pedestrians often visit. There are a few exercise stations along the route, which is moderately trafficked daily, but the park sees more visitors on weekends.
Beyond the land and water, there are plenty of opportunities for exploring the great outdoors. Outfitters are here for everything from outdoor shopping and dining to kite sailing and skydiving nearby, making Union County a fantastic place for nature enthusiasts to call home.
Union County Shopping
Union County Malls
Clark Commons
Garwood Mall
Galloping Hill Center
Union Plaza Shopping Center
Those who prefer to shop locally when possible and pass on big-box retailers and name-brand goods can head to The Market at Elizabeth Avenue. This is the place to go for a variety of unique items at antique shops, boutiques, craft stores, and more.
The largest IKEA in the tri-state region is in the city of Elizabeth, and it is the most popular retail store for home furnishings, decor, and accessories.
Locals looking for designer brands and cornerstone retailers will find everything they need at The Mills at Jersey Gardens. Housed within the massive space are more than 200 stores, including high-end retailers like Michael Kors, Coach, and Tiffany & Co. The best part is that as an outlet center, prices are steeply discounted. Visitors can also catch a movie at the AMC Theater, an IMAX screen.
Union County Restaurants
Restaurants in Union County
Garlic Rose Bistro
The Kenilworth Diner Restaurant
Cranford Station House
The Thirsty Turtle
Magic Grill
Jimmy Buff's Italian Hot Dogs
There are hundreds of places to eat in Union County that range from pickup delis and fast food to family restaurants and fine dining destinations. Bistro 1051 Italian Seafood Grill & Sushi Bar in the Clark community offers classic Italian dishes, sushi, and seafood along with thick steaks and an extensive wine menu.
Grillestone is an upscale Scotch Plains restaurant known for its signature steaks, fresh seafood, and hand-crafted cocktails. Their biggest competition in town is the renowned Snuffy's Famous Steakhouse & Pantagis Renaissance. Snuffy's has a fantastic buffet for weekend brunch and serves a menu of hand-cut steaks and unique seafood dishes.
Find authentic Italian fare at the elegant Ristorante da Benito in the town of Union. The pasta is made fresh daily and has an excellent selection of classic sauces for topping dishes. Rinconcito Latino Restaurante in the town of Linden is a top place for Latin food with flair, and Chez Catherine in Westfield offers elegant French dishes with perfectly paired wine lists.
Arts & Culture in Union County
There is no shortage of cultural and artistic endeavors and places to go to get submersed into the scene in Union County, New Jersey. From theatre and dance performances to art galleries and museums, the top arts and culture are available in the area.
Union County Museums
Museums in Union County
Liberty Hall Museum
Trailside Nature & Science Center
Miller-Cory House Museum
Robinson Plantation & Museum
There are several famous museums in Union County, but the two most popular are well-preserved historical sites. One of the best free exhibits is at the 1746 Drake House Museum in Plainfield, NJ. The home houses a collection of Colonial and Victorian period furnishings, paintings, and artifacts.
The Liberty Hall Museum at Kean University is the historic home of New Jersey's first elected governor, William Livingston. Visitors are treated to an extensive collection of antiques, ceramics, toys, tools, textiles, and furnishings that severed generations of the Kean and Livingston families.
Art Galleries in Union County
Union County Art Galleries
Filo Sofi Arts
411 Gallery
Evalyn Dunn Gallery
Arts World
L & M Art Gallery
Anyone seeking an all-in-one stop for pursuing the arts will not want to miss the wonders in the multiple rooms and exhibits at the Kean University Art Galleries. Among the spaces, some displays include special showings alongside permanent installations that include the Student Gallery, the James Howe Gallery, the Nancy Dryfoos Gallery, the Human Rights Institute Gallery, among others.
Freeholders Gallery is located at the Union County Administration Building in Elizabeth, NJ. It serves as a local art gallery and shows off installations by national and world-renowned artists. Access to the Freeholders Gallery is free of charge.
Union County Dance & Theater
Performing Arts Theaters in Union County
Union County Performing Arts Center
Avenel Performing Arts Center
Eugene G. Wilkins Theatre for the Performing Arts
Ritz Theatre & Performing Arts Center
The Alliance Repertory Theatre Co. has been routinely nominated for multiple acting, directing, and production awards. They provide the community with thought-provoking theater shows while supporting local actors, directors, and writers. Mystic Vision Players in Linden, New Jersey, have been going on for over two decades. The troupe hosts dramas, comedies, children's works, and Broadway-style productions.
The Union County Performing Arts Center at Rahway is the most versatile dance and theatre company in Union County, with shows that include dance performances, illusionists, concert performances, musicals, lectures, national artists, and standup comedy.
Essentially, whether one wants to view modern or international art or experience an immersive sensation, it's easy to find a place for the arts and culture in Union County, New Jersey, if arts and culture are the goals.
Union County Nightlife
Bars & Clubs in Union County
barCode
Riverside Inn Bar
QXT's Night Club
The Lobby NJ
Bridge Tavern
There are many exciting venues to explore for evening fun in Union County. The 16 Prospect Wine Bar and Bistro in Union County serves locals and visitors alike a fantastic meal made from fresh ingredients while listening to live Jazz music five days a week. Low prices might be surprising at this intimate venue with top-notch nightlife action replete with a large dancefloor for diners and patrons.
Club Pouyas is the ultimate dance club for hip-hop dance clubs in Union County. Get together with friends or go solo to indulge in the best vibes from current and past genres while the skilled mixologists keep the libations flowing along with the DJ.
Scotty's Steak House offers late-night entertainment for anyone who loves to laugh. This venue offers up the weekends to private shows and hosts some of the country's best comics on weekends. Dinner packages are available, reservations are required by calling in advance, and bookings fill fast, so don't delay getting seats in your name today.
Find Fun Activities in Union County
The best cities in Union County are alive with action and excitement. With easy access to hot spots like New York City, Baltimore, and Washington DC, the county grows and expands exponentially.
There are plenty of things to do indoors and out, places to eat, play, and explore. With so many fun things to do, there's never a dull moment in Union County.
Read Our Things to Do Guides For Each City Below