Exterior Home Design Ideas For Luxury Waterfront Homes: Create an Oasis on The Shore
Posted by Rob Dekanski on Friday, April 15, 2022 at 7:20 AM
By Rob Dekanski / April 15, 2022
Comment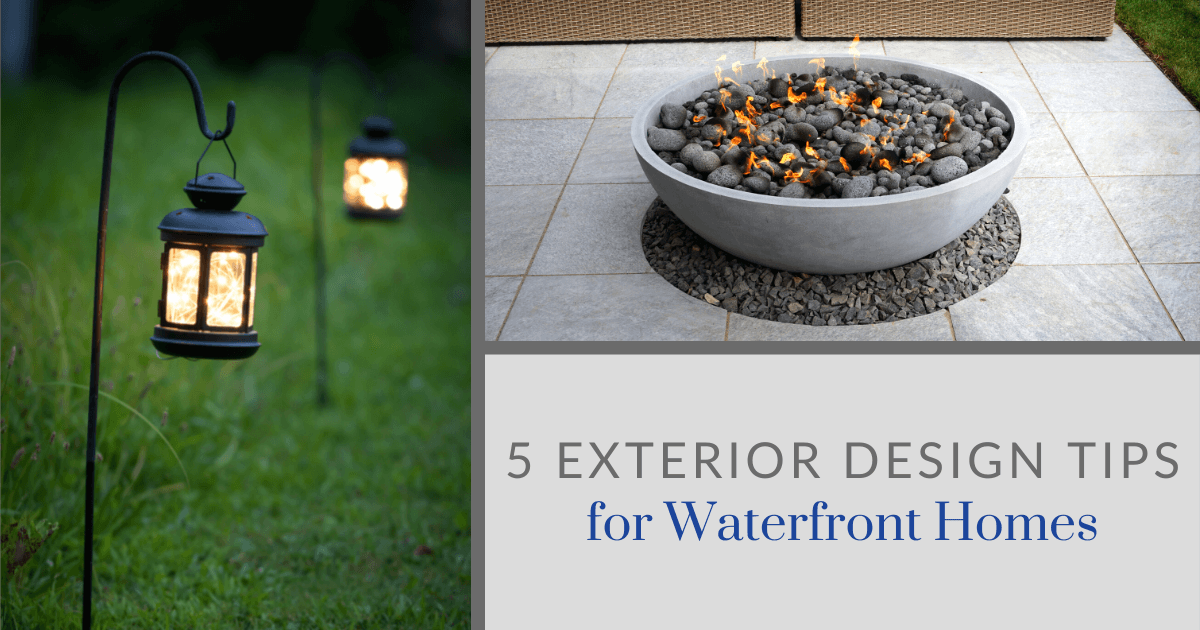 The appeal of owning a luxury waterfront home is undeniable. Being steps away from a quiet pond, a vast lake, a flowing river, or the ocean tides is a dream come true for many looking for a forever home or a profitable vacation rental property.
Waterfront property can bring about opportunities for recreation and relaxation, so occupants will want to design and decorate the outdoors of their luxury home in ways that highlight the water views and make water activities more enjoyable. Here are a few outdoor design tips for luxury waterfront homes to make the property a truly remarkable space.
Begin With Beautiful Landscaping
Landscaping sets the tone for the entire home, and as the first thing that catches the eye of occupants and visitors, a cleverly planned design is essential. The key is to connect the indoors with the outdoors while creating a natural transition to the waterfront.
With the right balance between hardscaping and softscaping elements and a few key pieces of outdoor furniture and accents, homeowners can transform the property into an oasis suitable for the luxury lifestyle. The primary issue most face is choosing foliage and trees that naturally thrive in the region, so the landscaping looks stellar year-round.
When designing a layout, the use of curvy lines along with straight edges for bedded areas and footpaths helps direct the eye and establish fluidity throughout the property. Be sure to include brilliant pops of color with perennials and annual flowering plants, as well as trees that offer shade near decks or seating areas.
Set the Mood With the Right Outdoor Lighting
Outdoor lighting on a waterfront property makes it easy to enjoy these spaces late into the night safely and comfortably. It's important to keep in mind the basic concepts of situating lighting in layers such as task lighting, accent lighting, and overhead lighting.
Each light installed should be situated and styled based on the desired ambiance. In the outdoor areas of a luxury waterfront home, owners should consider choosing lighting options that adhere to dark-sky standards, which showcase the views of starry night skies and offer a greater sense of seclusion.
Overhead lighting or directed floodlights can ignite entire spaces outdoors in key areas that are commonly frequented after dark, such as:
Patios & Decks
Gazebos & Pergola
Driveways
Backyards
Pools & Spas
Docks & Boathouses
Task lighting is excellent for lighting up smaller areas. One option is large floor-seated task lamps that beam light directly onto surface areas such as outdoor kitchens and bars, water fountains, entryways to doors and paths, and within seating areas.
Accent lighting is a perfect way to add a touch of light to other areas and set the ambiance for exceptional evenings outdoors. LED strip lighting creates a soft glow along the underside of railings, stairs, and along the base of the walls and roof eaves. LEDs and solar or gas-fueled torches are perfect for expressing creativity in other areas, including gazebos, trellises, and pergolas.
A Luxury Fire Pit Becomes a Natural Gathering Spot
The flickering flames of fire can entrance watchers and contribute significantly to the communal sensation during gatherings with friends or family. In fact, many consider a fire pit an essential purchase for a waterfront home. The addition of a fire pit quickly complements the outdoor surroundings and landscaping and is a particularly remarkable component of waterfront home decor.
While fire pits may bring to mind the old makeshift ring of bricks set up at campsites for bonfires, heat, and cooking, there's a breadth of options that go far beyond the basics. Gas-fueled and traditional wood-burning models crafted of cast iron or metals are readily available in home improvement centers and hardware stores. Fire pits can be made in many shapes and styles to give the right aesthetic.
However, many opt to take advantage of their own skills and creativity with a DIY fire pit project that can reduce costs and allow for a greater level of personalization for a one-of-a-kind installation. Whatever choice a homeowner makes should ultimately meld with the nearby landscaping and shoreline.
Enjoy Easy Entertaining With an Outdoor Kitchen & Bar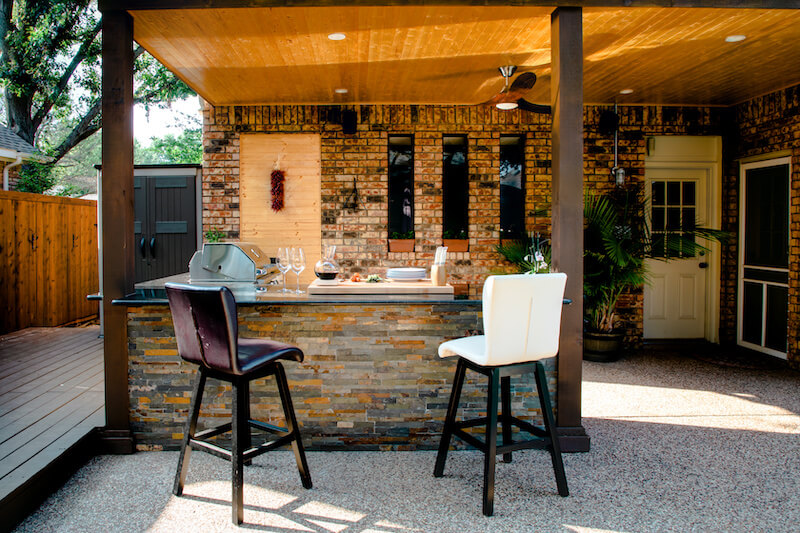 An outdoor kitchen is sure to be a welcome addition for outdoor entertaining on a waterfront property, and a bar is an exceptional complement to a backyard setup at a luxury home. A high-quality outdoor kitchen can include the bare basics or be almost as elaborate as an actual indoor culinary space. For the ultimate backyard kitchen, consider installing one with features including:
Countertop Serving & Cutting Spaces
Cabinets & Drawers
Functional Sinks
Mini-Fridges
Warming Drawers
Drink Holders & Ice Buckets
According to Homelight, an outdoor kitchen with loads of bells and whistles may cost around $14,000, but an outdoor kitchen can offer up to 71% ROI upon resale.
Having a distinct bar area near the kitchen or on the patio makes staying hydrated easy and is a great way to get a drink while still wet from enjoying the water or taking a swim. Luxury homeowners with a pool can even design a swim-up bar for that extra dash of something special.
Keep the Waterfront Views in Mind
Showcase the waterfront views with shaded areas to kick back and relax, such as beneath awnings, gazebos, or pergolas with comfortable outdoor furniture. These areas can provide coverage on sunny days and add a bit of privacy by incorporating vining foliage, tall plants, or even weatherproof curtains.
Additions to consider for these respites should be cozy seating such as padded rockers, benches, and chairs. Porch-style swings or hammocks are popular inclusions, as well. Don't forget to put some side tables in place to hold drinks and other handy items when enjoying the great outdoors.
Make a Statement Outdoors with a Luxury Waterfront Property
There's no denying that luxury waterfront homes go for a premium on the real estate market, so it's only natural to want to showcase and make the most of the property's most valuable asset—the waterfront views! The landscaping and outdoor spaces of your waterfront home should be a place to enjoy and entertain throughout the year with these smart design tips that can help get the best return on your waterfront home.