16 Best Golf Courses in New Jersey: Golf Like a Pro at the Top NJ Courses
Posted by Rob Dekanski on Monday, March 27, 2023 at 11:45 AM
By Rob Dekanski / March 27, 2023
Comment
Golfers looking for the perfect golf course in New Jersey are in luck. There is something for everyone, from private golf courses to public golf courses—not to mention pitch and putt and mini golf at the Jersey Shore! If you've done any driving in New Jersey, you've probably passed multiple golf courses. Whether you are a beginner or an experienced golfer, this guide on the best golf courses NJ has to offer can help you pick your next 18 holes.
Private Golf Courses in NJ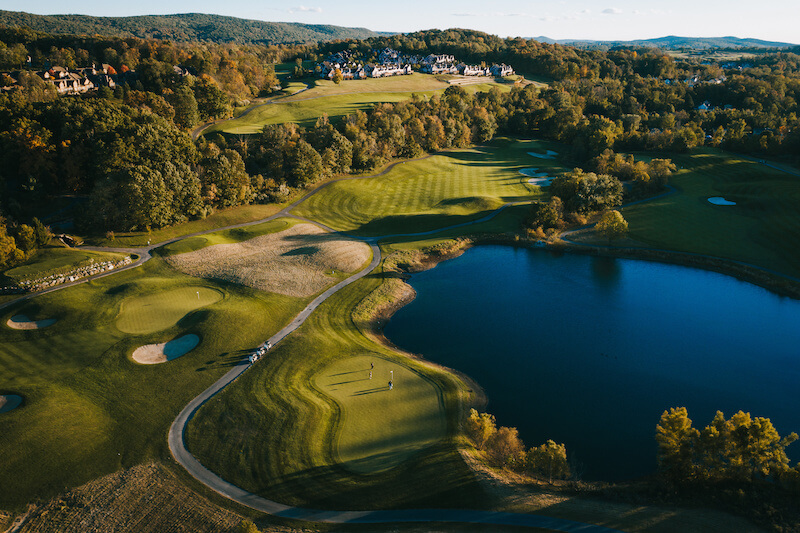 Golfers in New Jersey have access to some of the best private golf courses in the country. Private clubs offer members exclusive amenities and a more personalized experience than public courses. Here is an overview of some of the top private golf courses in NJ.
Ridgewood Country Club, Paramus
Located just outside of NYC in Bergen County, Ridgewood Country Club is one of the oldest private clubs in NJ, with roots dating back to the 1890s. The 27-hole championship course features bentgrass greens and rolling fairways surrounded by mature trees. Members also enjoy tennis courts, swimming pools, fitness centers, and much more.
Mountain Ridge Country Club, West Caldwell
Mountain Ridge Country Club in the township of West Caldwell offers 18 holes of championship golf designed by Donald Ross. Its state-of-the-art practice facility features target greens, a golf learning center, and a practice area for your short game. Membership includes access to all facilities, such as the clubhouse dining room, pool complex, fitness center, and tennis courts.
Trump National Golf Club, Bedminster
This prestigious club in the township of Bedminster club was designed by Tom Fazio and offers breathtaking views from its 36 holes across two courses. Members enjoy access to a full-service spa, fine dining, and other luxurious amenities.
Fiddler's Elbow Country Club, Bedminster
Fiddler's Elbow Country Club in Bedminster features three courses of challenging play for all levels of players. The picturesque layout winds through wooded hillsides with panoramic views across the Somerset County countryside, making it an ideal place to relax after playing a round or two.
Laurel Creek Country Club, Moorestown
Another great course to play is Laurel Creek Country Club. This is a members-only course, so you will need to know somebody to get on, but if you get the chance, you should take it. The course is an Arnold Palmer-style course with a swimming pool, tennis courts and much. The golf here is all about luxury and it's one of the best golf experiences in the state.
Public Golf Courses in NJ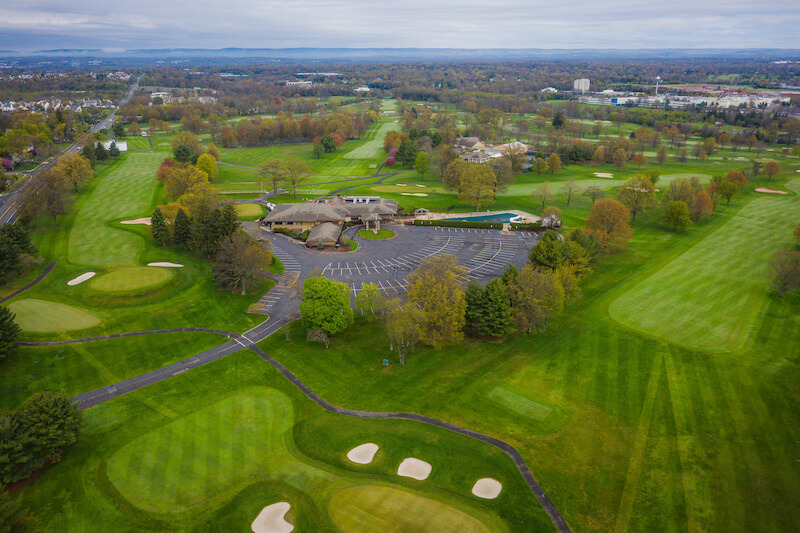 From the lush fairways of Atlantic City Country Club to the challenging layout at Forsgate Country Club, a variety of courses offer an enjoyable round for all skill levels.
Atlantic City Country Club, Northfield
Atlantic City Country Club is located in Northfield and offers 18 holes of championship golf. The Atlantic County course has been around since 1897 and features bent grass greens, Bermuda tees, and fairways lined with trees. Amenities include a driving range, practice green, pro shop, snack bar, and locker rooms.
Forsgate Country Club, Monroe Township
Forsgate Country Club is located in Monroe Township and boasts two championship courses: The Banks Course (designed by Charles Banks) and The Palmer Course (some holes designed by Arnold Palmer). Both feature bent grass greens surrounded by mature trees and strategically placed bunkers throughout the layout. Amenities include a driving range with target flags, a putting green complex with multiple tiers, slopes, ridges, and breaks, and a chipping area with sand traps.
Hopewell Valley Golf & Country Club, Hopewell Township
Hopewell Valley Golf & Country Club, located in Mercer County near Princeton University's campus, offers 18 holes designed by Thomas Winton. The rolling hillsides covered with tall pines provide a picturesque backdrop to your round. Amenities also include pickleball, a driving range, and dining at the clubhouse.
White Oaks Country Club, Newfield
White Oaks is one of the finest courses you will find in the state. Even though it's a country club with membership, the course is open to the public. It's found amongst the Pinelands and provides a challenging 18-hole course with tall oak trees. The atmosphere is very relaxed and the course has one of the toughest par three holes in the state.
Bowling Green Golf Course, Oak Ridge
The Bowling Green Golf Course is perfect for members, guests and visitors. The course provides tree-lined fairways and plenty of elegance. Whether you're new to golf or a seasoned pro, you will enjoy playing at the Bowling Green Golf Course.
Neshanic Valley Golf Course, Neshanic Station
This course plays as long as 7,069 yards and provides a beautiful round of golf in Somerset County. There are plenty of strategic hazards provided, and the mixture provides just what every golfer needs.
Atlantic City Country Club, Atlantic City
With plenty of beauty, the Atlantic City Country Club course provides an enjoyable round. It's a great challenge even though it only plays to about 6,600 yards.
Twisted Dune Golf Club, Egg Harbor Township
Not only is the name cool, but the Twisted Dune course is also quite awesome. It's a links-style layout with plenty of bunkers and challenges. The course can play as long as 7,248 yards.
Ballyowen Golf Club, Hamburg
As maybe the most amazing public course in New Jersey, Ballyowen is a must-play for all golfers. The course plays to nearly 7,100 yards and provides a links-style layout with all types of challenges. The beautiful views of Sussex County make this one of the best courses to play.
Hominy Hill Golf Course, Monmouth
A Robert Trent Jones course, Hominy Hill is quite popular. It provides a challenge around every corner, and the par fives are very tough. The course plays up to 7,049 yards.
Royce Brook (East), Somerset
The west course at Royce Brook is members-only, but the east course is open to the public. It's a tree-lined course with plenty of beauty throughout. The east course plays to about 6,946 yards.
Other top public golf courses in New Jersey include:
Scotland Run - Williamstown
Heron Glen - Hunterdon
The Architects - Phillipsburg
Wild Turkey - Sussex
Golf Course Tips & Advice
Playing golf in New Jersey can be a great experience, with many courses offering stunning views and challenging layouts. Here are some tips and advice for playing at each course to maximize your round.
Private Golf Course Advice:
Private courses typically have stricter rules than public ones, so you must familiarize yourself with the regulations before playing. Dress codes may also apply, so check what is required before you arrive. Additionally, private clubs often require players to book tee times in advance; if this is the case at your chosen course, ensure you do this as soon as possible.
Public Golf Course Advice:
Public courses tend to be more relaxed than private ones regarding dress codes and other regulations, but don't let that fool you into thinking they are any less challenging! Make sure you read up on the layout of each hole beforehand so that you know what kind of shot will be needed for success. It's also wise to take advantage of practice facilities such as driving ranges or putting greens if available; these can help improve your game significantly over time.
FAQs about New Jersey Golf Courses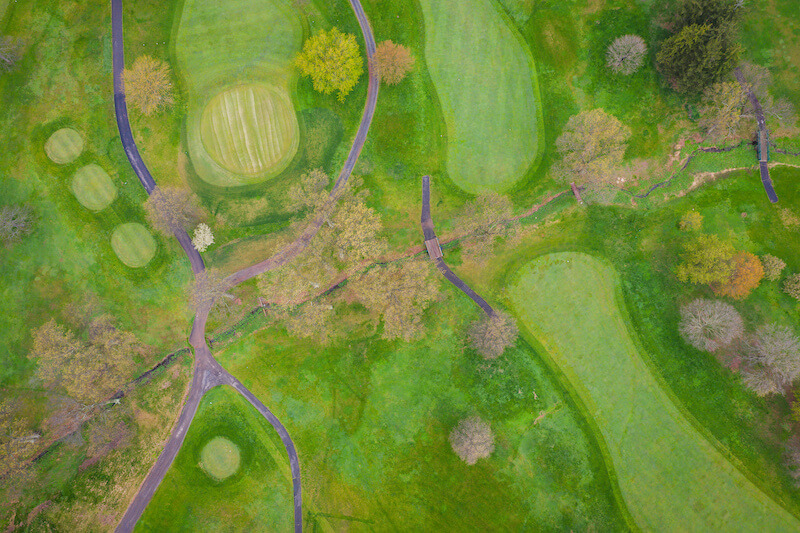 How many golf courses does New Jersey have?
New Jersey has a wide variety of golf courses, with over 200 statewide. Most are public courses, though some private and semi-private options exist. Many of these courses offer stunning ocean views or other natural landscapes. From championship layouts to more casual experiences, there's something for everyone in New Jersey's golf scene. With so many great choices available in New Jersey's best cities, it's no wonder why so many people choose to play here.
How much is a round of golf in NJ?
The cost of a round of golf in New Jersey varies depending on the course and time of year. Generally, prices range from $20–$150 for 18 holes. Courses may charge higher rates in the summer months due to increased demand. Some courses offer discounts or special packages that can lower the overall cost. Additionally, many courses offer discounted rates for juniors, seniors, and military personnel. Ultimately, it is best to check with each course for their exact pricing information before booking a tee time.
What are the oldest golf clubs in NJ?
The oldest golf clubs in New Jersey are Plainfield Country Club, founded in 1882; Forsgate Country Club, established in 1916; and Hollywood Golf Club, opened in 1921. All three of these courses have been around for over a century and remain popular destinations for golfers from all over the state.
Teeing Off in the Garden State
Golfing in New Jersey is a great way to enjoy the outdoors and have fun. Whether you are looking for private or public golf courses, plenty of options are available, many of which are in New Jersey's best counties. Be sure to research ratings and tips before selecting your course to get the most out of your experience. With all the fantastic golf courses NJ has to offer, it's easy to find one that fits your needs and budget.
If you're excited by the opportunities in New Jersey, contact The Dekanski Home Selling Team of RE/MAX 1st Advantage with New Jersey Real Estate Network at (800) 691-0485 to get in touch with our experienced team of real estate agents and discover the perfect New Jersey home for you today.