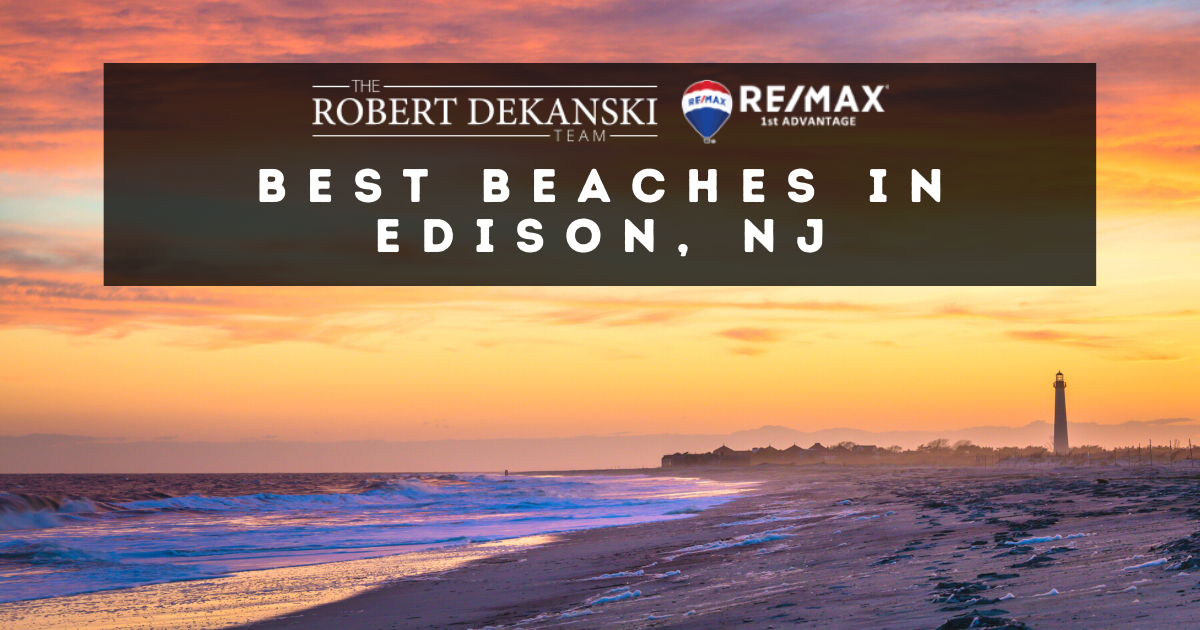 The beauty of living in Edison is that there are endless beaches nearby. From white sands to pebbled beaches ranging from National Parks to local treasures, each place has its own features, amenities, charm, and appeal for locals and visitors alike. In fact, it is the presence of so many great beaches near Edison that plays a pivotal role in those making a move to the area. Along with a strong economy, reasonable housing costs, and ample educational opportunities and schools, Edison is a great place to call home.
Ocean Grove Beach
A short drive away in Ocean Grove, NJ awaits Ocean Grove Beach. People come here to relax, read a book, or enjoy the refreshing waters. It is just a short two-block walk to downtown from the Ocean Grove Beach shorefront boardwalk.
This Monmouth County respite is the perfect place to escape everyday pressures and play in the sun, sand, and waves. Summer events include sandcastle contests, movie nights, an annual biathlon, and much more. The fishing is excellent here, along the shore or off the large pier at Ocean Grove Beach. During off-season periods, leashed dogs are permitted with owners.
Kids 12 and under are free, Daily Badges are $9, Adult Seasonal Badge are $90, Youth Season Badges (12-17) are $45, and Senior Season Badges are just $45.
Ocean Grove Beach Additional Information
Phone: (732) 774-1391
Early season: open weekends Memorial Day — June 19
Summer hours: open daily June 20 — September 7
Access times: Monday – Saturday 9 a.m. – 5:30 p.m./Sunday noon – 5:30 p.m.
Sandy Hook Beach
Sandy Hook Beach on Staten Island is part of the three-sectioned Gateway National Recreation Area and offers much more to do than enjoy the sands and water. While swimming, boating, and fishing are very popular here, visitors come for superior bird watching and to explore the rich history of the area and the park with interactive experiences and tours.
A highlight is the Sandy Hook Lighthouse that was constructed in 1764, making it the oldest in the United States. Tours are offered through the lighthouse and the Keepers Quarters from April through November. During tours of these sites and the Fort Hancock Army Post Museum, visitors learn more about these sites and the Fort's roles during the WWII and Cold War eras.
The best birding locations in the park are on Plum Island, Horse Cove, and North Pond. Dogs can visit the bayside beaches year-round, but are not permitted oceanside during spring and summer to avoid disturbing nesting piping plovers. Restrooms and food are available in the park.
Sandy Hook Beach Additional Information
Phone: (718) 354-4606
Off-season hours: November 1 - March 3, 5 a.m. - 8 p.m. daily
Seasonal hours: April 1 - October 31, 5 a.m. - 9 p.m. daily
Ashbury Park Beach
Ashbury Park Beach has quite a few features that appeal to outdoor enthusiasts and those who appreciate historical architecture. People frequently head down just to stroll along the restored 19th century boardwalk lined with colorful murals, eateries, shops and lively ale houses. Ashbury Park Convention Hall is an active entertainment complex that was constructed in the 1920s.
People can visit the free beach playgrounds or hit the water on Adaptive WaterWheels available for rent. Ashbury Park Beach is home to the oldest saltwater fishing club in the nation, and the catches are reported to be phenomenal. Surfing is restricted by dates and weather conditions. Beach chairs and umbrellas are for rent onsite, and Wi-Fi is free on the boardwalk and beachside.
Ashbury Park Beach Additional Information
Phone: (732) 502-8863
Hours: 24 hours
South Area Beach C
Another part of the Gateway National Recreation Area is South Area Beach C in Sandy Hook, NJ. This prime birding, camping, and picnicking spot offers an array of activities to partake in. Land explorers can visit the artillery battery areas and the early 1900s military installations at South Area Beach C. The park also boasts a number of hiking and biking trails where the best chances to sight rare birds exist.
Water lovers can surf and swim here with lifeguards on duty during peak seasons. Non-motorized boats can launch at the site, with recreational boaters favoring Horseshoe Cove, along with paddle-boarders, kayakers, wind surfers, and kite-boarders. As a bonus, restrooms and showers are onsite.
South Area Beach C Additional Information
Phone: (718) 354-4606
Hours: vary seasonally
Bradley Beach
The locals appreciate Bradley Beach, where swimmers, surfers, and kayakers can traverse the waters with in-season lifeguard protection. There are regular events here such as concerts, festivals, sand castle competitions, and various outdoor event exhibitions.
Bradley Beach is a for-pay beach location that requires Beach Badges for entry during open hours. While there are a few free parking zones, they fill up early, leaving only paid spaces on the east end of Bradley Boulevard and east of Ocean Avenue.
Bradley Beach Additional Information
Phone: (732) 776-2994
Hours: weekdays 9 a.m. - 5 p.m. / weekends 9 a.m.- 6 p.m.
Ideal Beach
Located in Middletown, New Jersey, Ideal Beach is one of the few beaches near Edison that is completely free to use and park at with no badge fees. This beach lives up to its name as an ideal place to relax on the beach and participate in fishing, swimming, and boating along the shoreline.
Along with a basketball court and small playgrounds, restrooms are conveniently located on the beach. Visitors will have excellent pier access for fishing or enjoying the soothing sight and sound of the waves.
Ideal Beach Additional Information
Phone: (732) 615-2260
Hours: open seasonally May - October, dawn to dusk
Love the Beach Life? Plan a Visit or Permanent Move to Edison
Here in Edison, finding the best beaches is easy. People will quickly find their favorites as they fit in with the local beach lifestyle. Beyond great shorelines teeming with nature and outdoor activities, the community has numerous shops, fascinating historical sites, endless places to eat, drink, and play, and an array of housing options, from townhomes to luxury homes.