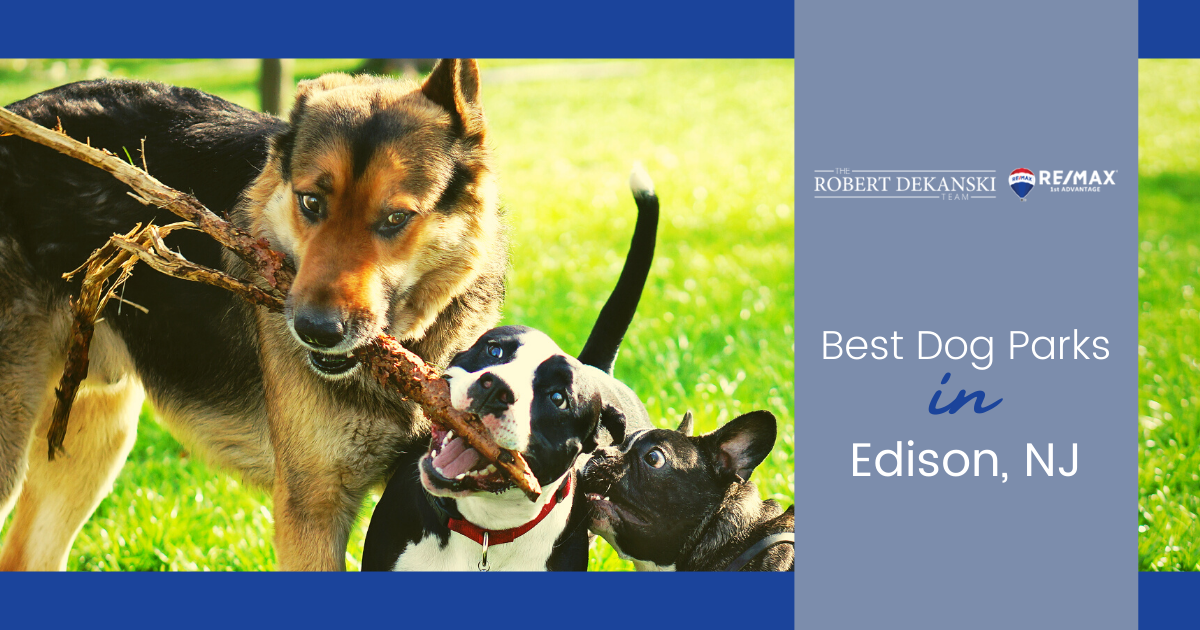 Best Dog Parks in Edison: Where are the Best Dog Parks in Edison?
The community of Edison, NJ has many happy dogs citywide due to the presence of numerous dog parks. While these top dog parks cater to dogs, most of them have plenty of exciting amenities for human companions, too. The community, along with the Township of Edison leadership, ensures that these dog parks are well cared for and are continually making improvements to the grounds and amenities at each site. Those considering a visit or living full-time in the city with their four-legged friends will want to take a trip to these top dog parks in Edison, NJ.
Edison-Metuchen Community Dog Park
Edison-Metuchen Community Dog Park Amenities
Five acres
Off-leash space
Separate areas for different sizes
Water fountains
Conveniently located and loaded with treats for pets and people seeking outdoor playtime, the Edison-Metuchen Community Dog Park is very popular. There are more than five acres of off-leash spaces for pups to run off some energy, and this is one of the few off-leash dog parks in Edison, NJ. This is a place for dogs of all sizes and breeds, with a separated area for smaller dogs to meander away from the big ones.
Benches and covered tables make it easy for people to sit back and watch dogs run, enjoy a picnic, or watch kids on the small park playground. Ample water fountains and trash receptacles line the park's perimeter and the various walking paths. This impressive new addition to Edison gets high reviews from both locals and out-of-town visitors. The dog park can get a bit muddy after it rains, so visitors should be sure to bring a towel and an extra pair of shoes.
Edison-Metuchen Community Dog Park Additional Information
Hours: Daily, dawn - 8 p.m.
Donaldson Dog Park
Donaldson Dog Park Amenities
Off-leash area
Shade and seating
80 acres of space
Playgrounds
It's not clear whether pets or their owners enjoy Donaldson Dog Park the most, but it is certain that going here is sure to result in good times for all. Another place for off-leash dogs, this fenced park in the borough of Highland Park is filled with lots of shade and seating benches across more than 80 acres of grassy knolls along the Raritan River.
Donaldson Park has been recently renovated and has served the community since 1946. There is a boat ramp at the park where people like to fish and put in small flotation devices. There's even more here to entertain, including picnic groves, paved trails, multiple playgrounds, sporting fields, and facilities for basketball courts, lighted tennis courts, softball fields, soccer fields, and baseball fields.
There is even a small pond in the park, so between that and the river, it's a good idea for visitors to come prepared to dry off or change clothes before heading home. Visitors shouldn't forget sports gear and to invite some friends for some game time at this Edison park, even if pets aren't in the picture.
Donaldson Dog Park Additional Information
Southside Dog Park
Southside Dog Park Amenities
Separate areas for different sizes
Waste disposal stations
Water stations
Off-leash area
Opened in 2017, Southside Dog Park in South Plainfield is a canine recreation zone with separate off-leash play areas for smaller and larger pups. Seated areas are melded in the grassy, pebbled pads and cemented spaces. There are also plenty of disposal stations, but it's a good idea for visitors to bring bags along in case the site on the dispenser stands runs out unexpectedly.
Southside Dog Park is a place where people enjoy talking with others and making new friends, which provides a greater sense of community. Coolers are welcome, but there are several water stations onsite to keep everyone hydrated and cooled off.
Southside Dog Park Additional Information
Hours: Daily 6 a.m. - dusk
Contact: Friends of the Southside Dog Park @SouthsideDogParkSouthPlainfield
Woodbridge Dog Park at Alvin Williams Memorial Park
Woodbridge Dog Park Amenities
Separate areas for differently sized breeds
Agility course
Playground for kids
Gazebo for owners to sit in
Located on the Sewaren Peninsula, NJ awaits a haven for all at the multi-use park facilities at Alvin Williams Memorial Park and the Woodbridge Dog Park. The dog park has dedicated sides for small and large breeds, in addition to fountains and bag areas within each running zone to keep more timid dogs feeling comfortable.
Challenges and training devices such as hoops, ramps, and other gear are onsite for dogs wanting to hone in on their competition skills. Owners can sit in the covered gazebos to socialize and keep an eye on their dogs during playtime while enjoying the shade and cooling winds from the water.
Outside the dog zone are numerous activities at Alvin Williams Memorial Park's primary spaces. Visitors can have lunch in the picnic grove or overlooking the gardens. Kids have a large playground, and there are several playing fields to start a game. Leashed dogs are welcome in the park, for those who want to take a jog or hike to exercise along with their buddy. These two park sections are an excellent way for anyone to spend their day.
Woodbridge Dog Park Additional Information
Contact: (732) 738-1311 or (732) 745-3995
Central Bark Dog Park
Central Bark Dog Park Amenities
Shaded areas
Public water bowls
Separate areas for differently sized breeds
Pavillion with picnic tables
Central Bark Dog Park is fairly small and is situated on the grounds of a historic home. It offers extensive shaded areas amid two running areas for large and smaller canines. The bigger area boasts picnic tables and a small pavilion, along with a gazebo where patrons commune as they observe pups in play. There is plenty of fresh water access and a paved track just outside the gated spaces at Central Bark Dog Park.
While the smaller run zone lacks comforts and structures, water bowls are available to fill in the bigger areas. Many use this side of the park if their dogs are shy or need to acclimate to other dogs. Lighting is throughout the park for early winter dusks, and dedicated parking is conveniently onsite.
Central Bark Dog Park Additional Information
Visit These Dog Parks Near Edison Today
Beyond the excellent dog parks in Edison, New Jersey, there are so many reasons to visit or live here for humans, too. Great jobs, above-average salaries, and competitive educational institutions give this city an edge over comparable communities.
What calls many full-time residents to Edison is that it's an affordable place to invest in homes with an easy commute to Philadelphia and New York City. Those interested in living in a city with a diverse population and lots of green spaces will love moving here. To make sure they get the home of their dreams with greater ease, whether a new construction home, a townhome, or another type of property, people should reach out to a local real estate professional in Edison, NJ today.