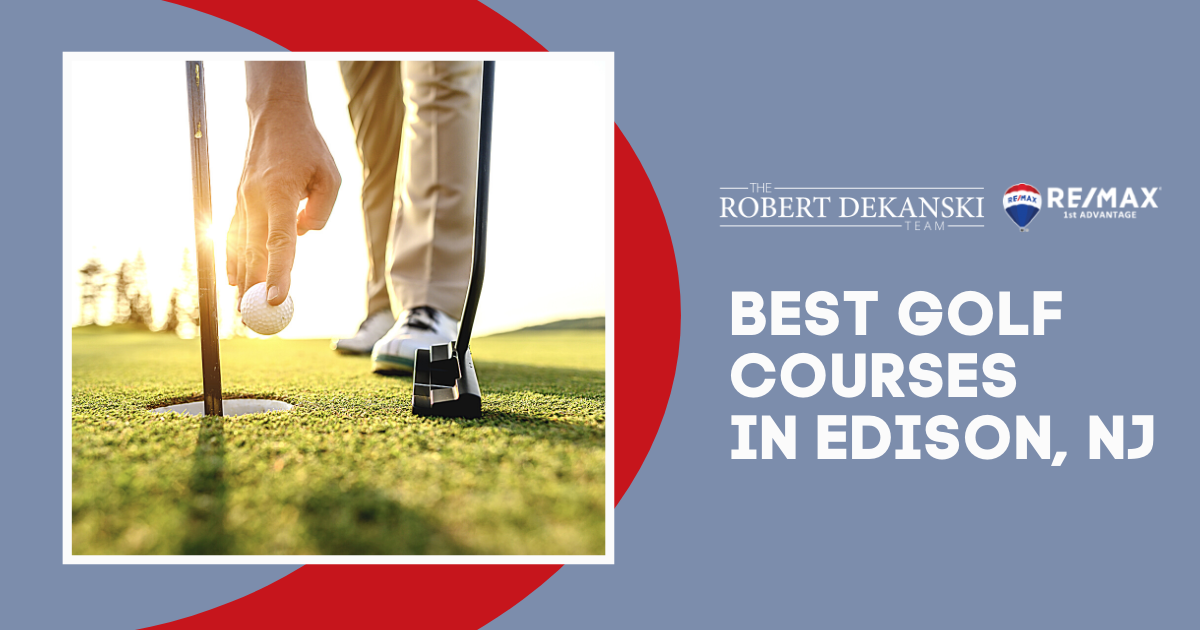 Best Golf Courses in Edison, NJ: Where are the Best Golf Courses in Edison?
Golfing on the East Coast is a widely popular pastime and is home to many major tournaments and professionally designed and groomed courses. With a great combination of rolling hills and flat land options to play a few holes at, the golf courses in and near Edison are some of the best in the state. Whether someone is just visiting the area and looking for things to do or they are considering making a permanent move to the city, they'll find delight in these top golf courses and the other attractive aspects of calling Edison home.
Galloping Hill Park and Golf Course
The host site of the New Jersey State Golf Association Open Championship in 2016, Galloping Hill Park and Golf Course in Kenilworth has been recently renovated to provide world-class golfing opportunities. This impressive course and learning center covers 271 acres of steep valleys and rolling hills, giving it a reputation as one of the most challenging golf courses near Edison, NJ.
Galloping Hill Park and Golf Course boasts 18 holes with 6,854 yards of playing action. Additionally, there is a state-of-the-art facility for practice and instruction with 52 stalls, some with coverings and heating. Their Fitting Lab has a master fitter and tech and video instruction, which is a good way for people to learn before taking on the 9-hole practice course. Many opt to hold events and weddings here in the beautiful clubhouse or on the grounds.
Spooky Brook Public Golf Course
Located in nearby Somerset is one of the area's most player-friendly courses known as Spooky Brook Public Golf Course. With mostly flat terrain, it's easy for golfers to walk or use a pull cart here, making it a favorite for beginners and those who prefer more moderate golfing experiences. The 18-hole course is 6,655 yards from back tee play, with ample greens and spacious fairways that are more forgiving of errors.
This gem in Colonial Park has a nice water presence on the back nine holes, so there are ample challenges. There is also a practice bunker, putting green, and chipping greens for those looking to practice. Many like to use the driving range for warming up pregame and hitting up the clubhouse for snacks and beverages afterwards. Club and pull cart rentals are available at the clubhouse reception desk.
Inman Golf Range
The spectacular lighted Inman Golf Range brings people from all around the area who are looking to improve their technique with lessons or practice their swing. Amid the facilities, there are 45 booths, with 15 heated and covered for cold seasonal usage. The range offers four bucket sizes for golfers to meet their goals affordably. Those in need of lessons can sign up for individualized instructions from seasoned gold pros.
Other highlights at the Inman Golf Range include practice putting greens, sand trap practice zones, and an 18-hole miniature golf course. Refreshments are available onsite at the range shop. The course is home to the Inman Sports Complex, which can be rented for private events, summer camps, and other sporting events.
Raritan Landing Golf Course
Raritan Landing Golf Course is located in Piscataway and features a 3,300-yard, par-58, 18-hole, Stephen Kay designed golf course. The fairways are narrow and the putting greens are small, presenting a higher level of challenging play for even the most experienced golfers. Those looking to perfect accuracy will find Raritan Landing to be a rare treat. Golfers can advantage of early bird specials and advantage card membership rates for some of the best golfing deals near Edison.
Ash Brook Golf Course
In Scotch Plains rests the recently redesigned Ash Brook Golf Course that is replete with facilities, food, fun courses, and amenities that offer fun for all skill levels and players of all ages. With four tees at each hole, there are more than 7,000 yards available at this course.
After completing this par-72 course, golfers can head over to the Tavern at Ash Brook for a prohibition-style beverage and rotisserie fare. The updated facilities include a Pitch & Putt Course that is a short 673-yarder. There is a pro shop onsite, where one can buy goods, enroll in lessons, or sign up for private instruction.
Plainfield Country Club
Golfers have unparalleled experiences at the world-class Plainfield Country Club, where a Donald Ross designed and nationally ranked 18-hole course awaits. Since it's creation, the club has been the host for numerous state, regional, and national championships, including the U.S. Women's Open and the Barclays.
The Plainfield course is ranked number 24 on the list of "America's Greatest Classic Courses" by Golfweek and 50th in the nation by Golf Magazine. It's also amid the top 100 U.S. courses, according to Golf Digest.
Want to putt, chip, or pitch high rather than ball gouging? The new design includes installations, giving players more options on the course. Members enjoy the glorious country club amenities that feature dining, swimming, social activities, tennis courts, paddling, and squash fields.
Rutgers Golf Course
The par-71, 18-hole Rutgers Golf Course offers just over 6,300 yards of course play amid tree-lined fairways. This PGA-sanctioned course is fairly challenging but features four tees per hole to accommodate multiple skill levels. There are plenty of fast greens and narrow fairways, with 9 holes of water hazards along the way.
Open since 1963, the Rutgers Golf Course is on the Rutgers University Bush Campus located in Piscataway. Players will enjoy timely golf with real greens, and instruction is available to both students and the public. There is also a driving range and pro shop onsite.
The Grass and Golf Courses Are Greener in Edison, NJ
Thanks to brilliant spring and summer weather, Edison golf courses are vibrant for a good portion of the year. Any of these highly rated courses will exceed golfers' needs and satisfy their passion for the sport. However, there's more than great golf in this diverse and vibrant community, which is why so many people visit and then decide to make it their city of choice when relocating.
The commute to Philly and NYC is short and convenient from Edison, jobs pay well, and the cost of living and housing is more appealing than higher-priced cities. Edison has been rated as the number four best city in New Jersey and gets accolades for livability in numerous publications annually. Come see what the talk is all about, and contact a real estate professional that will help you explore luxury homes, condos, and other types of properties that will bring you pleasure for years to come.