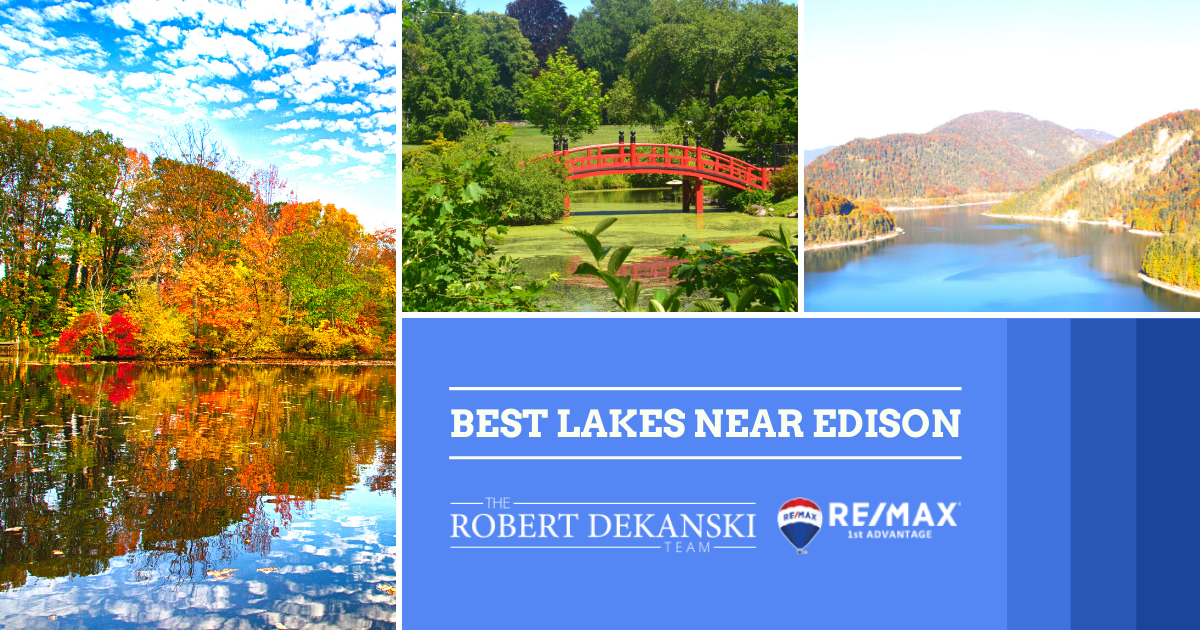 Best Lakes in Edison: Edison, NJ Local Lakes Guide
Edison was originally called "Raritan"—or "stream overflowing"—for a reason: there are several important rivers, lakes, and other waterways in the area. Lakes are particularly powerful resources, with potential to drive power generation, water supply, industrial and agricultural applications, recreation, and even aesthetic applications. Most importantly, many people love spending a relaxing day at one of their local lakes, whether it be out on a boat or on the shore. Here are some of the best lakes for water recreation near Edison.
Lake Papaianni
Lake Papaianni Amenities
Paved walking path
Baseball diamonds
Soccer fields
Picnic area
Skating rink
This lake is centered at the park that bears its name, and it is surrounded by a 2.5-mile paved asphalt course on which visitors can walk or jog. This lake path is friendly to both strollers and wheelchairs, so everyone can enjoy the beauty of the lake and its park. There are some standard recreational facilities nearby including baseball diamonds, soccer fields, picnic tables, and even a skate park. The park surrounding the lake is often used for local community festivals.
It's worth noting that fishing is generally permitted in the lake. Visitors report that it is well-stocked with trout and actively visited by flocks of geese. Visitors should be aware that there are intermittent restrictions that have been placed on coming into contact with water from this lake, due to harmful algal blooms that are prone to arising. Although a heavy rainfall usually does the trick in resolving a flare-up of the algae, local officials keep a close eye on the water quality to make sure everyone visiting the park stays healthy and safe.
Roosevelt Park Lake
Roosevelt Park Lake Amenities
Stocked with fish
Light Dispelling Darkness
Paved walking path
Roosevelt Park Lake measures eight acres in size and is the centerpiece of Roosevelt Park. This park was first established in 1917, making it the most senior park out of the entire Middlesex County Park System. Just like how Central Park is a natural respite in the midst of hyper-developed Manhattan, so lies Roosevelt Park in the middle of urban Middlesex County.
The State of New Jersey keeps Roosevelt Park Lake well-stocked so that visitors can go fishing in it. The paved pathway that wraps around the lake allows for walking, jogging, or biking.
One landmark to remember with this park is a fountain, close to the lake, called "Light Dispelling Darkness" that was created in 1936 by Waylande "Kid" Gregory and commissioned under the Works Progress Administration (WPA) economic stimulus masterminded by President Franklin D. Roosevelt. Inspired by Edison's Menlo Park nearby, this sculpture focused on man fighting evil via science, with a model globe standing atop a massive ceramic shaft and surrounded by the Four Horseman of the Apocalypse as well as Greed and Materialism.
Lake Nelson
Lake Nelson Amenities
Stocked with fish
Boating
Sitting area
A much larger lake than covered thus far, Lake Nelson measures in at sixteen acres in size. This lake is an extremely popular fishing destination, celebrated for the wide range of fish that can be found in its waters. From largemouth bass and brown bullhead to bluegill and sunfish, anyone trying to fish here will have an interesting day.
That said, it is always important to check the most up-to-date regulations and guidelines set forth by the local New Jersey Fish and Wildlife Service, who can provide information on fishing times, rules, and what sort of fishing license is required.
Farrington Lake
Farrington Lake Amenities
Boating
Wildlife watching
Stocked with fish
This freshwater reservoir was established in 1926 once the Parsons Pond dam was built, and it provides a hub for outdoor enthusiasts of several kinds.
Kayakers seeking a quiet day of paddling can use the lake, although the south end is known for being shallower and more confined than the north end. Many people report seeing a wide range of wildlife while out on the lake, including herons and turtles. There is some noise, both from fishing boats and from the single-family homes on the edge of the lake, but a quiet day on the water is possible.
The fishing in Farrington Lake is supposed to be very good, with a wide range of species including pickerel, catfish, bass, pike, crappie, perch, and trout.
Watchung Lake
Watchung Lake Amenities
Annual fishing derby
Tennis courts
Softball field
Watchung Lake and its surrounding park provide a quiet bit of natural respite, with a slow pace and a short course of only about a mile wrapping around the lake. No boats, kayaks, or canoes are allowed on the lake, which helps keep it particularly tranquil. Visitors note many benches and even some gazebos along the way, and most people opt to either jog or walk around the lake. This park is actually celebrated locally for its charm.
Interestingly enough, many couples choose to take their wedding photos at this peaceful lake. There three different fountains near the lake, which help provide some of the scenic backdrops for those pictures.
As with most lakes in New Jersey, fishing is allowed here, although the lake is relatively shallow. An annual fishing derby is held here for children, which helps them learn about the sport. To further bring the community together, the park surrounding the lake also has tennis courts and a softball field.
Hooks Creek Lake
Hooks Creek Lake Amenities
Boating
Birdwatching
Camping area
Hooks Creek Lake is actually referred to as a "hidden gem" in several instances of press coverage, and it's not difficult to understand why. This lake offers an incredible list of recreational activities including swimming, kayaking, canoeing, fishing, and crabbing.
The context beyond this Lake is even more breathtaking. Hooks Creek Lake is part of Cheesequake State Park, which unites both the Piedmont and the Atlantic Coastal Plain. In just one park, visitors can experience both salt marshes and cedar swamps. Over 160 species of birds can be found in this park, which also has over 50 tent and trailer posts where more extended park visits can be fulfilled. There are five different hiking trails, and even more adventurous options like eco-kayaking are available so that park visitors can fully engage with learning all they can about the park's native wildlife.
It is worth noting that fishing has taken some time to return to normal levels of engagement after Hurricane Sandy radically increased the salinity of the water. As major weather events continue to occur each year, these sorts of changes are definitely something to monitor.
Access to this park is $5/car for NJ residents ($10/car for non-NJ residents) on weekdays, and $10/car for NJ residents ($20/car for non-NJ residents) on weekends and holidays.
Take a Dip in Edison's Lakes Today
The summary of the lakes highlighted here is but a sampling of the natural splendor readily available in Edison, NJ. Between the state's Recreation and Park Association as well as its State Park and Forest system, New Jersey has a lot of wildlife and natural tranquility going for it. No matter where one lands within the state, odds are they are within close reach of a lake, river, or other waterway to explore within the context of a well-kept local park.