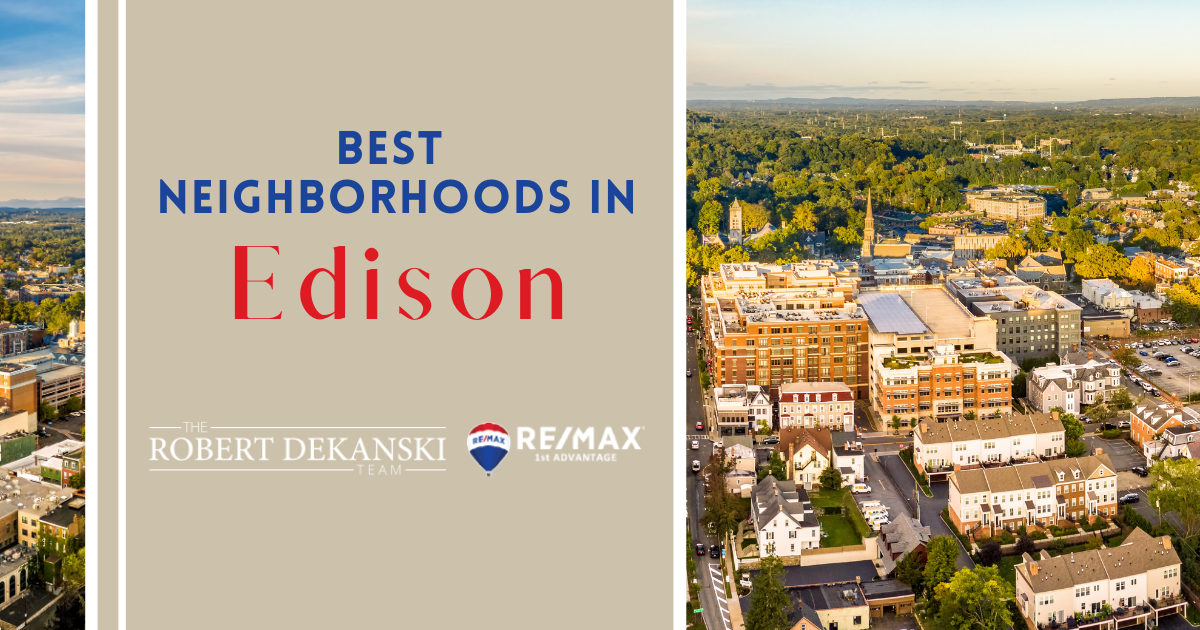 Best Neighborhoods in Edison: Edison, NJ Community Living Guide
Whether someone is looking to move to Edison, New Jersey, for the first time or is seeking out a new neighborhood to call home, the city offers a number of desirable places to live. The city of Edison itself is well known for its proximity to numerous weekend getaways. From the Jersey Shore and New York City to the Poconos, living in one of the best neighborhoods in Edison allows residents to enjoy what makes them the happiest. The following Edison neighborhoods feature parks, major road access, and vast education options.
North Edison
North Edison Amenities
Walk or ride a golf cart to Plainfield Country Club
Visit Edith Stevens Memorial Wildlife Preserve to exercise in nature
Numerous sports centers for all ages and skill levels
K-12 education within walking and biking distance
North Edison is one of the largest neighborhoods in Edison. With nearly 10 square miles for all 40,615 of its residents, North Edison offers almost anything one could need.
The neighborhood itself does not have an extensive history. Many of the homes were built between 1940 and 1969. However, a second home building boom occurred between 1970 and 1999. Since then, few new homes have been constructed.
Residents of North Edison enjoy row houses and attached homes. The number of bedrooms and bathrooms vary, but one-bathroom floor plans are common. The median home value is $447,163.
North Edison has many amenities and hotspots. Those who enjoy having mostly everything they need at their fingertips will love living in this neighborhood.
North Edison Hotspots
North Edison Cafés
North Edison Restaurants
Stelton
Stelton Amenities
Nearby schools and after school music lessons
Spa is just a few minutes walk or bike ride from any corner of the neighborhood
Stelton is one of the oldest neighborhoods in Edison and is also one of the largest neighborhoods on this list. However, only 5,510 residents call Stelton home. With a median home value of $308,964, this neighborhood is the least expensive on this list. Many of the homes were constructed between 1950 and 1980. New construction does appear from time to time, but it is rare to find.
The name Stelton came from the Stelle family, who were early settlers in the area. Originally, the neighborhood was known for the present-day NJ Transit Edison station. At the time, the station was named Stelton. It was not until 1956 that the station was renamed Edison after the famous, late Thomas Edison.
Stelton allows residents to have as much access to amenities or as little as possible. The neighborhood is located next to major roadway U.S. Route 27. However, homes are tucked away on streets that allow residents to forget they are near everything they need.
Stelton Hotspots
Stelton Shopping
Stelton Cafés
Stelton Restaurants
DunHuang Lanzhou Beef Noodle
Tanglewood
Tanglewood Amenities
Quick access to U.S. Route 1 & New Jersey Turnpike (toll road)
Just a few minutes away from Middlesex County College
Small, quiet roads are perfect for walking pets and riding bikes
The Edison Acquisition local park is within walking distance
Tanglewood is one of the smallest neighborhoods in Edison. However, what it lacks in size, it makes up for in charm. Tucked between major roadways, Tanglewood offers residents an exceptional escape from busy city life.
The median home price in Tanglewood is $440,000. Each home has its own unique look, color, and layout, which allows residents to select a home that fits their household's needs.
No part of Tanglewood is commercially zoned, which means residents need to exit their neighborhood for additional amenities.
Bonhamtown
Bonhamtown Amenities
Surrounded by many major roads, including Interstate 287, the New Jersey Turnpike, U.S. Route 1, Route 27, & Route 440
Bus stop in the heart of the neighborhood
National and local auto shops just steps from Main Street
One-stop shopping for lawn, groceries, and office needs just across U.S. Route 1
Originally, Bonhamtown was not even part of Edison. In fact, this neighborhood began as a colonial village in Woodbridge just a few miles over. This incredibly historic neighborhood began in the 17th century and was named after freeholder Nicholas Bonham. As boundaries were redrawn over the years, the Bonhamtown neighborhood was absorbed by Edison.
Despite its historical roots, Bonhamtown also features modern homes. However, it is possible for buyers to own a piece of history when houses are for sale, which doesn't occur often.
Homes in Bonhamtown were built from 1927 to 2004 and include cottages, townhouses, condos, and even lofts. With a median home price of $412,500, this neighborhood is moderately priced for the Edison area.
Washington Park
Washington Park Amenities
Quick access to both Lincoln Highway and U.S. Route 1
Close to major chains for car repairs and groceries
Newer homes available for purchase
Washington Park is just east of Stelton. Homes in Washington Park range in size, age, and style. Some homes were built as early as 1952, and others as late as 2019.
The median sale price for homes in Washington Park is $397,000. Aside from one café, schools and other amenities are dotted throughout the neighborhood. Streets in Washington Park are quiet, making this community a walkable neighborhood.
Menlo Park
Menlo Park Amenities
Thomas Edison Center at Menlo Park
Immediate access to Lincoln Highway
Edison State Park
Menlo Park is one of the most historically important neighborhoods in Edison. Home to his famous research laboratory, Thomas Edison invented the phonograph and the commercial incandescent light bulb filament in this very neighborhood. Forever preserved, the laboratory has been converted into a museum that all can visit and enjoy.
Aside from Thomas Edison's historical achievements, Menlo Park features homes that were built between 1936 and 2005 and have a median home value of $462,500.
Menlo Park Hotspots
Menlo Park Shopping
Menlo Park Restaurants
Discover Edison's Best Neighborhoods
Edison is home to a range of neighborhoods that are designed to fit many tastes. Whether one wishes to escape from city life or wants to be right next to every modern convenience, Edison offers a neighborhood that will fit their needs. Between history and proximity to weekend getaways, there is no better place to live than Edison, New Jersey.