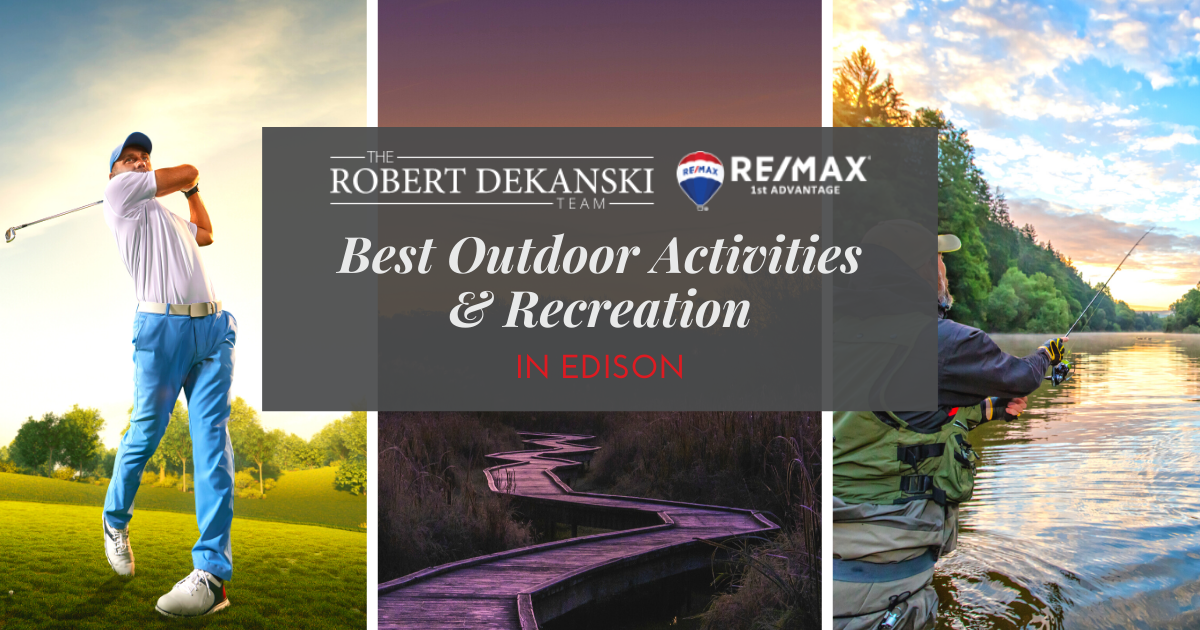 Best Outdoor Activities in Edison: Edison, NJ Outdoor Activities & Recreation Guide
In 2016, Money Magazine recognized Edison as being one of the top 50 places to live in the country, which serves to showcase how this 32-square-mile township in New Jersey has a lot to offer its residents. Edison is relatively close to all the excitement and amenities of New York City, as well as the sun-drenched fun of the Jersey Shore. The township, which was first settled in the late 1600s, also offers plenty of green spaces and sprawling land both for sale and visitation where residents can enjoy outdoor activities. The following are different activities and outdoor recreation options, such as biking and kayaking, that residents of Edison can enjoy throughout the year.
Edison Water Recreation
Water Sources in Edison
Roosevelt Park Lake
Raritan Bay
Silver Lake
Lake Papaianni
Edison residents have good access to water. The township, for instance, is bordered by the Raritan River to its south and is also home to the Dismal Swamp Preserve. Additionally, Edison's Roosevelt Park contains an eight-acre lake where anglers can try their luck at catching several fish species, including rainbow trout and largemouth bass. New Jersey does require that anglers who are between the ages of 16 and 69 years of age have a state fishing license while freshwater fishing in Middlesex County. Anglers trying to catch trout must also purchase a trout stamp. Licenses and stamps can be purchased at bait and tackle stores throughout the state.
Boating is another popular water activity in Edison. The Raritan River is navigable for 11 miles from Raritan Bay to New Brunswick, with enough depth to accommodate even larger boats. The channels on the Raritan are well marked, and there is a municipal concrete ramp in Edison where boaters can access the river. Boaters must purchase a permit at the municipal building to use the ramp. The Raritan River is also a popular spot for kayaking, canoeing, and fishing.
Hiking and Biking Trails in Edison
Edison Trails
Rutgers University Ecological Preserve Trails
D&R Canal State Park Trail
Ash Brook Reservation Hiking Trail
Valley Place Ravine
Opportunities for bikers, runners, and cyclists to hit the trails abound in Edison. Visitors to Papaianni Park can stroll or jog along a paved one-mile loop around a small lake. There is also a paved, two-mile loop around the lake in Roosevelt Park.
Those looking for a short jaunt along the Raritan can check out the Edison Boat Basin and River Walk. Although it's currently a short gravel trail that clocks in at just about half a mile, plans are for it to eventually stretch for seven miles along the Raritan River. It's a great place for people to look for eagles or other birds.
The Middlesex Greenway is another option for walkers, joggers, and bikers. This is a 3.5-mile paved trail that runs through the communities of Edison, Metuchen, and Woodbridge. A portion of this trail is also a part of the East Coast Greenway that will eventually stretch 3,000 miles from Canada to Key West.
Although not located in Edison, the Rutgers Ecological Preserve is less than five miles away in Piscataway. This 360-acre preserve, which contains one of the largest continuous patches of upland forest in the region, features 7.5 miles of picturesque trails.
Edison Parks
Parks in Edison
Thomas A. Edison Park
Inman Avenue Park
Old Post Park
Kilmer Park
North Edison Park
Polansky Park
Edison has more than 30 parks spread out across the township. They offer residents a slew of activities, including everything from basketball courts and soccer fields to bocce ball and picnic areas. A good example of what the parks in Edison have to offer is Yelencsics Park, which is located on Woodbridge Avenue. This park boasts areas to play basketball, bocce, horseshoes, and softball, and also features a playground and a pavilion.
Then there is Thomas A. Edison Park, which the Middlesex County website touts as its premiere sports complex. This park, located on Mill Road, was named for the famous inventor, whose laboratory and residence were located in Edison. This 180-acre park has many amenities, including 16 lighted tennis courts, baseball and softball fields, and even a model airplane field. Thomas A. Edison Park should not be confused with the 37-acre Edison State Park, which is located off of Christie Street and features a museum and a memorial dedicated to the inventor.
Another interesting place to visit is Oak Tree Pond Historic Site, which commemorates the Oak Tree Engagement that occurred during the Revolutionary War in June 1777. For those who love parks, the variety in Edison will be well-worth spending time in the city.
Golf Courses in Edison
Edison Golf Courses
Plainfield West Nine
Metuchen Golf and Country Club
Plainsfield country Club
Raritan Landing Golf Course
Rutgers Golf Course
Edison has three golf courses. The Metuchen Golf and Country Club was founded in 1915 and features an 18-hole regulation-length golf course, with a par of 72. It also has a pool and fitness club.
Established in 1890, the Plainfield Country Club golf course was designed by Donald Ross and has hosted two U.S. National Championships: the U.S. Amateur and the U.S. Women's Open, both in 1987. The Plainfield Country Club was also the site of the 2011 Barclays and the 2015 Barclays golf tournaments. Golfweek ranked this course number 24 on its list of "America's Greatest Classic Courses". In addition to golf, this club also offers tennis, squash, and swimming.
Situated directly across from the Plainfield Country Club is the Plainfield West Nine, which first opened in 1898. This is a semi-private facility that is open for public play. Edison also has a Top Golf, which is an entertainment venue that combines golfing games with drinking and dining. Top Golf is a popular site for parties and events and also offers golf lessons.
Other Outdoor Activities in Edison
Edison's Other Outdoor Activities
Ice skating
Bird watching
Dog walking
For those who aren't about to let a little cold weather keep them home, Edison has an outdoor ice skating rink that overlooks the lake. Visitors can free skate or take lessons, and it's not just a cold-weather spot. During the spring and fall months, this site transforms into a roller rink.
Edison is also a great place for birders. It is home to the Dismal Swamp Preserve, which bills itself as "The Everglades of Central New Jersey." Approximately 165 different bird species have been known to visit this 1,200-acre preservation area. Other creatures that wildlife lovers might spy in these wetlands include white-tailed deer, snakes, and foxes.
Edison also offers a fun place for dog owners to take their furry family members. The Edison-Metuchen Community Dog Park is a five-acre facility where canines can cavort with their four-legged friends off-leash.
Explore the Outdoors in Edison Today
The most common benefits of being outdoors include a significant reduction in stress levels and an increased sense of well-being. Exercising and playing in the great outdoors can also, of course, be good for a person's physical well-being. Fortunately, for the residents of Edison, there are many wonderful places in and around the township where they can relax in nature's beauty or get out for a good workout. Buy a new home in Edison if you want to explore the outdoor options available in Edison, NJ!