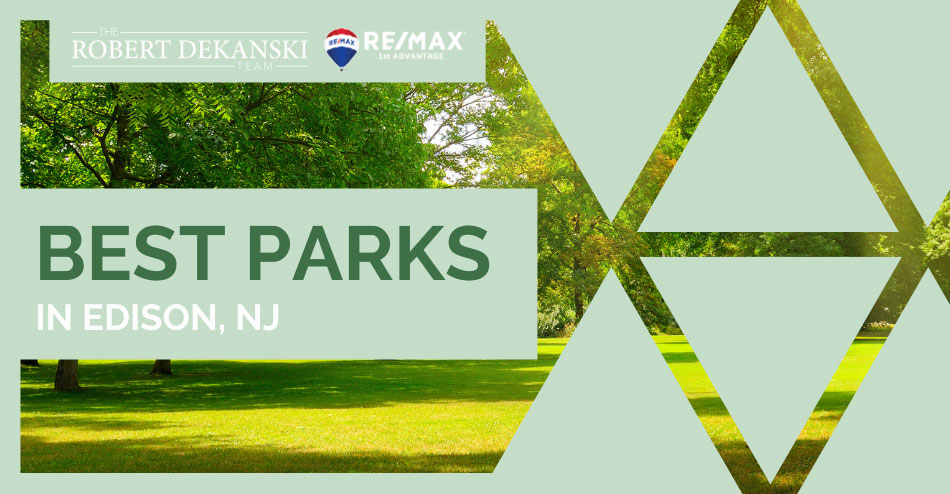 Best Parks in Edison: Edison, NJ Parks & Recreation Guide
When it's time to get active, don't miss out on some of the best parks in Edison, New Jersey. The township of Edison is in Middlesex County, only 20 miles from Staten Island. The town has more than 30 parks, including easy access to the Thomas Edison Historical State Park, a site where visitors can tour Edison's mansion and explore the main Laboratory Building.
The best parks in Edison are easy to get to and have facilities for all ages and abilities.
Roosevelt Park
Roosevelt Park Amenities
Close to Menlo Park Mall
Tennis courts
Eight-acre lake
Softball field
Three playgrounds
Picnic areas
Skating rink
Walking trails
Address: Roosevelt Park 151 Parsonage Rd, Edison, NJ 08837
Located between U.S. Highway 1 and Middlesex Avenue, the Roosevelt Park is adjacent to the Menlo Park Mall. Visitors can find the park at Parsonage Road and Oakwood Drive where the entrance is near the lake and skating rink. A second entrance at Grandview Avenue and Pine Drive is close to the basketball courts and theater. The oldest park in Middlesex County, Roosevelt was established in 1917 and spans nearly 200 acres with an eight-acre lake. Facilities include lighted tennis courts, a softball field, basketball courts, three playgrounds, picnic areas, and family skating rink. There also is a paved walkway winding around the lake where fishing is available.
Be sure to take time to stop at the Veterans Memorial and the fountain sculpture. The latter was constructed in 1936 as part of a federal arts project and refurbished in 2004. Roosevelt Park is home to the Kiddie Keep Well Camp and the Plays-in-the-Park series that takes place in the Stephen J. Capestro Theater.
Papaianni Park
Papaianni Park Amenities
One-mile walking trail
Basketball courts
Tennis courts
Baseball fields
Football fields
Soccer fields
Playgrounds
Seasonal events
Address: Papaianni Park 100 Municipal Blvd, Edison, NJ 08817
Papaianni Park and Lake can be found at 100 Municipal Boulevard, located off Route 27. The city park is near the Revolution Action Park and is walking distance to the Edison Township Municipal Court building. Visit Papaianni Park to take a stroll along the one-mile looping trail or to enjoy a picnic. The park has multiple facilities, from courts for basketball and tennis to fields for baseball, football, and soccer. It also has children's playground.
Throughout the year, various events are held at Papaianni Park. Edison residents and visitors to the township can come out for the Annual Dusharhra Festival celebrating Indian culture with food stalls, arts and crafts booths, kids' activities, and more. There also is Horror Fest held in October. This event includes a costume contest, rides, food booths, and more.
Thomas A. Edison Park
Thomas A. Edison Park Amenities
Baseball and softball fields
16 tennis courts
Soccer fields
Model airplane field
Quarter-mile track
Walking paths
Address: Thomas A. Edison Park N Patrol Rd, Edison, NJ 08837
The Thomas A. Edison Park is at the intersection of West Patrol Road and Walnut Drive and accessed from Mill Road. The park is close to the New Jersey Turnpike and Middlesex County College. Edison Park spans 180 acres and is the county's premiere sports complex.
The park is close to the Raritan River and is one of the most popular in the county. It's part of the Middlesex County Park System and is located about six miles south of the Edison State Park.
Edison State Park
Edison State Park Amenities
Laboratory Complex Visitor Center
Thomas Edison Center
Walking trails
Scenic forest
Address: Edison State Park 37 Christie St, Edison, NJ 08820
The Edison State Park is considered a National Historic Park that spans 36 acres and includes Edison's estate home, Glenmont, plus the Laboratory Complex Visitor Cente, and the Thomas Edison Center at Menlo Park. The latter is located at 37 Christie Street and includes a two-room museum. Christie Street was the first street in the world to be illuminated by the lightbulb.
In the historical state park, visitors can tour Edison's home, the Laboratory Complex exhibits, and the Visitor's Center. The Edison State Park is a stop on the Washington Rock & Roll Tour, a biking route that begins at the Bernard M. Degnan Park in West Orange.
Other Parks in Edison
Edison, New Jersey boasts a thriving park system that includes local parks with playgrounds and other facilities. These include:
Beatrice Parkway (Kingsbridge Drive and Beatrice Parkway)
Dwyer Park (Annette Drive and Gentore Court)
Blossom/Ellmyer Park (Blossum Street and Jefferson Boulevard)
Dudash Park (May and Liberty Streets)
Edison Woods Park (Karen Place and Rinear Drive)
Gateway Park (Howard Avenue)
Hale Park (Talmadge Road and Alexis Lane)
Inman Avenue Park (Inman Avene and Amhearst Street)
Kilmer Park (Plainfield and Brunswick Avenues)
Lindquist Park (Beatrice Parkway and Hegel Avenue)
Elder Park (Grove Avenue and Firethorn Drive)
Nevsky Park (Delancy Street and New York Boulevard)
North Edison Park (Cleveland Place and Grove Avenue)
Old Post Park (Gurley and Stevens Roads)
Paterniti Park (Vineyard Road)
Polansky Park (New Dover Road and Grove Avenue)
Schenkmeyer Park (Edgemont Road and North Eighth Avenue)
Shamrock Park (Shamrock Way)
Capestro Park (Grandview Avenue and Roosevelt Boulevard)
Winter Street Park (George and Anita Avenues)
Yelencsics Park (Woodbridge Avenue)
Look to the fabulous and scenic parks of Edison, New Jersey for outdoor recreation and activities year-round. Edison parks have everything from sports fields to playgrounds, trails, picnic sites, fishing lakes, and more. Both the Township and County parks play host to arts and cultural events as well as seasonal festivals. Get outside today and plan a visit to one of Edison's top parks.