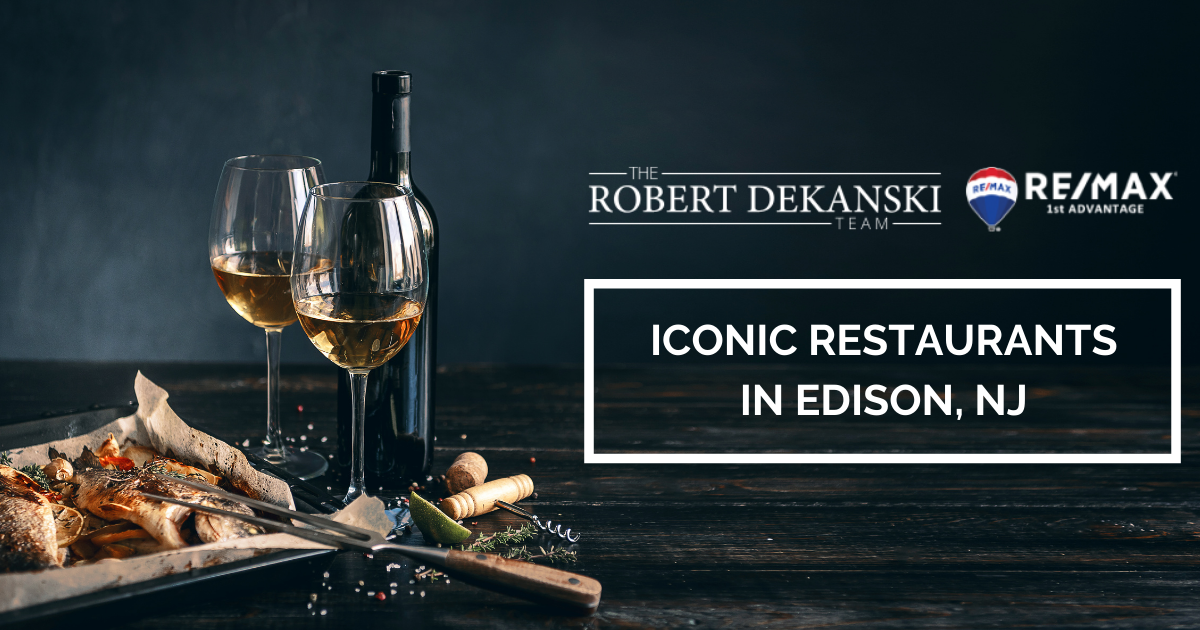 Best Restaurants in Edison: The Best Places to Eat in Edison, NJ
Those living in or planning to relocate to Edison, New Jersey have many great restaurants to choose from throughout the township. This historic area is popular for people who may work in other parts of New Jersey or as an easy commute into New York City, as it is less than an hour's drive from here. Foodies looking for a great meal in Edison should consider driving into the city to enjoy dinner at the following six iconic restaurants.
Skylark Diner & Lounge
Popular Dishes at Skylark Diner & Lounge
Traditional Eggs Benedict
Skylark Salad
Blueberry Stuffed French Toast
Pork Chop Murphy
Cinnamon French Toast
Huevos Rancheros
Address: Skylark Diner & Lounge, 17 Wooding Ave, Edison, NJ 08817
Skylark Diner & Lounge was designed with inspiration from the 1960s and '70s commercial jet travel and airport lounges. It has bright colors, bold concepts, artistic murals, and unique lighting with custom chrome fixtures and colorful space-aged pendants. But it isn't just the fun architecture of this diner that draws people in — the diner serves breakfast, lunch, dinner, and dessert to around 7,000 guests every week! With their "All Day Dining" menu, guests can choose whatever type of food they'd like at any time of day.
The Skylark Diner & Lounge is open Monday through Thursday from 9 a.m. to 8 p.m., Friday from 9 a.m. to 9 p.m., Saturday from 8 a.m. to 9 p.m., and Sunday from 8 a.m. to 8 p.m. It has been featured on TV shows like Jerry Seinfeld's Comedians in Cars Getting Coffee and Food Network's Diners, Drive-Ins, and Dives.
LouCas
Popular Dishes at LouCas
Eggplant Rolatini
Seafood Capellini
Shrimp Scampi
Shrimp Fra Diavlo
Clams Casino
Lobster Ravioli
Address: The Shoppes at Colonial Village, 9 Lincoln Hwy, Edison, NJ 08820
This Italian and seafood restaurant, from the collaboration between chefs Loucas Sofocli and Alex Charlambous, is a popular Italian restaurant with an emphasis on seafood in Edison. LouCas is open for lunch and dinner Tuesday through Sunday.
LouCas is not just a restaurant — it also offers banquet space for parties and other events. There are three available rooms for various party sizes, whether small, medium, or large. The Garden Room Alcove accommodates up to 16 people, perfect for a large group, friends, or small work dinner. The Dining Room can hold 50 guests, while the Lower Level Garden Room accommodates up to 120 people.
LouCas specializes in hosting for rehearsal dinners, showers, christenings, engagement parties, anniversaries, business functions, retirements, Bar Mitzvahs, and Bat Mitzvahs.
Le Peep
Popular Dishes at Le Peep
French Toast
Eggs Benedict
Desperado Skillet
Banana Fosters Waffle
Stuffed French Toast
Grande Skillet
Address: Wick Shopping Plaza, 561 US-1 #10e, Edison, NJ 08817
For breakfast, brunch, or lunch, people may want to swing by Le Peep. Located on Highway 1 in Edison, this restaurant aims to serve large portions with lots of flavors. The culinary concept of Le Peep hopes to read like a cookbook, offering simple meals with fresh ingredients. Le Peep also offers delivery and catering options, including scrambled eggs, crêpes, breakfast burritos, sandwich trays, salads, and more. Le Peep is open every day from 8 a.m. to 2 p.m.
Delhi Garden Restaurant
Popular Dishes at Delhi Garden Restaurant
Chicken Tikka Masala
Saag Paneer
Tandoori Chicken
Butter Chicken
Lamb Rogan Josh
Chicken Makhani
Address: Delhi Garden Restaurant, 1677 NJ-27 #2, Edison, NJ 08817
Satyan Sethi is the owner of Delhi Garden Restaurant, which has become one of the most successful Indian restaurants in the United States. He believes that his passion for making Indian food and for serving people has helped his success. Sethi also has a quote on his website of him saying, "A chef isn't just a professional who can serve you his best here at Delhi Garden. He is also the person who enjoys himself while serving you! "
The restaurant is open Wednesday through Monday from 11 a.m. to 2 p.m. and from 5 p.m. to 9 p.m. Delhi Garden Restaurant also has catering services available, with options such as Mixed Vegetable Pankoras, Chicken Kadhai, Chicken Tikka Masala, Punjabi Kadhi, Butter Naan, and Jeera Rice. The restaurant offers indoor dining, takeout, and curbside pickup.
Phở Anh Đào
Popular Dishes at Phở Anh Đào
Pho Xe Lua
Bun Bo Hue
Cha Gio
Pho Thai
Thit Nuong
Goi Cuon
Address: Phở Anh Đào, 775 US-1, Edison, NJ 08817
With fresh ingredients at the forefront and offering an array of Vietnamese cuisines like Pho, Rice Noodles Soup, Seafood, and Vegetarian Dishes, Phở Anh Đào is located on Highway 1 in a beautiful corner of Edison.
Open Monday through Sunday from 11 a.m. to 9 p.m., this restaurant offers both delivery and takeout and has a very small front dining room for those wishing to eat in.
Tabaq Restaurant
Popular Dishes at Tabaq Restaurant
3-Piece Lamb Chops
Chicken Karahi Special
Chicken Biryani
Chicken Behari
Chicken Tikka Masala
Address: Tabaq Restaurant, 1625 Oak Tree Rd, Edison, NJ 08820
Serving Halal food, Tabaq Restaurant has authentic, time-tested recipes with a great atmosphere to match. The food at this restaurant aims to represent many varied regional cuisines of Pakistan. With home-style tandoori cooking and catering services available, Tabaq BBQ Restaurant even offers a daily lunch buffet.
The restaurant also doubles as an event space and has room for a party of 50 to 70 people for corporate functions, showers, or other parties. Tabaq serves a lunch buffet from 11:30 a.m. to 4 p.m. on Saturdays and Sundays, and are open regularly Monday through Thursday from 10 a.m. to 11 p.m., Friday and Saturday from 10 a.m. to 12 a.m., and Sunday from 10 a.m. to 11 p.m.
Dining in Edison, New Jersey
With these delicious dining options and a wide variety of cuisines and dishes to select, choosing restaurants in Edison may not be easy. No matter what time of day someone is hungry or what type of meal they would like to go out and have—or even order in to enjoy in their Edison home—there are some delightfully delicious places in this city. Whether someone is craving a simple breakfast or brunch from a diner, a fancier Italian seafood meal, or perhaps something more exotic, they can find what they're craving in Edison.