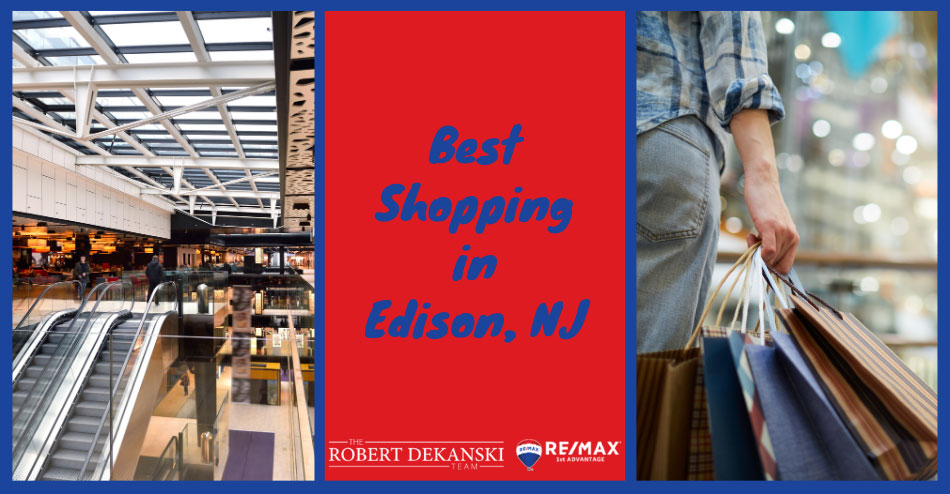 Best Shopping in Edison: Edison, NJ Shopping Guide
Edison is a township of about 100,000 located in Middlesex County, N.J. The community lies only about 35 miles from New York City and is considered part of the greater New York metro area. Despite its proximity to the Big Apple and all it has to offer, Edison has plenty of shopping available in the city. When you live in Edison, you never have to feel obligated to drive to NYC to shop—with so many great options right in your own backyard, you can save your gas and shop locally.
Menlo Park Mall Shopping
155 stores, restaurants, and entertainment options
Lucky Jeans
American Eagle Outfitters
Forever 21
The Disney Store
The Cheesecake Factory
Address: Menlo Park Mall 55 Parsonage Rd, Edison, NJ 08837
Hours: Monday–Saturday, 11 AM–7 PM; Sunday, 12–6 PM; individual stores will vary
Originally an open-air structure that launched in 1959, Menlo Park Mall became fully enclosed in 1967 and has undergone several renovations over the years for modernization and updates. A major renovation in the early 1990s took Menlo Park Mall from a one-level complex to a two-level complex, effectively doubling the amount of retail and commercial space.
Menlo Park Mall boasts about 155 stores, boutiques, restaurants and entertainment venues. The mall includes two department stores—Macy's and Nordstrom—that serve as the mall's anchor stores.
There are over 50 apparel and accessory retailers for men and women, from high-end designer and luxury brands like Lucky Jeans, Michael Kors, and Guess, to popular names like Forever 21, American Eagle Outfitters and Old Navy. Among the other apparel and accessory stores are Abercrombie & Fitch, Express, Forever 21, New York & Company, Icing, Banana Republic and Hollister.
For kids, there is The Disney Store, Game Stop, Build-A-Bear Workshop, Justice, Kid's Foot Locker, and The Slime Factory, among others. Shoppers who need to take a break from shopping can browse the shelves at Barnes & Noble or relax with a cup of coffee in its café. Shoppers can also grab a bite at several restaurants, including The Cheesecake Factory, The Rainforest Café, Chick-fil-A, Chipotle, Jamba Juice, Panera Bread, Smashburger, Starbucks and more.
Festival Plaza Shopping
Boom Boom Chicken
H Mart
C2 Education
Island Spa & Sauna
Spice 24
DunHuang Lanzhou Beef Noodle
Address: Festival Plaza 1711-1783 Lincoln Hwy, Edison, NJ 08817
Festival Plaza is known for its many restaurants and cafés, which include Boom Boom Chicken, DunHuang Lanzhou Beef Noodle, Spice 24, So Kong Dong Tofu House and Picnic Garden BBQ Buffet, among others. The plaza is anchored by the H Mart grocery store, a Korean-American supermarket chain that carries groceries from Korea, Japan, China, India, and even has some American staples.
C2 Education in offers test prep, tutoring, college counseling and other educational services for students. Festival Plaza is also home to Happy Mart, a convenient dollar store. It offers a wide array of party goods, as well as household items.
In addition, Festival Plaza is home to Island Spa & Sauna, where customers can relax and set aside the stresses of the day with a variety of spa services. The spa offers a number of traditional Korean dome-shaped saunas that each have a different treatment, such as salt, charcoal, ice, and clay.
Tano Mall Shopping
Edible Arrangements
Carvel Ice Cream
Tony's Restaurant & Pizza
Manhattan Bagel
Lotte Plaza Market
Rite Aid
Address: Tano Mall 1199 Amboy Ave, Edison, NJ 08837
Tano Mall is an open-air plaza is home to a number of retailers, restaurants and businesses, from Rite Aid to Edible Arrangements. Visitors to Tano Mall are able to treat themselves to breakfast, lunch, and dinner due to the plaza's diverse offering of eateries featuring everything from bagels to pizza.
Built in 1973, the mall offers 110,000 square feet of leasable space. Tenants include Lotte Plaza Market, a Korean and Asian supermarket which opened at Tano Mall in 2019 and serves as an anchor store. Tano Mall is the store's first New Jersey location.
Carvel Ice Cream is another Tano Mall favorite among customers, especially on Wednesdays where they offer a buy-one-get-one-free deal on ice cream sundaes. Carvel is known for its fresh, handmade ice cream sundaes and shakes, as well as its array of take-home treats like ice cream cakes.
Other tenants include Magyar Bank, Manhattan Bagel, Sushi Saga, Tony's Restaurant & Pizza, and Wine O Land.
Wick Shopping Plaza Shopping
99 Ranch Market
Quaker Steak and lube
Once Upon a Child
Sally Beauty Supply
Autozone
Planet Fitness
Address: Wick Shopping Plaza 561 US-1, Edison, NJ 08817
Built in 1987, Wick Shopping Plaza is an open-air shopping center located at 561 U.S. Highway 1 in Edison. The plaza is open from 9:30 a.m. to 9 p.m.
Wick Shopping Plaza features nearly 240,000 square feet of leasable space with 35 stores and businesses. It is home to a variety of retailers, restaurants and businesses. Among the plaza's tenants are Investors Bank, AutoZone, Once Upon a Child, Sally Beauty Supply, Planet Fitness, and Quaker Steak and Lube.
Retail is anchored by TJ Maxx, a discount department store. TJ Maxx is considered the leading off-price apparel and home furnishing retailer. The store carries fashions for men, women and children, as well as home decor and furnishings. The plaza's other anchor store is 99 Ranch Market, a Taiwanese-American supermarket chain.
After a day of shopping in Edison, it's clear to see that the options are limitless. No matter what specialty groceries you need or what food you're craving, there's a place to get it here in Edison. The next time you're looking for things to do or want to go on a shopping spree, try out some of the great options in your own backyard and save yourself a trip to the big city.