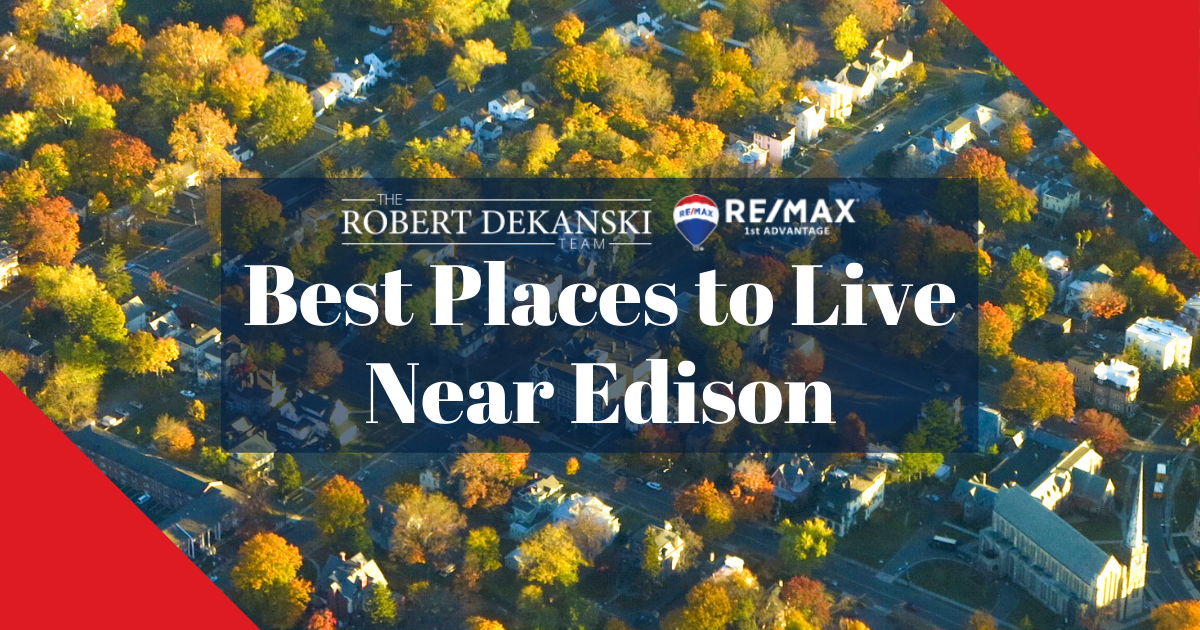 Best Suburbs Near Edison: Edison, NJ Area Town and Edison Guide
Prospective homeowners looking for housing in Edison, New Jersey, may want to consider widening their search to include some of the finest suburbs in and around the township. These suburbs offer many amenities in addition to proximity to New York City. By opening up their home search to Edison's suburbs, prospective homeowners may be able to increase their chances of finding their dream home.
Metuchen
Metuchen Amenities
Library
Centennial Park
George Olmezer Memorial Park
Oakland Park
Metuchen is a landlocked island, a small community completely surrounding Edison. The township is proud of all that it has to offer its residents, including a charming and walkable downtown.
Until 1870, Metuchen was a part of Woodbridge. It became a separate community in March 1900 when it was incorporated as a borough. It was also around this time that the community's proximity to New York City started to draw the attention of those working in the Big Apple. Soon, Metuchen homes were being bought up by New York businessmen. Today, it is still a popular New York City commuter borough, though one that has somehow managed to maintain its small-town vibe.
Highland Park
Highland Park Amenities
Donaldson Park
Donaldson Dog Park
The Meadows
The Good Earth Community Garden
Highland Park is a small, 1.8-square-mile borough located just across the Raritan River from Rutgers University. The community is also located close to the New Jersey Transit train station in neighboring New Brunswick, making it a good choice for those who commute to New York City.
This borough was once part of the Raritan Township. On March 15, 1905, it split from that community (which is now known as Edison) for a number of reasons, including a desire to have its own school district.
Many of the homes in this borough are older, even historic. In fact, one of Highland Park's most desirable neighborhoods is the Livingston Manor Historic District. For the most part, the single-family homes in this section were built between 1906 and 1925 and are of a variety of architectural styles, including Colonial Revival, Foursquare, and bungalows. For those who prefer a more modern abode, Highland Park also has newer properties and condos available.
Iselin
Iselin Amenities
Iselin Park
Metropark Train Station
Iselin is an unincorporated community located northeast of Edison. Considered a census-designated place, it can be found in Woodbridge. Iselin is bounded by Route 1 on its east side and Edison to the west. The Garden State Parkway runs through the community, making this a great location for those who need to commute via this road for work.
This small community was originally known by two other names: Perrytown and Unionville. Its name was changed in honor of a New York investment philanthropist named Adrian George Iselin, who in 1870 established a finishing school for girls in this neighborhood. Today, Iselin is a thriving community with many restaurants and cafés to offer its residents.
Scotch Plains
Scotch Plains Amenities
Ash Brook Reservation Hiking Trail
Kramer Manor Park
Brookside Park
Jerseyland Park
Scotch Plains is located on a ridge within the Raritan Valley and Rahway Valley regions, just north of Edison and just south of the Phillipsburg-Newark Expressway. The area was first incorporated as Fanwood Township on March 6, 1878, but was renamed Scotch Plains on March 29, 1917.
Two major roads, Route 28 and U.S. Route 22, and the NJ Transit's Raritan Valley Line, cut through Scotch Plains. Additionally, this township is just 14 miles from Newark Liberty International Airport.
Sayreville
Sayreville Amenities
Sayreville Kennedy Park
Bailey Park
Ken Buchanan Riverfront Park
Julian L. Capik Nature Preserve
Raritan Bay Waterfront Park
This borough is located southeast of Edison and approximately 20 miles southwest of Newark. The Raritan River forms its northern border, and the South River forms its western border. Before becoming Sayreville, this area was first known as Roundabout and then as Wood's Landing. It was renamed in the 1860s for James R. Sayre Jr., who owned one of the biggest brick-making companies in the world at the time.
Sayreville was first incorporated as a township in April 1876. That changed in April 1919, when it was reincorporated as the Borough of Sayreville. Transportation-wise, the community is well-connected. The Garden State Parkway cuts through Sayreville, as does U.S. 9. Residents driving throughout the community can also easily access several other major thoroughfares, including the New Jersey Turnpike and Interstate 287.
Sayreville has two musical claims to fame: the famous Starland Ballroom concert venue is located in this borough, and it is also Jon Bon Jovi's hometown.
Somerset
Somerset Amenities
Rutgers Heights Park
Castleton Park
Hawthorne Park
Bascom Park
Somerset is situated to the southwest of Edison, just across the Raritan River. It is an unincorporated community that lies within Franklin in Somerset County. Somerset's biggest claim to fame is being the site of one of the first Marconi Wireless Stations in the U.S. The facility was used by the United States Navy in 1917 to send transatlantic communications during the first World War.
Today, the site of this station is now tiny Marconi Park, which is about the size of a traffic island. This park has a single bench and a monument to the Marconi station that once sat here. Marconi Park is also where the township holds its annual holiday tree lighting.
Somerset County was first settled in 1861, and its name is believed to have derived from a county of the same name in Southwest England.
Discover Edison's Best Suburbs
When it comes to buying a home, the more options a prospective homeowner has, the better. That's why it's important that buyers searching for a home in Edison are aware of the suburbs surrounding this township, as it is possible one of these communities may contain their dream home.