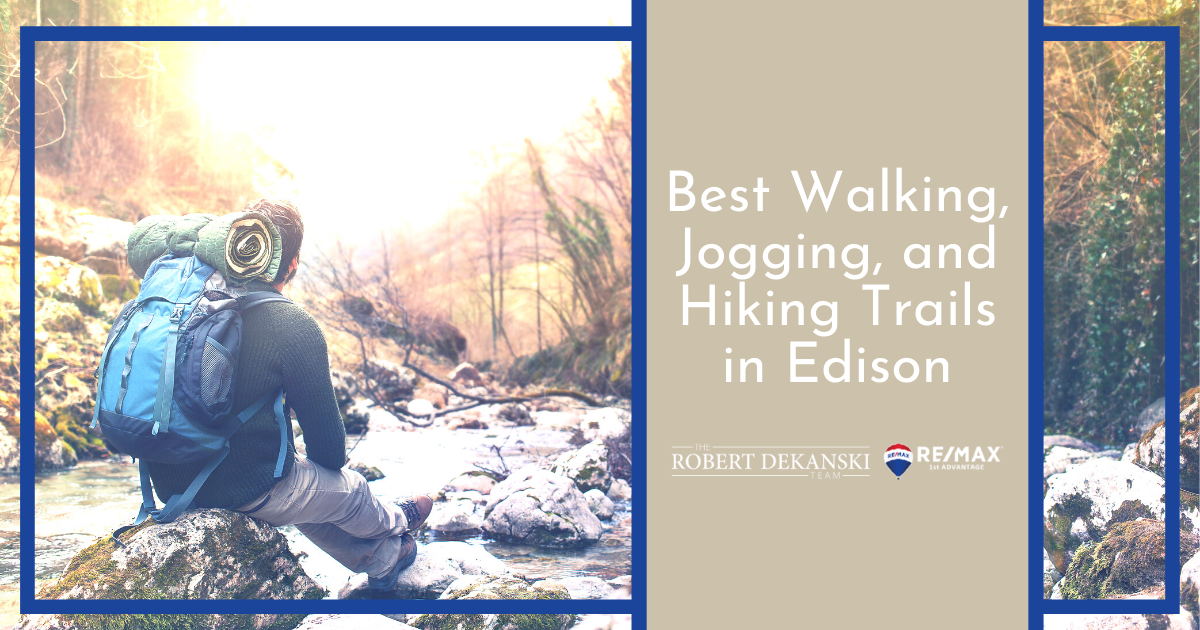 Best Walking and Jogging Paths in Edison: Edison, NJ Walking and Hiking Trails Guide
The local government in Edison, New Jersey, devotes extensive resources to maintaining its local systems of parks and trails, with over 123 trails that extend over a total distance of more than 873 miles. Even though New Jersey is claimed to be the United States' most densely populated state, it offers residents and visitors alike plenty of opportunities to escape city and suburban life, so that everyone can bask in the great outdoors. Those considering a move to Edison and would like to purchase a condo or luxury home located near Edison's best trails should become familiar with the following places.
Edison State Park
Address: Edison State Park, 37 Christie St, Edison, NJ 08820
From all the options enumerated on this list, Edison State Park falls on the side of less physically challenging and provides plenty of opportunities for time indoors or resting. This state park is devoted to Thomas Edison's famous Menlo Park laboratory, where over 600 inventions were developed by the beginning of the 20th century, which continues to fascinate people today. In fact, the "main" street in this park, Christie Street, is the first street in the entire world to have been lit by a lightbulb.
Although Edison State Park covers a total of 37 protected acres, the main historical facilities cover two acres, around which there are a couple of relatively easy nature trails that pass through a small meadow, a small pond, and a few ravines. Because this is a historical attraction, visitors will find it easy to access by car (with on-premises parking) or by NJ transit.
Rutgers University Ecological Preserve
Address: Rutgers University Ecological Preserve, 83 Rockafeller Rd, Piscataway, NJ 08854
The Rutgers University Ecological Preserve includes all 360 acres of protected woodlands in Piscataway, New Jersey. It was established in 1976 with two primary goals in mind: the first was to protect and conserve the woodlands on its land, and the second was to provide a live teaching area that can be used with students of all ages.
The land itself has been important throughout American history, providing campgrounds to both American and British troops during the Revolutionary War, before it became part of rich, local farming estates. It even served as a WWII staging area. The preserve was established in 1976, from which point the land entered protected status and assumed its conservation-focused role.
Almost eight miles of trails of varying difficulty levels are available at this preserve, which is accessible by car (with several parking lots available) or Rutgers campus bus. There are hiking and biking options available, allowing natural enthusiasts spanning different interests to enjoy the preserve with their preferred pace and style. The preserve is celebrated for the wide range of birds, amphibians, and small animals that are visible even during a casual walk.
D&R Canal State Park Trail
Address: D&R Canal State Park Trail, Delaware and Raritan Canal State Park Trail, Somerset, NJ 08873
The D&R Canal State Park Trail system is huge, with over 70 miles of trails accessible to the public. Visitors can hike, jog, mountain bike, canoe, kayak, fish, or even horseback ride to their heart's content in this park, with offerings at every difficulty and skill level.
The Delaware and Raritan Canal State Park is part of the National Recreation Trail System, meaning that extensive resources are dedicated to preserving and maintaining its functionality as a core recreational center. It also helps to connect various wildlife ecosystems, boasting figures such as over 160 different birds observed within the park's confines.
Even history buffs can find attractions along the trail systems, with various bridges, 19th century tender houses, cobblestone pathways, and arches nestled throughout the landscape, connecting many local towns and villages. Several government organizations partner up to preserve and operate the park and its trails, which helps to keep it opening and thriving year-round.
Papaianni Park
Address: Papaianni Park, 100 Municipal Blvd, Edison, NJ 08817
Papaianni Park is home to an easy one-mile trail around its lake for which it is aptly named: Lake Papaianni. Most visitors to this paved asphalt trail choose to walk or jog on it, although it is worth noting that fishing is an option within this park. Other visitors come to watch the geese and other birds at the lake. Best of all, people can bring their dogs along for a jaunt around the trail, provided their canine companions remain leashed at all times.
Oak Ridge Park Trail
Address: Oak Ridge Park, 136 Oak Ridge Rd, Clark, NJ 07066
Oak Ridge Park Trail is a 3.5-mile loop that can accommodate all hiking skill levels, and on which visitors most often choose to either walk, hike, run, or bike. Visitors frequently note how flat the trail is, which makes it accommodating for all skill levels and fitness goals. Interestingly enough, Oak Ridge used to be a golf course, which was then later converted into a park, with this trail based around what golf carts used to use to commute around the park.
Watchung Reservation
Address: Watchung Reservation, Historic Trail, Mountainside, NJ 07092
The Watchung Reserve is a 2,000+ acre nature preserve in northern Union County, and is therefore part of the Union County Parks System. One thing that makes this park system particularly notable is that it was designed by the Massachusetts-based Olmstead Brothers, who are best known for designing New York City's own Central Park.
The Watchung Reservation Trail is six miles in length. One key feature of this trail is the curated markers contained all throughout the trail system, which elaborate on all the various prior uses of the land that now comprises the park. This comes alongside other markers that identify the trees and animals that may be encountered along the way. Although the Watchung Trail has various access points throughout, it was designed to ideally start and stop at the Trailside Nature & Science Center.
Explore the Best Trails Near Edison
There is a wide range of landscapes available in New Jersey. Between cars and public transportation, it is fairly quick and easy to access any of these trails and their associated parks. In fact, the hardest part might be discovering them all! Exploring a map and asking local residents is a great way for people to learn more about what is open for exploration.