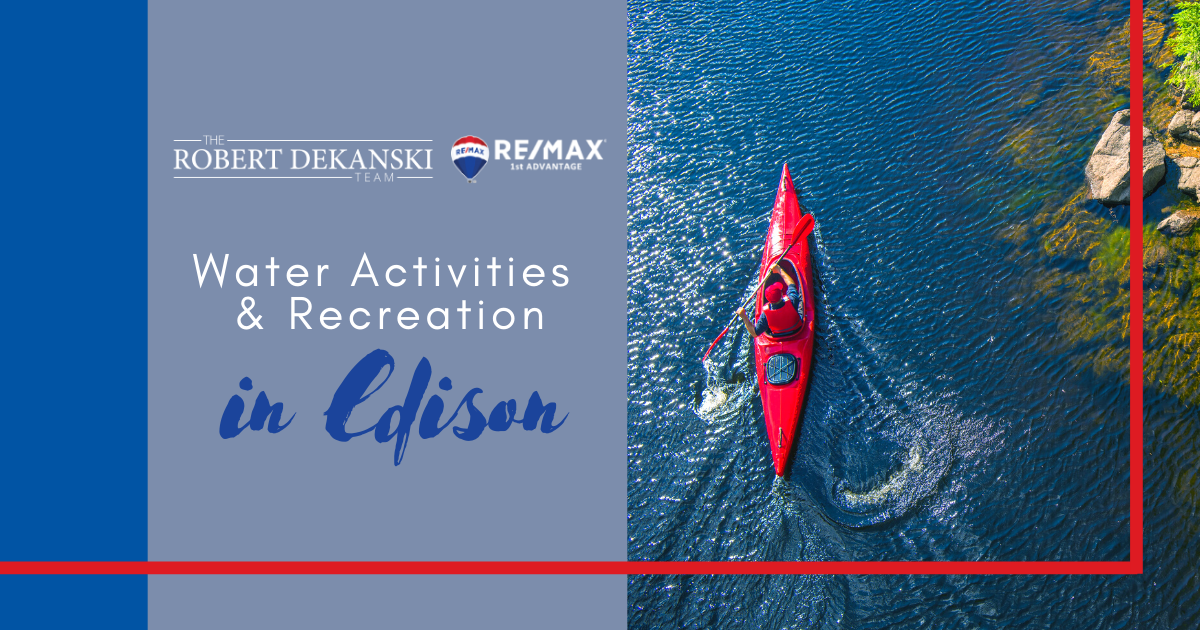 Best Water Activities in Edison: Edison, NJ Water Activities & Recreation Guide
Aside from hosting the Raritan Center, the largest industrial park on this side of the Mississippi River, Edison has many water recreation activities that locals and visitors alike can enjoy throughout the year. Yes, even during a classic New Jersey winter, it is possible to enjoy a day on the water, as long as people remember to bundle up and stay warm. Those who would rather wait until the summer months arrive can take note of the following best water recreation in Edison to create a bucket list of fun, summer activities.
Fishing in Edison's Local Lakes
Lakes Near Edison
Lake Papaianni
Roosevelt Park Lake
Clark Reservoir
Lake Nelson
Farrington Lake
Edison, NJ is perfectly positioned for freshwater fishing at lakes, ponds, rivers, and bays located throughout Middlesex County. Some of the most notable fishing spots include the Raritan River, Raritan Bay, Roosevelt Park Pond, Manalapan Lake, and Helmetta Lake. Individuals will find striped bass, bluefish, bluegill, carp, yellow perch, catfish, eel, trout, and a number of other fish in these freshwater fishing locations.
Anyone interested in fishing who is 16 years old to 69 years old must hold a valid New Jersey state fishing license. Those who will be fishing for trout must obtain a trout stamp. If residents have guests who are visiting, the state sells vacation licenses that are valid for two days or seven days.
While most of the freshwater fishing locations in Middlesex County have fish that are safe to eat, not all locations offer fish that are suitable for consumption. Spring Lake Park is one of these areas. The state government offers updated advisories about fish and if they are safe to eat.
Crystal Springs Family Waterpark
Crystal Springs Family Waterpark Attractions
Kiddie pool
Lap pool
Recreation pool
Spray pool
Family pool
Known for being the first municipal water park in New Jersey, people are destined to have a full day of fun at Crystal Springs Family Waterpark. The waterpark offers a kiddie pool, lap pool, recreational pool, family pool, and spray park.
Due to the nature of New Jersey weather, the waterpark is only open seasonally. On average, the park is open by Memorial Day each year. Rates start at $20 per ticket and are subject to change each season.
Depending on demand, Crystal Springs Family Waterpark does offer chair rentals in addition to life jackets. On busy days, the park often sells out of both items. Therefore, the park advises guests to bring their own seating accommodations. If electronics need to be brought into the park, lockers are available for rent. This will ensure all devices stay close by if needed without getting soaked in water.
Personal speakers and grills are not permitted in the park. Those who are interested in grabbing a bite to eat will find reasonably priced items at the poolside concessions stands. However, people may also bring their own food and snacks with them.
Boating in the Raritan River
Boat Rentals in Edison
Charter Sails LLC
Raritan River Boat Club
Water Music Yacht Charters
Spruce Run Boat Rentals
The Raritan River offers over 30 miles of scenic views for boaters. Unlike most rivers, the Raritan has an eclectic mix of urban settings, small river towns, woodlands, and bay views. Aside from the views on shore, an abundance of wildlife lives in and around the river. Those who are particularly interested in birdwatching are encouraged to pack a pair of binoculars and keep their eyes on the sky. It is common to see raptors, songbirds, and aquatic birds (such as egrets and herons) while spending time on the Raritan River.
Boaters who are interested in settling into the Raritan River have many access points, which begin at Old York Rd. in Branchburg and wind east through riverfront towns like Manville, Bridgewater, Piscataway, New Brunswick, Highland Park, Sayreville, and Perth Amboy. The final access point is the Raritan Bay. Many of the same access points for boaters can also be used for those who enjoy kayaking, canoeing, and paddleboarding.
Visit Beaches Near Edison
Parks With Beaches Near Edison
Raritan Bay Waterfront Park
Cliffwood Beach Waterfront Park
Old Bridge Waterfront Park
Bicentennial Park
No water recreation activity list would be complete without mentioning the beach. Due to its geographical location, Edison offers residents and tourists alike the opportunity to check out numerous beaches. Top-rated beaches close to Edison (listed from nearest to farthest) include Cliffwood Beach, Keansburg Beach, Ideal Beach, and Bayshore Waterfront Park. While New York beaches are just across the Sand Hook Bay & Lower Bay, they do require individuals to take a long drive, train ride, or ferry ride.
While spending time at beaches near Edison, individuals can enjoy a number of activities, including beach volleyball, skimboarding, paddleboarding, metal detecting, seashell collecting, tanning, and other beach-friendly activities. Some chairs and umbrellas may be available for rent, depending on the beach.
Enjoy Edison's Best Water Recreation Activities
Water recreation activities are available in and around Edison. Due to the township's proximity to lakes, rivers, bays, and waterparks, people can find things to do year-round. Those interested in winter water activities can enjoy fishing and boating. However, it is advised to keep layers on and pack extra warm, dry clothes.
For those who want to save water recreation activities in Edison for the summer, there are more than enough things to do to keep them busy. From the first municipal water park to enjoying fun in the sun at beaches and other bodies of water, residents and visitors can plan multiple adventures after heading out from their Edison condo or new home. The only question is, what is the first water recreation activity on the agenda?