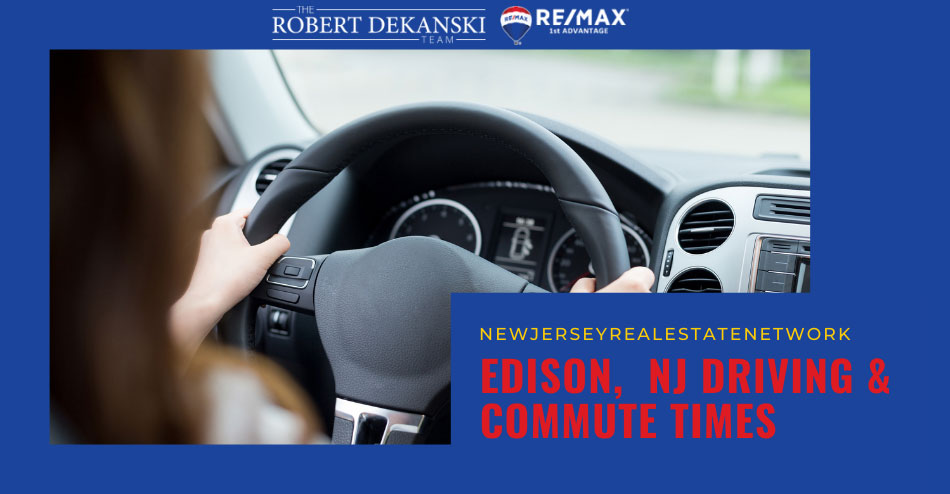 Edison, NJ Driving & Commute Times
With approximately 100,000 residents, Edison, New Jersey, is located on the left bank of the Raritan River in Middlesex County. First referred to as Raritan Township, the name of the town was changed to Edison in 1954 to pay homage to Thomas Edison, whose laboratory was located in the Menlo Park section of the township. Christie Street, near Edison's laboratory, was the first street in the world to utilize electricity for lighting.
Edison is approximately 30 square miles in size, but contains an astounding 307 miles of roadway within its borders, creating an extensive network of highways. The following information provides new residents and visitors with what they need to know while driving in Edison.
Get to Know Edison's Major Roads
There are a multitude of highways that pass through Edison and connect the area to major cities, including New York City, Philadelphia, Trenton, Boston, and Washington, D.C. Major routes that pass through Edison include the New Jersey Turnpike, state routes 27 and 440, U.S. Route 1, Interstate 287, the New York State Thruway.
The New Jersey Turnpike is an entire system of highways maintained by the New Jersey Turnpike Authority, which acts as a major route between New Jersey, Delaware, Pennsylvania, New York, and beyond. It is the sixth-busiest toll road in the United States. The main section of the turnpike is 117 miles long and was completed in 1952. The toll fee paid by each car, bus, or truck depends on the size of the vehicle and the distance traveled along the route. New toll rates went into effect on September 13, 2020.
Today, over 80% of all tolls paid on the New Jersey Turnpike are paid using the E-ZPass system. In order to use the system, a driver must create an account with a minimum deposit of $25, place an E-ZPass tag on their car, and use the E-ZPass lanes. Discounts are available to seniors and fuel-efficient vehicles. The tag is read as drivers pass through toll booths, and the toll fee is deducted from their account.
The turnpike can be confusing to new residents, especially between Exit 6 and Exit 14 where the turnpike is divided into four separate roadways. At Exit 10 in Edison Township, there is a 13-lane tollgate and a unique intersection providing access to multiple highways and interstates.
The inner lanes of the turnpike are restricted to cars, while the outer lanes contain buses, trucks, and additional cars. There are 23 rest stops along the turnpike, which provide options for food and fuel.
What to Expect During Rush Hour
Drivers and commuters encounter heavy traffic during rush hour in Edison Township. The commute time in Edison is 35.6 minutes, which is longer than the national average of 26.9 minutes. Approximately 68% of residents in Edison drive their own cars to work, while 10.3% of residents carpool with others and 13.6% take mass transit.
The speed limit throughout the state of New Jersey is lower than in other parts of the country. Within city limits, the speed limit is typically 20-35 miles per hour. On the freeway within the city limits, the speed limit is set between 50 and 65 miles per hour.
Parking in Edison
There are several parking areas managed by Park America, Inc. in Edison. There is a parking lot at the intersection of Plainfield and Central Avenues with a fee of $5 per day or $225 per quarter. There is currently a waiting list for this parking lot. However, there are several additional parking areas that utilize quarterly permits and daily pay stations. Lot 1, located at the intersection of Reed Street and Central Avenue, has 198 standard spaces and 20 accessible spaces that are available to rent daily or by permit by the quarter. The daily spaces are only available after 10:00 a.m.
Lot 2, on Reed Street, has 137 standard spaces and is for permit parking only. Lot 3 on Kilmer Road contains 477 standard spaces that are available for permit and daily parking. In Lot 3, spaces 1001-1119 are available for daily parking before 10:00 a.m. only. All spaces in Lot 3 are available after 10:00 a.m.
Residents of Edison must apply for a residential parking permit with the Department of Health and Human Services. The application process requires submission of a form plus a photocopy of the registration for each vehicle registered at the resident's address. Visitor parking permits are available but limited to three days per visitor and are non-transferable. Residential permits are also non-transferable. In order to comply with parking regulations, visitor and host parking permits must park on the same block as the host. Visitor permits may not be used for commuter parking.
Other Helpful Things to Know About Driving in Edison
The New Jersey Transit provides train service from Edison station to Newark Penn Station and Penn Station New York on the northbound trains, and to Trenton Transit Center on the southbound route via the Northeast Corridor Line with connecting service to Amtrak and Southeastern Pennsylvania Transportation Authority. New Jersey Transit bus service provides transportation on the 62 route to Newark and several local routes. Within the county, the Middlesex County Area Transit (MCAT) operates daily.
Residents, visitors, and those who have just moved to Edison should familiarize themselves with New Jersey's traffic laws before attempting a commute. For example, the New Jersey Turnpike's slow lane is the right lane, and the left lane is for passing only. Additionally, drivers are required to stop at least 25 feet away for a school bus if the bus is using flashing red lights or is stopped. Drivers are required to use headlights beginning 30 minutes after sunset and 30 minutes before sunrise. Headlights are also required when rain is heavy enough for windshield wiper use or when visibility is reduced to 500 feet or less. Drivers are required to honk prior to passing a cyclist or a skateboarder.
Plan Your Drive in Edison
The connection of many major thoroughfares in Edison has made the city an important center for transportation in the north central New Jersey area. The easiest way to travel the New Jersey Turnpike with minimal stops is to purchase an EZ-Pass tag. With this time-saving measure, commuting throughout Edison should still be planned in advance, as there are traffic laws and parking requirements that residents and visitors should familiarize themselves with.