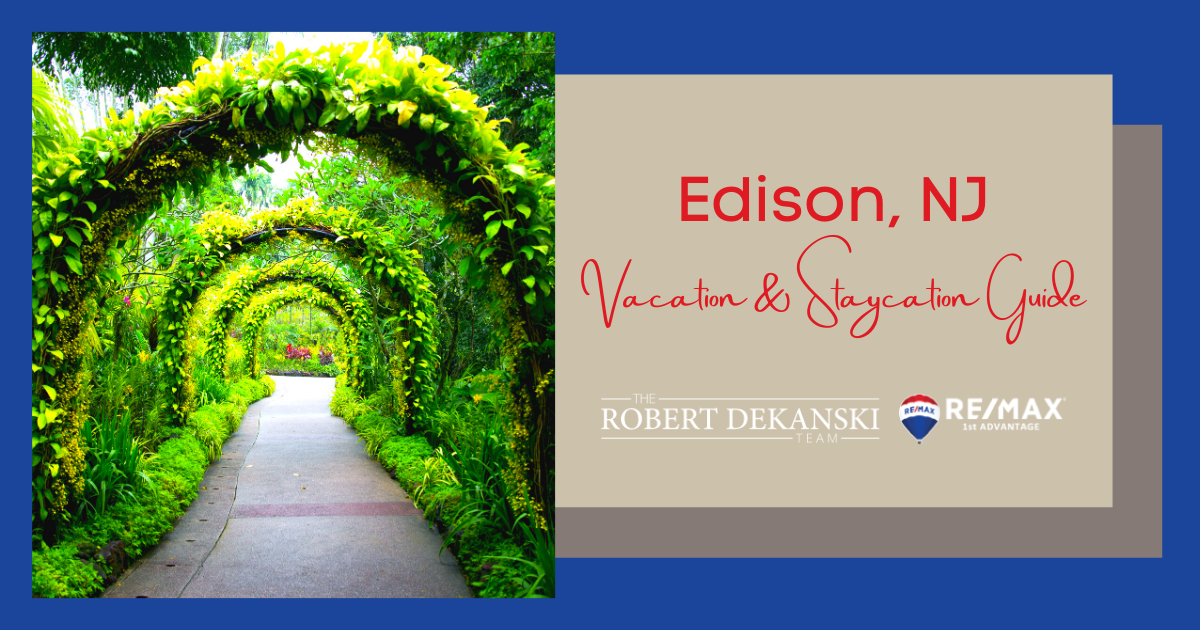 Edison Vacation Guide: How to Plan the Best Vacation in Edison, NJ
Edison, New Jersey offers plenty of opportunities to relax, rejuvenate, refresh, and rewind throughout the year. This is true for those renting out a home or booking a hotel stay for a vacation to the city as well as residents who want to enjoy the convenience of a staycation. Whether hiking, picnicking, or strolling through landscaped gardens is on the agenda for a day of fun or exploring the city's diverse dining menus, shopping venues, and historical sites is the plan, there is something for everyone to experience. If a day trip to New York City is on the list of things to do, the Big Apple is less than 45 minutes away.
Table of Contents
Stay at the Inn at Glencairn
The Inn at Glencairn Amenities
Homemade breakfast
Five bedrooms available
Common areas
Microwedding venue
Address: Inn at Glencairn, 3301 Lawrenceville Rd, Princeton, NJ 08540
Less than 45 minutes away in Princeton, the Inn at Glencairn offers a quiet respite for Edison residents or vacationers who want to enjoy total relaxation. The 1736 Inn, featuring Georgian architecture, is set amid a colorful landscape with historical buildings that include a smokehouse and a red frame barn.
With four quiet rooms and one suite available, there is no worry about crowds of travelers and excess noise. Each accommodation focuses on comfort, with features such as en-suite baths, vintage antiques, four-poster beds fitted with feather mattresses and luxury linens, a fireplace, flat-screen TVs, workspace, and access to complimentary Wi-Fi to stay connected.
Along with cozy rooms, culinary farm-to-table delights are made from scratch by the onsite professionally trained chef. The complimentary breakfast is served for guest's in the dining room. At the end of the day, guests can unwind with a cup of coffee, socialize with other guests, enjoy the art collections, read a book, play a board game, or warm up by the fire in either the Great Room or the Parlor common areas.
If a special event is on the agenda, the Inn is the perfect place to celebrate. The Inn policies include no smoking, no children under 10 years old, and no pets.
Visit the Thomas Edison Museum
Thomas Edison Museum Exhibits
Edison laboratory model
Early phonographs and light bulbs
Guided tours
Electrical circuits
Address: Edison State Park, 37 Christie St, Edison, NJ 08820
People can spend the day relaxing while learning about the past and the achievements of one of the world's most prolific inventors when visiting Menlo Park and the Thomas Edison Center. While visiting, guests have the opportunity to enjoy two activities. One is a tour to learn about the park's history and Edison's inventions via a knowledgeable tour guide. The other is to take a leisurely stroll along well-maintained trails winding their way through the adjacent 36-acre park.
Among Edison's inventions was the phonograph, which are on display at the museum along with original records that visitors can listen to. The museum also contains many artifacts and memorabilia. Edison maintained an office and library in Menlo Park, and seeing the building's original foundations are part of the tour, along with other sites such as the Edison Centennial Plaque from 1947 and the Menlo Park Memorial Tablet from 1925. The tour also includes visiting the Edison Memorial Tower, which houses the eternal lightbulb that has been lit and showing the way since 1938.
Before leaving the park, visitors can take a few minutes to peruse the assorted souvenir and limited vintage items available at the gift shop.
Hike Through Rutgers Gardens
Rutgers Gardens Areas of Interest
Bamboo Grove
Herb Garden
Lillian Koelsch Gazebo
Rain Garden
Pollinator Garden
Shade Tree Collection
Pond at Holly House
Asian Hillside Garden
Address: Rutgers Gardens, 112 Log Cabin Rd, North Brunswick Township, NJ 08902
Situated on the campus of Rutgers University in North Brunswick, Rutgers Gardens offers an up-close look at a variety of horticultural species serving as a living and learning laboratory. The Gardens provide a visual vista of interesting flowering and non-flowering growth such as the Ornamental Tree Collection, the Asian Hillside Garden, Ella Quimby Water Conservation Terrace Garden, Rain Garden, Rhododendron and Azalea Garden, and more. There are also wooded areas such as the Bamboo Forest and Frank G. Helyar Woods, as well as natural habitats for assorted wildlife dispersed throughout a 180-acre landscape.
While perusing the gardens, a stop at the Potting Shed Gift Shop provides visitors an opportunity to purchase a souvenir, fresh items grown at the Student Farm, drinks, and snacks. Currently, the public has access to the gardens November through April from 8 a.m. to 5 p.m. Saturday through Thursday. On Fridays from December through April, visitors have access only to the Cook's Winter Market.
Admission to the gardens is free. The gardens are also known for scheduled events such as the Fall Festival, Movie Night in the Gardens, and the Jazz and Wine Festival.
Shop at Menlo Park Mall
Shops at Menlo Park Mall
Lululemon
Victoria's Secret
Aerie
Mango
Sephora
Zara
JD Sports
Address: Menlo Park Mall, 55 Parsonage Rd, Edison, NJ 08837
Menlo Park Mall can be an all-in-one stop for a day or an evening of shopping, dining, and entertainment. Shoppers have access to two levels of retail stores to peruse for their shopping needs, from clothing to furnishings for their new construction home. Shoppers can visit Banana Republic, Aeropostale, Foot Locker, Kay Jewelers, H&M, Lane Bryant, Old Navy, Macy's, Swarovski, Intimissimi, and Nordstrom.
Shoppers can take a break to enjoy the many dining options for lunch or dinner at restaurants or sport bars. From casual to fine dining, they can choose from eateries such as The Cheesecake Factory, Benihana, Chick-fil-A, Popeyes, Chipotle, Rainforest Café, Havana Central, Seasons 52, Asian Chao, and Smashburger. For food, games, and libations, there is Fox and Hound Sports, Spirits, & Fun, and MacGuffins Bar & Lounge.
If shoppers can save room for dessert, they can enjoy a scoop at Häagen-Dazs or a flavorful smoothie at Red Mango. Or, they can select a favorite flavor at David's Cookies and enjoy it with a cup of coffee from Starbucks.
To unwind and relax, people can take in one of the movies playing at the AMC Dine-In Menlo Park 12 Theaters, or for a session of pinpoint excitement, they can swing into action with a round of Bullseye Laser Tag.
Grab a Bite at Harold's New York Deli
Popular Meals at Harold's New York Deli
New York's Best Corned Beef Sandwich
The Abe Lebewohl Triple-Decker Sandwich
Homemade Chicken Noodle Soup
Double Italian Hot Dog
Kathy's Hungarian Goulash
New York Cheesecake
Address: Harold's New York Deli, 1173 King Georges Post Rd, Edison, NJ 08837
Whether on a vacation or a staycation, food is a necessity, and in Edison, one restaurant not to be missed is Harold's New York Deli. Open seven days a week, palates can be pleased and rumbling stomachs satisfied with choices for breakfast, lunch, dinner, brunch, and late-night dining.
Harold's has a diverse menu of delectable items that include starting the morning with a stack of pancakes, French toast, an egg sandwich, an omelet with a side of cinnamon toast, or a bagel and cream cheese. For later in the day, the deli serves up franks and knishes, Harold's Heroes, triple decker sandwiches, Nova Scotia salmon, and assorted soups, salads, and burgers. Dinner is delicious with favorites such as Kathy's Hungarian goulash, beef pot roast, barbecue beef ribs, fried chicken, and the deli's world-famous corned beef and cabbage.
The pickle bar at Harold's offers its visitors some extra zest and flavor. Guests should be sure to save room for dessert to top off their meal with a sweet treat like a slice of red velvet cake, fresh strawberry cheesecake, chocolate éclair, carrot cake, rice pudding, and more. They can enjoy indoor or outdoor dining or place an order for take out. When ordering, guests should be prepared for above average portions that can easily feed two or more.
Staying in Edison
No matter what the reason may be for taking a vacation in Edison or enjoying a staycation at home, the Middlesex County community is not limited in choices when it comes to places to go, things to do, and activities to experience. Vacationers enjoy quality accommodations and seasonal diversity when discovering Edison's many activities, and staycations for residents provide the comforts of home while exploring and getting reacquainted with the new and old activities of their city.