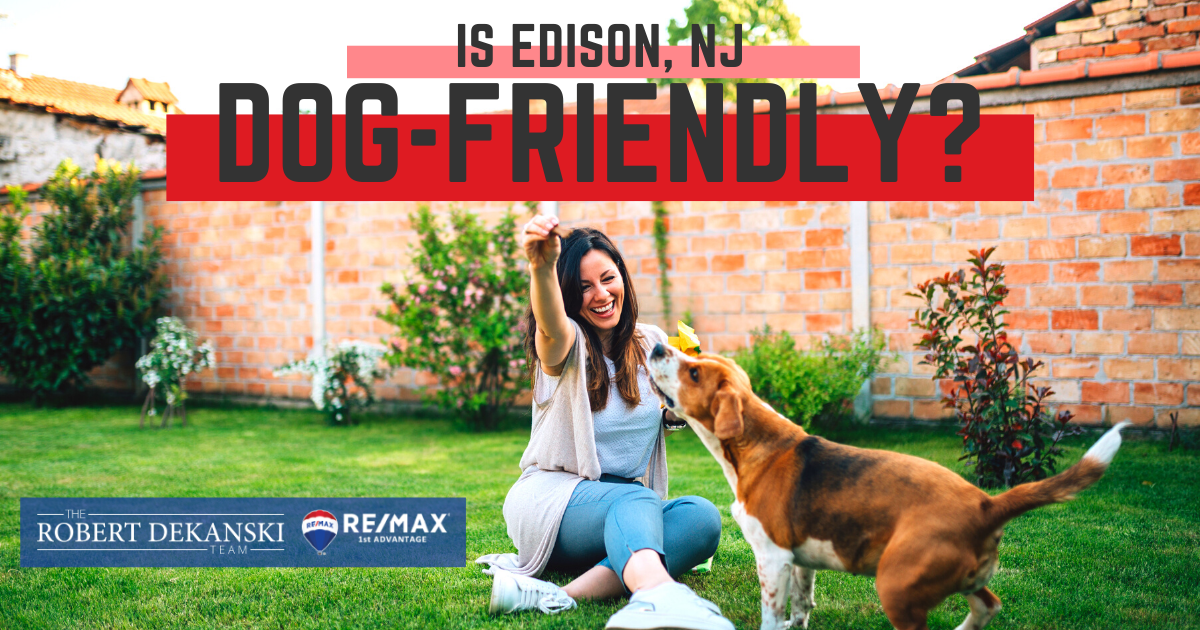 Is Edison Dog-Friendly? The Best Places to Take Your Dog in Edison, NJ
Dog lovers in New Jersey have plenty of company, as the state is home to over 1.7 million dogs. While dogs are not universally allowed in shops, restaurants, and hotels, there are many choices available in Edison and throughout the state. Visitors should research the places they want to go in advance to find out which activities, meals, and accommodations are available. By planning a trip to Edison well, pet owners can ensure that it's a good time for both them and their four-legged companions.
Dog-Friendly Activities in Edison
Dog lovers around Edison have several indoor and outdoor activity options. One great place to give dogs some exercise is at the Metuchen-Edison Community Dog Park. This park features fenced areas for dogs to run off-leash, water fountains, and walking paths. Dog run areas are separated into sections for dogs under and over 25 pounds. There is also a small agility course.
At Echo Lake Park in nearby Mountainside, New Jersey, dogs can run in the three-acre fenced dog park. The park has a separate area for small dogs and benches for owners. People taking their dogs for a walk in the park have plenty of scenery to enjoy. A paved trail circles the lake. Other attractions include a gazebo and water wheel.
Pet owners who would like to get inside for a bit can head over to The Mall at Short Hills, which is just outside Edison. This shopping mall allows pets in the common areas, as long as they are in pet carriers. Complimentary dog strollers are available at mall security for dogs under 20 pounds. While pets are not allowed in any of the food establishments, stores within the mall set their pet policies individually.
The Menlo Park Mall in Edison is also friendly to pets. Visitors should check specific stores' policies to find out whether dogs are welcome, as each shop sets its own policy.
Dog-Friendly Hotels in Edison
Those who wish to bring their dogs along on trips to Edison should double check in advance to make sure that their hotel choice is dog friendly. There are a number of hotel options at different price points with different levels of amenities. Most hotels have specific policies when it comes to pet deposits or fees and the size and number of dogs that they allow.
The Red Roof Inn Edison allows dogs to stay without a pet fee. They allow multiple dogs, including big dogs, to visit their hotel.
Dogs are welcome at the Sheraton Edison Hotel Raritan Center, with a few caveats. Guests are allowed one dog up to 50 pounds. There's a $75 pet fee per stay. Guests must make sure that all plans in Edison involve bringing their dog along, as dogs are not allowed unattended in the rooms. Pet beds are available from the front desk, and there is a grassy area for walks.
At the Extended Stay American Edison Raritan Center, up to two dogs under 50 pounds are allowed per room. There's a $25 fee per pet per night, with a maximum fee of $150 per stay. Dogs are welcome to stay in the room while guests attend to other business as long as they are well-behaved and crated. The hotel has a grassy area for walks.
At the La Quinta Inn and Suites in nearby Clifton, guests may bring along two dogs of any size with no additional fee. Guests with dogs are given rooms on the first floor. Dogs can stay behind in the room as long as they are crated. There's a grassy area on the property.
Dog-Friendly Restaurants in Edison
When going out to eat, there are a few local options that welcome dogs in their outdoor seating arrangements. Each offers something a little different for diners and furry friends.
Brooklyn Boys Pizza and Deli has eight outdoor tables where dogs are welcome. Guests praise the thin-crusted pizza and the restaurant's array of sandwich options.
At Chinese restaurant Jade Dynasty, there are two dog-friendly outdoor tables. Because these tables tend to be in high demand when the weather is nice, it is recommended to book these tables ahead of time. House specialties include Harvest Chicken and Shrimp, the Happy Family dish, and Hunan Beef.
Café Gallo features five dog-friendly outdoor tables. This Italian restaurant is known for its classic dishes like baked ziti, gnocchi, and eggplant rollatini.
The Witherspoon Grill in nearby Princeton is a great spot with attractive patio seating. Guests recommend coming early, as the bar and restaurant tends to get crowded. However, the staff is friendly and accommodating of pets when guests bring them during slower hours.
At Just Jakes in Montclair, wait staff is happy to bring guests' pets a bowl of water when they eat at the restaurant's outdoor tables. Sport fans will enjoy watching the game on the big screen TVs while their dogs relax and watch the people go by.
Dog-Friendly Shopping in Edison
When shopping in Edison, there is no need to leave the dog at home as long as visitors choose their shopping destinations well.
As previously mentioned, Menlo Park Mall allows pets in the common areas. Visitors should check with each shop individually to find out where dogs are welcome. In many cases, dogs in carriers or dog strollers are allowed.
As at all PETCO locations, the Edison PETCO is a dog-friendly shopping destination. The Edison location has features that include pet photography, professional dog training, a full-service grooming salon, and over 10,000 products for pets of all species—not just dogs.
At One of the Family Pet Supply in Middlesex, guests and their dogs can shop together for indulgent high-end dog treats that even include dog-safe cakes. People praise the friendly and knowledgeable staff, as well as the selection of treats, which include organic options.
The Edison Farmers' Market is open every Sunday from June through October. Regular vendors include bakeries, fruit stands, cheese purveyors, and crafters. The market also has special events with music, games, and more throughout the season.
Explore Edison With Your Dog Today
When looking for dog-friendly activities, some creativity is key. People should look at area parks, outdoor restaurants, and more to find out where dogs are welcome and which environments will suit pets best. In many cases, if a venue is outdoors, well-behaved dogs are welcome. By filling a visit to Edison with destinations where pets are allowed, visitors can ensure a trip that is as fun for their pet as it is for them.
Those interested in moving to Edison with their dog should speak with a local real estate professional who may be able to provide them with information about rentals, condos, and other homes that are pet-friendly.