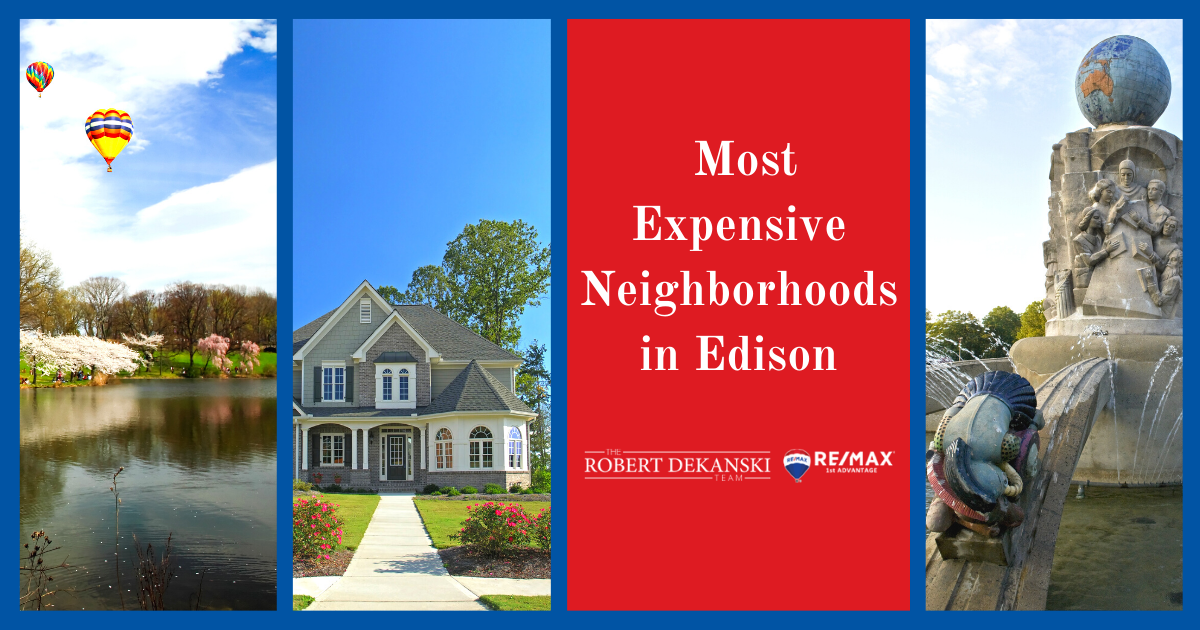 Most Expensive Neighborhoods in Edison: Edison, NJ Luxury Living Guide
New Jersey is enjoyed by those who like the northeastern climate of the United States, and it is a popular hub for people who work in New York City but still want to live in a more affordable and laid-back area close by. The township of Edison is located in north-central New Jersey and is less than an hour's drive to New York City. Anyone thinking of moving to Edison, New Jersey, may be interested in some of the more expensive neighborhoods in this area, including these seven options.
Clara Barton
Clara Barton Amenities
Public library
Roosevelt Park Theater
Tennis courts
Clara Barton is known to be a more "village-like" area in Middlesex County, located in the eastern part of the township. This area is named after Clarissa Harlowe Barton (Clara Barton), an American hospital nurse during the Civil War who founded the American Red Cross. She was inducted into the National Women's Hall of Fame in 1973.
Though Barton never lived in New Jersey, this area of Edison got its name from this important woman in history after a school on Amboy Avenue was named Clara Barton Elementary. This small area continues to be home to this elementary school, as well as other amenities.
Clara Barton Hotspots
Clara Barton Cafés
Clara Barton Restaurants
Oak Tree
Oak Tree Amenities
Oak Tree Tennis Courts
John Adams Middle School
St. Thomas Aquinas High School
Baseball & softball fields
Oak Tree is a small area in Edison along Oak Tree Road, well known for its shopping on designated County Route 604. There are nearly 60 restaurants on this one-mile street that stretches from Edison to Iselin. Oak Tree offers many types of homes, including single-family, townhomes, lots, lands, and more.
Tanglewood
Tanglewood Amenities
Old Post Park
Benjamin Franklin Elementary School
Planet Fitness
With competitively priced midsized homes, the neighborhood of Tanglewood is a well-established community located between Route 1 and the New Jersey Turnpike. Tanglewood features an elementary school, a middle school, and a high school.
Many homes in Tanglewood feature glass-walled showers, along with soaking tubs and stone countertops in the bathroom. The kitchens may also be well-designed, with granite countertops and modern appliances.
Potters
Potters Amenities
Beaver Crossing Park
Inman Golf Range
Inman Sports Complex
North Edison Park
Located in the northern part of Edison, Potters is located around Inman Avenue and Grove Avenue. This community grew in the 1920s, with many people moving to the area from the south. By the 1940s, Potters had about 1,500 residents as well as three churches and a volunteer fire department.
The population is now around 18,000 and has a median home value of $500,000 to $749,000. Many who live in Potters have a work commute of about over an hour, which suggests that many live in this area and commute to a larger city such as New York City for their job.
Potters Hotspots
Potters Shopping
Inman Grove Center
Inman Plaza
CVS
Quick Stop
Potters Cafés
Potters Restaurants
Menlo Park
Menlo Park Amenities
Thomas A. Edison Park
Papaianni Park
Thomas Edison Center at Menlo Park
Mill Rd Park
New Jersey Convention & Exposition Center
Back in 1876, Thomas Edison set up his research laboratory and home in Menlo Park, earning himself the nickname, "The Wizard of Menlo Park." It was here that Edison invented such things like the phonograph and a commercially available incandescent light bulb filament. In fact, one of the first streets in the world to use electric lights to light up their streets at night was Christie Street in Menlo Park.
Previously called the Raritan Township, the township that Menlo Park and the other neighborhoods on this list are located in was changed to Edison Township in the 1950s to honor the famous inventor. What used to be Edison's old lab site and memorial is what now makes up Edison State Park. The 36-acre Menlo Park features walking trails, as well as the Thomas Edison Center and Museum, where visitors can take a tour, view official artifacts, listen to Edison's old phonographs, and more.
Pumptown
Pumptown Amenities
Metuchen Golf and Country Club
Retro Fitness
Dismal Swamp Preserve
Woodrow Wilson Middle School
Saint Joseph High School
This suburban town of Edison is made up of medium (three to four bedrooms) and large (four or more bedrooms) single-family homes and townhouses. Many of the residences found in Pumptown are older homes established and built between 1940 and 1969, as well as from 1970 to 1999.
Pumptown is more expensive than almost 90 percent of the neighborhoods in New Jersey. Real estate vacancies are typically less than 5 percent, as most residences are owner-occupied. Pumptown has great neighborhood stability, with many people who moved into their home five years ago still living in the same house.
New Dover
New Dover Amenities
Mark Polansky Park
Edison Public Library
Originally started as a colonial village, New Dover is one of the historical villages in the Edison township, along with Stelton and Bonhamtown. The median home listing price is around $424,000 in this area.
Homes in New Dover will typically have four, five, or sometimes even more bedrooms, so lack of size isn't likely to be a problem when looking for a home in this neighborhood. The area is also quite walkable, and residents can do most of their errands on foot or bike.
Plan Your Relocation to Edison
After learning more about these expensive neighborhoods in Edison, New Jersey, those planning to relocate to the area can decide which communities meet their goals and needs. With the different amenities and things to do that each place offers, certain neighborhoods may complement a home buyer's lifestyle more than others.
Though these neighborhoods in Edison are all fairly close to one another, the exact area a buyer chooses to live in makes a difference. Perhaps there are certain parks, restaurants, or other amenities they would like to be close to, or maybe one of these neighborhoods has the style, size, and type of house the buyer would prefer to live in.