Want to buy or sell a home in Helmetta neighborhood? Call The Dekanski Home Selling Team, your neighborhood real estate team, at (888) 405-2880. Local Helmetta real estate agents are waiting to help you with the Helmetta housing market.
Helmetta Real Estate Market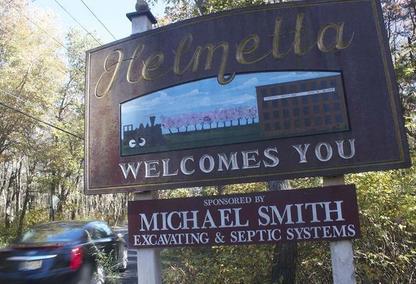 Helmetta, New Jersey is a sleepy town with a handful of businesses and a small police force. It measures 0.9 square miles and is wedged between neighboring communities of Jamesburg and Spotswood. One of the main attractions of the area is a small strip map located at the corner of Main Street and Old Forge Road.
Helmetta can be somewhat compared to Mayberry USA, where small town people gather for small talk and look out for one another. The neighborhood has plenty of 1940s ranch style homes and a few postwar Cape Cods. It also has streets of two-story homes, and three-and-four-bedroom colonials. Helmetta has one major condo complex that was built in the 1980s. Overall, Helmetta is an affordable place to call home that has a family-oriented feel.
Helmetta Home Prices
The median real estate price in Helmetta, New Jersey is $258,100. Nearly 40% of the homes are priced between $205,000 and $307,000. The market availability in Helmetta is quite small, and it has around 1,000 homes total in the area. Even though there's a low availability in the homes in the area, the home prices still provide a fair value in terms of cost. Buyers can get a townhome in Helmetta for around $150,000 that has two bedrooms and one bathroom. There are also newly developing condos and apartments in the area that are in construction as of 2015. Residents that choose to live in new construction apartments will pay around $365,000 for a 4-bedroom, 2-bathroom unit.
Helmetta Community Resources
Helmetta Utility Information
Water & Sewer: 732-521-4946 ext. 110
Electricity: 1-800-436-7734
Natural Gas: 1-800-436-7734
Phone Landline service: 1-800-934-6489
Internet, Phone & Cable Television: 1-800-934-6489
Garbage Services: 732-521-9515
Helmetta City & Public Services
Administrative Offices: 732-521-4946 x 120
City Hall: 732-521-0386
Codes Administration: 732-390-7093
Codes Inspection: 732-521-4946 ext. 109
Emergency Management Office: (732) 521-0386
Finance Department: 732-521-4946 x 105
Fire Department: 732-521-1534
Mayor's Office: 732-521-0386
Police Department: 911 or Phone: 732-251-4100
Library: 732-251-1515
Helmetta School District Information
Spotswood School District: 732-723-2204
The Spotswood Public School District, which has 1,780 students enrolled serves the area.
Helmetta Real Estate Agents
If you're buying or selling a home in Helmetta, let our team of Helmetta real estate agents guide you through buying or selling your Helmetta property today. As local Helmetta real estate agents and experts, we have exclusive insider knowledge of Helmetta market dynamics. Let us help you today!
To learn more about agent representation while buying or selling your Helmetta home, The Dekanski Home Selling Team. Check out our comparative market analysis page to receive a free home value analysis in Helmetta. We'll get to work for you today!
Search Homes For Sale in Helmetta NJ
Back to all Middlesex County Real Estate