Looking to sell or buy a home in Jamesburg? Call The Dekanski Home Selling Team, your neighborhood Jamesburg real estate team at (888) 405-2880. Jamesburg real estate agents and experts are ready to assist with the Jamesburg housing market.
Jamesburg Real Estate Market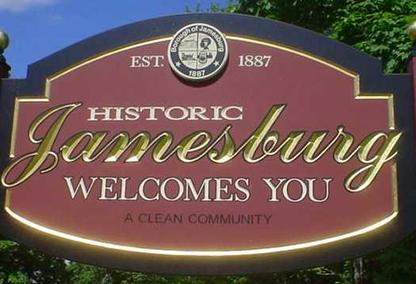 Jamesburg is a very small community and stands as a single neighborhood in Middlesex County, New Jersey. The southeast portion borders Thompson Park and Monroe Township. It's the 292nd largest community in New Jersey, and the population stands at nearly 6,000 people. Many residents who live in Jamesburg commute outside of the small town to get to work. There's also a variety of housing prices in the area that can accommodate to different budgets.
Jamesburg Home Prices
The majority of homes in Jamesburg are priced between $205,000-$307,000. The median home value in the neighborhood is $286,466, which is on the lower side for home prices in Middlesex County. The majority of housing in Jamesburg, New Jersey was built between 1940 and 1969. About 30% of the homes in Jamesburg were built between 1970 and 1999, and less than 4% of the homes were built between 2000 and present. Homes within the median price range in Jamesburg have 3-to-4 bedrooms within 1500-2000 square feet per home. Buyers can expect the majority of these homes to be modernly updated, although you have a good selection of beautiful homes with a lot of character and charm.
Jamesburg Community Resources
Jamesburg Utility Information
Water & Sewer: 732-390-6826 (East Brunswick)
Electricity:1-800-436-7734
Natural Gas: 732-993-9597
Phone Landline service: 1-800-934-6489
Internet, Phone & Cable Television: 1-800-934-6489
Garbage Services: 609-771-8005
Jamesburg City & Public Services
Administrative Offices: 732.521.2222 ext. 100
Animal Control: 732.521.0011
Business Licenses (City): 1-866-534-7789(state)
City Hall: (732) 521-2222
Codes Administration: 732.521.2222 ext. 105
Codes Inspection: 732.521.2222 ext. 105
Economic and Community Development: 732-745-4379(county)
Emergency Management Office: 732-316-7100 (county)
Finance Department: 732.521.2222 ext. 110
Fire Department: 732.521.2222 ext. 113
Mayor's Office: 732.521.2222 ext. 111
Parks and Recreation: 732.521.2222 ext. 112
Police Department: 911 or Phone: 732.521.0011
Library: 732.521.0440
Jamesburg School District Information
The Jamesburg School: (732) 521-0303
Jamesburg Public School District serves the area, and includes one middle school and one high school. There are 660 students enrolled in the district—and depending on what area that they live in Jamesburg, neighborhood children may attend other schools outside of the community.
Jamesburg Real Estate Agents
Buying or selling a home in Jamesburg? Let our team of Jamesburg real estate agents help you through the purchase of your new Jamesburg property or your current Jamesburg home. As local Jamesburg real estate agents, we have expert insider knowledge of the market dynamics unique to the Jamesburg real estate market. We're here to work with you today!
The Dekanski Home Selling Team to get more information about buyer or seller representation in Jamesburg. Planning to get involved in the Jamesburg real estate market? Review our CMA (comparative market analysis) form to quickly see your Jamesburg property value estimate within minutes.
Search Homes For Sale in Jamesburg NJ
Back to all Middlesex County Real Estate