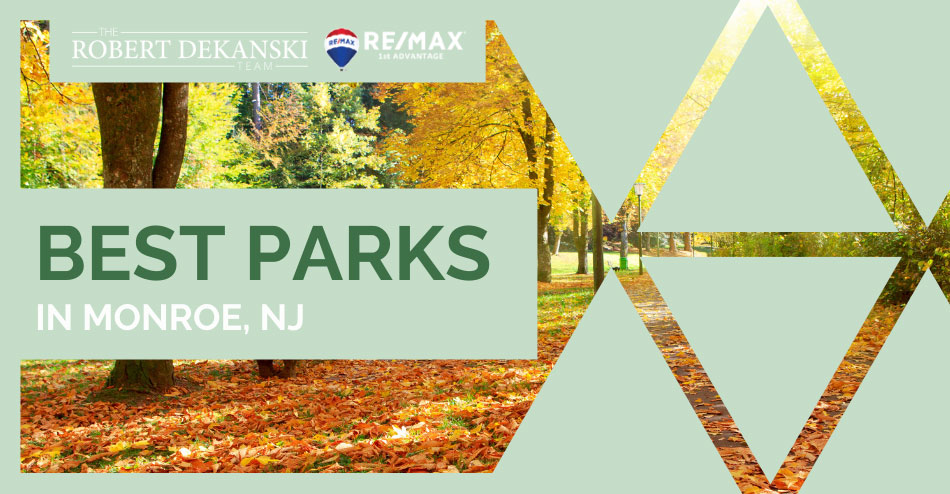 Best Parks in Monroe: Monroe, NJ Parks & Recreation Guide
There's no shortage of gorgeous parks to enjoy in Monroe, NJ. Individuals of all shapes and sizes have a place at Monroe's community parks, and there's plenty of activities to take part in no matter your interests. From miles of walking and hiking trails to picnic tables, playgrounds, and splash pads, Monroe parks have it all. Here's a quick guide to four of Monroe's most-loved parks.
Veterans Park
Veterans Park
Spray Ground
Playgrounds
Statues and art
Memorials
Gazebo
Address: Veterans Park 61 Avenue K Monroe Township, NJ 08831
Veterans Park is the perfect place to cool down the family in the summer. This is a great little park that has picnic tables, a playground, and its crown jewel: the Spray Ground.
The playground has everything to burn energy and keep a little one busy: tubes to crawl through, slides, a climbing wall, and even games like Tic-Tac-Toe. The Spray Ground is perfect for cooling down on hot days. It features a few great attractions like a mounted water gun that individuals can use to spray each other, buckets that tip over and drop water onto them, fountains to run through, a giant mushroom structure that rains water down, and more.
To commemorate those who have served in the United States Military, there are two art fixtures. The first is America's bald eagle, and the second is the Battlefield Cross, a statue featuring a pair of military boots holding up a rifle with a helmet balanced over the stock. When a soldier is lost in battle, it is customary to arrange their things in this way to memorialize them.
Thompson Park
Thompson Park
Playgrounds
Picnic areas
Zoo
Off-leash dog area
Walking trails
Lake for boating and fishing
Address: Thompson Park Thompson Drive and, Lakeview Ave, Monroe Township, NJ 08831
Not far from Veterans Park is Thompson Park, a 675-acre public park that also acts as a nature preserve. In the park, you can find all the park staples you expect like a playground and picnic area, and there are also animals who live in specially-made exhibits. You can see peacocks, pigs, goats, an emu, turkeys, and wild deer that roam the park. The park also allows dogs, so feel free to bring your pup with you. There is an area specially for dogs to run off-leash, but they need to be kept on a leash whenever outside that area.
Thompson Park also has scenic walking trails that lead through the forest and a large lake where you can go fishing. You can bring a paddle boat like a kayak or canoe if you want to go on the water, or you can also go swimming to cool off on a hot summer day.
Monroe Township Memorial Park
Monroe Township Memorial Park
Gardens
Walking paths
Memorials
Address: Monroe Township Memorial Park 150-156 Prospect Plains Rd, Monroe Township, NJ 08831
The Monroe Township Memorial Park was created to memorialize the lives of those who died on September 11, 2001. The park features gardens, paths, and marble memorials inscribed with the names of those who lost their lives. This is a solemn park, and it's a great place to go if you want a peaceful outing where you can be alone with your thoughts.
The park feature an array of different plants that are all denoted with plaques. You can see beautiful trees like the Norway maple tree, ginkgo tree, and eastern redbud tree that flowers with bright magenta blossoms in the spring.
Monroe Township Community Garden
Monroe Township Community Garden
Paid garden plots
Gardening classes
Garden shop
Address: Monroe Township Community Garden 124 Applegarth Rd, Monroe Township, NJ 08831
Monroe is proud to host the Monroe Township Community Garden, available to residents who wish to grow fresh fruits and vegetables but don't have space to do so at home. For $30, residents can purchase a 10'x10' plot of land where they can plant anything they want. Residents can bring their own plants, or they can purchase some at the garden.
For those who don't have very much gardening experience, there are gardening classes they can attend to learn more about how to plant crops, help them grow, protect them from insects, and so on. The community garden may not be a traditional park, but it's a great way to get Monroe citizens to spend time outside and even help them learn a new skill or two along the way.
A Park for Everyone in the Family
Monroe Township has a park with activities for everyone in the family. Whether you're looking for a quiet place to reminisce, a place with multiple sport courts, or somewhere you can grow your own food, you'll find it in Monroe's system of carefully cultivated parks.