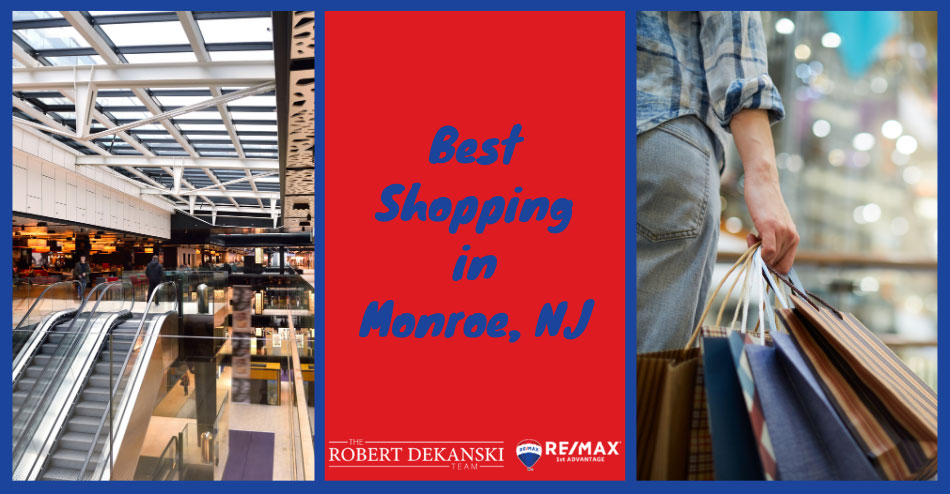 Best Shopping in Monroe: Monroe, NJ Shopping Guide
Despite being just outside of New York City, Monroe Township maintains much of its small-town charm and still has an abundance of open green space and farmland. And because of that proximity to New York, there's always plenty to do in or around Monroe Township, including numerous options for shopping. Monroe features several great shopping centers conveniently placed around the city. No matter what you're looking for, there will always be somewhere to get everything you want.
Here are some of the best places to shop around Monroe Township.
Concordia Shopping Center Amenities
Stop & Shop
Monroe Wine and Spirits
D & T Pizza
Christos Kitchen
UPS
Monroe Physical Therapy
Address: Concordia Shopping Center 1600 Perrineville Road, Monroe Township, NJ 08831
This shopping center features over 135,000 square feet of retail space, and there are another 1,000 businesses with a 3-mile radius. Many Monroe Township residents consider the Concordia Shopping Center to be the local "downtown," as it's a hub for shopping and dining.
Concordia Shopping Center is anchored by a large Stop & Shop grocery store with a Starbucks inside. Other shops and services in the center include Monroe Wine and Spirits, Hair Crafters, Monroe Physical Therapy, Verizon Wireless, UPS, Monroe Jewelers, and Wells Fargo. Dining options within the Concordia Shopping Center include Lucky Star Chinese food, D & T Pizza, which has been family-owned and operated for more than 30 years and is extremely well-liked by locals, and Christos Kitchen, a beloved family diner that's known for its Mediterranean flavors and huge portions. The retail spaces are 95% leased, so there are very few vacant storefronts.
Located just a few miles off of the New Jersey Turnpike and in the heart of a heavily residential area, the Concordia Shopping Center is easily accessible both from within the town and other nearby communities.
Freehold Raceway Mall Amenities
L.L. Bean
The Cheesecake Factory
Cinnabon
Kid's Club
Sephora
H&M
Address: Freehold Raceway Mall 3710 U.S. 9, Freehold Township, NJ 07728
Hours: Monday–Saturday, 11 AM–7 PM; Sunday, 12–6 PM; individual stores will vary
The Freehold Raceway Mall is a traditional shopping mall located in New Jersey's Freehold Township, approximately 20-25 minutes away from Monroe Township. JC Penney and Macy's department stores anchor the mall, and there are dozens of other premiere retailers and services inside. Some of the most popular, well-known stores and brands include an Apple Store, Michael Kors, Victoria's Secret, Sephora, LEGO, Vans, PacSun, Lululemon Athletica, Ulta Beauty, L.L. Bean, H&M, and many others.
There is also a movie theater at Freehold Raceway Mall, plus several dining options ranging from grab-and-go snacks to full-service restaurants. Choose from mall favorites including Auntie Annie's pretzels and Cinnabon, or sit down at the Cheesecake Factory or P.F. Chang's.
Additional amenities at the Freehold Raceway Mall include single and double stroller rentals, a mall concierge, a mother's nursing room, and a children's play area, which is free to play in and open during all mall hours. The mall also offers a Kid's Club, which hosts monthly interactive events.
The mall keeps an up-to-date directory of all its stores and restaurants, plus there's an interactive map online. Please note that restaurants and the movie theater have different hours than the mall itself—it is recommended that you call the businesses directly to confirm hours of operation.
Gables Plaza Amenities
Bliss Beauty Salon
Amboy Bank
JEI Learning Center
Dunkin' Donuts
Hakensack Meridian Urgent Care and Medical Suites
Monroe Care Pharmacy
Address: Gables Plaza, located at the intersection of Applegarth Road and Federal Road, Monroe Township, NJ 08831
This small, relatively new retail center is situated in a fast-growing section of Monroe Township, right in the heart of a large section of primarily new-construction homes. It's adjacent to the Gables age-restricted townhome community and offers a range of diverse retailers that serve many commuters daily, as it's located just off of the New Jersey Turnpike.
Dunkin' Donuts, Bliss Beauty Salon, Amboy Bank, Hackensack Meridian Urgent Care and Medical Suites, Monroe Care Pharmacy, a nail salon, and JEI Learning Center are all current anchors of Gables Plaza. There are also some available storefronts that are set up for outdoor dining and have available liquor licenses, so it's expected that there will be new restaurants opening in the shopping center soon.
Englishtown Flea Market Amenities
Farmer's Market
300 different vendors
Antiques and handmade goods
Food carts
Mainbrook Tavern
Free admission
Address: Englishtown Flea Market 90 Wilson Ave, Manalapan Township, NJ 07726
Hours: Saturday–Sunday, 8 AM–4 PM rain or shine
Located just outside of Monroe Township proper, the third-generation, family-owned Englishtown Flea Market gives a nod to the agricultural history of Monroe. It was established over 90 years ago in 1929, originally as a true farmers' market—a place where farmers met to buy, sell, or trade their livestock, equipment, and fresh produce. Today, the humble market has become a 300-vendor flea market, antiques fair, and auction house.
Lovers of all things vintage and eclectic could easily spend all day here, shopping among antiques and collectibles, second-hand clothing and home furnishings, jewelry, automotive parts and supplies, plants, and more. There are also several handy services onsite including jewelry and shoe repair, as well as a tailor. Interspersed with the vendors, you'll also find some food carts and other fast-casual dining options, plus the Mainbrook Tavern, which is open for breakfast, lunch, and dinner.
Admission to the Englishtown Flea Market is always free, and there is ample free parking as well. The market is open on weekends year-round, rain or shine. While there is an outdoor shopping area, the market is primarily set up within five indoor buildings. Finally, in case you're wondering—yes, the market vendors expect you to haggle with them. In fact, they welcome it!
Regardless of what type of shopping you prefer, you'll find it in Monroe Township, NJ. From the newest designer brands to antiques just waiting to be refurbished, there is something for everyone when shopping here—all you need to do is come out and find it.