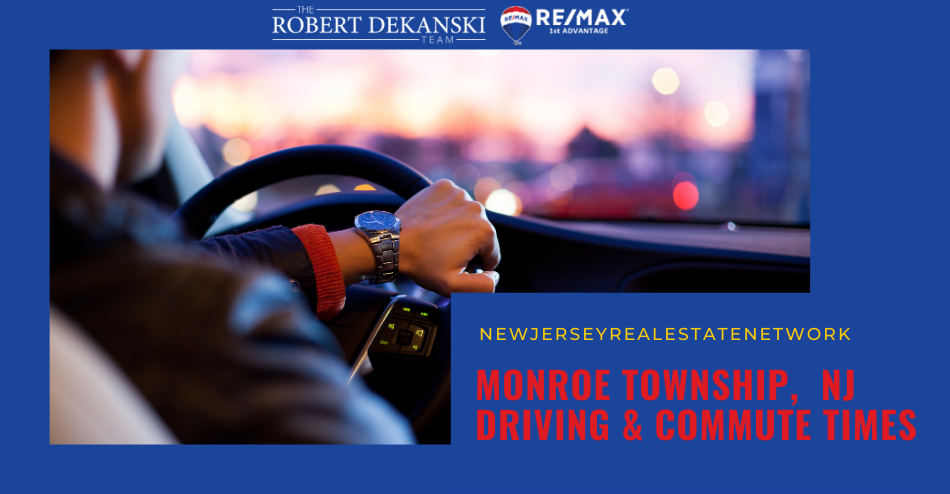 Monroe Township, NJ Driving & Commute Times
Monroe, New Jersey, is located in southern Middlesex County near the Hudson River and is considered part of the outer ring of suburbs of the greater metropolitan area of New York. The 2010 United States Census counted about 40,000 residents in Monroe, an increase of nearly 40% from the prior census of 2000.
Average daily commute times while driving in New Jersey are longer than the national average in many of the city's townships. A recent examination of commute times in 25 towns in New Jersey revealed that they all have average commute times at least 11 minutes longer than the national average of 26.4 minutes.
From major roads to rush-hour expectations to parking rules, the following information can help those who have just moved to Monroe learn more about driving in the city.
Get to Know Your Major Roads in Monroe
There are several major roads passing through Monroe Township, including the New Jersey Turnpike, New Jersey Route 32, and New Jersey Route 33. Route 32 is a short interior state highway that connects part of the state with the turnpike. Route 33 is the only business route state highway in the entire state of New Jersey and serves many of the residential communities in Monroe Township.
Maintained by the New Jersey Turnpike Authority, the New Jersey Turnpike is an entire system of highways acting as a major road route between New Jersey, Delaware, Pennsylvania, New York, and beyond. With the main section completed in 1952, the turnpike is 117 miles long.
The toll fee paid by each car, bus, or truck depends on the size of the vehicle and the distance traveled along the route. New toll rates were approved in the spring of 2020 and went into effect on September 13, 2020. Today, over 80% of all tolls on the New Jersey Turnpike are paid using the E-ZPass system.
Exits 6 and 14 of the New Jersey Turnpike divide into four separate roadways. The inner lanes of the turnpike are restricted to cars. There are 20 rest areas along the turnpike that provide options for food and fuel.
What to Expect During Rush Hour in Monroe
Heavy traffic is common in Monroe and other parts of New Jersey during rush hour. The average one-way commute in Monroe is over 40 minutes, compared to the United States average of 26.9 minutes. An estimated 74% of residents drive their own cars to work each day, while approximately 8.5% of residents carpool with others and 8.8% of residents utilize mass transit. Real-time traffic updates and live cameras can be found on the city's website or through the New Jersey Traffic mobile app.
The speed limit throughout the state of New Jersey is often lower than in other parts of the country. Within city limits, the speed limit is typically 20-35 miles per hour. On the freeway within the city limits, the speed limit is set between 50 miles per hour and 65 miles per hour.
Parking in Monroe
There are several local laws regulating street parking in Monroe. Numerous streets prohibit parking at all times, and several streets prohibit parking during certain hours of the day. However, there is available street parking on Chestnut, Hall, Library, and South Main streets, but this parking has a time limit of between 15 minutes and 2 hours depending on the location and the time of day. Additionally, parking along the streets is prohibited when there is snow accumulation that covers the street or highway.
There is a municipal parking lot available in Monroe, which has a one-hour parking limit. At least two park-and-ride lots are available in Monroe, where people can park their cars and take a bus to New York or other parts of New Jersey.
Other Helpful Things to Know
The Middlesex County Area Transit (MCAT) shuttles transport people within the county on a daily basis.
Monroe receives a large amount of rain (approximately 48 inches per year) and snow (approximately 23 inches per year), make driving conditions difficult throughout the year.
New Jersey has some unique traffic laws, and it is recommended for everyone to familiarize themselves with these laws before attempting a commute from Monroe or other parts of the state.
Drivers are required to stop at least 25 feet away for a school bus if the bus is using flashing red lights or is stopped.
Drivers are required to use headlights beginning 30 minutes after sunset and 30 minutes before sunrise.
Headlights are required during days of rain that is heavy enough to require windshield wipers, or when visibility is reduced to 500 feet or less.
Drivers are required to honk prior to passing a cyclist or a skateboarder.
Plan Your Drive in Monroe
Many people commute from Monroe, New Jersey, to their workplace every workday, using the New Jersey Turnpike in the mornings and evenings. The easiest way to travel the turnpike with minimal stops is to purchase an EZ-Pass tag. Even with this time-saving measure, however, driving in Monroe should be planned in advance in order for drivers to reach their destinations on time. Additionally, a good understanding of New Jersey's traffic laws is important before beginning a drive throughout the state.