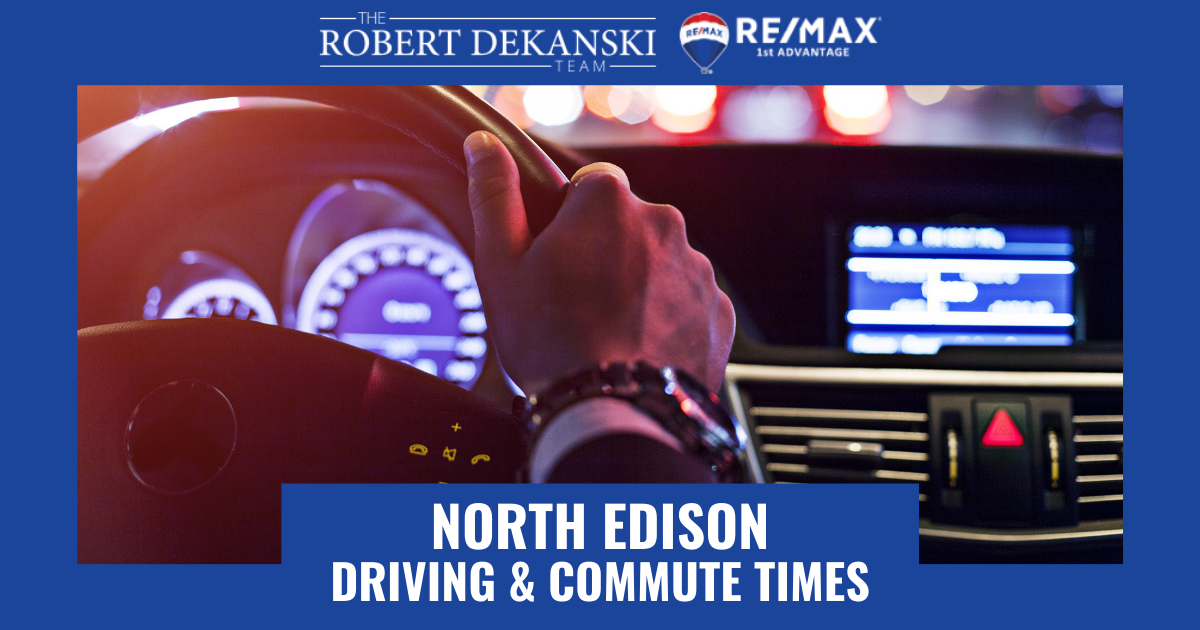 North Edison, NJ Driving & Commute Times
Getting around in North Edison, New Jersey, can be a little challenging at first for those who have just moved to the area. Even seasoned residents may encounter a few surprises along the way. The following information details some things that drivers should keep in mind while driving throughout the township.
Get to Know North Edison's Major Roads
There are four major roads that intersect North Edison, New Jersey. Three run southwest to northeast, while the other runs northwest to southeast. While some of these major roads are subject to heavy traffic like most highways and interstates in New Jersey, they are often the most direct routes to get drivers where they need to go.
I-287 goes east from Piscataway into Edison before dipping to the southeast and becoming Highway 440, leading into Hopelawn. It passes the Metuchen Sports Center, Autopart International, and the Domino's Pizza Supply Chain Distribution Center Warehouse. Essex Avenue passes the Edison State Park and the Thomas Edison Center at Menlo Park, Metuchen Manor, Walmart, Costco, Aldi, and multiple restaurants. It becomes Highway 440 as it descends southeast into Hopelawn.
U.S. Route 1 intersects with I-287 via Main Street and passes Mercedes-Benz of Edison and the Wick Shopping Plaza to the west. To the east, U.S. Route 1 passes the Lotte Plaza Market at Edison, Roosevelt Park, and the Menlo Park shopping mall. I-95 is a major thoroughfare and toll road through Edison and is an excellent way to get from Edison to Philadelphia to the southwest and Newark to the north. The I-95 Express crosses the Hudson River, taking drivers into West Bronx.
What to Expect During Rush Hour in North Edison
Like most New Jersey cities, traffic tends to be bumper to bumper during rush hour. This typically ranges from 7 a.m. to 9 a.m. and from 4 p.m. to 6 p.m. on weekdays. I-287 from Edison to Piscataway is often backed up even during non-rush hours, and the traffic jam may stretch for up to 20 miles. The entrance and exit ramps at the intersection of I-287 and U.S. Rte 1 can become congested, as does the intersection between I-287 and Essex Avenue. If possible, commuters should take alternative routes if they plan on traveling these roads or intersections during rush hour.
Perhaps the most congested area in Edison is the intersections between I-287, I-95, and Highway 440 heading east towards Hopelawn. Depending on where drivers are going and where they are coming from, they may have an easier time taking Woodbridge Avenue.
Some helpful tips for driving in North Edison during rush hour include:
Drivers should always have their vehicle at least half full of gas in case they become stuck in a traffic jam on New Jersey roads
Drivers should always keep blankets in their car during winter with plenty of drinking water
Whether you're driving from a sprawling parcel of land on the outskirts of North Edison or are driving from a downtown North Edison condo, you can drive easy knowing your route is planned out.
Parking in North Edison
North Edison, New Jersey, has several available parking options for both residents and visitors to the area. Park America, Inc. offers flat-rate parking at just $5 per day or $225 per quarter. Lot 1 is located at Reed Street and Central Avenue and provides 198 standard spaces and 20 accessible spaces. Homeowner permits are required for on-street parking. Lot 2 is located on Reed Street and is available by permit only at $225 a quarter. Lot 3 at Kilmer Road has 477 standard spaces and no on-street parking.
Parkopedia is an excellent tool that helps its users find available parking on-the-go by tracking which spaces are open and which are not. It also allows users to view parking amenities, such as cost, time to park, distance from their destination, and whether the parking is covered or uncovered. This makes choosing a parking spot in North Edison during inclement weather even easier. Parking with Parkopedia is somewhat more expensive than using Park America, with fares for approximately two hours of parking ranging between $7 and $42, with the average fare around $10 to $12. Drivers in North Edison should always plan for parking ahead of time, so they aren't left driving around and looking for a place to park at the last minute.
Other Helpful Things to Know About Driving in North Edison
Driving isn't all about having a road map or knowing where to park. The following information includes helpful things to know about driving in North Edison, whether people live in town or are just visiting for a short while:
Residential and business streets all have a top speed limit of 25 mph
Speed limits within Edison city limits is 20-35 mph
Motorcyclists must yield to pedestrians, who have the right of way in nearly every instance
When stopping for a school bus, drivers must be 25 feet or more away
Drivers may only use a hands-free electronic device while driving in North Edison
Drivers must stay in the right lane, except when passing another vehicle traveling slower
Drivers must turn on their headlights 30 minutes prior to sunset and 30 minutes prior to sunrise
Drivers must also turn on their headlights if visibility ahead of their vehicle is 500 feet or less due to fog, rain, snow, or other inclement weather
New Jersey has multiple toll roads, which can be navigated more easily by using an E-Z Pass device
Maintain Awareness, Obey Traffic Laws, and Know North Edison's Roads
Drivers should not underestimate the benefit of planning their route ahead of time, especially when they'll be traveling on busy roads like I-95 or I-287. Even those who have lived in Edison for some time or have a GPS should decide which roads they'll take in advance. Once people get used to driving in North Edison, it will eventually become second nature. The town has plenty to offer everyone, and New Jersey's roadways make it relatively simple to get from one place to another.