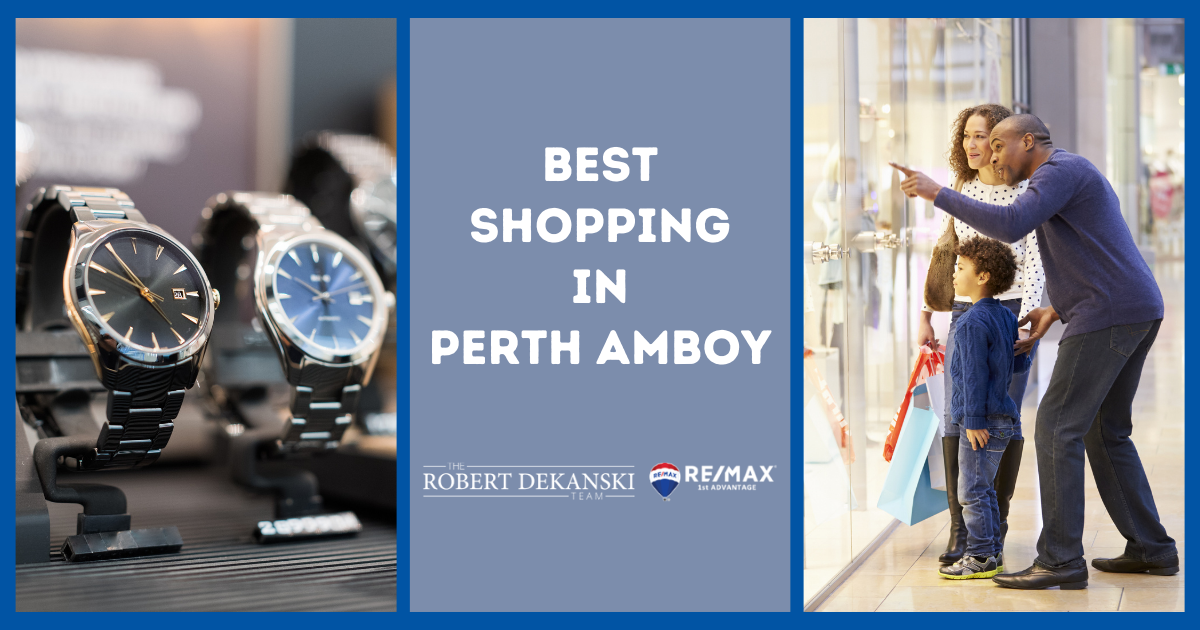 Best Shopping in Perth Amboy: Perth Amboy, NJ Shopping Guide
Perth Amboy is perfectly situated near several major roadways, which makes shopping around the area incredibly easy. Many of the shopping centers mentioned in this list are easy to drive to and even easier to access via the state's public transportation. The following destinations are some of the best shopping centers one can find near Perth Amboy, New Jersey.
Menlo Park Mall Stores
AMC Dine-In Theatre
Rainforest Café
Sephora
Vans
The Apple Store
Lucky Brand Jeans
Address: Menlo Park Mall, 55 Parsonage Rd, Edison, NJ 08837
Menlo Park Mall, located in Edison, New Jersey, is a two-level Simon mall. This regional shopping center features some of the world's most well-known brands, including Nordstrom, Swarovski, Urban Outfitters, Vans, Barnes & Noble Booksellers, Sephora, Macy's, and others.
In addition to offering superior shopping options, Menlo Park Mall also provides visitors a wide variety of dining and eateries. From fast-food favorites like Chipotle, Chick-fil-A, and Panera Bread to higher-end options like Seasons 52 Fresh Grill, Benihana, and The Cheesecake Factory, visitors will be able to easily find a plate that satisfies their cravings after a long day of shopping.
Visitors will find that Menlo Park Mall is easy to park at during their visit. The ample available spaces make it convenient to find a spot and get the day of shopping started. Furthermore, Menlo Park Mall provides amenities that can be found throughout one's day at the mall, from well-placed bathrooms, baby changing stations, stroller rentals, and mobile charging stations.
Those who are traveling to Menlo Park Mall will easily find the entrance near Roosevelt Park. They can enter from Route 1 or Middlesex Avenue to access the parking lot.
Woodbridge Center Stores
Claire's
Dave & Buster's
Finish Line
GameStop
Hollister
Macy's
Address: Woodbridge Center, 250 Woodbridge Center Dr, Woodbridge Township, NJ 07095
Woodbridge Center offers visitors a wide range of shopping options that feature internationally recognized brands and local businesses. With over 150 retailers, visitors will find everything they need. From everyday finds to the perfect gift to place under the tree or a home decor item for a new construction home, residents will be able to impress with the items they find.
Woodbridge Center features a soft play area, an exciting carousel, and a trackless train ride. All these amenities are reasonably priced and operate the entire time the mall is open.
Visitors can easily access the Woodbridge Center off Woodridge Center Drive. Those familiar with the area will recognize the mall and can exit the highway from Route 1.
The Mills at Jersey Gardens Stores
Adidas
Bath & Body Works
Coach
Forever 21
Hot Topic
Lacoste
Address: The Mills at Jersey Gardens, 651 Kapkowski Rd, Elizabeth, NJ 07201
The Mills at Jersey Gardens is another Simon mall near Perth Amboy. This is the largest outlet and retail center in northern New Jersey. Visitors will be able to access over 200 stores and numerous dining experiences under one roof.
All the stores at The Mills at Jersey Gardens are outlet stores, featuring amazing values and exceptional selections. Some brands one will find while shopping include True Religion, PUMA, Polo Ralph Lauren, Guess, Victoria's Secret, Coach and more.
While shopping, visitors can dine at a number of national chains, such as Applebee's, Chili's, Johnny Rockets, Nathan's Famous, Sbarro, and others. After shopping and grabbing a bite to eat, visitors can conclude their day by visiting the AMC Jersey Gardens 20.
Fortunately for residents of Perth Amboy, The Mills at Jersey Gardens is one of the most easily accessible malls in the region. Whether coming straight from home or making a stop on the way back from New York City, visitors have a plethora of options to visit this shopping center. They can travel from the Manhattan Port Authority Bus Terminal, or access the mall via car by getting off on the New Jersey Turnpike, Route 1, and Route 9.
The Shoppes at Old Bridge Stores
Crunch Fitness
Panera Bread
Feast Italian Kitchen
Yankee Candle
Loft
Address: The Shoppes at Old Bridge, 3801 U.S. 9, Old Bridge, NJ 08857
The Shoppes at Old Bridge is an outdoor shopping plaza that is located off Route 9 and Route 18 in Old Bridge, New Jersey. Just 9 miles from Perth Amboy, The Shoppes at Old Bridge is only a 20-minute drive. Visitors will find a healthy mix of dining, shopping, fitness, and relaxation.
Those with small children can combine tutoring and shopping all in one visit. The Learning Express Center is close to Yankee Candle and a number of relaxation spas. Additionally, visitors will find a Crunch Fitness, Fast Italian Kitchen, and KOI Asian Fusion. While not the largest shopping plaza in the area, The Shoppes at Old Bridge provide just what visitors need to complete daily errands, personal health, and small amounts of shopping.
Tano Mall Stores
Rite Aid
Carvel
Lotte Market
Zaika BBQ and Grill
Sushi Saga
Edible Arrangements
Address: Tano Mall, 1199 Amboy Ave, Edison, NJ 08837
Tano Mall is a small shopping plaza that is located just off Route 1 in Edison. A 10-mile, 18-minute drive is all that separates Perth Amboy residents from finding an eclectic shopping center.
Tano Mall offers a little of everything. Visitors will find a Dollar Tree located between Edible Arrangements and Aviation Travel & Tours. Additionally, visitors can enjoy tasty meals at Zaika BBQ & Grill, Tony's Italian Restaurant, and Manhattan Bagel.
Along with a few shopping and dining options, visitors will find financial and medical services. Banking and a pharmacy are located within the plaza, while ample parking is available for all visitors. The surface lot is free to park in for all visitors.
The shopping available in and around Perth Amboy offers residents the ability to shop at malls both large and small. Whether someone prefers to have access to hundreds of stores under one roof or simply visit a few select shops, the available shopping centers in the area can meet anyone's needs or desires. Whether using public transportation or driving a personal vehicle, visitors will always find that each shopping center is easily accessible.