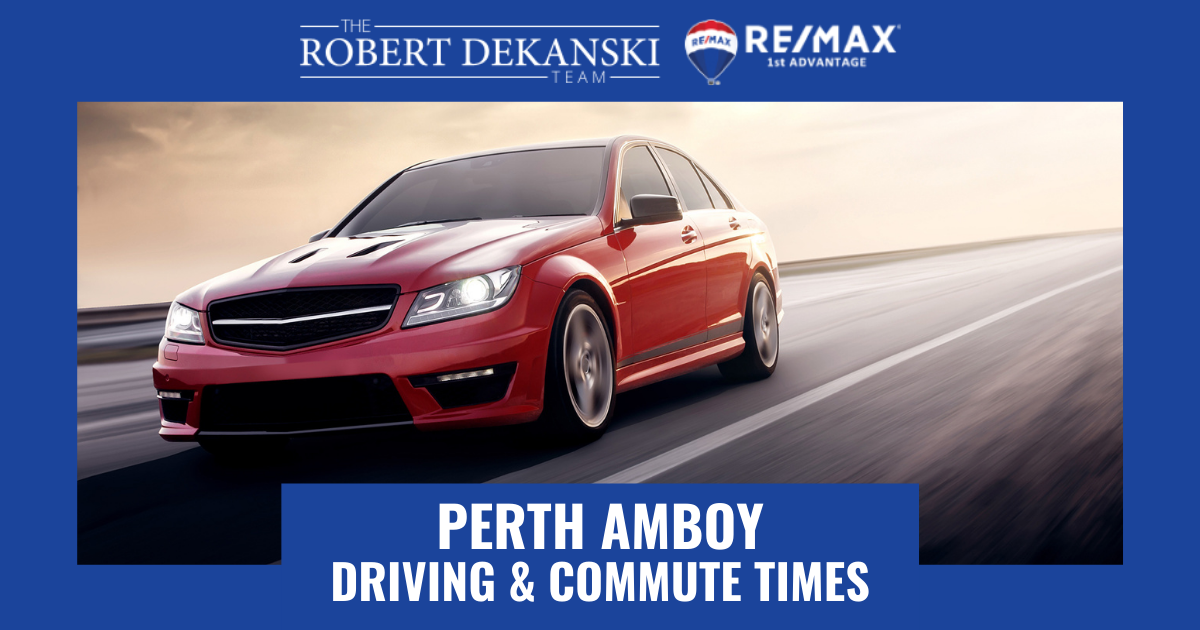 Perth Amboy, NJ Driving & Commute Times
The township of Perth Amboy is located at the base of the Arthur Kill Straight and the Raritan River. Both of these bodies of water feed into Raritan Bay, and the Arthur Kill Straight actually divides New Jersey from New York. While the New Jersey Transit System (NJTS) is an exceptional option for getting from point A to point B, residents in Perth Amboy should be familiar with driving in the area. From the major roadways to rush hour, parking, and local laws, it is important for every driver in the township to keep this following information in mind.
Get To Know Your Major Roads
Located just west of Perth Amboy is Route 35 (commonly referred to as Convery Boulevard) and Route 9 (also known as the Garden State Parkway). These roads run north and south through nearly the entire state of New Jersey. These routes also connect residents to Interstate 95, which runs north and south, and Interstate 287. Interstate 287 is an auxiliary interstate highway that connects Perth Amboy residents with Bridgewater Township, Morristown, and other northern New Jersey Cities. Additionally, this auxiliary interstate can be taken all the way north to Spring Valley, New York and White Plains, New York.
Major roads that run north and south in Perth Amboy include State Street, High Street, and Amboy Avenue. The major roads in Perth Amboy that run east and west are Smith Street, New Brunswick Avenue, and Brace Avenue.
Regardless of whether the roadways residents drive on are local roads or state roads, driving in the summer and winter does vary greatly. Major roadways are typically cleared before rush hour to ensure residents can safely get to and from work. However, residents should always check local conditions prior to starting their vehicle to ensure it is safe to drive.
What To Expect During Rush Hour
Rush hour in Perth Amboy is consistent with rush hour throughout the New York City metropolitan area. The early hours of the morning before the typical 9:00 AM workday and the couple of hours following the typical 5:00 PM end time can cause lengthy delays. If there is a snow storm during the winter, delays can be extended. Residents can expect their daily commute to be 45 minutes to one hour via major rail systems. Those who drive their own vehicle to and from work can expect a one way commute of 23.7 minutes. Unfortunately, there are not many other options aside from taking a train or a car. While there are a number of major roads, each of these roadways can become heavily congested during rush hour.
Parking In Perth Amboy
The local government of Perth Amboy has revamped the parking resources over the years to make it easier for residents, commuters, and visitors to readily access parking spaces. These improvements have led to increased pedestrian safety and better flow of traffic. Those who need to park their vehicle will find metered parking and surface lot parking throughout Perth Amboy.
Residents and commuters can receive a free year-long parking pass, which makes it easier to park when having fun in Perth Amboy. Individuals simply need to provide their proof of residency or proof of employment in Perth Amboy. Those who visit the area often or rent in the city can benefit from the monthly $55 parking pass. All three passes have specific restrictions about where registered vehicles may be parked during the week and weekends. Those who do not purchase a pass will pay $0.25 every half hour in the Hospital Zone and $0.25 every 40 minutes in other areas of Perth Amboy.
Other Helpful Things To Know
Residents of Perth Amboy need to consider how often they will be driving in the winter. While northern New Jersey does not receive excessive amounts of snow every year, drivers must decide if they will change their all-season tires to snow or winter tires. It is important to note that studded tires and snow chains are only permitted from November 15th to April 1st. Residents can face fines if they put on their winter tires too early and/or do not remove them by April.
In addition to winter tires, it is important to note that New Jersey has three state laws that are not common in other areas. The first is that every driver must remove all snow and ice from the vehicle before getting on any roadway. This includes the roof of the vehicle. Failure to remove all snow and ice will result in a fine, and each offense will increase the cost of the fine.
The second state law to keep in mind is drivers must always yield the right of way in any situation where an accident could occur as a result of not doing so. This may come as a surprise to out-of-state drivers who are only used to using right of way at stop signs. The final state law that is strictly enforced is a driver must honk before passing a bicyclist or a skateboarder. This law helps protect everyone on the road, including the individual in a non-motor vehicle, the driver who is passing, and any other vehicles on the road.
Staying Safe on Perth Amboy's Roads
To quickly recap about what residents should know about driving in Perth Amboy, expect rush hour to cause some delays in the morning and evening. Millions of individuals will be taking the same train lines and major roadways throughout the year. Winter storms can cause additional delays, so it is important for drivers to check roadway conditions before departing from home. The Garden State Parkway (Route 9) is one of the most traveled roads in New Jersey. However, other major roads near Perth Amboy include Interstate 95 and Interstate 287. Additionally, residents often travel on Route 1. New Jersey has laws that out-of-state drivers may not expect, so it's important to be familiar with them before moving to Perth Amboy or any other city.
Overall, driving in Perth Amboy is similar to commuting anywhere in the northeast. So long as residents winterize their car and remain vigilant on the road, driving in the area can be just as safe and efficient as commuting in other cities and states.