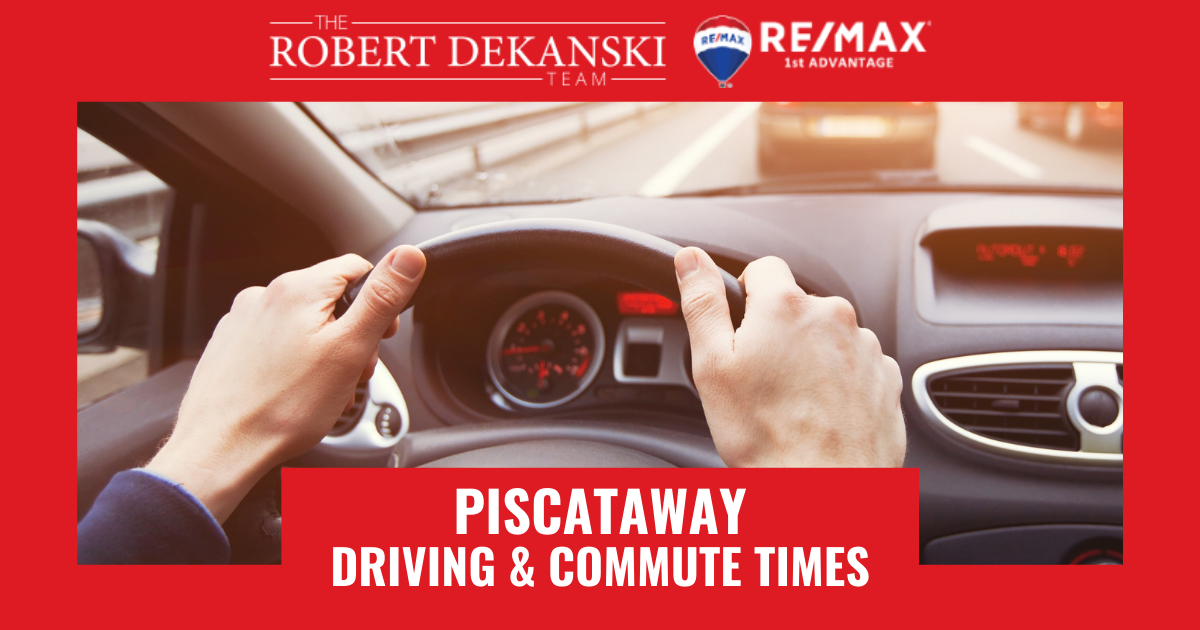 Piscataway, NJ Driving & Commute Times
Finding one's way around a new city can be challenging, whether they're a visitor or they just moved in as a first-time resident. Fortunately, with a little effort and these helpful tips, people can learn about the main roads in Piscataway, New Jersey, and how to get from point A to point B in as little time as possible. The following information details major highways and roads in Piscataway, where people can park their vehicles, and how people can avoid the typical rush-hour traffic.
Get to Know Piscataway's Major Roads
There are two major highways that intersect Piscataway, NJ: Highway 18 and Interstate 287. Highway 18 runs north to south and intersects with I-287 just past the Raritan Landing Golf Course. Interstate 287 runs east to west through the entire township, from Raritan River to Centennial Square. Notable attractions on I-287 include Riverside Park, Possumtown Park, and plenty of shopping and dining options.
Main roads in Piscataway include South Washington Avenue and Centennial Avenue, in addition to River Road, which runs northwest to southeast along the entirety of the township's portion of Raritan River. Additionally, River Road passes Riverside Park, the East Jersey Old Town Village, the Cornelius Low House, the Metlar-Bodine House Museum, and Johnson Park, the largest park in the area.
Centennial Avenue runs east to west and is a direct shot to Centennial Square, where people will find stores like Walmart, Petco, and Aldi, and restaurants like Olive Garden, Starbucks, and Gabriele's Bar & Grill. South Washington Avenue runs north to south through the township, passing by the Rock Ice Center, Columbia Park, and Quibbletown Park on the north end. As South Washington Avenue heads south, it intersects I-287, passes Lake Nelson, and becomes Suttons Lane in the Society Hill area.
What to Expect During Rush Hour in Piscataway
Piscataway, New Jersey, is subject to rush-hour traffic like most other moderate to large-sized cities. This is especially true on weekday mornings and evenings, between the hours of 7:00 a.m. and 9:00 a.m. and 4:00 p.m. and 6:00 p.m.
Generally, I-287 stays fairly uncongested, with the exceptions of the intersections between I-287 and Centennial Ave as well as the exit to Knightsbridge Road. Being a main thoroughfare through the township, Centennial Avenue tends to experience some traffic at intersections with other major roads.
During rush-hour traffic, people may want to steer clear of the intersections between Centennial Avenue and River Road, Knightsbridge Road, Possumtown Road, Old New Brunswick Road, and South Randolphville Road. South Washington Avenue is also known for heavy traffic during rush hour at the intersections of North Avenue, Lakeview Avenue, Stelton Road, and Centennial Avenue.
The average commute in Piscataway is 33 minutes, according to Money Magazine. Ideally, people can plan their route ahead of time to avoid the most-congested areas of the township.
Parking in Piscataway
Parking in Piscataway can sometimes be difficult to find, especially downtown or in other highly populated areas. There's one free parking garage in Centennial Square, with approximately 2,510 maximum available spaces. Parking is free for two hours, but is limited only to customer use. Springhill Suites, just on the other side of Raritan River in Somerset near Interstate 287, offers free two-hour parking for customers. Rutgers Plaza, also in Somerset on the other side of Raritan River, offers free uncovered parking for customers near the Rutgers University Golf Course.
Piscataway and other areas of New Jersey offer a unique peer-led program that connects individuals looking for monthly parking rentals to private residents, entities, and other individuals who have parking available. For example, people may be able to rent a parking space in someone's private driveway. The homeowner may even offer special amenities, such as a gated property or 24/7 security camera surveillance.
On-street parking is available throughout the township and typically is pay-to-park, especially in congested areas. Parking meters in Piscataway operate between the hours of 5:00 a.m. and 6:00 p.m. on weekdays and cost $0.25 per 15 minutes during those hours.
Other Helpful Things to Know About Driving in Piscataway
Piscataway takes parking availability and violations seriously. Law enforcement officers will issue a parking ticket if someone's meter has run out, or if someone is parked in an area where parking isn't allowed.
Other important things to note when driving in Piscataway include:
Paying attention to roads that exclude vehicles over a certain weight, such as Baldwin Street, Brookside Road, Commonwealth Avenue, Eighth Street, New Brunswick Avenue, River Road, Suttons Lane, and more
Knowing which roads exclude U-turns, like Centennial Avenue, Knightsbridge Road, and Old New Brunswick Road
Avoiding parking in the loading zone on Eighth Street and Randolphville Way, unless unloading goods and materials to nearby businesses
Piscataway also offers numerous driving schools that can help drivers brush up on their city driving skills, including the following:
4-All Driving School on Stelton Road
Vision Driving School on Stelton Road
Great American Driving School on Knightsbridge Road
6 Hour Plus Driving School on Knightsbridge Road
While there are several unique things about getting around in Piscataway and commuting to and from work, school, and other places, there aren't many differences between driving here and driving in any other mid-to-large-sized cities. Ideally, people should use a hands-free device with a GPS to help navigate their route before they leave their home and while they're on the road.
Texting and driving is illegal in New Jersey as it is in most, if not all, other states in the U.S. Adult drivers over the age of 21 must use a hands-free device if operating their vehicle. Drivers under the age of 21 may not legally use a hands-free device, cell phone, GPS device, or any other electronic device while operating their vehicle. The penalty for a first offense is a $200-$400 fine, and a second-offense is between $400 and $600. A third or subsequent offense can cost someone as much as $600-$800 and a possible three-month suspension of their driver's license.
Plan Your Drive in Piscataway
While driving in Piscataway is similar to driving in many other cities across the United States, advance planning of routes, parking restrictions, and rush-hour traffic are all important factors for a successful drive in the township. People should remember to avoid high-traffic roads during commute times, know the township's local rules when it comes to parking and U-turn restrictions, and use a hands-free device for safer driving. Planning their drive ahead of time while giving themselves extra time for any unexpected traffic are the best ways for people to arrive at their destination on time.