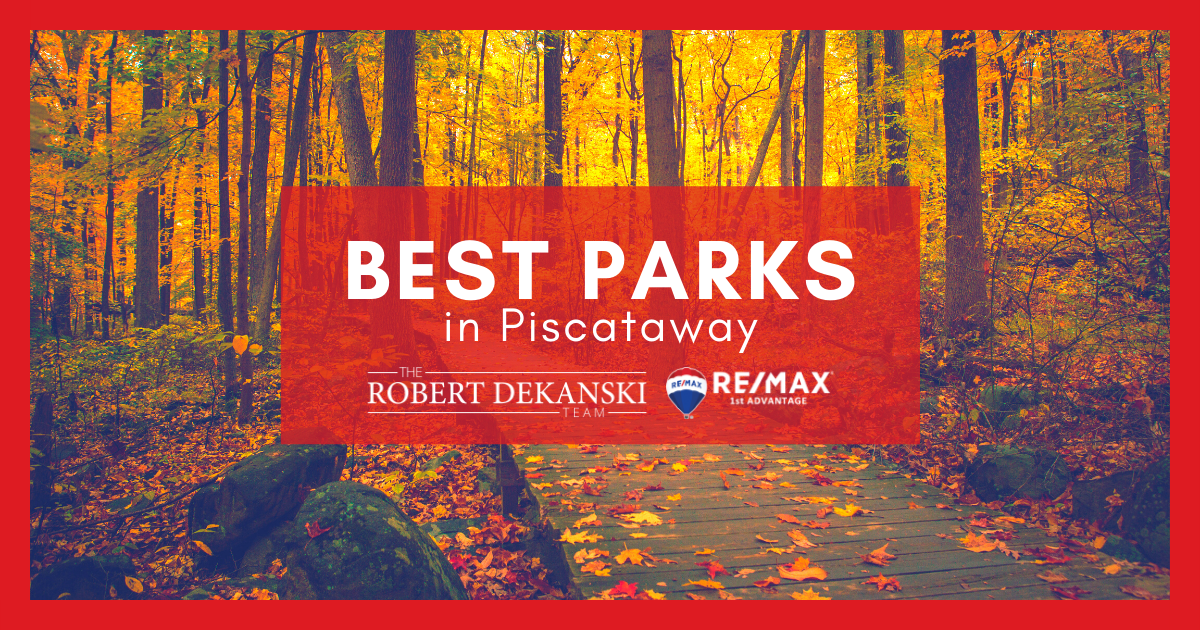 Best Parks in Piscataway: Piscataway, NJ Parks & Recreation Guide
As one of the oldest townships in New Jersey, Piscataway offers residents a number of state and local parks to enjoy. Piscataway's proximity to the New Jersey Turnpike, the Garden State Parkway, Routes 18, 22, and 27, and Interstates I-78 and I-287 has allowed the township to significantly grow over the years, welcoming those who have moved to the area. The economic growth allowed the township to flourish and create new neighborhoods, which offer both new construction homes and single-family homes, as well as other property types. These neighborhoods have also created a number of parks that are available to the public today. Let's dive in and learn more about some of the most loved parks in Piscataway.
Johnson Park
Johnson Park Amenities
Raritan River
Picnic groves
Playgrounds
Sports fields
Animal Haven
Public events
East Jersey Old Town Village
Address: Johnson Park Johnson Park Rd, Piscataway, NJ 08854
Johnson Park is one of Piscataway's largest parks. Located just off the bank of the Raritan River, Johnson Park has 478 acres of land for visitors to enjoy all year long. The park is named after the pharmaceutical company Johnson & Johnson because the company donated 100 acres of land to create the park. Since then, Middlesex County has preserved additional land to create a large preservation that can be enjoyed by visitors for generations to come.
Johnson Park offers multiple sports fields, playgrounds, picnic groves, and even the East Jersey Old Town Village, a preserved 18th century village that employs actors who dress in period-accurate costumes and show visitors what life was like in that age. While reservations are required for the picnic tables, they can easily be reserved online hours or days in advance.
Animals are regularly seen throughout the park at the Animal Haven. Open from dawn to dusk daily, this free attraction at Johnson Park offers education for all ages. The exotic animals at the Animal Haven can roam freely without fear of living in a cage. Pigs, goats, llamas, deer, horses, and more animals are available for everyone to see at a safe distance.
Events regularly occur at Johnson Park. From small, local events to city-wide annual festivals, something is always happening. Visitors can easily find Johnson Park on the south side of the township.
Irishtown Park
Irishtown Park Amenities
Baseball diamonds
Tennis court
Basketball court
Hockey rink
Address: Irishtown Park 113 Mountain Ave, Piscataway, NJ 08854
Irishtown Park is a beloved neighborhood park located on the north side of the township. Locals know Irishtown Park best for hosting Piscataway Little League games. Baseball is a pretty big deal in the township, so it is normal to find the roadways lined with cars on game day. When no games are at Irishtown Park, kids from the neighborhood and their families regularly visit. With just one playground, tennis court, basketball court, and hockey rink, Irishtown Park isn't nearly as large a Johnson Park. However, it still offers a place to create memories that will last for a lifetime.
Possumtown Park
Possumtown Park Amenities
Picnic tables
Playground
Public events
Address: Possumtown Park 50 3rd Ave, Piscataway, NJ 08854
Possumtown Park is one of the smallest parks in the township. Located near the center of town at 50 3rd Ave, Possumtown Park is exactly what comes to mind when you think of a small park. It has a few picnic tables and a playground. While small in size, Possumtown Park is greatly loved by the residents who live nearby.
Few events are planned at Possumtown Park. Most of the visitors live right in the neighborhood. It is normal to see only one or two families at the park at one time. Birthday parties and family reunions are typically the largest events that happen in the park.
Possumtown Park was created when the neighborhood of Possumtown was first formed. At that time, nearly all the residents had small children. Instead of driving 10 or more minutes to get to a park, the families wanted something right in the neighborhood for their children to play at every day. Today, Possumtown Park is enjoyed by residents of all ages.
Riverside Park
Riverside Park Amenities
Picnic tables
Pavilion
Boat launch
Playground
Baseball diamond
Fishing
Address: Riverside Park 430 River Rd, Piscataway, NJ 08854
Riverside Park is located on the southwest side of the township at 430 River Rd, Piscataway, NJ 08854. It is not much larger than Possumtown Park. However, it does offer a few more amenities. The small playground has a section for toddlers, which is safer for small children than the other play structures. Bathrooms are available for use and are regularly cleaned. The park is fenced in to prevent children from running into the parking area.
Baseball games are often played at Riverside Park. It is not uncommon to catch some older kids playing under the lights at night on the weekends. Additionally, a small boat ramp is available for public use. Those who want to get some time in on the water can do so. Some residents even skip the hassle and fish right from the bank of the river.
Quibbletown Park
Quibbletown Park Amenities
Tire swing
Climbing poles
Ramps
Monkey bars
Tennis and basketball courts
Parallel bars
Picnic areas
Address: Quibbletown Park Fairview Ave, Piscataway, NJ 08854
Quibbletown Park has one of the larger playgrounds in the township. Residents to Fairview Ave, which is on the east side of the township. The playground features a tire swing, slides, climbing poles, ramps, monkey bars, and four sport courts. The tiniest of tots and adults can enjoy using the equipment. Older visitors can get some strength training in parallel bars while children can run around and make new friends. Additionally, Quibbletown Park offers a basketball court, picnic areas, and public restrooms.
Few events occur at Quibbletown Park. However, it is nicely tucked away from the street. This adds an additional layer of safety and peace of mind for with attending young children.
Rutgers University Ecological Preserve
Rutgers University Ecological Preserve Amenities
Part of Rutgers University
seven hiking trails
Leashed pets allowed
Wildlife sightings
Educational placards
Annual events
Address: Rutgers University Ecological Preserve 83 Rockafeller Rd, Piscataway, NJ 08854
Rivaling Johnson Park in size, Rutgers University Ecological Preserve is 316 acres of land in a larger, 425-acre undeveloped forest. The preserve is used to teach students and the public about the importance of preserving nature. Additionally, the university uses the land to enhance the lessons for students majoring in ecology during their studies.
The University Ecological Preserve holds three annual events. The RU Muddy is only for registered students and includes a 3.5-mile obstacle course. The Orienteering event is open to the public and tests one's navigational skills with courses that range from beginner to expert. The final event is the Run For the Woods race, which is also open to the public. It's a single-loop race that takes participants throughout the entire preserve.
Other Parks in Piscataway
Piscataway is home to more than just the parks mentioned above. Each park has its own unique aspects that make it worth visiting. The other parks in Piscataway that are open to the public include:
Byrne Park
Columbus Park
Day Park
Suskin Park
Alexander Park
Ambrose Doty County Park
Albert Street Park
Whether you are looking for a large park for a day of fun in the sun or seeking a smaller, more intimate area to have a picnic, the parks in Piscataway don't disappoint. Most neighborhoods have a park that is easily accessed via walking. Larger state parks and preserves are available to the public and showcase the importance of preservation. There's certainly no shortage of things to do and explore.
Which park is your favorite? We can't choose!